2020 has absolutely been one of the most challenging years ever. Businesses have never faced such a demand, and navigating this new digital-first world has become a time to showcase grit and resilience. As everyone knows, Dreamforce has moved to an all-virtual event this year, and Salesforce has been working for months to bring us a virtual event that has the same feeling and impact as an in-person Dreamforce!
Whether you call it DreamTX, DTX, or Dreamforce to You, we can already tell this is going to be quite the event!  Today was the first day and it sure did set the tone for the week. While Salesforce is known for its fanfare and experiential events, there was a bit of a relaxed feeling today, which I believe made all the viewers feel a bit more relaxed and ready to take in the learning. Moderators showing their slippers and speakers wearing comfy sweaters showed that this really was a stay-at-home extravaganza. Salesforce was careful as always to bring us all the challenge and growth that this year has brought us; we have new feelings, new needs, and a new world to look at as the pandemic has certainly changed business operations forever. But, by staying positive and taking advantage of this time to learn more than ever, we can all navigate and create a bright future together!
There was absolutely big buzz around automation this year. As anyone logging into Dreamforce to create their agenda could tell, the commitment to automation is strong. This makes sense given the year that this has been, and automation is the best way to create and sustain business process. Additionally, watchers could tell that this certainly is a year for sustainability. While Salesforce has certainly lowered its environmental impact this year, the tone is to challenge all companies to work on ways to become more sustainable in the future and work toward carbon neutrality, or even becoming carbon negative!
While attending session after session was a blast and there was so much to learn, here is a quick highlight of some of our favorite moments and lessons of the day!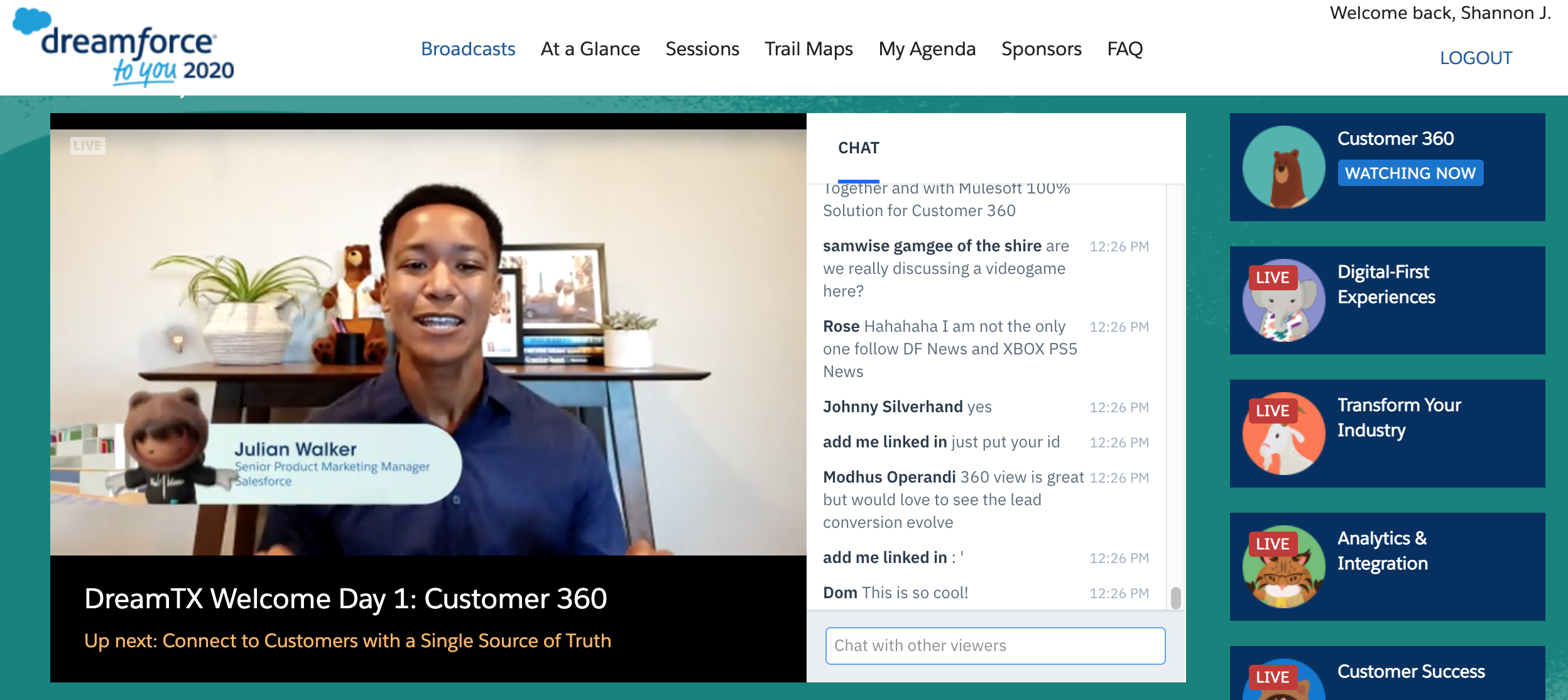 I'll list all of the sessions by their time in Eastern and their title, so if you missed one you really were looking forward to seeing, you can find it quickly!  This will help you to bookmark the ones you want to come back and watch on recording, which will be available on the Dreamforce to You website on December 18th. Once you log in with your credentials, you'll be able to access recordings of the content from #DTX20.
1:30PM Digital Imperative: Increase the speed of work with Einstein Automate  As I noted last year in a recap of 2019 Salesforce moves, there is a serious double down on AI and predictive technology. Salesforce came right out of the gates with several sessions today on the need to improve and continue to use AI and Einstein analytics in these tough times.  The argument to use more AI is an easy one; stats show that businesses will need to be even more predictable in the coming years in order to improve customer service and experiences.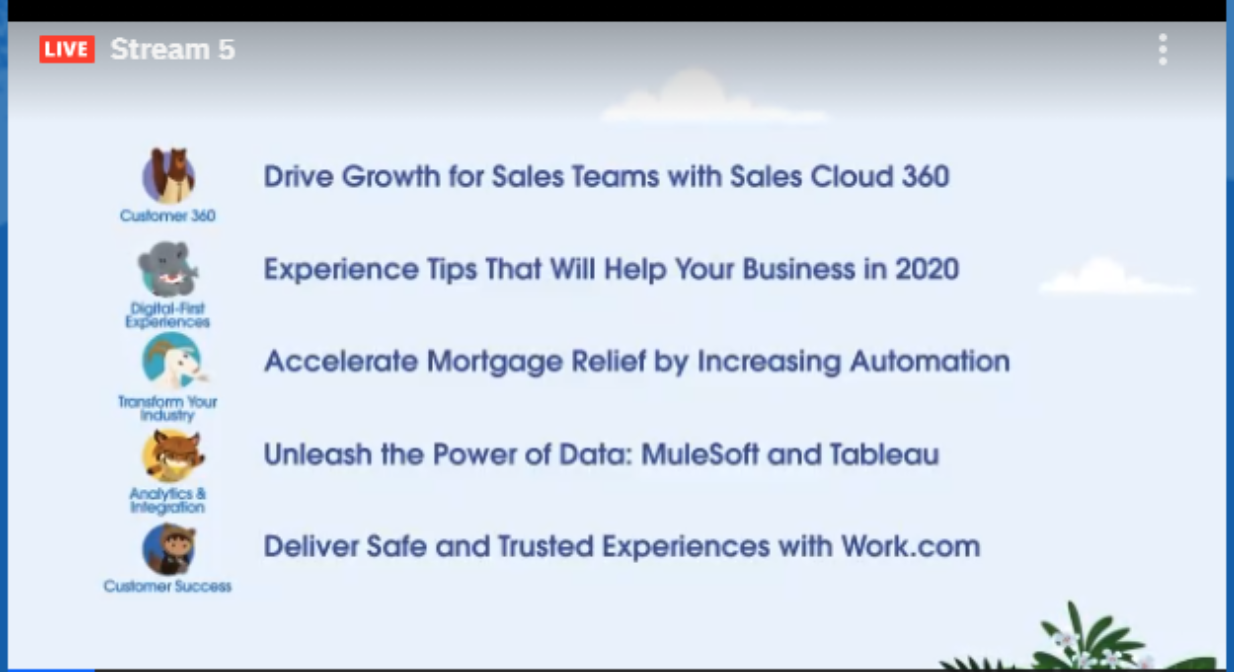 2:00PM 2021: The Year of the Sales Leader  On day one, we also saw some great new lessons about one of the hardest facets of selling in 2020: being an effective sales leader. Current data shows that salespeople are feeling more stressed than ever, leading to high turnover. As a sales leader, you must use the tools and techniques offered in Salesforce to motivate their team.  By using Reports and intelligent tools with clear AI-driven priorities, sales teams can feel much more confident in their direction and can look to new growth opportunities. Use virtual coverage and impact understanding to enable a team when there are questions during these hard times!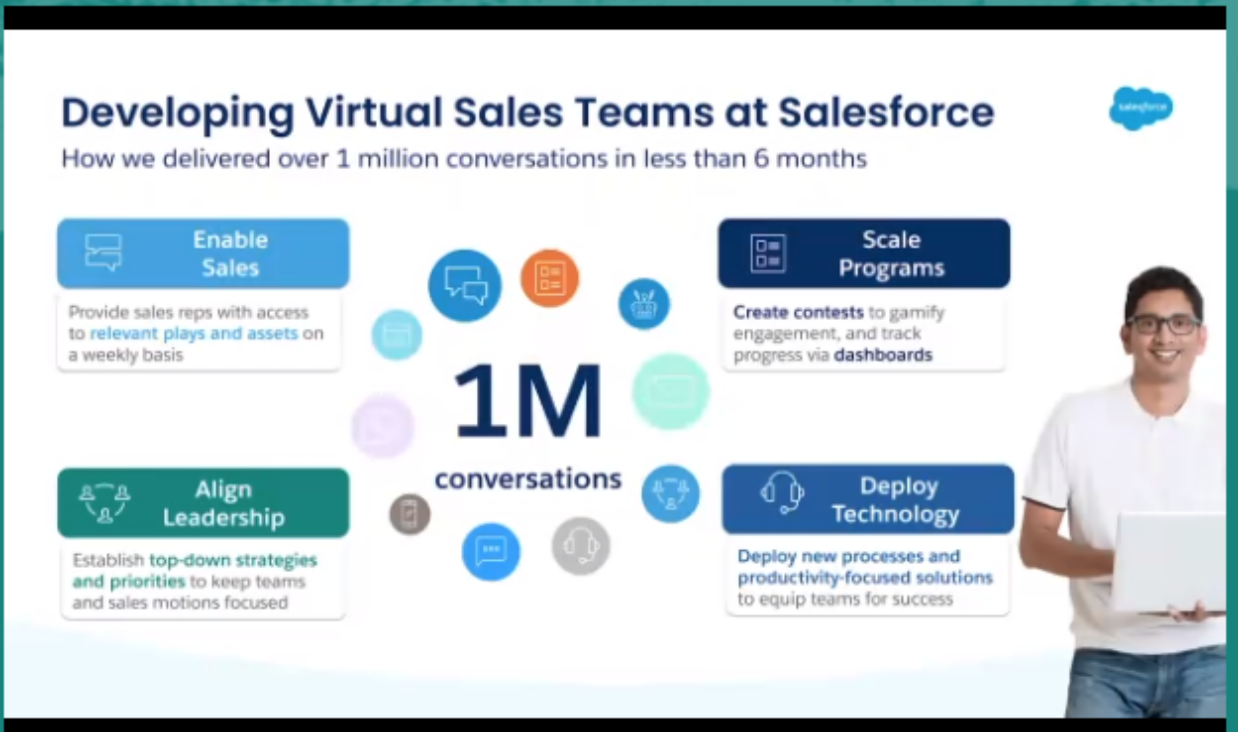 2:30PM Financial Services from Stabilize to Grow  Financial services are becoming a crucial part of the Salesforce user base. For financial services firms, leveraging the ability to adapt quickly and use analytics to continue improvements year-over-year is a necessary challenge.  We heard from some of the best Salesforce minds on how they are using reports and Sales Cloud 360 to manage this new challenge and get a head start on 2021.
3:00PM Salesforce Platform Innovation Roadmap  Reimagining a new world of employee experience is difficult. There has been so much happening this year that a roadmap is exactly what we need to get things moving. By making a commitment to continued innovation in 2021, Salesforce is opening the door for new ways to sell – and keep selling – in the new year.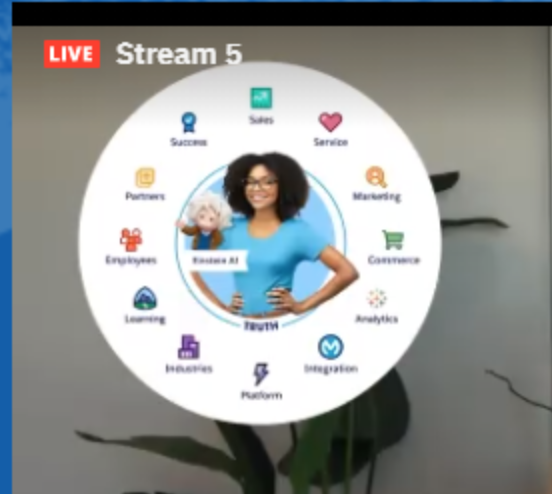 3:30PM Drive Growth for Sales Teams with Sales Cloud 360  We got to see some incredible new information regarding the growth of Sales Cloud 360 and the impact this will have on businesses in 2021. Salesforce is looking to empower teams with fast decisions, and less confusion, as there are more changes and flexibility required during tough selling times.  Enabling a team seems to be the theme of the day as Salesforce is sending a very clear message with the last few sessions: Salespeople we are here, and we are going to not just survive but thrive in 2021!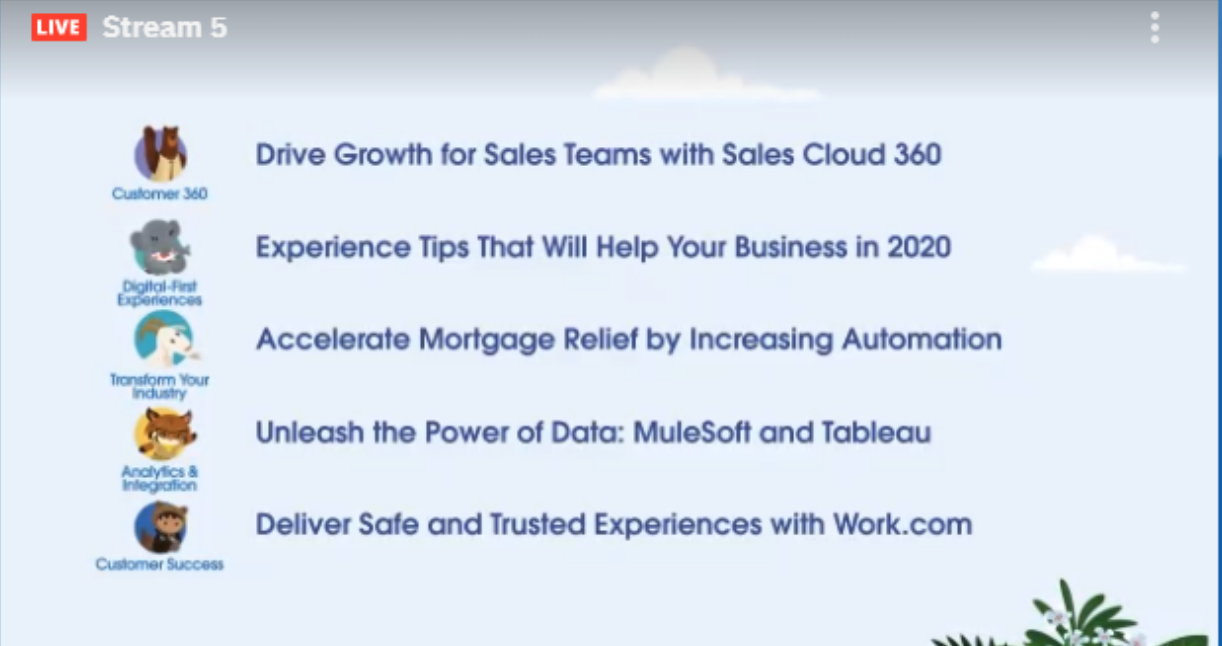 Because it's always more powerful when you divide and conquer, we carefully planned our agendas last week as soon as Agenda Builder was published.  It wasn't quite the same rush to get those sessions selected before they fill up as you experience with the on-ground Dreamforce, but it was really fun picking who would cover what!  Here are Shannon J. Gregg's interpretations of the sessions she attended:
12:30PM AppExchange: Extend Every Customer 360 with Partners  There's so much new in the AppExchange: Covid-specific apps; a new recommended-for-you page of app suggestions based on recent installs, searches, and even results from others in roles like yours; a new way to filter Apps by price, rating, peer reviews (there are now over 190k candid reviews on AppExchange!); a new chat feature available on select AppExchange listings; a new consultant finder which allows you to drill down on size and location of consulting partner.  Things are looking really exciting on the AppExchange.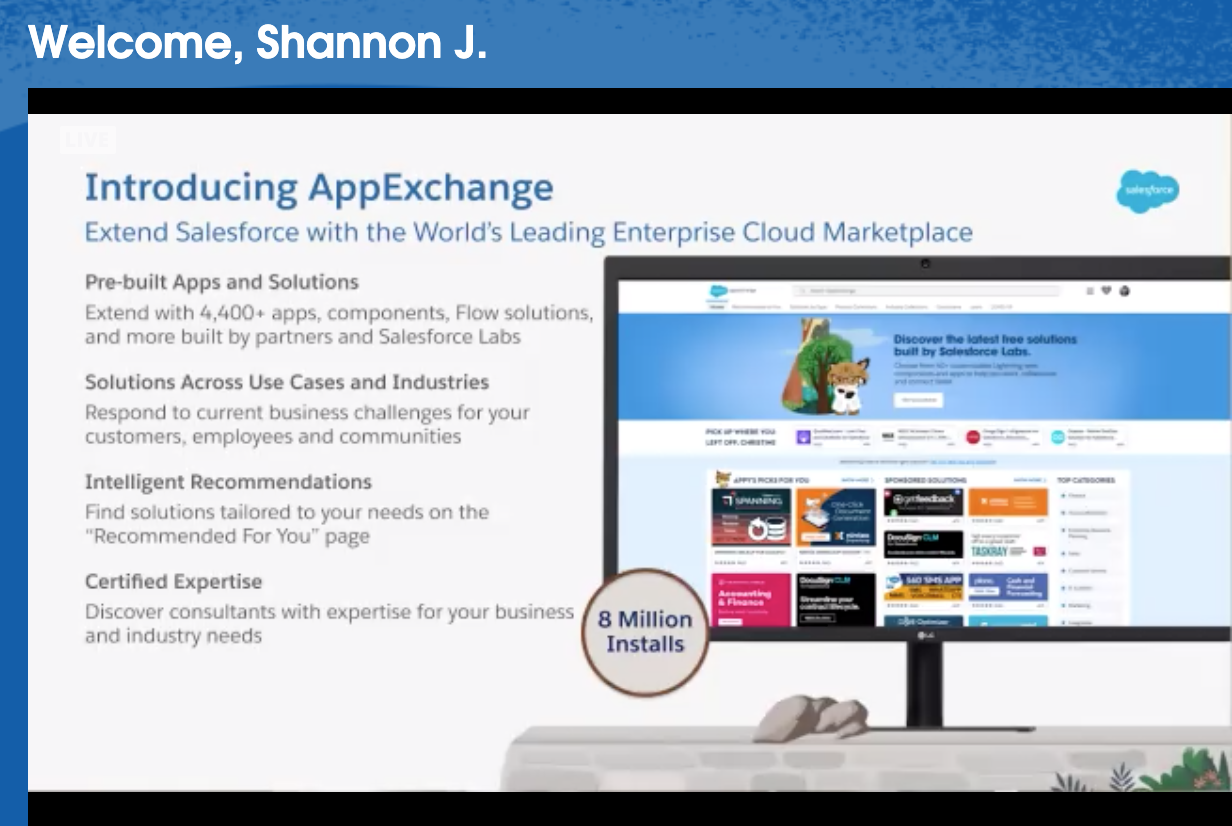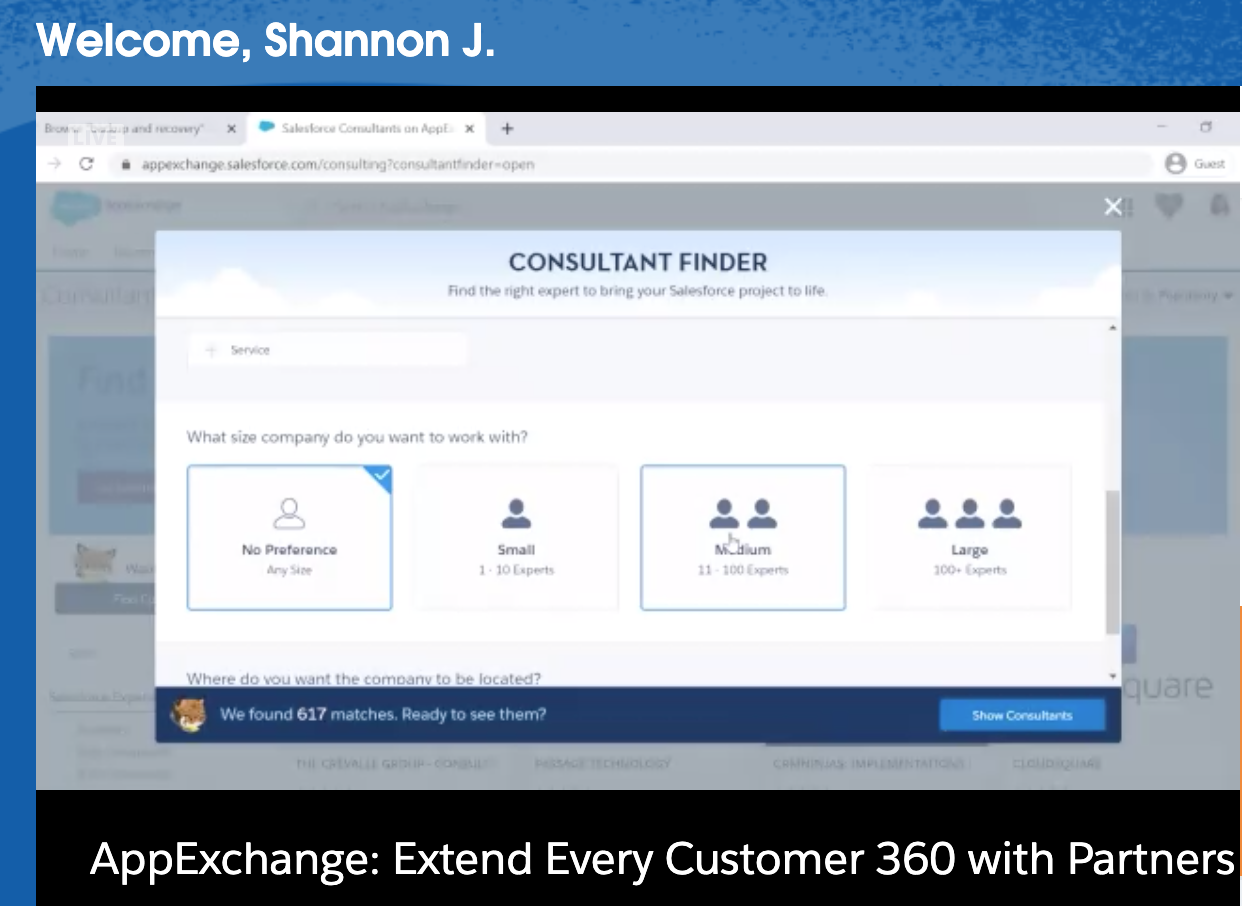 1:00PM New Ways to Run a Best-in-Class Virtual Sales Team In 2020, 80% of sales reps had to adapt to a new way of selling. At McAfee, they installed a new renewals revenue engine with 4 components: opportunity assessment for risk; customer specific journey, which is a timeline; an early warning system to use data to show what's happening with NPS scores/ consumption/ engagement; an AI-based model of data to show customer sentiment, which has a Win Room to ensure outstanding outcomes.  Like McAfee, Salesforce created a new approach to virtual selling with new sales plays, re-evaluated targets, and fun contests, which drove over 1m conversations in 6 months.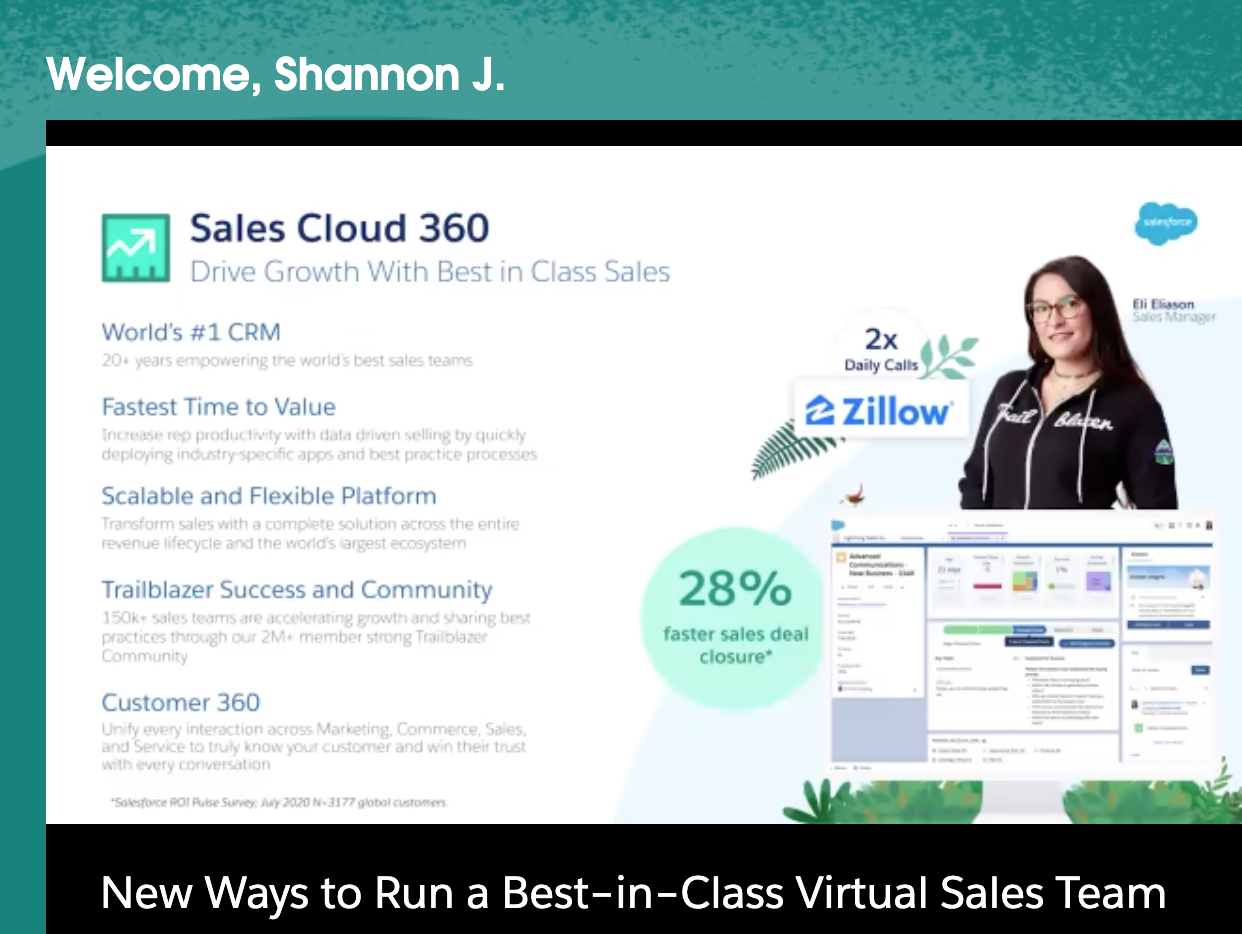 1:30PM Driving Innovation and Growth in Times of Uncertainty  The formula to drive innovation is culture + technology + data.  The culture you create at your company is just as important as your products and services. The digital divide is defined – now, employees want the same tools they have outside of the business, inside of the business.  Onboarding can be a challenge in the new virtual organization; Salesforce created a new hire email journey – using Salesforce – so the new employees don't get all of the overwhelming info on Day 1.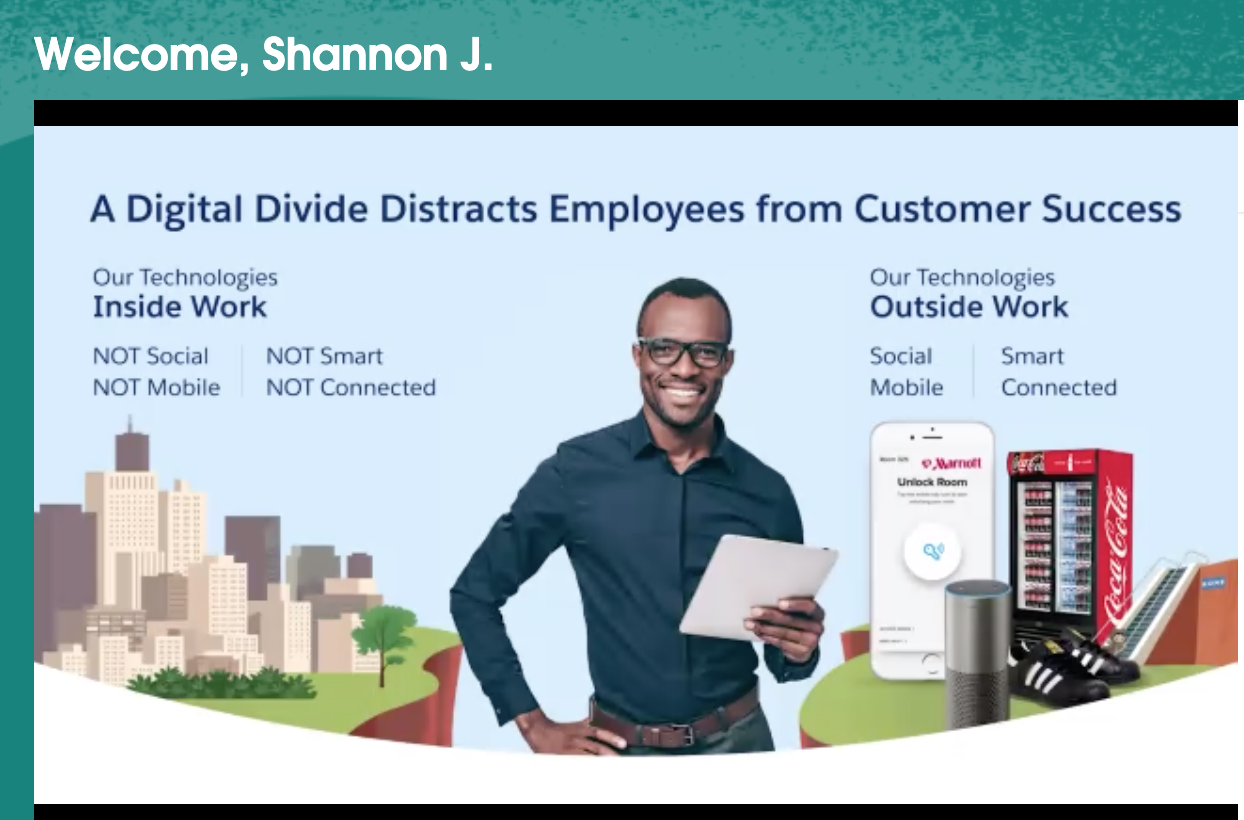 2:00PM Create Holistic Email Programs to Enhance Engagement Your prospects and customers expect personalization.  There are two channels of emails: promotional, which are emails that are commercial, offers, sales.  There are also transactional emails, which are typically billing, delivery, terms.  How can you create a connection between the two types of emails, promotional and transactional, to show these five benefits:  consistency, reporting, list management, deliverability, visibility.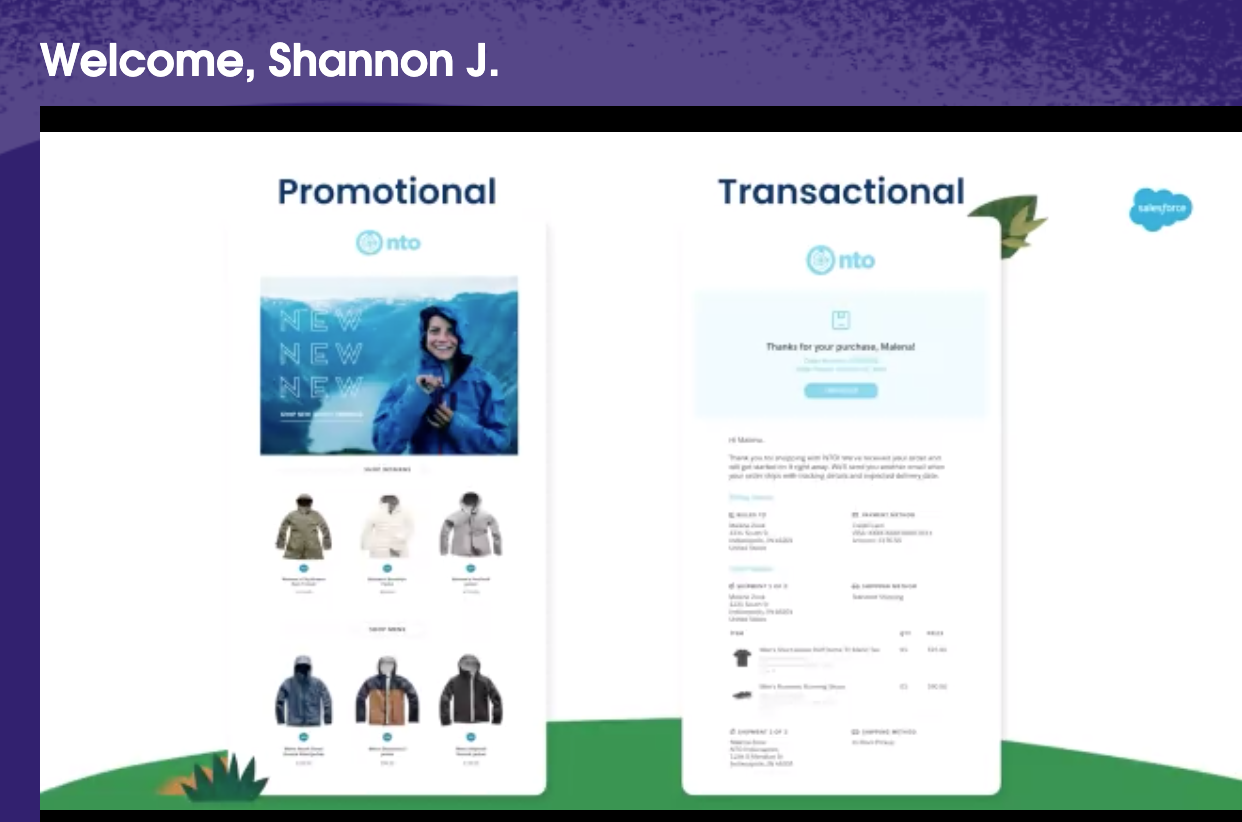 2:30PM How to Align Marketing and Sales to Grow Account Relationships  ABE, or Account-Based Engagements, can be found across three categories: strategic ABE, scaled ABE, and traditional lead-gen.  As you consider an ABE approach for your organization, consider where you can create alignment between marketing, sales, and service teams to drive successful customer outcomes.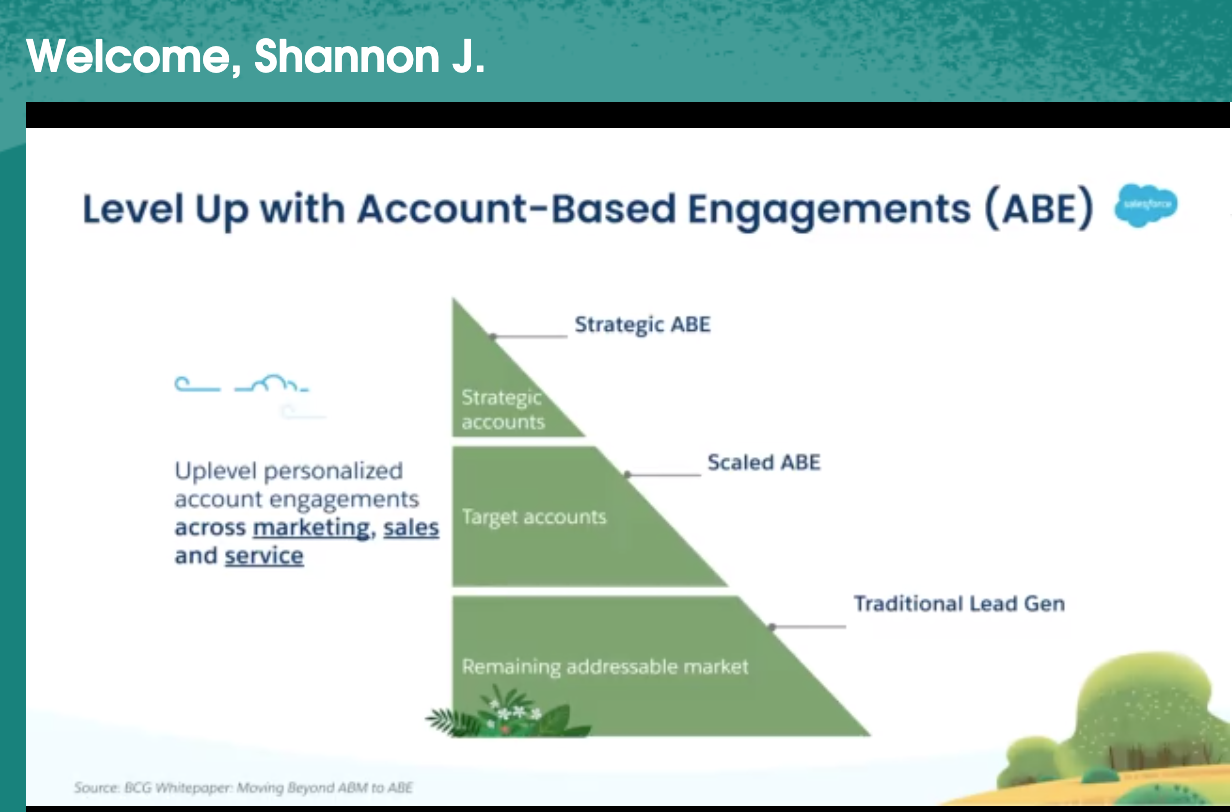 3:30PM Experience Tips That Will Help Your Business in 2020 Build it fast, or your competition will – speed is the name of the game now.  There is now a new Experience Builder inside of Experience Cloud, where you can quickly customize your color palette, add your company's logo, and really, anything in Experience Cloud can be developed or customized down to the pixel.  The top 3 strategies to turn data into responsive experiences that are seamless for your customer or other stakeholders are to target, digitize, and adapt.  Your audience expects seamless, intuitive, and easy to navigate tools.  Building a connected customer experience that ties digital properties on connected systems will allow you to maintain consistency across all channels.
Wow – thanks to Shannon!  Those were really great recaps of the sessions that she attended!  And since there were five tracks of learning today at DreamTX and we really wanted to get great coverage for you all, we asked our partner David Radin, the CEO of Confirmed Strategic Scheduler, to share his insights on the sessions he attended:
12:30PM AppExchange: Extend Every Customer 360 with Partners  Now the AppExchange continues the idea of Salesforce as single source of truth — by letting you extend your solution from 3rd party vendors (like us!).  We're looking forward to seeing and participating with some of the innovations, like interactive chat between the client and the App partner, and the "Recommended for you" page.
3:00PM Salesforce Platform Innovation Roadmap  There were an incredible 70+ new innovations in the platform during 2020.  Flow Builder becomes your one-stop shop for behind-the-curtain automation needs.  Salesforce is streamlining the AppDev process starting with a modern AppDev platform.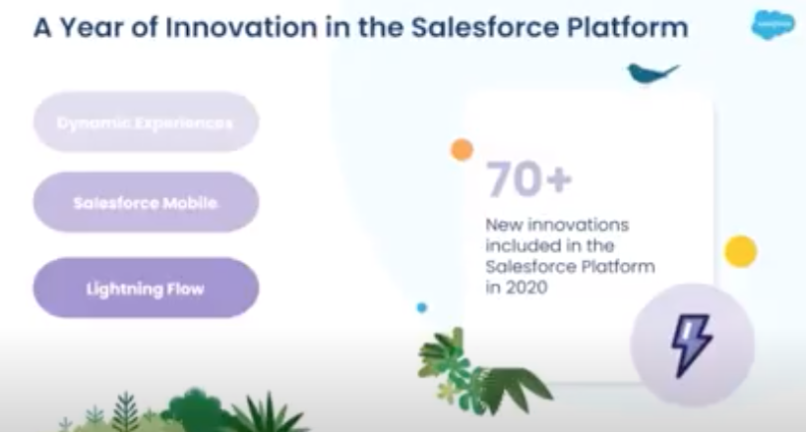 Thanks so much, David – you captured some really important education and information in those sessions!  We love being your partner.
Finally, the day wrapped up with a live performance from the Legendary Roots Crew, one of Shannon's favorite bands of all time (she saw them live for the first time in 1995 and wants you to check out Datskat, the song that started a lifelong fanship!).  As always, Salesforce puts on an amazing event, and we can't wait until Day 2 – so join us back here for that recap, same time, same place, tomorrow!
Check out the recording of our panel event last week, The Ghost of Dreamforce Past, where your faves and ours Eric Dreshfield, Miranda Ragland, Toni V. Martin, and Janet Elliott shared never-before-heard stories from behind-the-scenes at Dreamforce.  We laughed, we got goosebumps – you've got to hear this!
And while you're reminiscing, you can check out the talk that Mike Gerholdt and Shannon J. Gregg presented at Dreamforce 2019: Deliver Your Company's Vision with Salesforce.  Or, watch Shannon's 2015 Dreamforce session on Using Smart Apps on Salesforce to Power Business and Career Growth.
Confirmed is now a Salesforce ISV Partner, and is being finalized for the AppExchange.  If you want to get a head start on turning your scheduling from a burden into a strategic advantage across your entire team, contact David to become an early adopter of the Salesforce Edition.