New day, same energy!
Two days of Dreamforce are already behind us, and Day 3 shows no signs of letting up on the gas. Salesforce enters the third day of Dreamforce 2020 by going straight into the fanfare, encouraging users and businesses alike to give themselves a big applause for customer success. 
After such a strange year, Salesforce is tapping into our ability to be flexible and leverage the power of the Salesforce Ohana and global community. Customer success requires delicacy, intuition, and a trailblazing attitude. With the challenges of 2020, Salesforce is looking to its success stories on the third day, pumping up all watchers and users!
Sessions today focused around centered innovation and rapid thinking. The stage is set for a huge comeback for businesses around the world. Salesforce says you can still strengthen your approach for amazing results in the new year!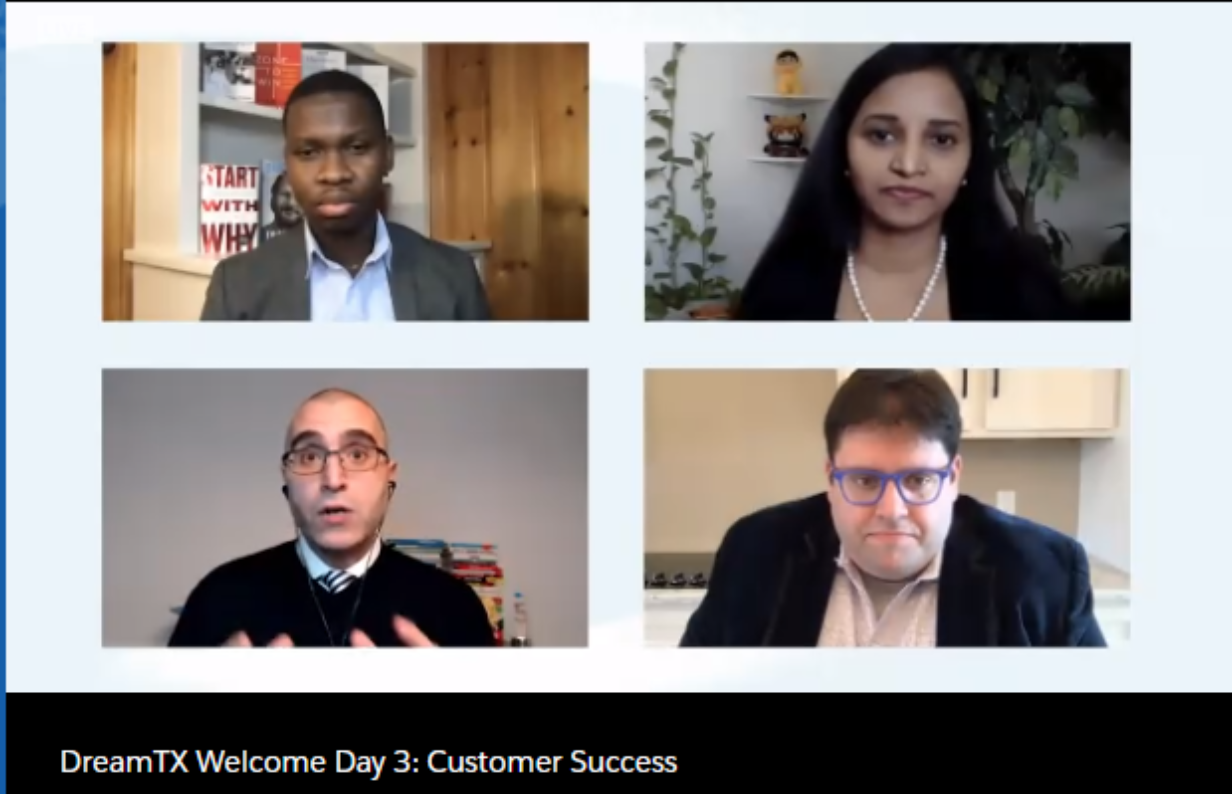 12:30PM How to Drive Sales Excellence in Challenging Times  Sales Excellence is the theme of the third day, so it's not surprising that one of the first sessions is on topic. Salesforce is once again saying that the key to sales excellence is adoption. The focus on adopting effectively and efficiently is not easy, but necessary to keep pace with the changes that are coming to the business world in the pandemic and post-pandemic landscape. 
Adoption is centered around collaboration. Salesforce is recommending more deliberate data quality by using foundation rules, and standardizing opportunity management. While this isn't always easy, this format for adoption can allow businesses and users the changes they need to thrive in 2021!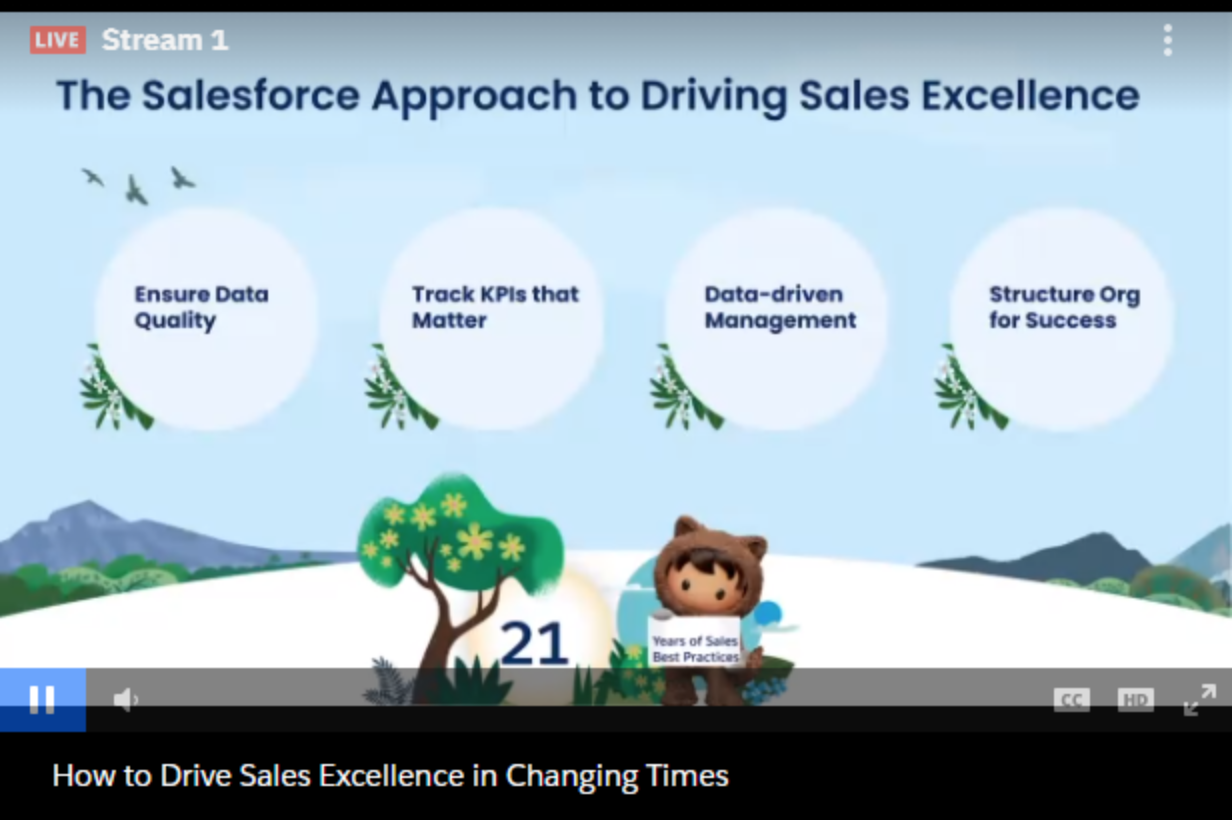 1:00PM How to Deliver Hot Leads Amidst Distraction  Leads and lead generation have been a hot topic this year. With in-person events shut down for the foreseeable future, how can companies who rely on them pivot and find leads elsewhere?  Salesforce brings in some experts to show how some enterprise businesses are using Salesforce integrations, specifically Pardot, in order to deliver only the hottest leads to their teams.
A hot lead also means nothing if it is not being utilized and approached effectively. Both predictive moves and AI can lend a helping hand, making sure that reps are not only prepared for the move, but going at a blazing speed, ensuring the highest level of closing.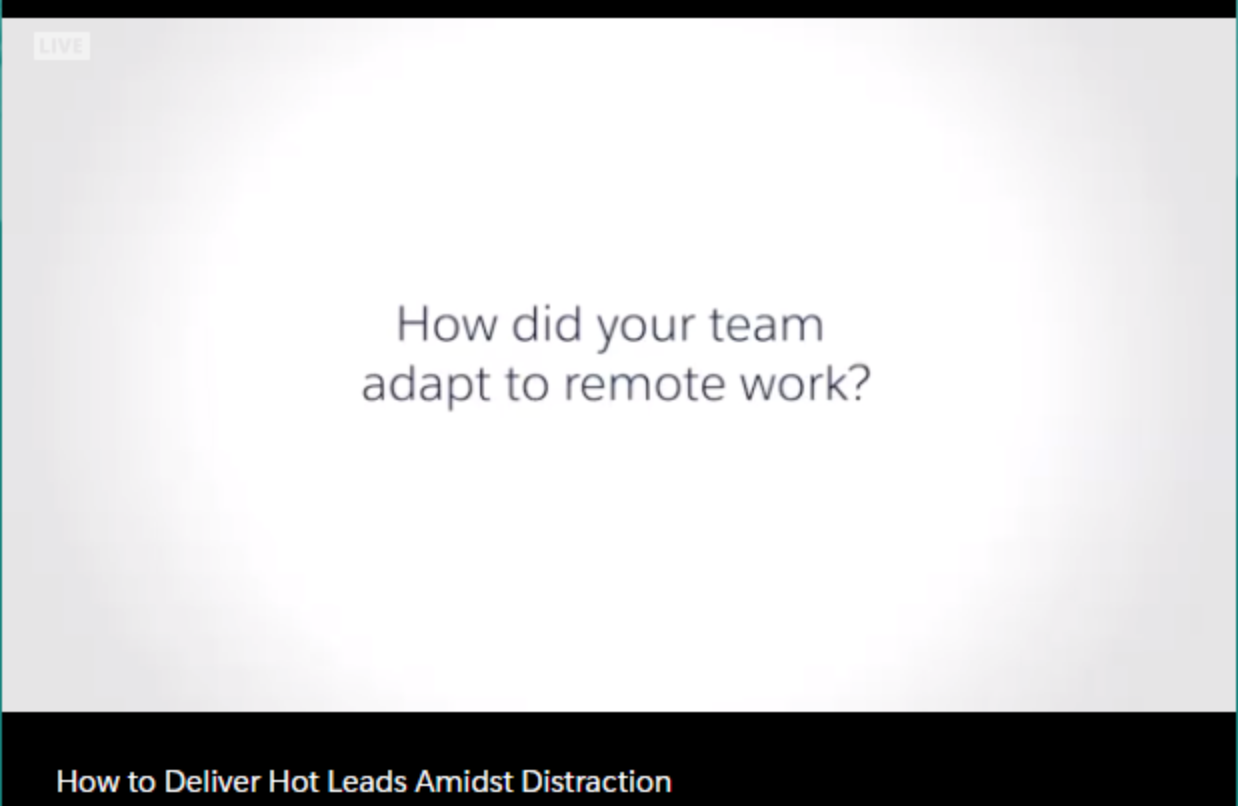 1:30 Salesforce on Salesforce: Inside Sales That Works From Home  In a year marred by hard decisions, and an even harder go at sales, Salesforce is looking for ways to continue to improve the world that Inside Sales teams live in. Inside sales teams have been hit hard by the pandemic, as fewer companies are able to seek services in uncertain times. 
Prioritization is the new roadmap for sales teams. Salesforce experts in this session were recommending a disciplined and team-oriented approach along with AI functionality for inside sales teams. Chatter is also a great tool to help these inside sales teams take advantage of collaborative speed and ramping for the new year. 
Once again, adoption is incredibly important, and education-centered autonomy will allow reps to use and understand their teams technology!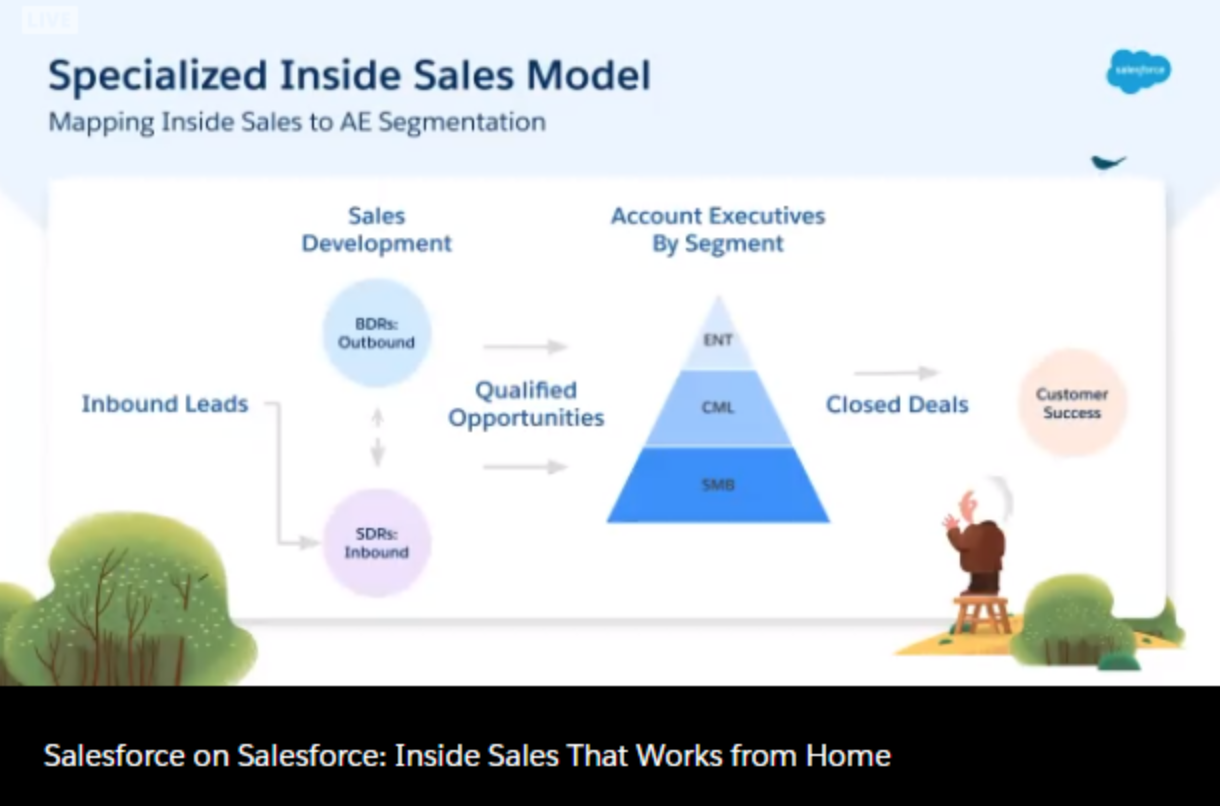 2:00PM Enhance Trust and Compliance with Salesforce Shield and Security Center  Trust is a sore subject for consumers in 2020. While the pandemic has driven automation and technology adoption, it has also driven the increasing need for security and safe compliance. Many businesses are working harder than ever to ensure their data is safe and secure inside Salesforce. 
Salesforce experts in this session demonstrate how to use Salesforce Shield and Security Center to ensure that data is protected with maximum efficiency, and users are finding that Salesforce does a better job than ever at protecting their client information. This session reiterates the importance of data protection in an ever-changing and rapidly shifting technology-driven world.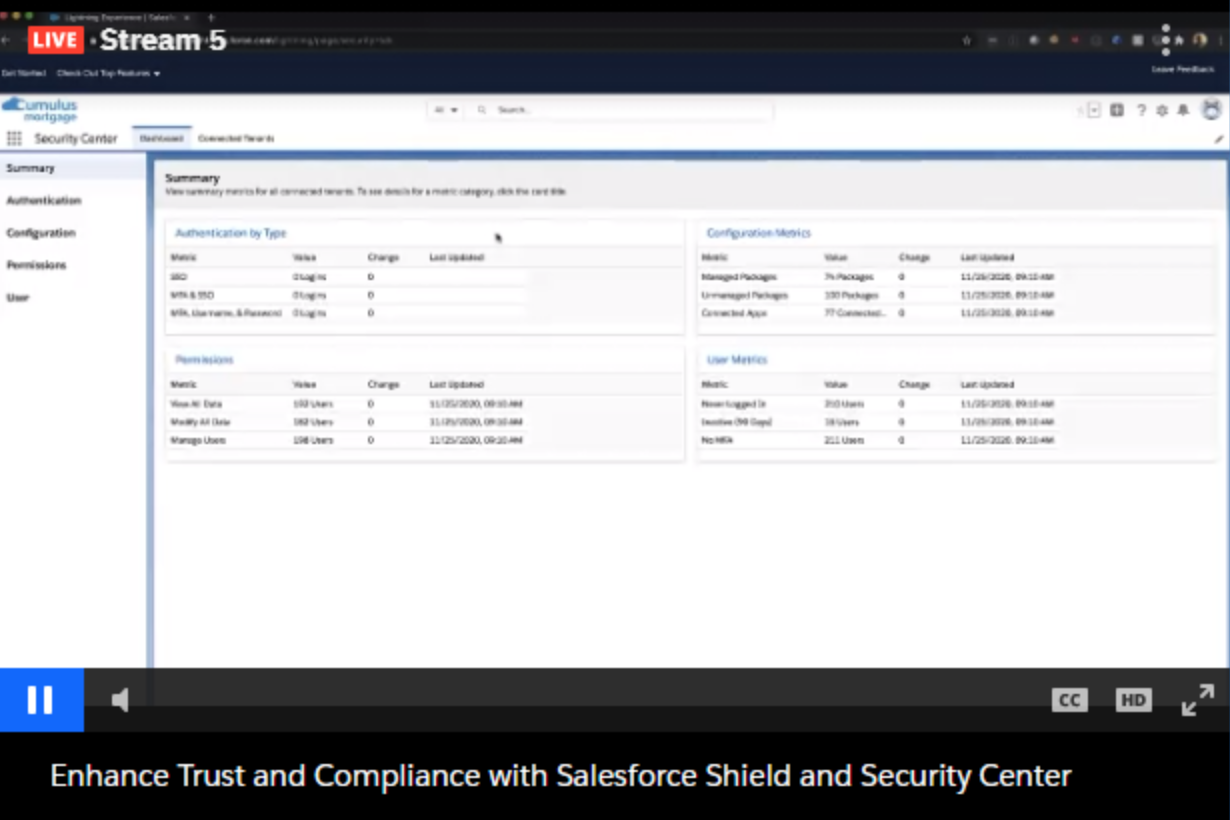 2:30PM Accelerate Revenue Growth With the New Revenue Cloud  How to drive revenue during a pandemic was at the top of everyone's mind in 2020. Salesforce has responded big with the all new Revenue Cloud. In this session, Salesforce shows it is dedicated to helping its users and customers operate at a whole new level in the coming years. This demo and breakdown of Revenue Cloud was many users first time seeing the solution as evident in the chat, and is exciting a whole new group of data lovers!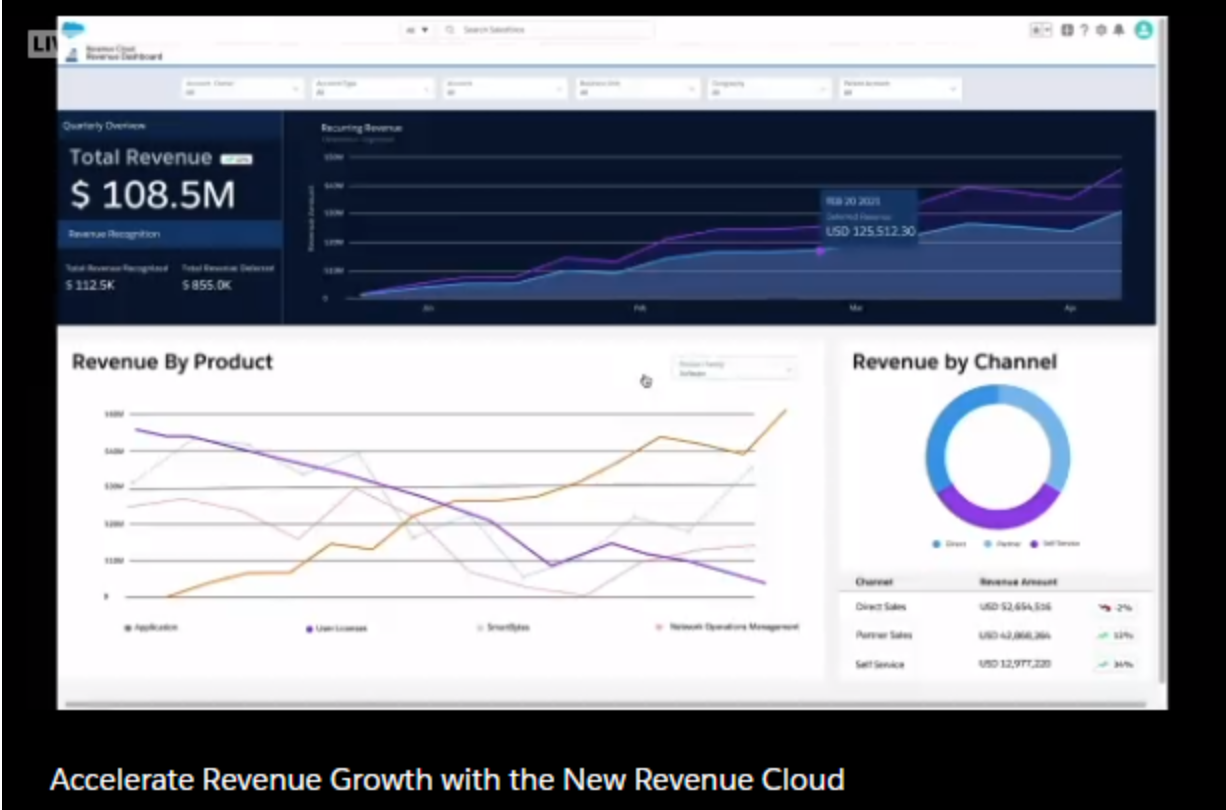 With five tracks running at each time slot every thirty minutes each day, I can't cover it all!  I asked Shannon J. Gregg, President of Cloud Adoption Solutions, to share what she learned in the sessions she attended.  Here are her notes from Day 3 of Dreamforce 2020:
12:30 PM  Innovate Fast with the Salesforce Platform  The ability to build quickly is imperative for businesses now – automating processes from the front office to the back office.  Einstein Automate can help to transform any business with packaged libraries.  Low-code tools streamlines this process.  This session had demos that I always associate with Dreamforce – showing inspirational "art of the possible" demonstrations of how you can customize Salesforce to make your business better! They showed Einstein Automate, MuleSoft, Omniscript, Work.com Employee Experience, Salesforce Privacy Center, Salesforce Security Center, and 360 Data Manager. I'll be watching this one again when they release the recordings on December 18.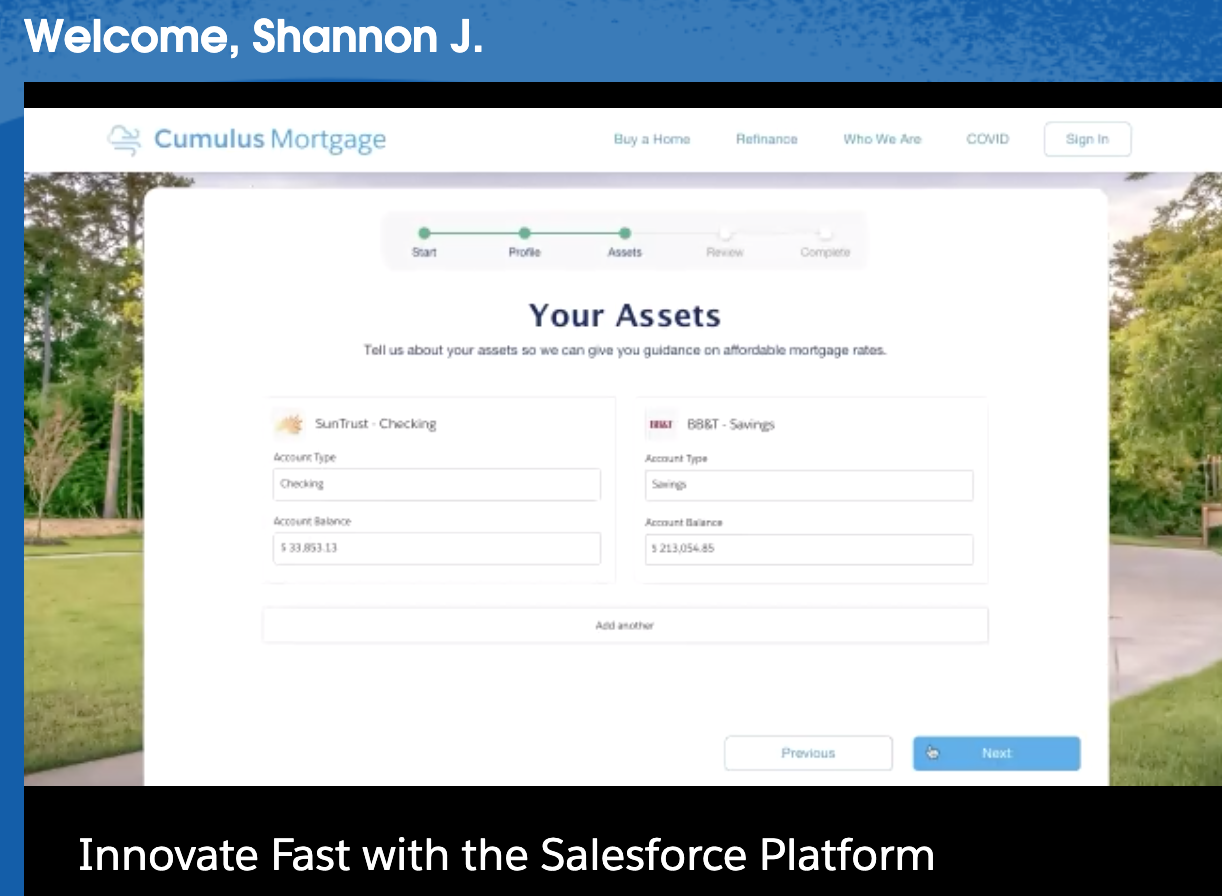 1:00 PM How to Extend Sales Cloud with Salesforce Anywhere  Salesforce Anywhere is a new way to manage your sales, with Quip, a separate mobile app, and a chat feature.  Sales managers can provide coaching in-context in a team hub.  There is a Deal Feed, which allows seamless collaboration and digital agility.  Salesforce Anywhere is an extension of your Sales Cloud product.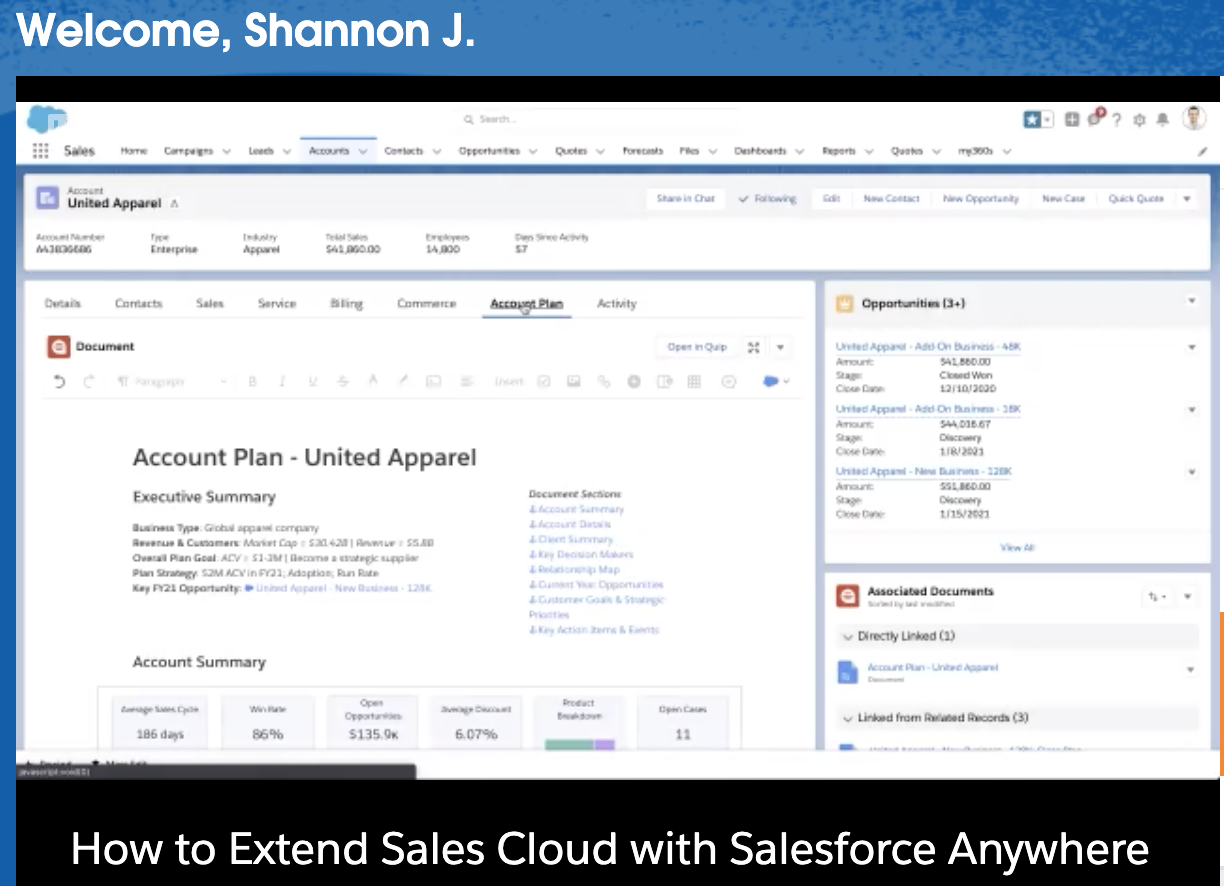 1:30 PM Your Entire Business, Instantly Mobile  Mobile at Salesforce is made up of three pillars – Speed, Mobility, and Flexibility.  Now, apps launch twice as fast, the pages load instantly, and the number of taps is reduced by half.  Handy indicators showing what's changed since you looked at the app last are now available.  There are now Daily Briefing notifications and iOS 14 widgets to bring Salesforce content into your home screen.  List views are new; you can glide through the data quickly.  Offline apps now provide customizations that are deployable even if you are offline, due to Lightning Web Components and the new Lowcode Offline Builder.  If you're interested in being a beta user for mobile, sign up at http://mobilebeta.salesforce.com/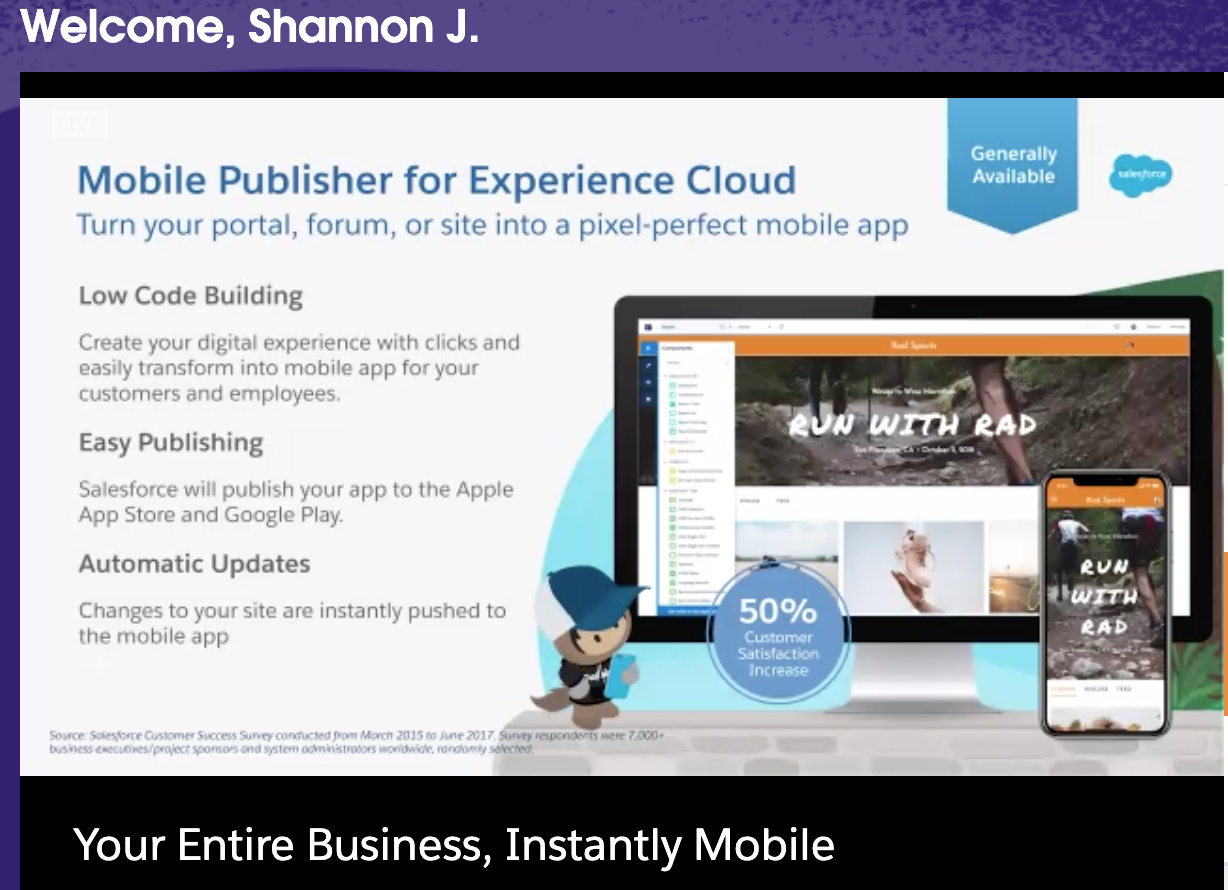 2:00 PM How Measurement Innovation Drives Marketing Agility  The modern marketer has to work across a dual mandate.  Speed and agility are of the utmost importance.  Marketers are faced with data silos, foundational data challenges, and team silos, and pulling those all together for a strong marketing approach is a challenge.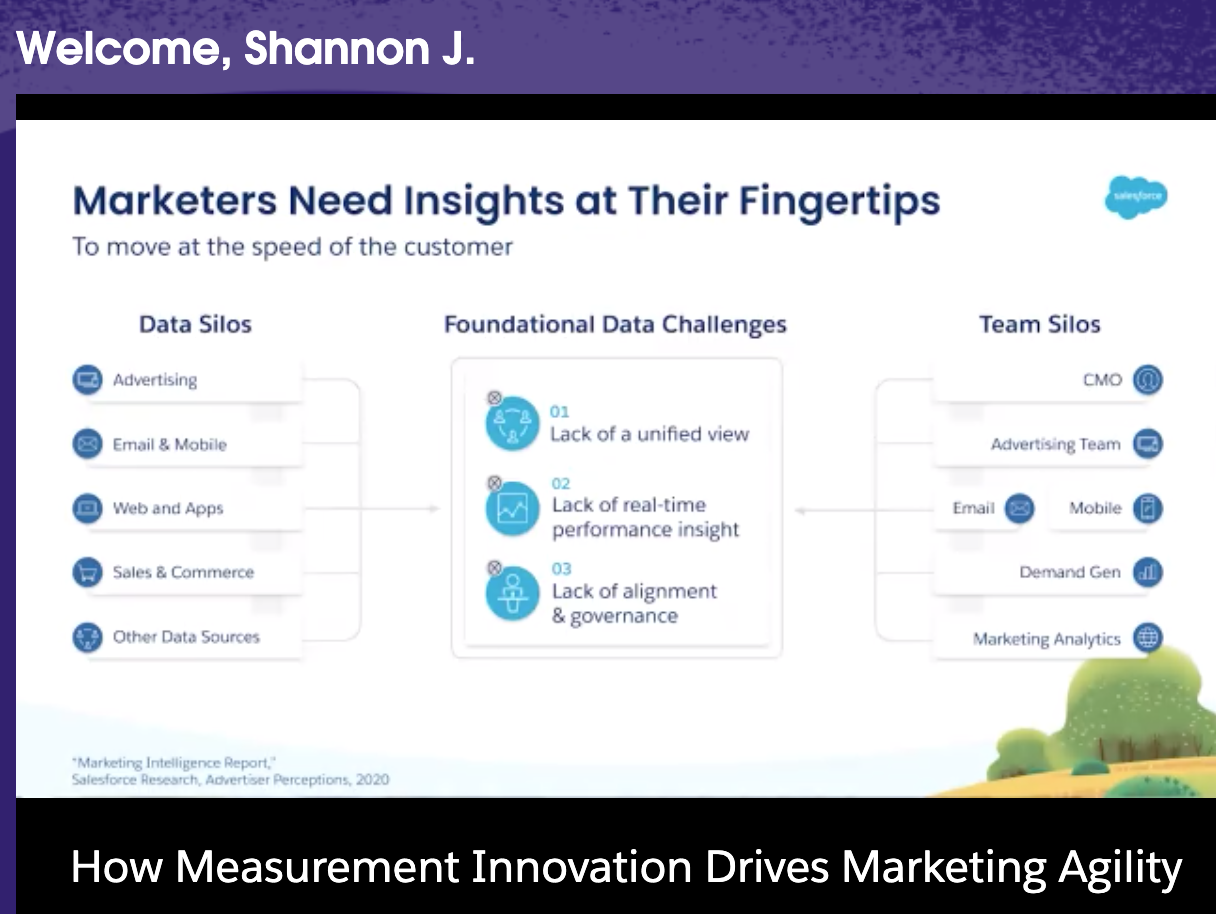 2:30 PM 5 Reasons Why Digital Transformations Fail & How to Avoid Them  Mindsets, behaviors, norms, the organizational culture – these are the below-ground cultural elements that are necessary to address for change.  There are also above-ground elements that play into structural pieces of digital transformation.  The three main ones are focus on internal process, lack of innovation, and slow delivery capability.  Technical debt, governance challenges, handoffs between business and IT, lack of tools – there are so many reasons that slow delivery can be a hindrance to transformation.  Below-ground, we are challenged with people and their pre-digital culture as well as a fear of failure leading to an inability to innovate at speed.  There is also an inability to drive change.  How can you prioritize the backlog of change to drive change?  Organizations can celebrate learning, instead of failure, by normalizing "whoops" and allowing teams to teach each other what they've learned.
Thanks, Shannon!  I know that your notes inspired me to bookmark a few of these to watch as soon as the recordings become available on December 18!
I was also digitally joined today by David Radin, CEO of Confirmed Instant Scheduler.  He shared the information he gleaned from some of the amazing Day 3 Dreamforce sessions:
12:00 PM Opening Session: Customer Success  Key takeaways from Salesforce Champions about focusing on the customer: Get to the WHY as soon as possible.  Make it a point to do at least one thing for advocacy each quarter.
12:30 PM Innovate Fast with the Salesforce Platform  According to Forbes: Improving employee experience can lead to 1.8x faster revenue growth.  Work.com can provide employee surveys to help you make that happen.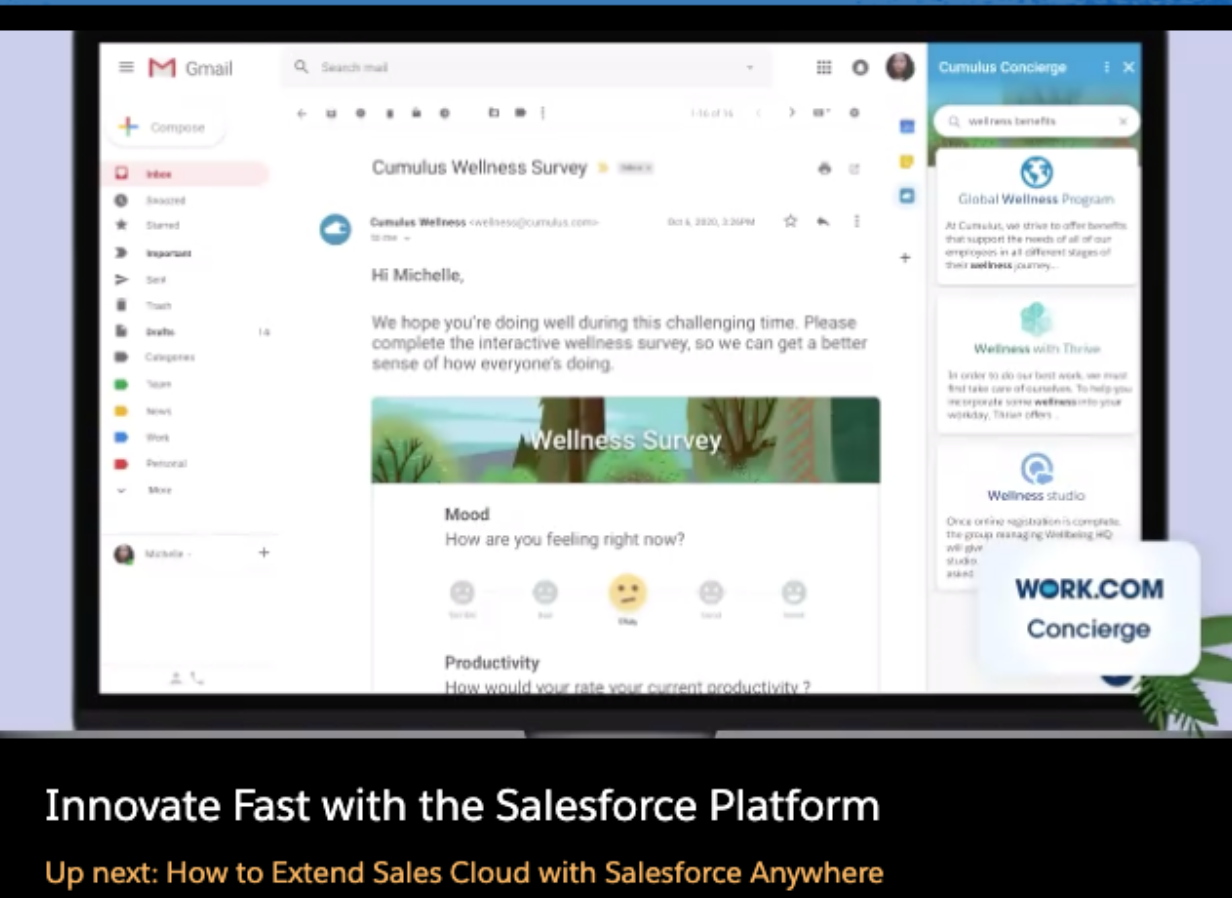 For instance, ITSM (IT Service Center) is a backend that empowers upgrades to local technology to be upgraded when it will help your employees stay on top.
1:00 PM How to Deliver Hot Leads Amidst Distraction  Like many of us, Flexo Concepts, near Boston, had to start their sales teams working remotely.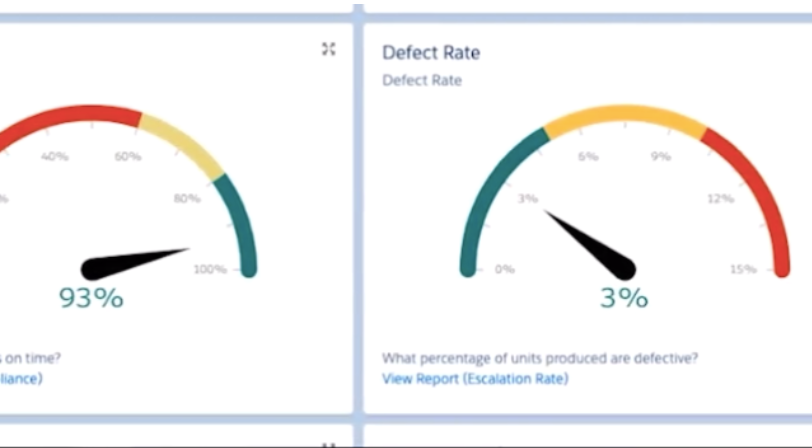 To make that work, they review dashboards daily as their team is working from home.  They also use personalized journeys to nurture their prospects until they're ready to buy.
From Rehka Srivatsan, Sr Dir of SMB Product Marketing: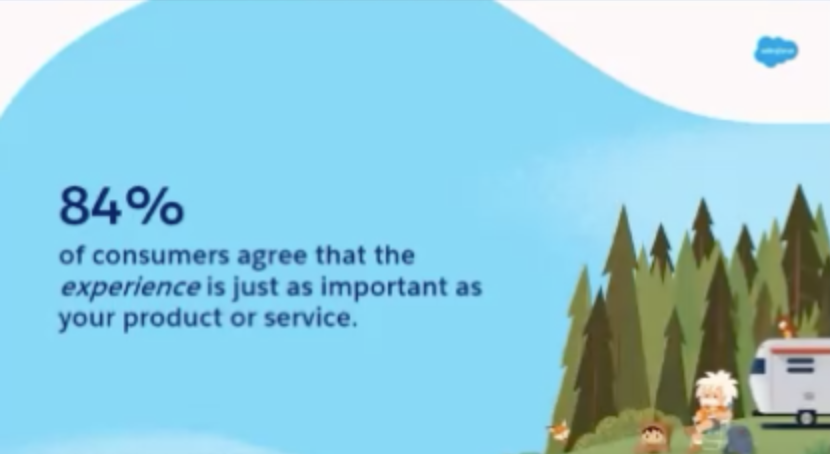 What a powerful statistic!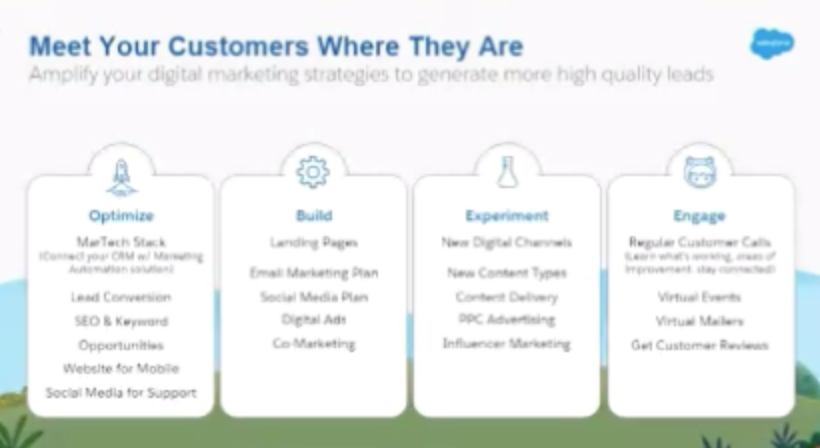 Email marketing is the cornerstone of digital marketing.  Amplify your digital marketing strategies to generate more high quality leads.  The four stages are Optimize, Build, Experiment, and Engage.
From other members of the marketing team: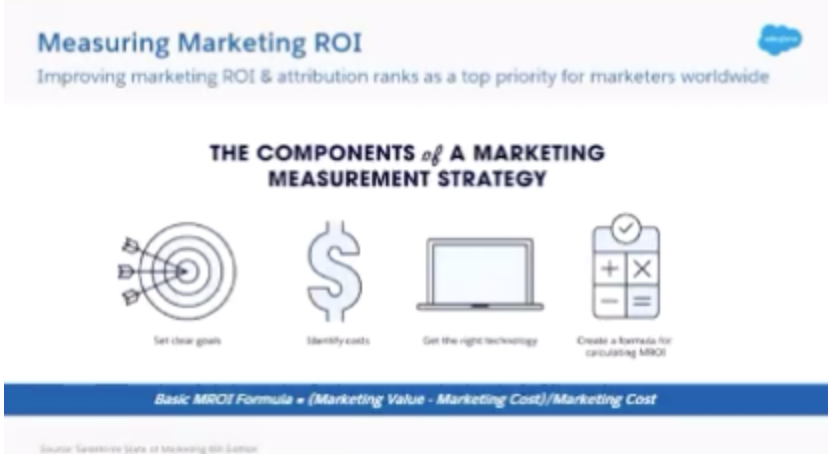 Tie everything to revenue.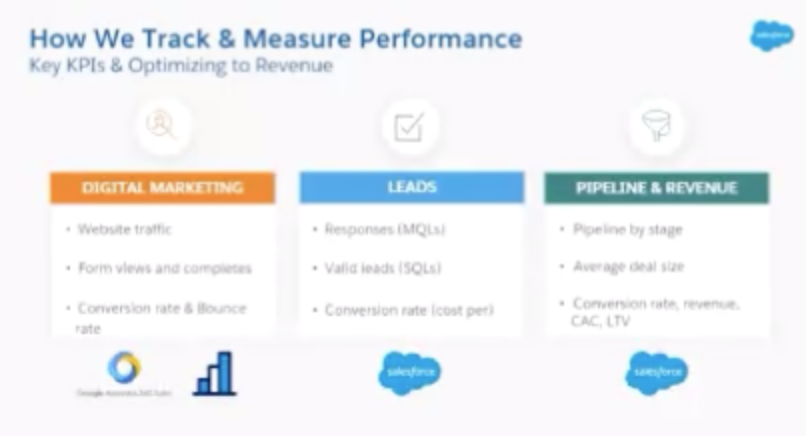 1:30 PM Salesforce on Salesforce: Inside Sales That Works from Home  We consider various traits more important than previous sales experience.  We focus on speed to productivity with a custom onboarding program.  Combine this enablement with a tech stack that is consistently evaluated and upgraded.  Education is top value in our organization.  Autonomy with Accountability.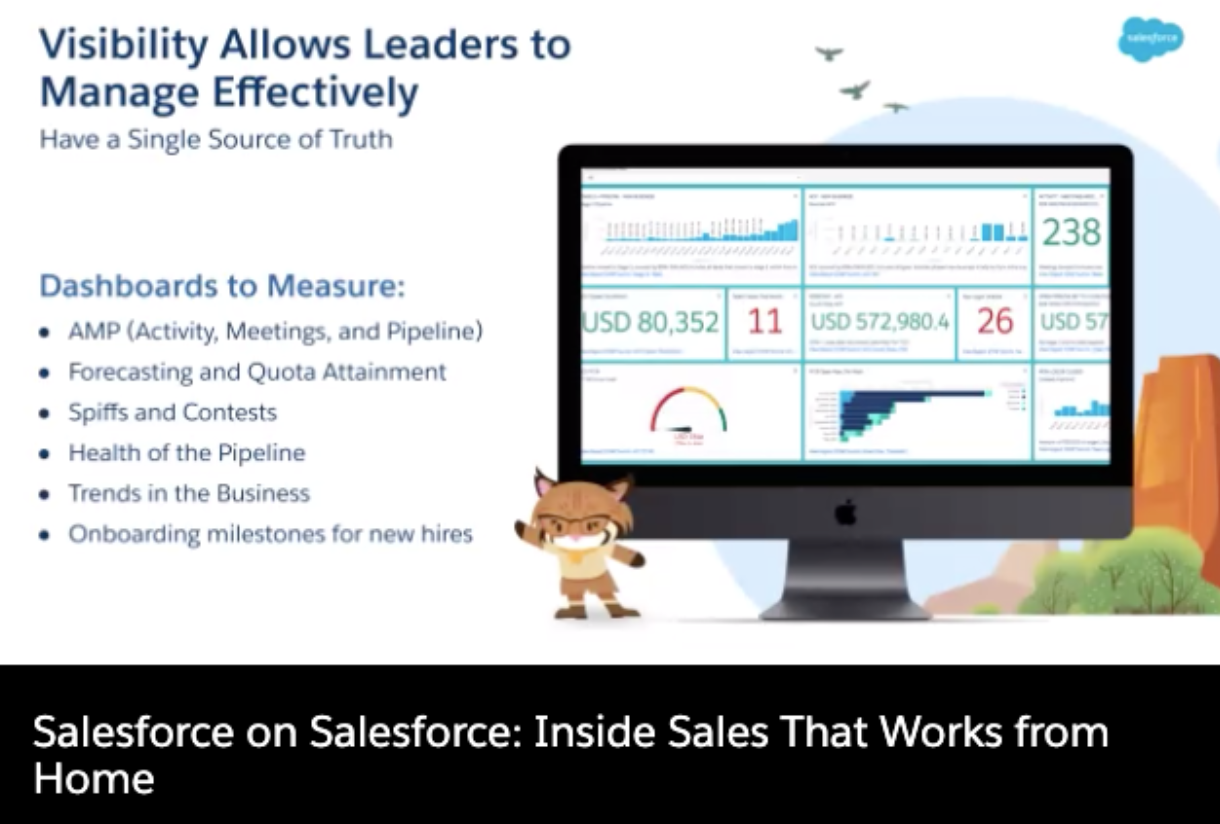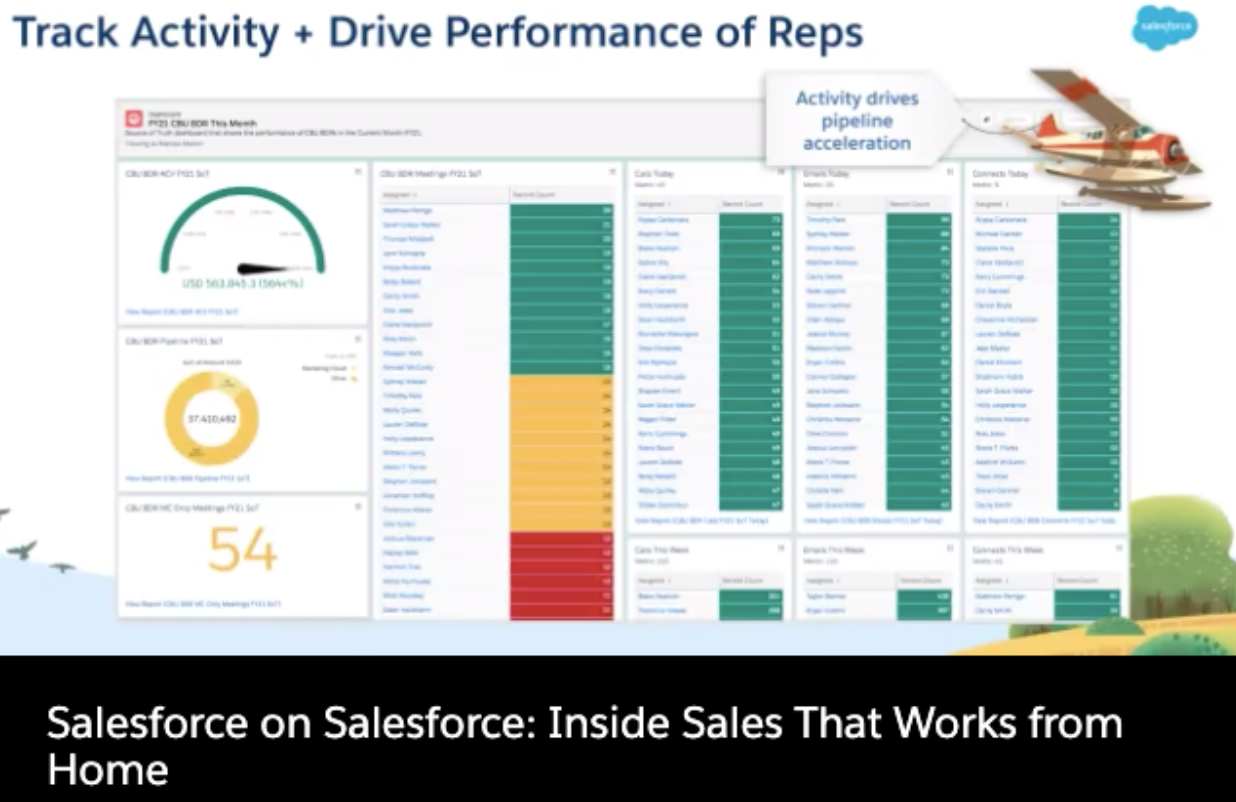 This dashboard helps determine whether metrics are working.
3:00 PM 6 Guiding Principles to Maximize CRM Adoption  These next two sessions give us a great 180-degree view of how to begin and get adoption for success.  The first of these two sessions take a business perspective; the one after this one is more of the view from behind the glass window — in the IT department.  The slides speak pretty well for themselves.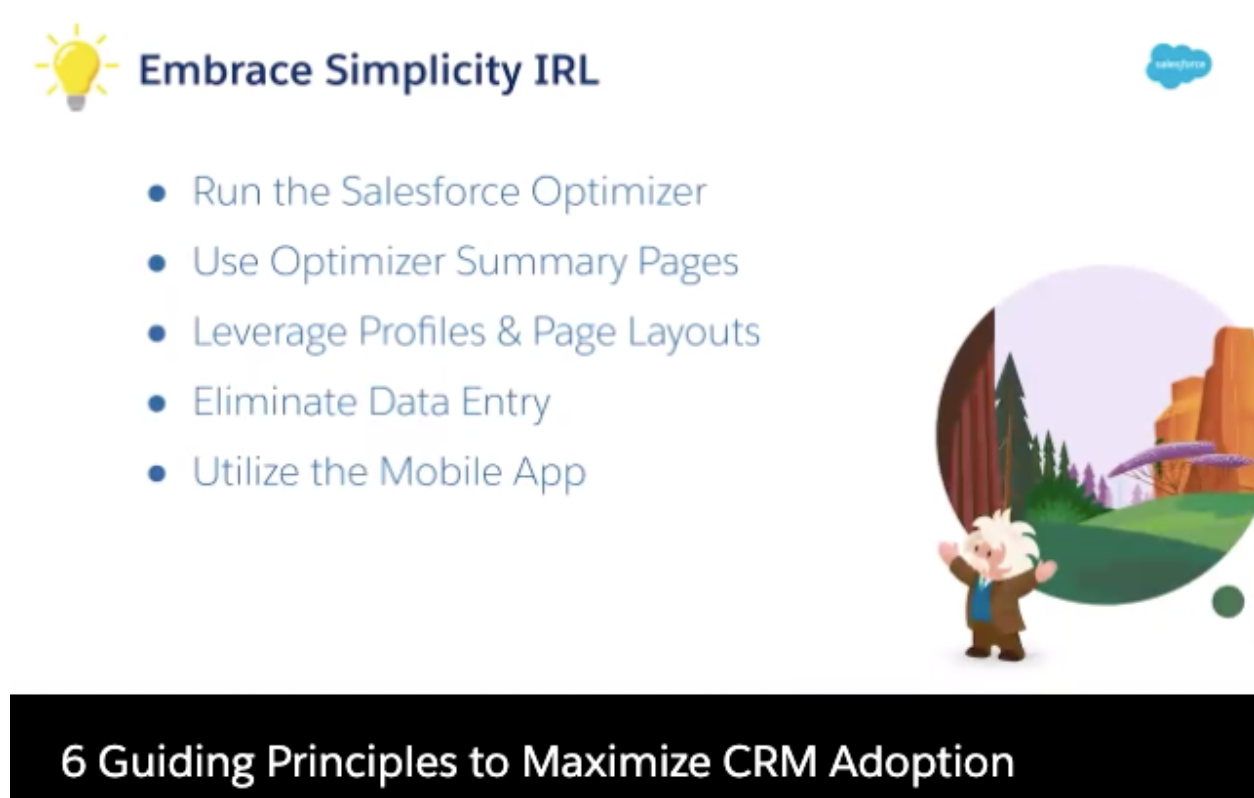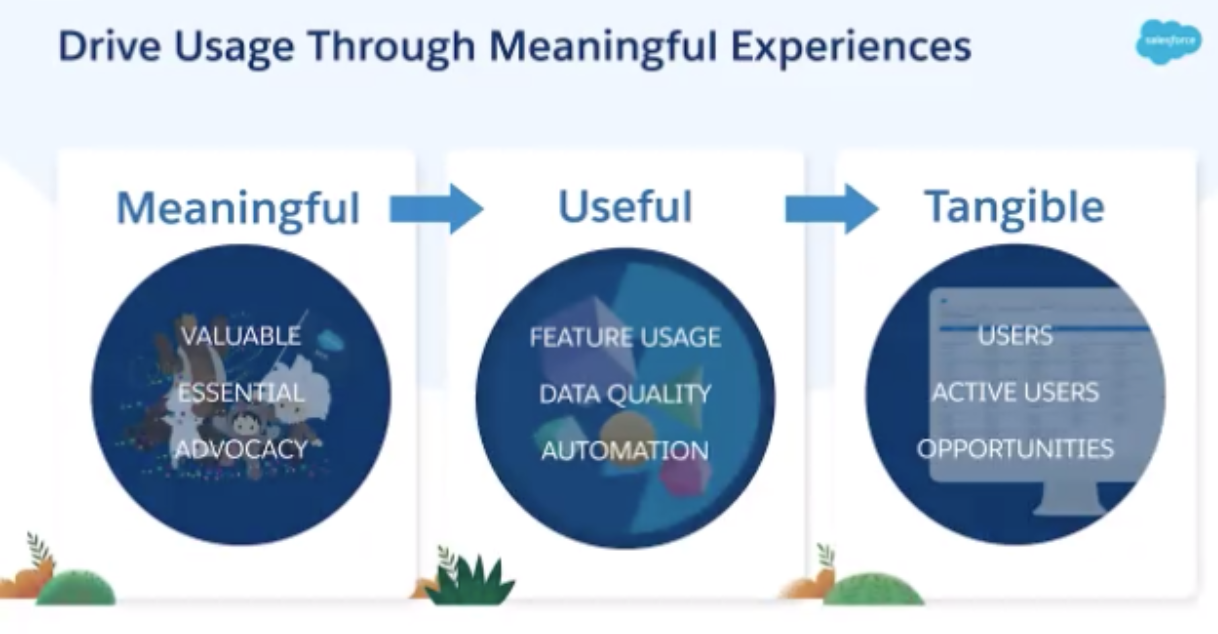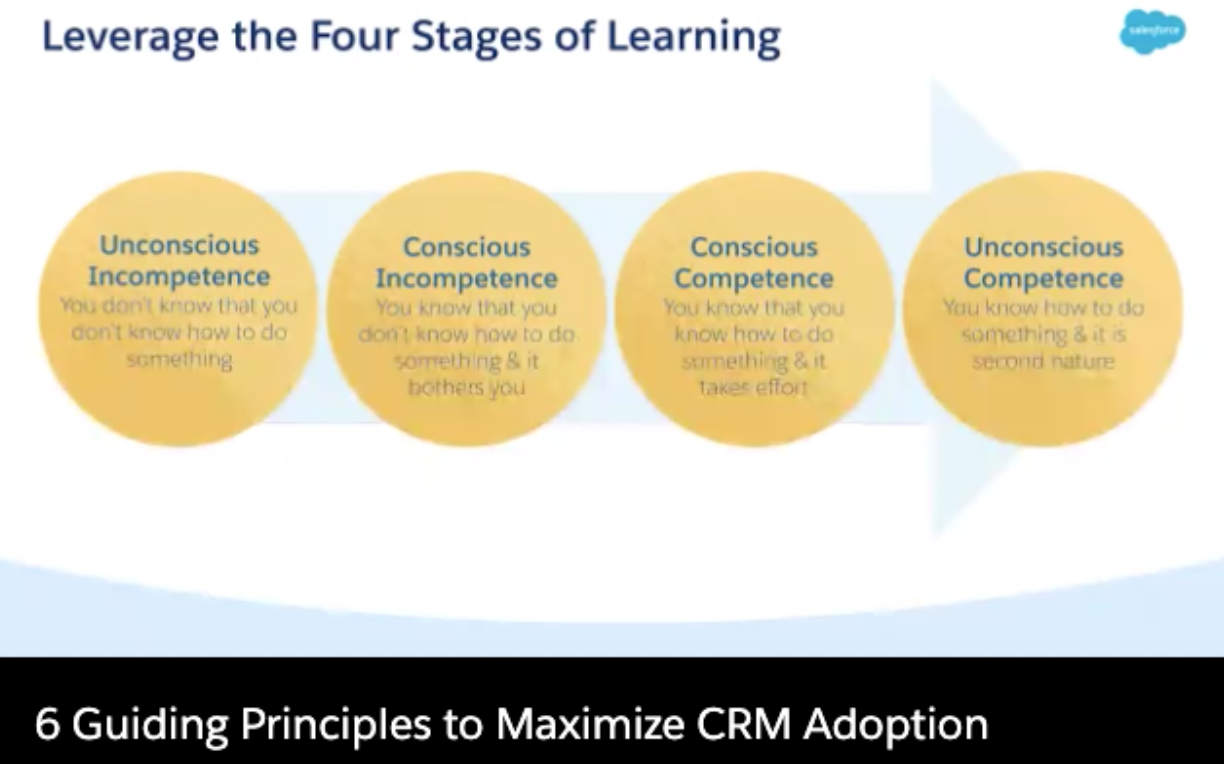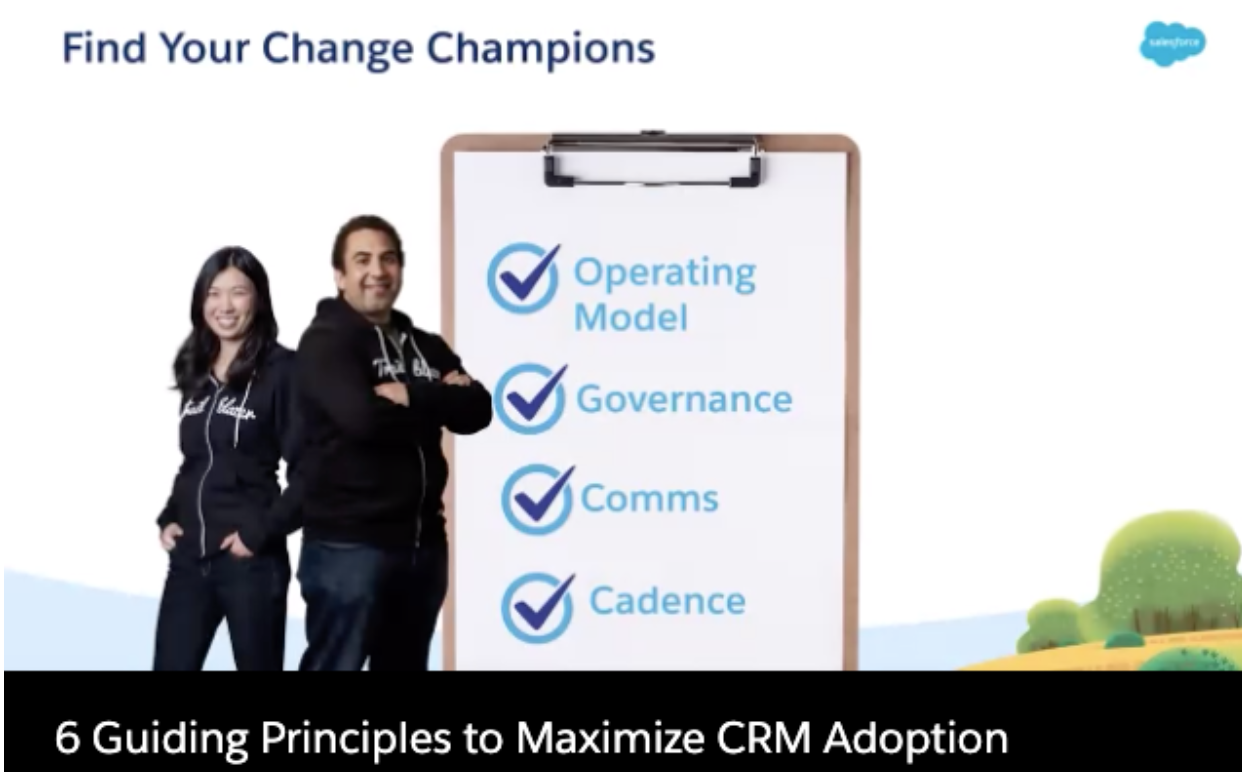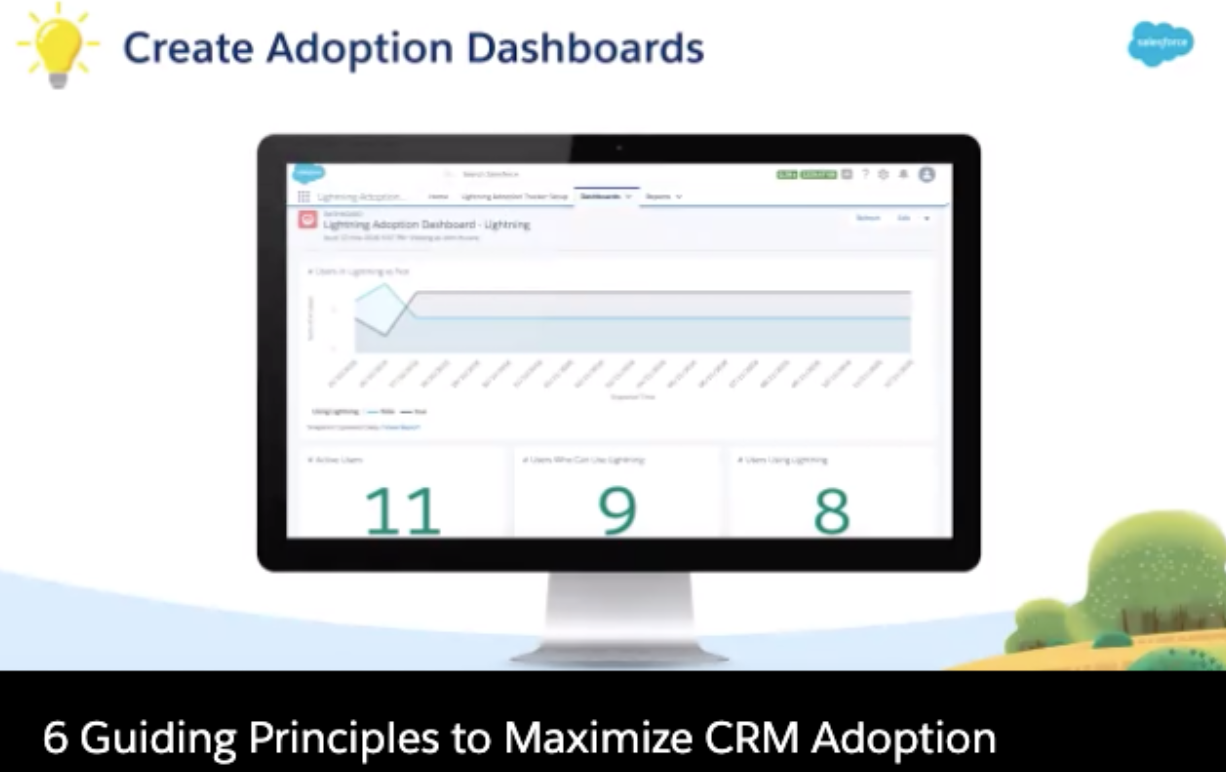 3:30 PM IT's 5-Step Playbook to Unlock Value from Salesforce  Now let's look at it from the IT perspective — giving us a 180-degree view of the challenge and how to tame it.  This session does that for us.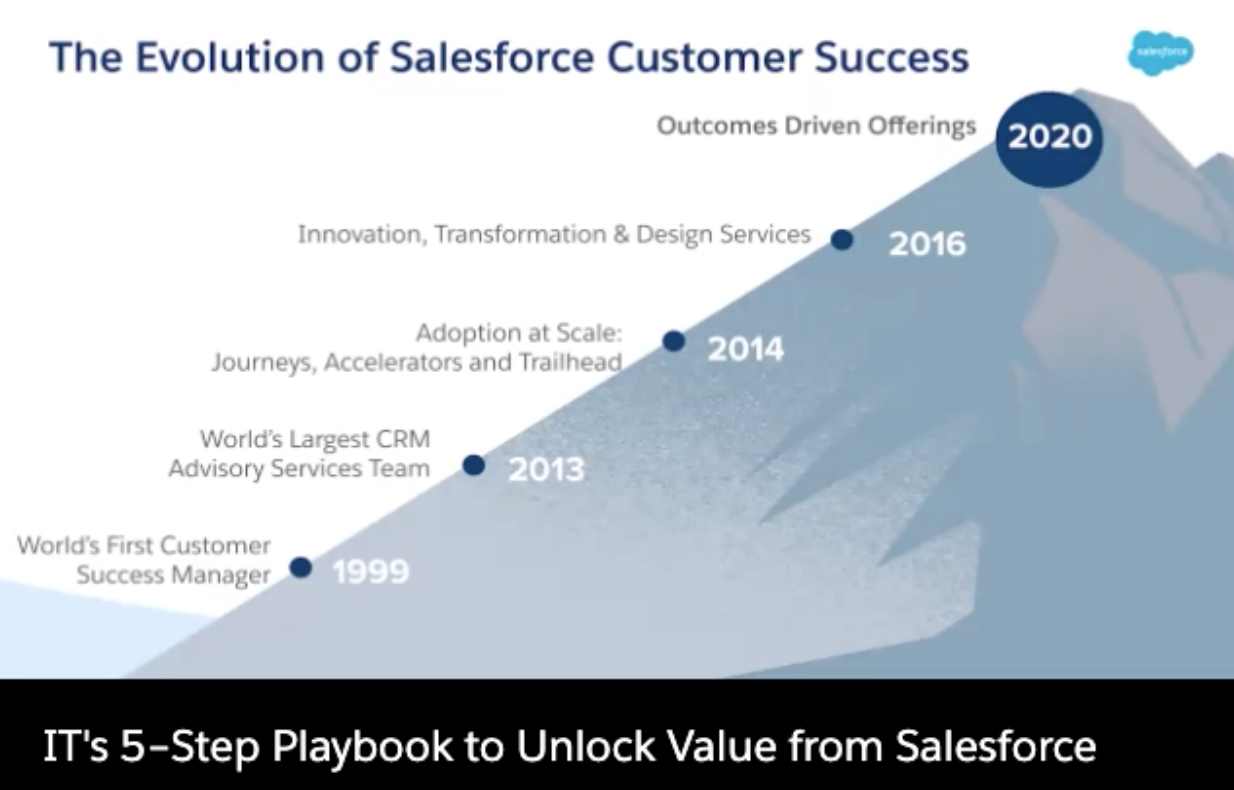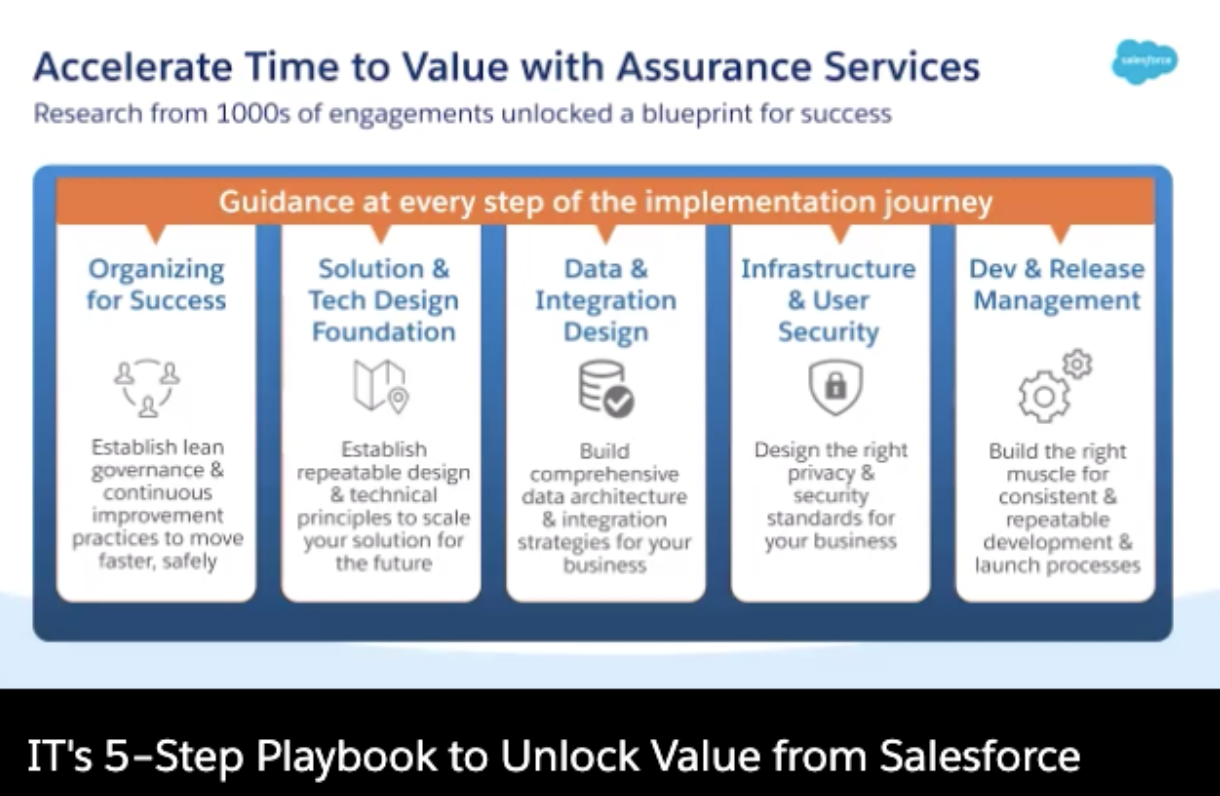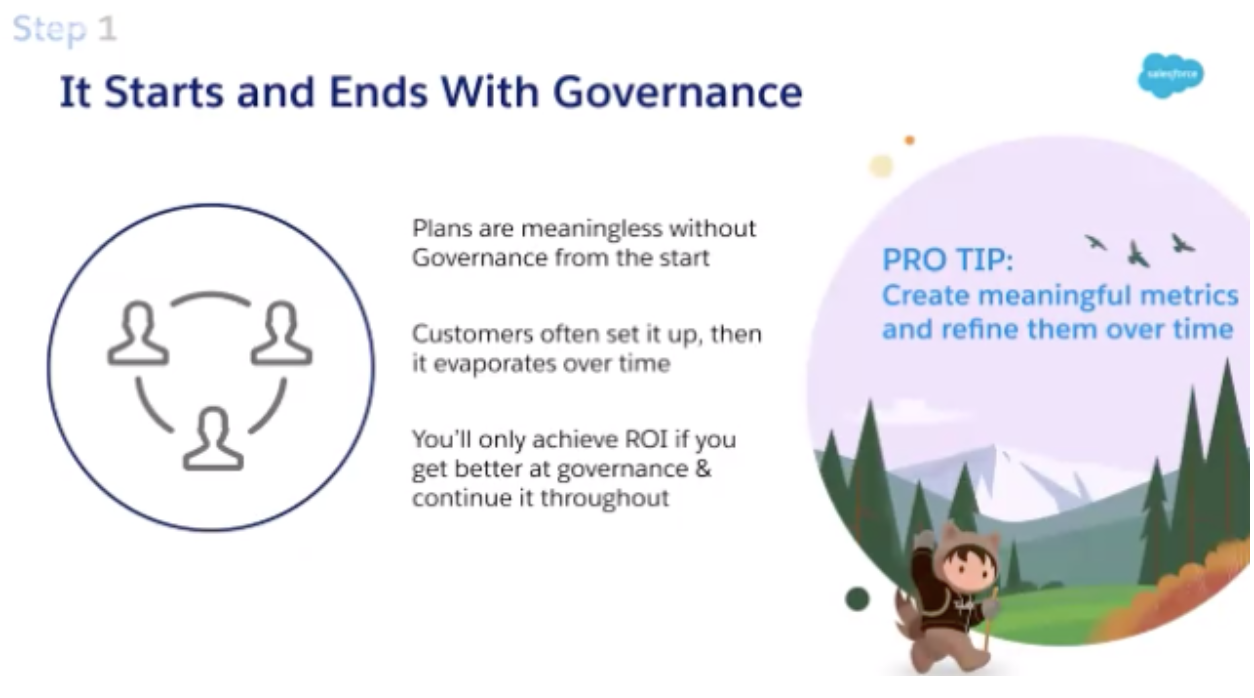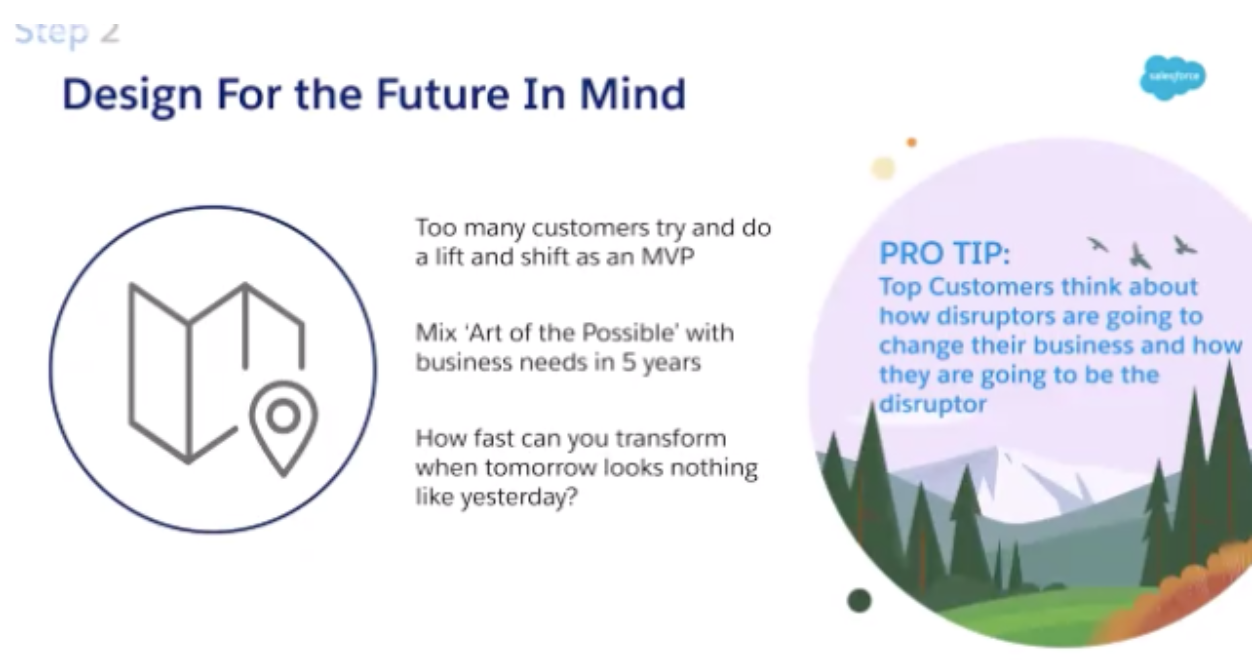 I loved the idea that was brought out with this slide — that if you try to duplicate your old processes instead of designing for change, you're likely to fail.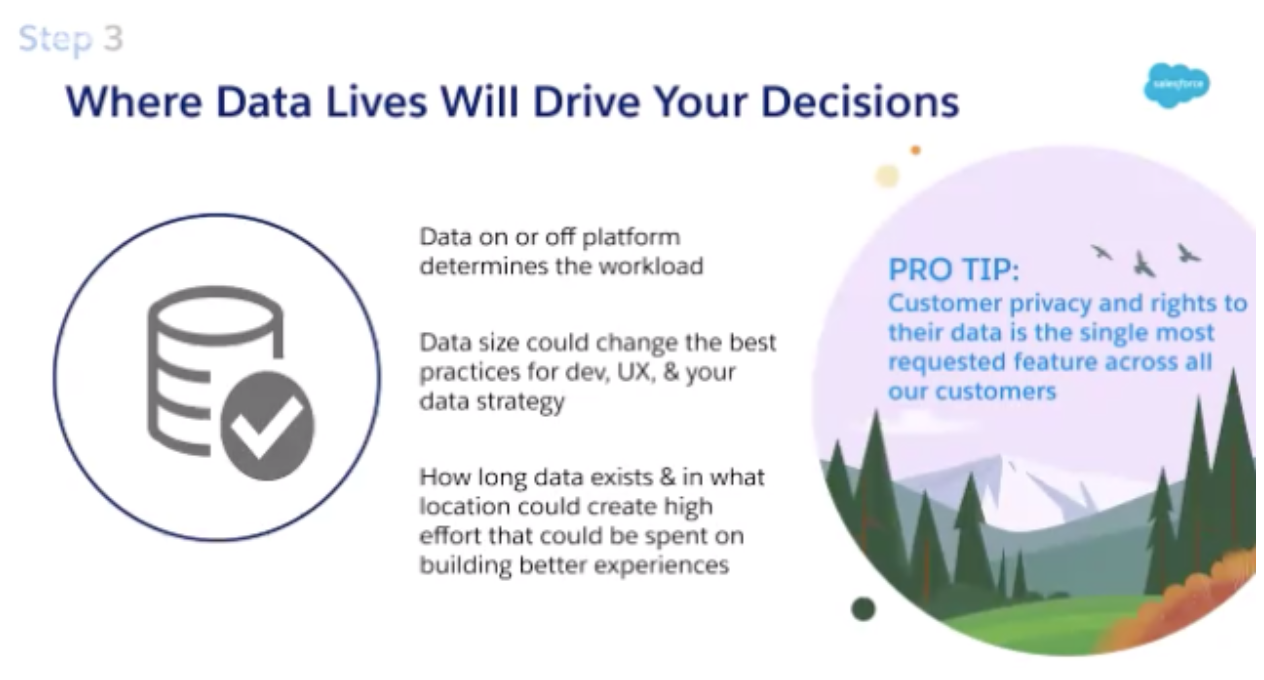 Wow – thanks so much, David!  These reviews and screengrabs definitely helped me to feel like I learned as much as you did without attending the sessions myself!
These past three days have been full of learning, demos, joy, and storytelling in the way that only Salesforce can do it.  Tomorrow will be a slightly different approach, as many of the sessions are hands-on, small group, and role-focused, and I'm sad that it's almost over!  If you missed it, check out the Day 1 recap…and the Day 2 recap.
I'll see you back here tomorrow for the Day 4 recap – I can't believe it's the last day already! I'd love to hear from you if you've attended any sessions we didn't, or have insights to add!    – Andrew Duncan, Sr. Partner Account Manager
What are your 2021 Salesforce challenges?  Our team of certified Salesforce experts is ready to meet with you to give you advice and guidance – sign up for a complimentary 30-minute Gap Analysis of your Salesforce instance using our scheduling link.
Also, check out the recording of our panel event last week, The Ghost of Dreamforce Past, where your faves and ours Eric Dreshfield, Miranda Ragland, Toni V. Martin, and Janet Elliott shared never-before-heard stories from behind-the-scenes at Dreamforce.  We laughed, we got goosebumps – you've got to hear this!
And while you're reminiscing, you can check out the talk that Mike Gerholdt and Shannon J. Gregg presented at Dreamforce 2019: Deliver Your Company's Vision with Salesforce.  Or, watch Shannon's 2015 Dreamforce session on Using Smart Apps on Salesforce to Power Business and Career Growth.
Confirmed is now a Salesforce ISV Partner, and is being finalized for the AppExchange.  If you want to get a head start on turning your scheduling from a burden into a strategic advantage across your entire team, contact David to become an early adopter of the Salesforce Edition.