WELCOME TO DREAMFORCE: DAY 1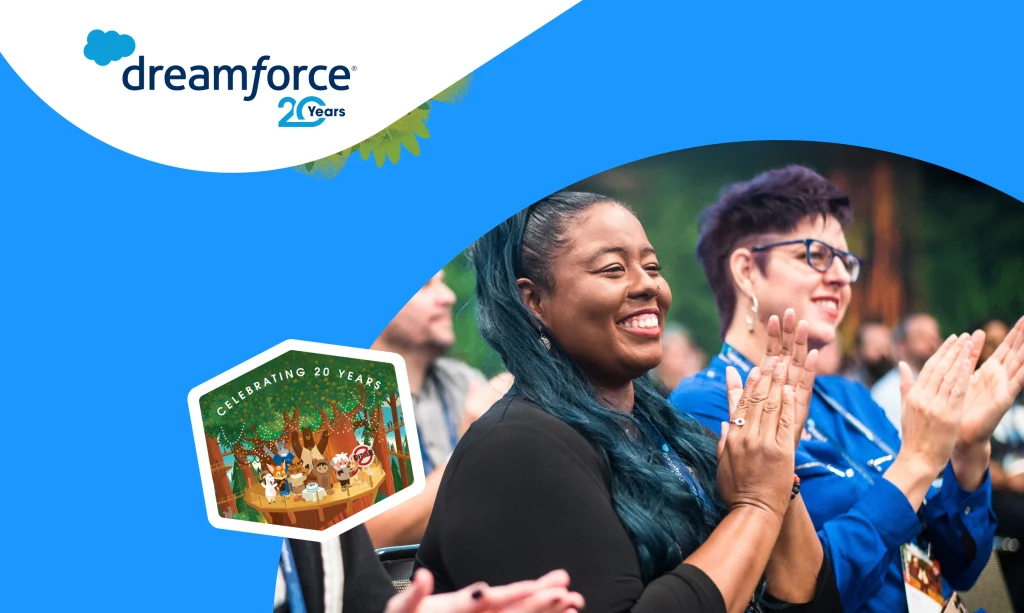 Salesforce+ is a huge hit, it seems! Easy to set up, easy to navigate, it seems like virtual Dreamforce is very much here to stay.  Welcome to Dreamforce 2022, whether you are on-ground or online.
The pre-show festivities begin with some MVP chats, building excitement while interviewing the in person attendees. The attendees seem ready to go and so are we!
Cloud Adoption Solutions is going to be coming each and every day of Dreamforce 2022 with amazing blogs, live chats, and the latest on all things Salesforce. Don't forget to subscribe!
4:00 PM, DREAMFORCE MAIN KEYNOTE 
We're back! 
After the long wait, Dreamforce is finally here! Kicking off with a huge commercial featuring some of our favorite MVPs, we are met at the main stage by Marc Benioff and
Bret Taylor!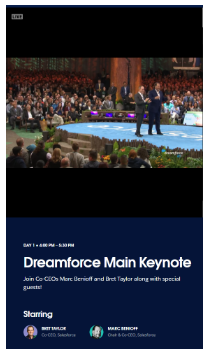 The excitement is real and you can very much feel the energy of the crowd, even from home. They are calling Dreamforce 2022 the great reunion, and to be fair we can't imagine a better way to describe it after the last few years.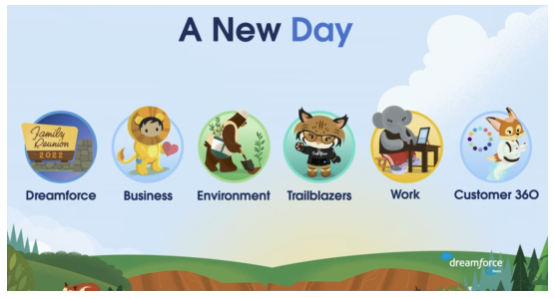 The promise of celebrity guests, dignitaries, and CEOs galore is very exciting as well as the incredible information that will come from this year's Dreamforce, and as always fanfare is here to kick things off. Speaking of a new year, Salesforce is unveiling their new day goal, which includes Dreamforce, business, environment, trailblazers, work, and customer 360 as the focus!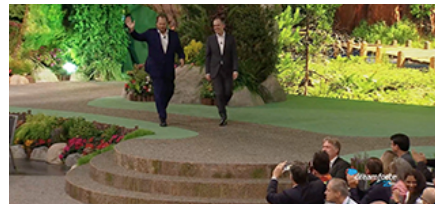 Certainly exciting as always, the Cloud Adoption Solutions team is so excited to bring all the latest Dreamforce news this week. We cannot wait for the surprises Salesforce has in store!
7:00 PM, DEVELOPER HOUR: THE FUTURE OF DEVELOPMENT
Future of development is low code. (ie not starting anything from scratch)

IBM 90 day ticket management system with all flows and 0 code

Mobile testing of LWC now available in your browser

LWR- Lighting web components to react 

Use your LWC on other websites

Really should be utilizing automated flow tests more often + everytime we create/update a flow

Place a screen flow in an LWC
Cloud Adoption Solutions is a 100% woman-owned registered Salesforce partner, specializing in implementation, integration, and optimization for Technology, Healthcare/ Life Sciences, and Financial Services/ Professional Services organizations in the small and mid-commercial sectors.
Contact us with your Salesforce challenges at info@cloudadoption.solutions – we love to help!
SUMMARY KEYWORDS:
Dreamforce, DF21, Salesforce, Salesforce Admin, Salesforce.com, SFDC