DREAMFORCE: DAY 2
Here we go day 2! 
What amazing venues, speakers, and treats await us today? We are so excited to bring you all the latest with a full day of coverage starting now!
11:00 AM, USING BUSINESS AS A PLATFORM FOR CHANGE
Ebony Beckwith, Salesforce's Chief Business Officer and Chief of Staff, kicks off this session with an impressive group of speakers to discuss how they have used their business as the vehicles for change in their communities. While we certainly have our own ways of contributing to change in our communities, it is always fantastic to have the perspectives of other business leaders as we continue to grow and are able to give back even more. We hope you appreciate the perspectives of these three accomplished CEOs as much as we did.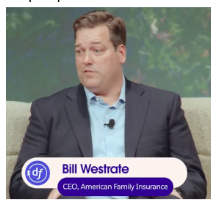 Bill Westgate, CEO of American Family Insurance, is introduced first and speaks on a few of his company's philanthropic initiatives, the majority of which appear to be centered around their HQ home city of Madison, WI. Besides being the first insurance company to join the Climate Pledge, he talks about how their hometown has one of the largest equity gaps nationally, especially when it comes to education. American Family Insurance has pledged $105m in the next 5 years to address this inequity through various programs with their Free To Dream Initiative.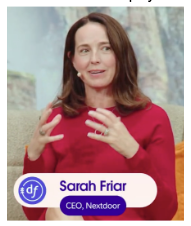 Up next, the CEO of Nextdoor, Sarah Friar, proudly discusses her organization's purpose of developing a kinder world. She boldly states that "You can do well by doing good" and talks about how this is possible on every level of her company, focusing on a story about her treasurer who was able to work in ways to benefit their local small businesses throughout their typical operations. Friar also says that "Everyone in the company feels empowered to bring their purpose to life every single day". We can only imagine from that statement how driven and dedicated her employees are to their work.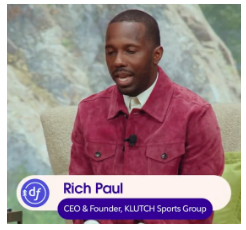 Last but not least, we are introduced to the CEO and Founder of KLUTCH Sports Group, Rich Paul. Although his company is much younger in comparison, their work is no less impactful locally as his company strives to "touch the community from a place of hope and aspiration". Beckwith follows up his introduction immediately with a question regarding how his company was able to do what they do despite the difficulties many faced during the first two years of the global pandemic. Paul states that KLUTCH Sports Group actually grew 300% over those two years and is now happily celebrating its 10th year anniversary with no employee or pay cuts during the epidemic (except for one pay cut he took himself). Not too many companies can make this statement, which he attributes to their company's leadership style: "As a leader, it's not always about telling people what to do all the time but the simple things…" One of those things, he highlights, is empathy – trying every day to understand what everyone – both employees and clients – is going through and if there's any way to assist. Paul also highlighted, as someone who is always working hard and on-the-go, giving themselves a break during a challenging time.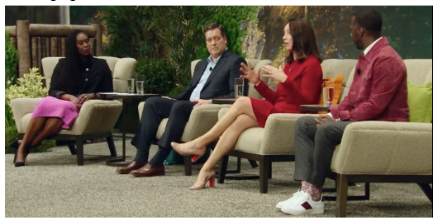 Circling back to Friar, Beckwith asks her about empowering employees to do good. Friar mentions two important principles of their company purpose: 1. Earn trust every day & 2. Invest in community. She speaks on how easy it can be to flip back to transactional business and the importance of bringing stories to the forefront to remind all of their true purpose to do good, briefly touching on one such story one of her employees recently brought to her attention in which they were the only source of drinkable water in a community. After all, people don't show up to do the job but to make a difference, so highlighting impact as often as possible is crucial to driving their mission forward and keeping everyone in alignment with their purpose. Friar ends her response with the statement that, as leaders, employees need to be engaged both intellectually and emotionally to "make things happen". We could not agree more!
Bill jumps in to talk about his company's efforts to keep employees engaged, echoing Friar on the importance of making sure both mind and heart are both on the same page. It is of the utmost importance to him that every employee understands and adheres to their customer-centric strategy, a key reason why they are only 5 years away from celebrating their 100th birthday. So close to an incredibly impressive century milestone, he details their 502×98 goal, which stands for increasing their employee diversity by 50% before 2024, growing twice the rate of the industry and sticking to a 2% profit margin while the rest is reinvested into their company, employees and customers. At two and a half years into this vision, and a bit over a year to go, they have increased their diversity by over 30% already and raised their minimum wage to $23 per hour. 
Beckwith comes back to Sarah Friar to close out the session with a question on how, as a business leader, she has addressed important issues for change, especially given the divisive nature of many that have arisen over the past few years. Friar first warns leaders of the dangers of feeling overwhelmed by everything out there today: "You can fall into the trap of everything is important to nothing is important." When she is approached about a particular issue, she falls back to three criteria to determine if and how the company will address an issue:
Can we make an impact?

Is there a bias here to action? In other words, can we work this into our Product for direct action?

Are we able to address this as a company in a way that puts our neighbors first? Meaning, how can we address this issue in a meaningful way from the perspective of those affected?
She expands on the later points, bringing up a partnership Nextdoor has with vote.org to assist with voter registration and emphasizing that personal agendas cannot have a place in these kinds of responses. 
Friar then ends the session with her framework for addressing social issues using her company as a platform for change, breaking it down into three key points that are very similar to her criteria outlined above.
Does this issue and call to action align with our core values?

Can we actually make a difference?

What will the impact be on stakeholders?
These considerations are very important to any leaders looking to use their business as a platform for change, no matter how large or small of an impact that change will make. 
3:00 PM, FINANCIAL SERVICES HOUR: SECURE CUSTOMERS FOR LIFE
Mark Sullivan EVP Financial Services, Salesforce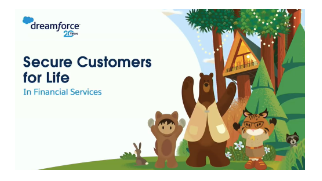 Some milestones are overshadowed by the circumstance of Dreamforce. One that shouldn't is the fact that we are now entering 20 years of investment in financial services at Salesforce. Salesforce has once again communicated its commitment to Financial Services, and developing apps, platforms, and technology that will continue to better the Financial Services industry.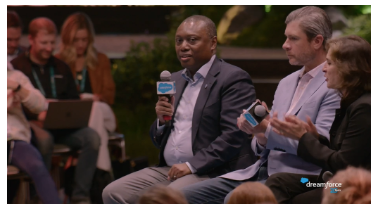 Looking to focus on understanding the customer better is the main goal for many Financial Services, and this has become increasingly difficult for firms to do since the pandemic and the inflation issues plaguing the country.
Salesforce believes moments in financial services should be more relaxed to quell anxiety, give customers more connection and security. Customer centric approaches are intended to increase equality, financial literacy, and sustainability. Additionally, Salesforce has announced partnerships with Charles Schwab, Fidelity, and FIS that will enable them to continue to blaze a new path in the future of Finance.
7:00 PM, HEALTHCARE & LIFE SCIENCES HOUR: UNLOCK HEALTH EQUITY 

In this session, you see how to integrate virtual care into holistic patient journeys with Salesforce for lower costs and easier care access.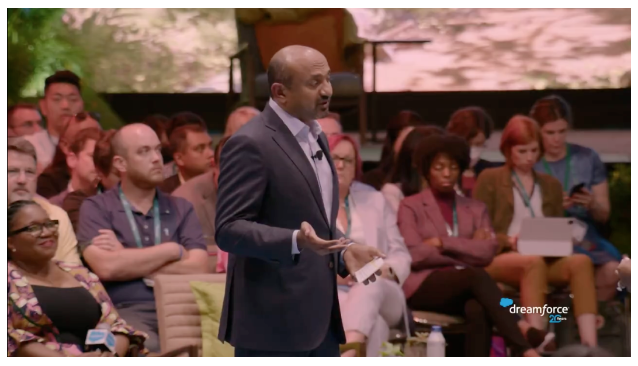 Salesforce wants to meet patients where they are – to really help to make all patients and patient care and access and equity available for all.
Salesforce wants to reduce duplicative technologies to lead to a better experience, and wants to build more and more connective experiences.  This will help to lead to better health outcomes.  Technology can be used to create better experiences for all involved in patient care.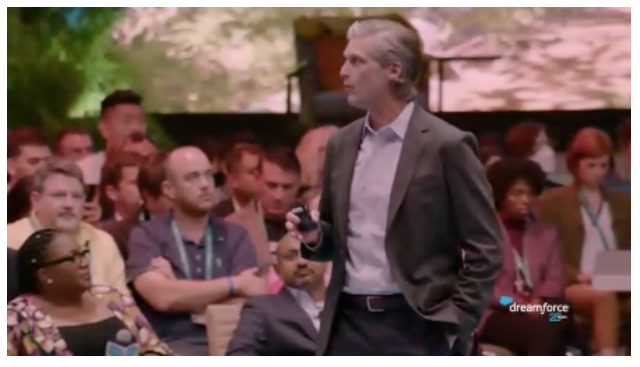 It is well documented that health is shaped by social experiences.  Salesforce announced new Unified Health Scoring to help optimize health outcomes, to allow clinicians to tailor care to each patient.  Automated alerts can help to flag high risk patients.  The patient health score connects both clinical and non-clinical analytics to give a unified overview of a patient – including transportation, food security – giving a better view to the overall health of each patient.  Assessments allow clinicians to uncover better information about each patient; this capability allows clinicians to better engage with each patient for better holistic care.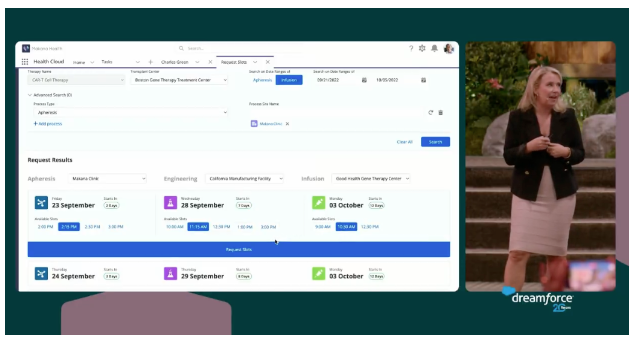 Salesforce unlocks efficiency, simplicity, and a single view of the patient to get patients into therapy faster.  Slack and MuleSoft can help to give automated updates as a patient progresses through their journey so that care can be coordinated along the way.  
To wrap the healthcare keynote, Salesforce is asking you to share your feedback using this QR code!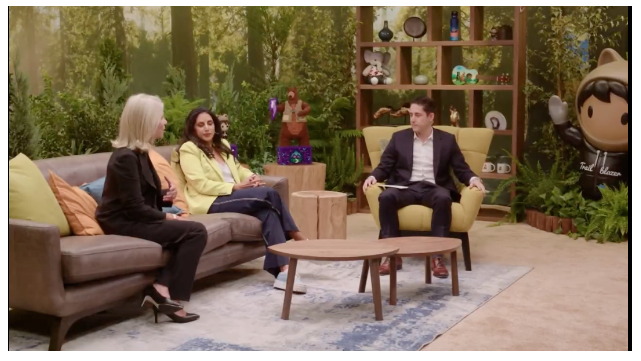 Telehealth continues to be a modality to allow patients to get the health when they need it, where they need it.  Salesforce is the connected platform that can help with virtual care; patients want access to help whenever they need it, and they want to do it when doing daily things like walking the dog or driving in the car.  Salesforce is really about scaling personalized experiences and powering that relationship between patients and their caregivers. 
Cloud Adoption Solutions is a 100% woman-owned registered Salesforce partner, specializing in implementation, integration, and optimization for Technology, Healthcare/ Life Sciences, and Financial Services/ Professional Services organizations in the small and mid-commercial sectors.
Contact us with your Salesforce challenges at info@cloudadoption.solutions – we love to help!
SUMMARY KEYWORDS:
Dreamforce, DF21, Salesforce, Salesforce Admin, Salesforce.com, SFDC