Dreamforce Day 1 Recap
It's a whole new Dreamforce on Salesforce+! Instead of the old agenda builder, you can join Dreamforce virtually using a UI that is much more like your favorite streaming service:
12:45 PM, Dreamforce Main Show: Welcome to the Trusted Enterprise with Marc Benioff and special guests Hasan Minhaj, Metallica, and more!
"It's always someday, but why can't the change we desire be today?"
Salesforce begins Dreamforce 2021 with the energy and pace that is needed to bring their vision into reality. Touting new ideas, acquisitions, and technology, Salesforce shows the future of customer 360 to the very beginning of Salesforce.
Starting with the usual fanfare and the ever present Metallica, Salesforce kicked off Salesforce off in style! A fun stage, beautiful graphics, and compelling guests, Dreamforce felt like the event to be at.  This year being primarily virtual, Salesforce seemed to amp up the heart and the good feelings that normally accompany their in person events. Using song, kind gestures, and warm colors, Salesforce really brings things into a calm and cozy atmosphere this year.
But don't let these calm vibes fool you; the energy is still rocking in San Francisco. Salesforce has so much up its sleeve for the next couple of days and they are certainly poised to show off their newest and brightest technology and acquisitions. Expect a lot of fanfare as well as incredible amounts of information coming the next few days; after all, Salesforce has been planning Dreamforce 2021 for an entire year!
3:30 PM, Accelerate End-to-End Financial Services Transformation: Taylor Wirfs, Salesforce Financial Cloud Expert, Mark Sullivan CFO Salesforce, Vlad Tenev CEO Robinhood
Financial literacy and freedom is one of the largest conversation topics of 2021. With all the changes that the world is facing financially, Salesforce aims to be on the forefront of successful digital transformation, believing that this will play a big role in financial services.
For financial service firms, using Salesforce correctly for customer-centricity will be key, as the customer will continue to look for tools that are easy to use and design friendly. In this conversation, the CFO of Salesforce talks to Vlad Tenev the CEO of Robinhood, an app and online based financial service platform that has gained huge popularity because of its human centered design and Ohana spirit.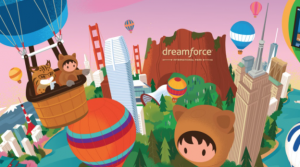 Tenev points out that new generations of investors are increasingly aware of financial tools on the market, so to stand out a more customer centered approach is necessary. He credits much of Robinhood's success to its usability and accessibility.
It's very clear that in the past few years Salesforce has staked a large amount of its faith in financial firms' use of their platforms, and in the coming 2021, you can look forward to even more use cases and technology leaps in this sector!
Check out our Day 2 and Day 3 recaps as well – they have loads more Dreamforce21 info! #DF21
Cloud Adoption Solutions is a 100% woman-owned registered Salesforce partner, specializing in implementation, integration, and optimization for Technology, Healthcare/ Life Sciences, and Financial Services/ Professional Services organizations in the small and mid-commercial sectors.
Contact us with your Salesforce challenges at info@cloudadoption.solutions – we love to help!
SUMMARY KEYWORDS:
Dreamforce, DF21, Salesforce, Salesforce Admin, Salesforce.com, SFDC