Dreamforce To You: New York is a new way to experience the Salesforce extravaganza known as Dreamforce.  Held in the Javits Center, similar to the Salesforce World Tour New York events, this event was also live-streamed on Salesforce+ so that everyone could access these amazing sessions regardless of where in the world they are!
Our team was so excited to attend these sessions virtually from home.  We took notes of the biggest takeaways and inspiration and are happy to share these with you here!  Read on:
10:00 a.m. How the Future Works with Marc Benioff
"Business is the greatest platform for change" is a phrase that Salesforce – and Marc Benioff – introduced a few years ago and today's event is certainly proving that to be true.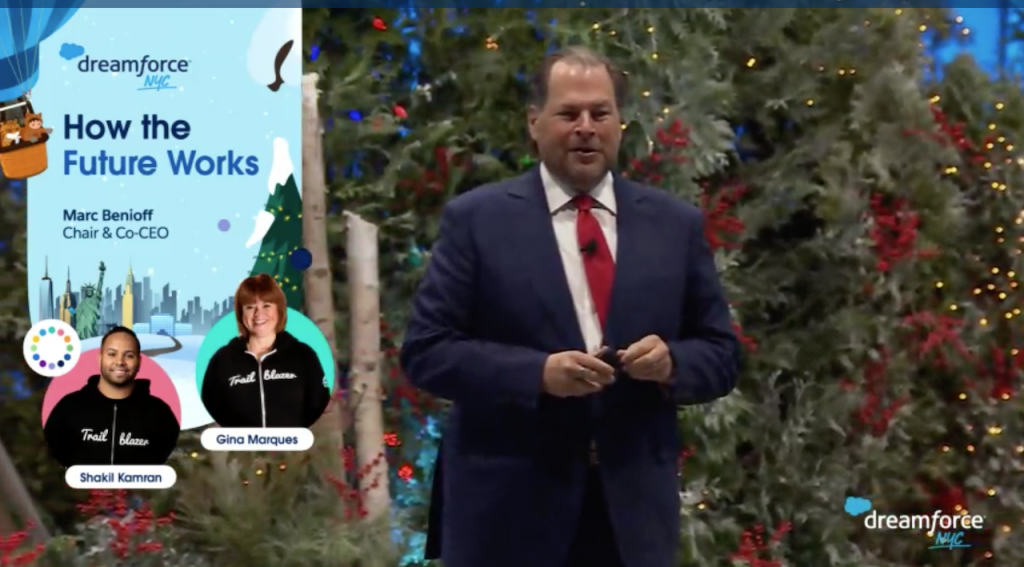 Excite, motivate, energize, entertain – those are the goals that Benioff has for Dreamforce New York today.  And the environment is one of Covid-safety: Benioff reiterated the protocols that were taken to make this event safe for all on-ground attendees.
The core values of Salesforce remain the same, and steadfast: trust (including safety), customer success, innovation, and equality.  Salesforce is leading the way as TRUSTblazers, not just Trailblazers, and the future of industry depends on customers being able to trust in the future.  Business has a role to play in society, and as business leaders, we set the tone to create the society that we all want to be a part of.  The pandemic, the environment, issues of equality, they all depend on business being the greatest platform of change – one that serves all stakeholders.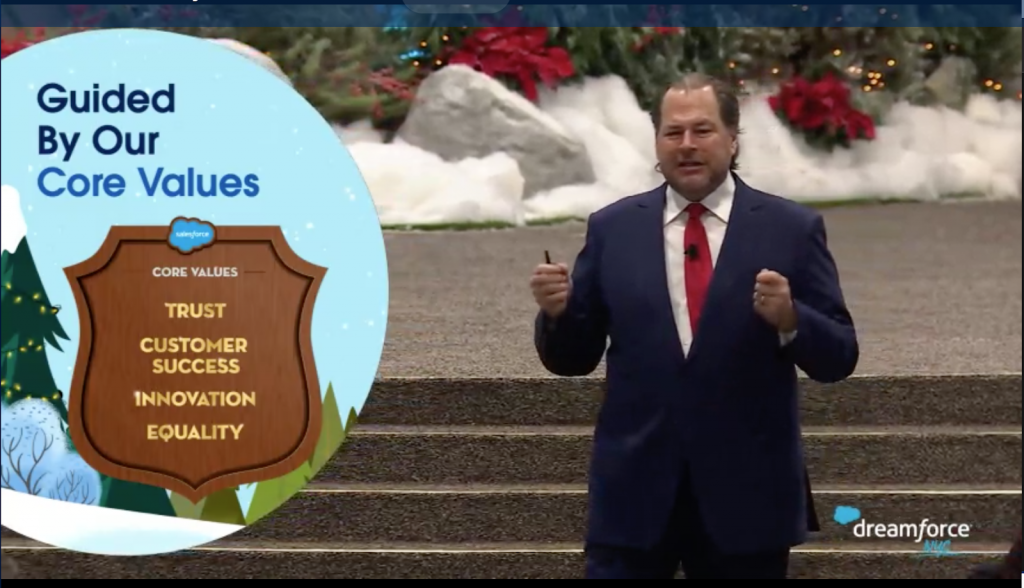 Salesforce has partnered on some amazing products and services like UpLink, Safety Cloud (which powered Dreamforce San Francisco and is powering Dreamforce New York).  Benioff welcomed NYC mayor Bill DeBlasio, who thanked the Ohana for living the Salesforce values.  DeBlasio reminded us that the very hall everyone on-ground is in was a field hospital at this time last year, during the height of the pandemic.  Salesforce worked with New York City to create the largest contact tracing system, the biggest vaccination effort in America – and DeBlasio credited Salesforce for NYC being the most vaccinated place in America thanks to the systems that Salesforce helped to build.  The public/private sector partnership is working!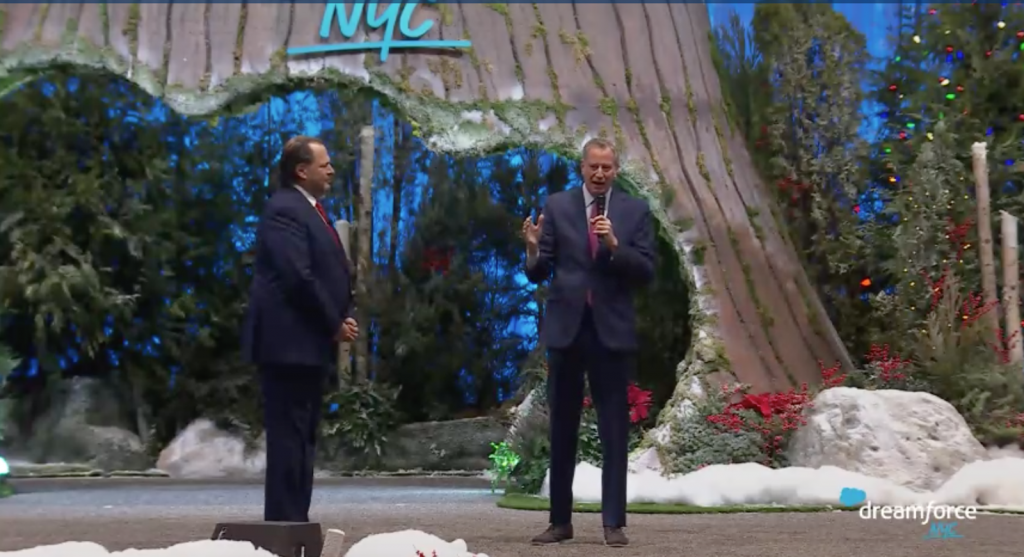 Salesforce had an incredible quarter, and the Salesforce ecosystem is growing strong.  Salesforce announced a $6.9B revenue in Q3FY22.  Exciting partnerships like the one announced yesterday with Ford are keeping companies in the cloud, able to delight their customers better, faster, regardless of what the pandemic brings.  The Ford cloud will let them connect to consumers, but also to businesses doing professional work with Ford vehicles.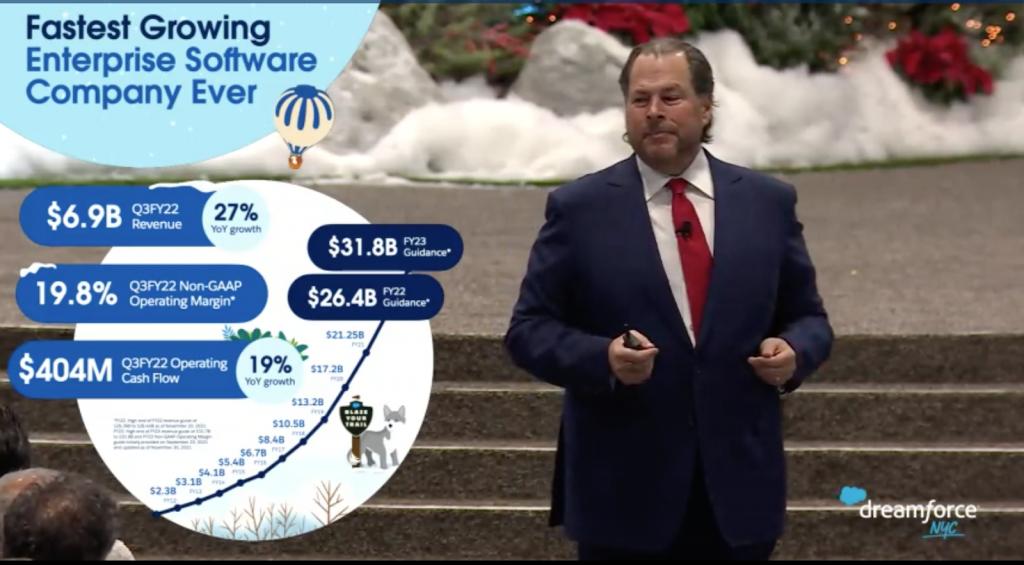 Cyber week was powered by Salesforce.  Over 40.6B marketing messages were sent via Salesforce during cyber week, which was a 34% year over year (YoY) growth.  Incremental sales driven by Einstein of $334M were realized, which was a 20% YoY growth.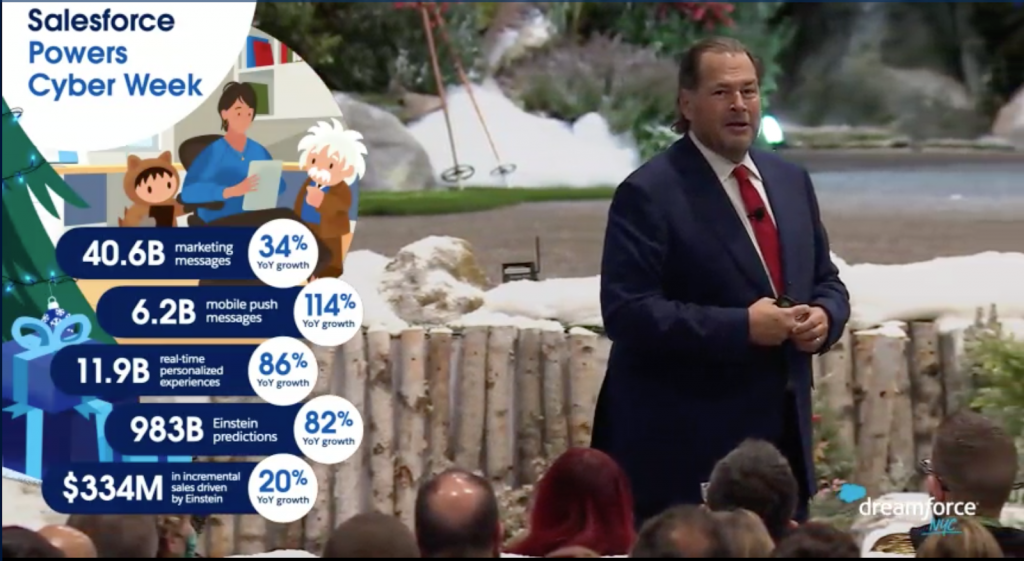 Salesforce co-CEO Bret Taylor took the stage to announce Dreampass – an app that maintains safety standards for your live events to ensure all attendees are safe in this Covid environment. A live demo showing how Dreampass could be used by Accenture to bring attendees to a safe live event.  The Dreampass uses journey builder to streamline attendee messaging.  A digital workflow allows attendees to upload an image of their vaccination card which will live securely inside of the attendee record in Salesforce.  The protocol is fully customizable so that your company can remain agile in case your event attendance security protocols change.  Tracking and management, reporting and pre built workflows are all in one location.  Attendees will be allowed onsite using the Dreampass application.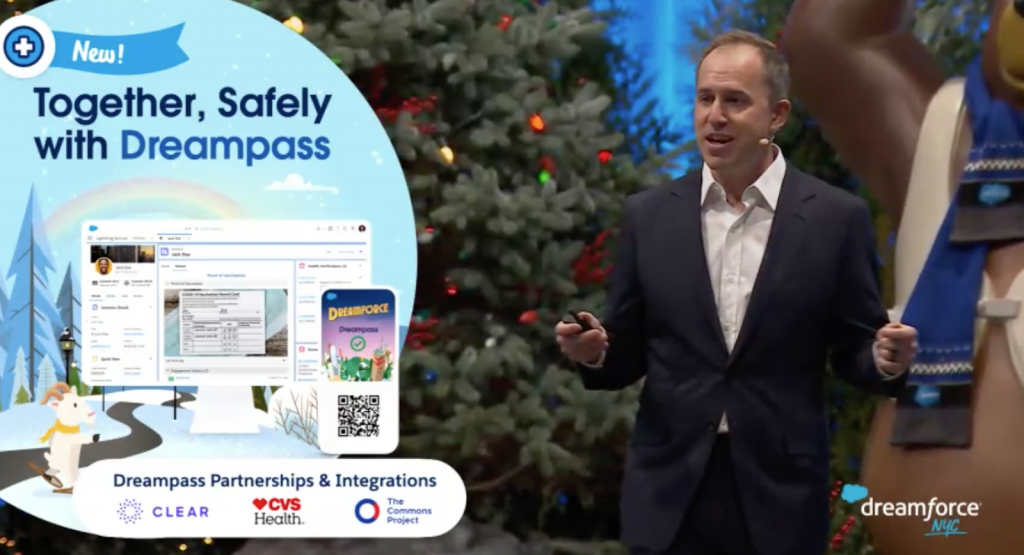 11:30 a.m. Customer 360 Product Innovation Hour with Soledad O'Brien 
Learn the latest news and innovation coming from the Salesforce product landscape. You'll hear from CRM, Digital 360, Salesforce Platform, Tableau, and MuleSoft through conversations, demos & more.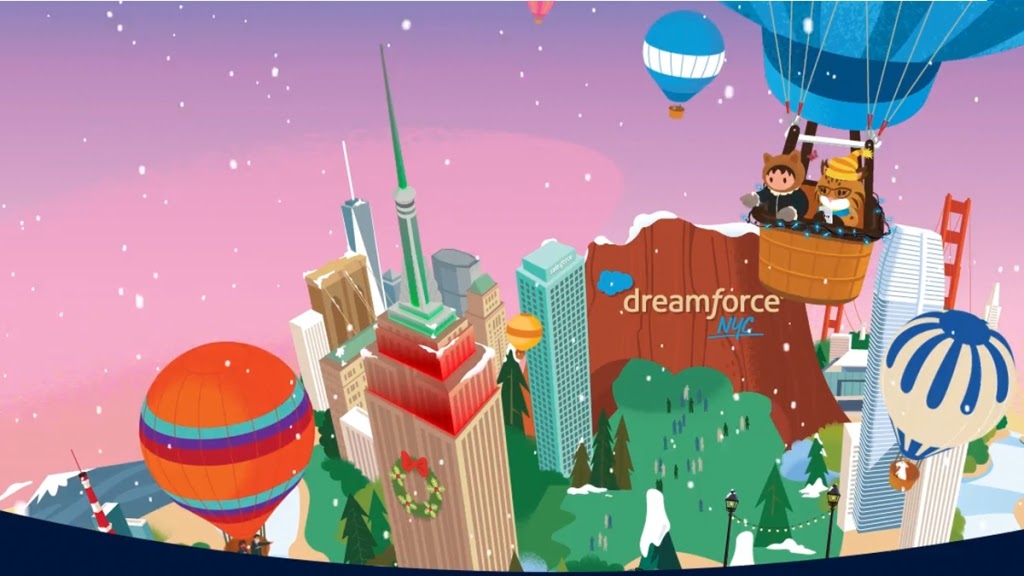 Conversations about customer 360 aren't new, but what is new is the constant adaptation and acquisitions that Salesforce is bringing to the table. Customer 360 will require the most sophisticated tech stacking that the world has to offer, and Salesforce is ready for the challenge. Through these new acquisitions announced this year, and configuring these new companies into the Salesforce ecosystem and way of doing things, Benioff and the Salesforce board are really pushing to get the best and most clear vantage point of your customer actions.
Through these new acquisitions announced this year, and configuring these new companies into the Salesforce ecosystem and way of doing things, Benioff and the Salesforce board are really pushing to get the best and most clear vantage point of your customer actions.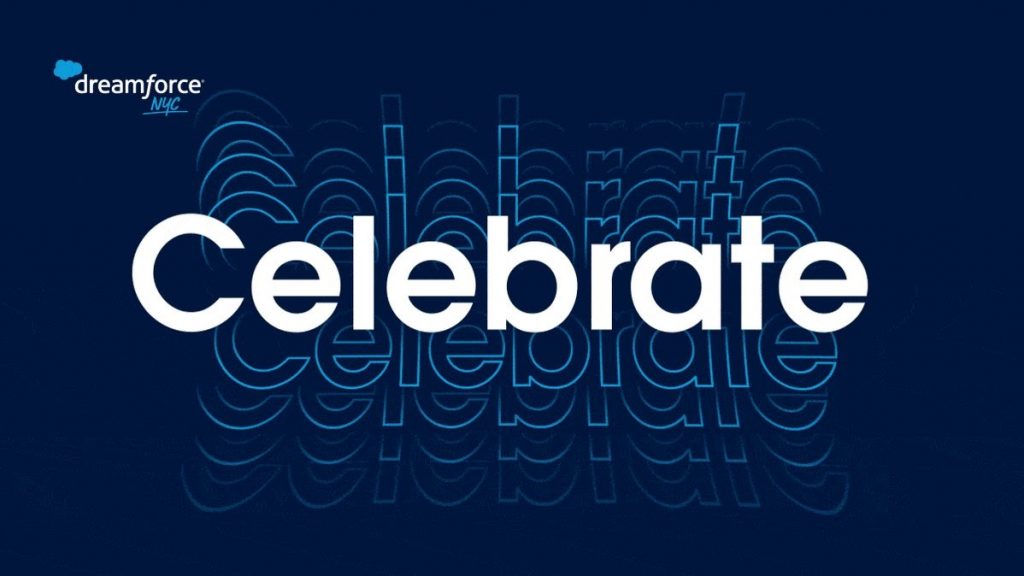 Good hosts and a myriad of experts, this was a great way to start things after the opening session, and show that Salesforce means business in 2022, and you can probably look into more acquisitions in the future that will add to the customer 360 lens.
12:30 p.m. Welcome to Your Digital HQ
1:00 p.m. The Latest from Leaders on Sustainability
1:30 p.m. The Next Generation of Financial Services Transformation
2:00 p.m. Accelerating Transformation Across Industries 
In this session, we saw a rapid demo of how Salesforce can be used in different industries.  Moderated by Soledad O'Brien, there were a few segments around different transformations across industries.
In a heartwarming section, Leah McGowen described the Golden Hoodie award and the overall passion of the entire Salesforce Ohana.  "I want to help the next person along" is the energy that the Ohana brings to the tech space, and it's unparalleled.  O'Brien and McGowen talked about why in-person events are so important to Trailblazers; the energy in meetup groups that happens in person is part of the special essence of the Ohana.  Finding ways to stay together, connected in different ways including virtually, has been a priority of the Salesforce community.  Slack and the reimagined Trailblazer online community are more expansive and more inclusive.  
McGowen flipped the script and asked O'Brien what she was grateful for – in a long list of things, O'Brien mentioned how excited she was to see live events returning to NYC.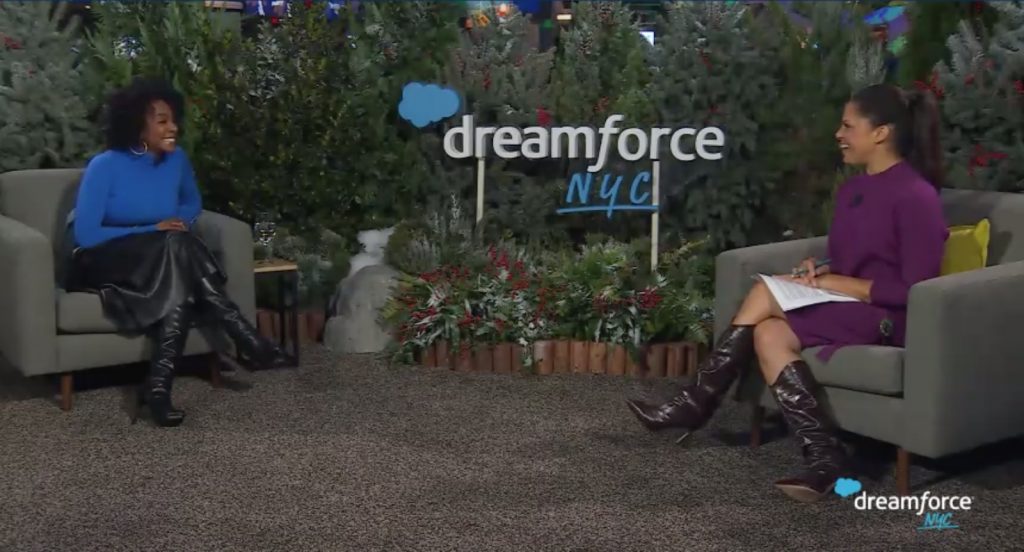 Deborah Corrao, Managing Director, Accenture also sat down with Soledad O'Brien to talk about Dreampass and the Net Zero Cloud.  Focusing on trust is an important element in business.  Thought leadership and innovation have really been needed during the pandemic, and movements in technology needed to be fast.  With great need comes great innovation, and that's very hopeful as we look to the future.
2:30 p.m. Drive Growth with Commerce at the Heart of Your Business 
Accelerate revenue growth by giving every employee a stake in commerce. Learn how Salesforce Commerce Cloud is helping companies in all industries drive efficiency and customer success.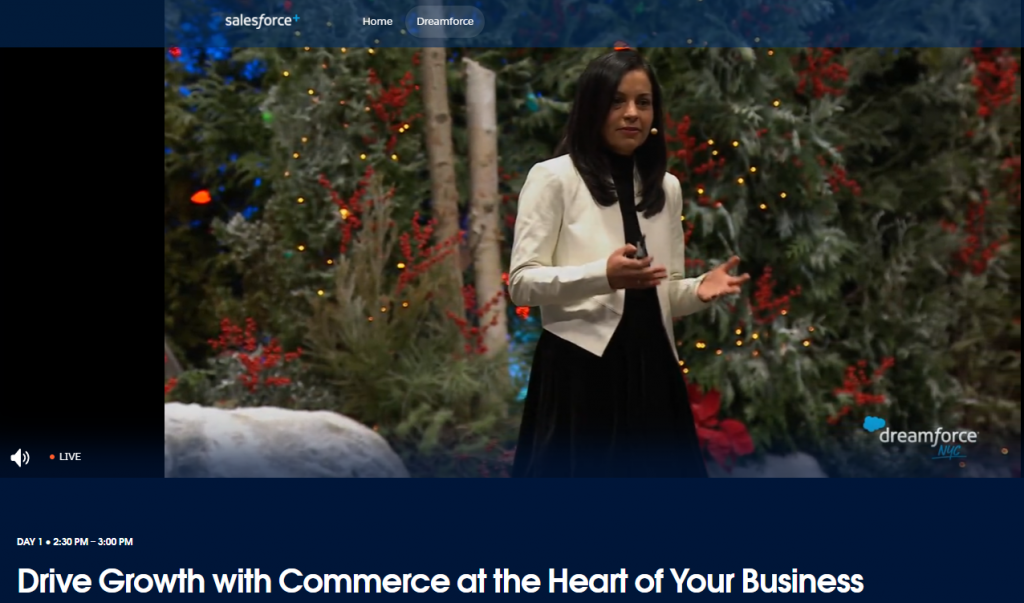 Revenue growth is on everyone's mind heading into 2022. As we seem to finally be handling the pandemic, and the supply chain issues loom large, how do we protect ourselves and our clients with Commerce at the center of the topic?
Salesforce is saying they have the key to understanding not only the best ways to make commerce for your business more efficient, but to also circumvent the many issues that supply chains, labor shortages, and even national shortages can cause.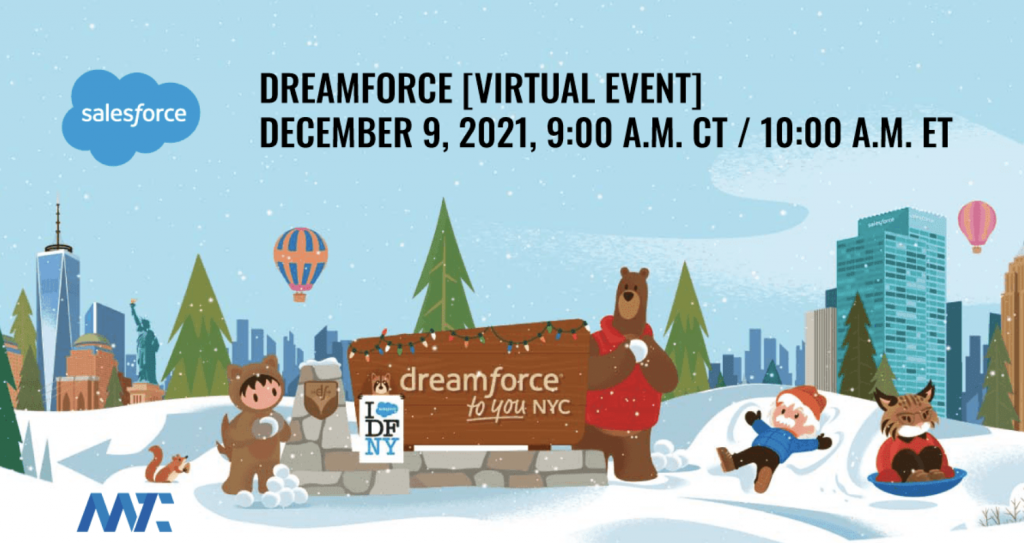 Salesforce Commerce Cloud is showing up big for companies in the late stages of 2021, with a whole line of clients who saw exponential growth to their organizations commerce with changes up to 30%. If these enterprise businesses can use this organization so effectively, and build the foundation of customer success and happiness, what can it do for companies of half the size? The limits are not know, as they continue to make changes and improve the already great service cloud.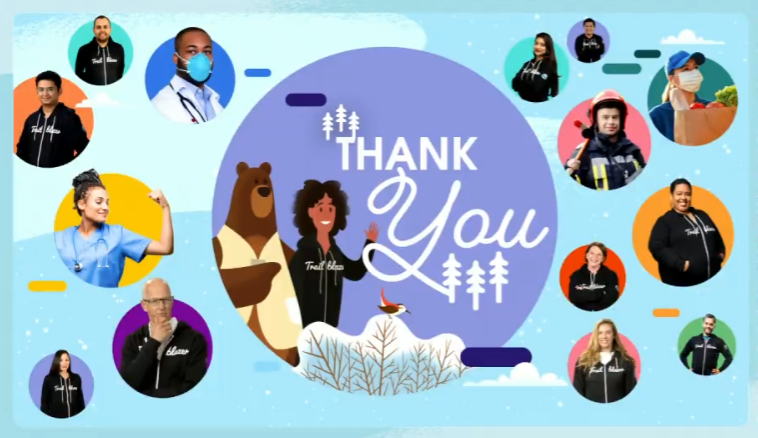 3:00 p.m. How Salesforce Brings Customers Together Safely
The Salesforce science team spent time to understand what the key to a successful live event might be.  Science will stay at the table, and the product and process at Salesforce will continue to take science into account.  Vaccines, masks, technology will help to allow us to live alongside the pandemic and continue to have live events.
Event planning for Dreamforce included a lot of planning using Salesforce.  A live demo of the marketing journey, web and mobile registration using an automated process and digital workflow to verify vaccination cards and negative tests, and the Dreampass provided to eligible guests using a QR code for onsite admission.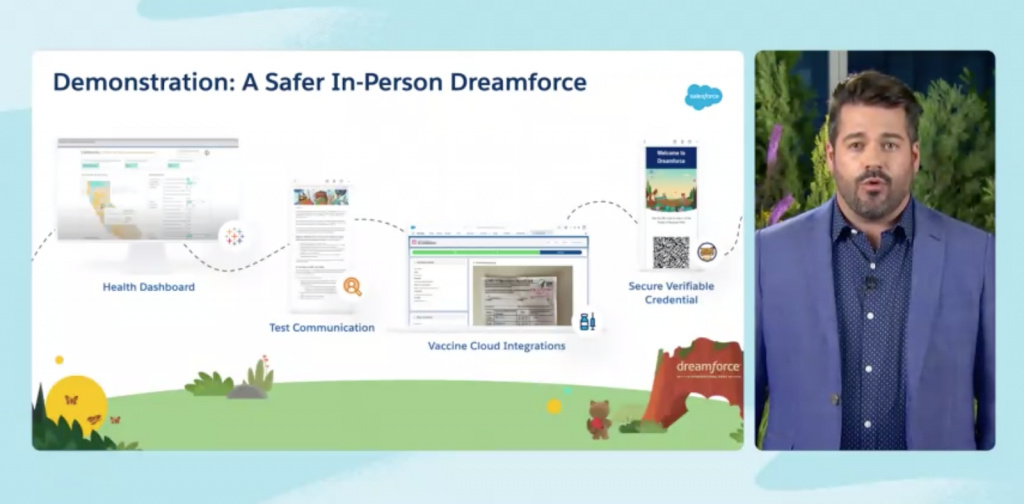 Companies who want to embrace health and safety should develop medical policies, do scenario planning, and treat it like any business challenges: what processes can you automate?  Consider a solution that allows you to provide rapid response.  Work with companies committed to privacy and trust.  It's our responsibility to deliver a healthy and safe future and we can do well by doing good.
When your customers are looking for leadership, your leadership must include science at the table.  We're all global citizens, and corporate social responsibility matters more now than ever.  Courage and humility is the path forward. Progress and innovation is the silver lining of the pandemic.
3:30 p.m. Build Your Career, Community, and Company with Salesforce
4:00 p.m. Climate Activism, from Intersectionality to Inventions
4:30 p.m. Trust, the Future of Work, and the Power to Heal
5:30 p.m. Dreamforce NYC Closing Celebration with Black Eyed Peas
Cloud Adoption Solutions is a 100% woman-owned registered Salesforce partner, specializing in implementation, integration, and optimization for Technology, Healthcare/ Life Sciences, and Financial Services/ Professional Services organizations in the small and mid-commercial sectors.
Contact us with your Salesforce challenges at info@cloudadoption.solutions – we love to help!
SUMMARY KEYWORDS:
Dreamforce, DF21, Salesforce, Salesforce Admin, Salesforce.com, SFDC