While the first three days felt like a party mixed with as many tech demos as a pair of eyes could see, day four of Dreamforce starts off with a Trailhead run-through. This sets the theme of the day, which feels more like a deeper quest for education and knowledge. Salesforce comes out on Thursday gung-ho asking for all users to engage on Trailhead, to not only gain more experience, but get the most out of their Salesforce instance!
This couples well with the sessions that touched on adoption so well over the past few days. As we have all seen, adoption is key to Salesforce success. Today Salesforce went all out to show us in these sessions there are so many ways to adopt, and continue to integrate Salesforce technology into daily work life!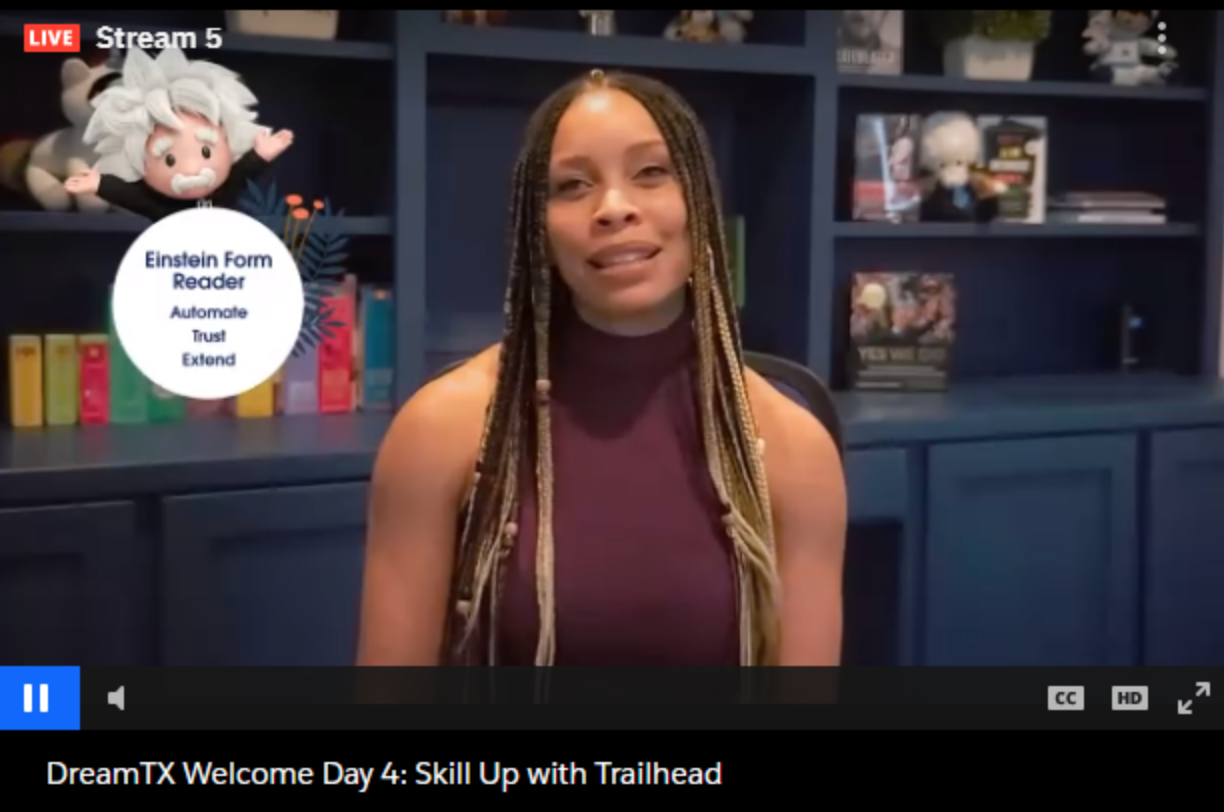 12:40PM Circles of Success: Automate Your Business Process  Circles of Success brings that Dreamforce interaction and fun. An open collaboration experience, nothing beats being in a huge virtual room with other fellow Trailblazers! 
Automation has been a huge topic this year during Dreamforce as businesses are striving to be as efficient as possible for their customers during a new normal. Automation has been key to the success of these new experiences as processes in Salesforce have been built to increase speed and adoption along with the help of AI.
During this session, Salesforce experts show some hands-on work, giving an in-depth look into how they use automation to solve problems, and keep their customers happy and services, at lightning speed!
1:00PM How To Drive Adoption of Your App With In App Guidance  Adoption has been the center of user issues for as long as technology has existed. Salesforce has cited it as the number one issue they face in the future. With this in mind, it's no surprise that a lot of sessions at Dreamforce 2020 have revolved around user adoption.
In this session, Apps from the AppExchange – and their integration with Salesforce – are the main point, as Salesforce experts teach the ways in App Guidance functions. These In App functions not only drive user adoption, but also serve as a benchmark for success when implementing an app or integrating new programs with your Salesforce instance. Once again the experts are saying that driving adoption is not only achievable but should be first priority!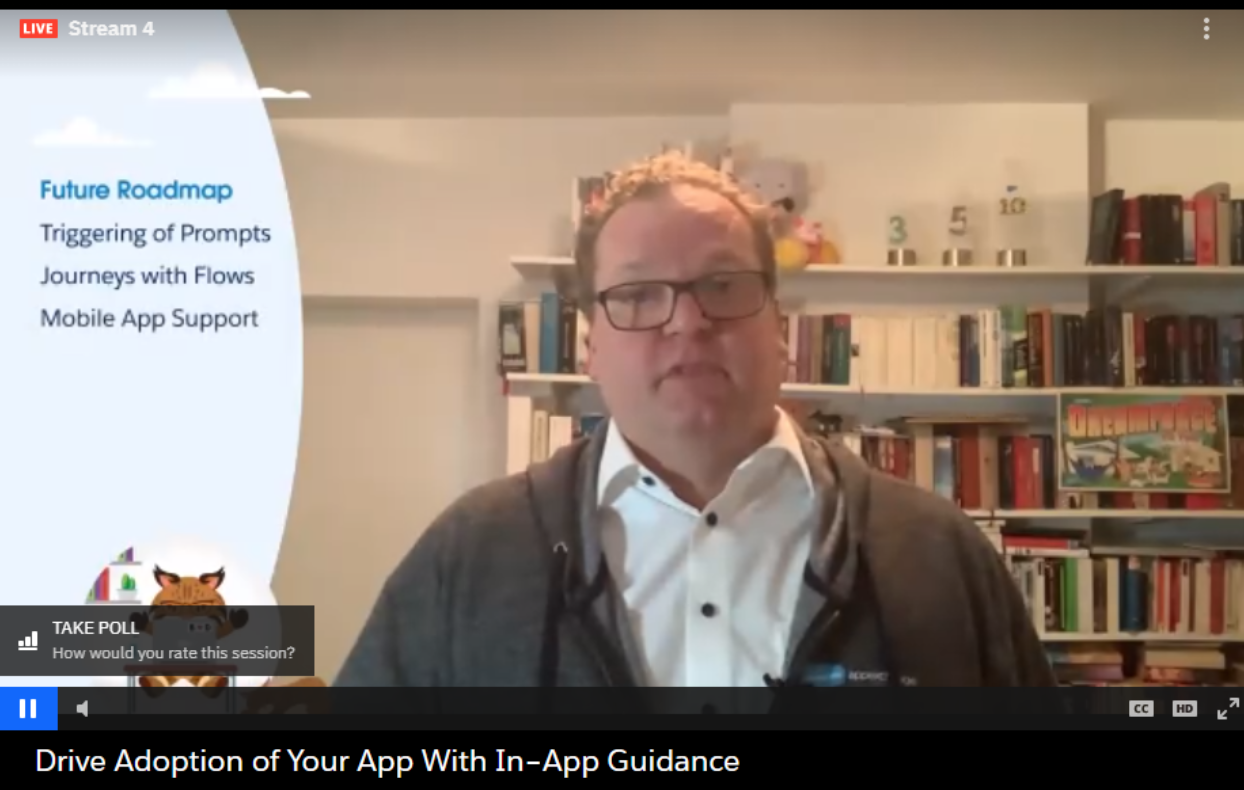 2:00PM Embrace Change and Drive Adoption with Trailhead  The clear goal of Dreamforce on Thursday was to hammer home the theme of adoption and new ideas on increasing users' abilities. As many know, Trailhead is a great tool for learning and adoption, as it turns even the most novice of Salesforce users into full blown experts!
The experts reveal in this session that Trailhead is not only a great learning tool for individuals, but also an incredible source for some friendly competition for teams who are now finding themselves remote. Salesforce encourages Managers and Administrators to create trailmixes and other groups of Trailhead modules that are related to some of the new challenges this year has brought. It's clear that the key to success in 2021 is going to be adoption and using all the new features and integrations Salesforce is offering!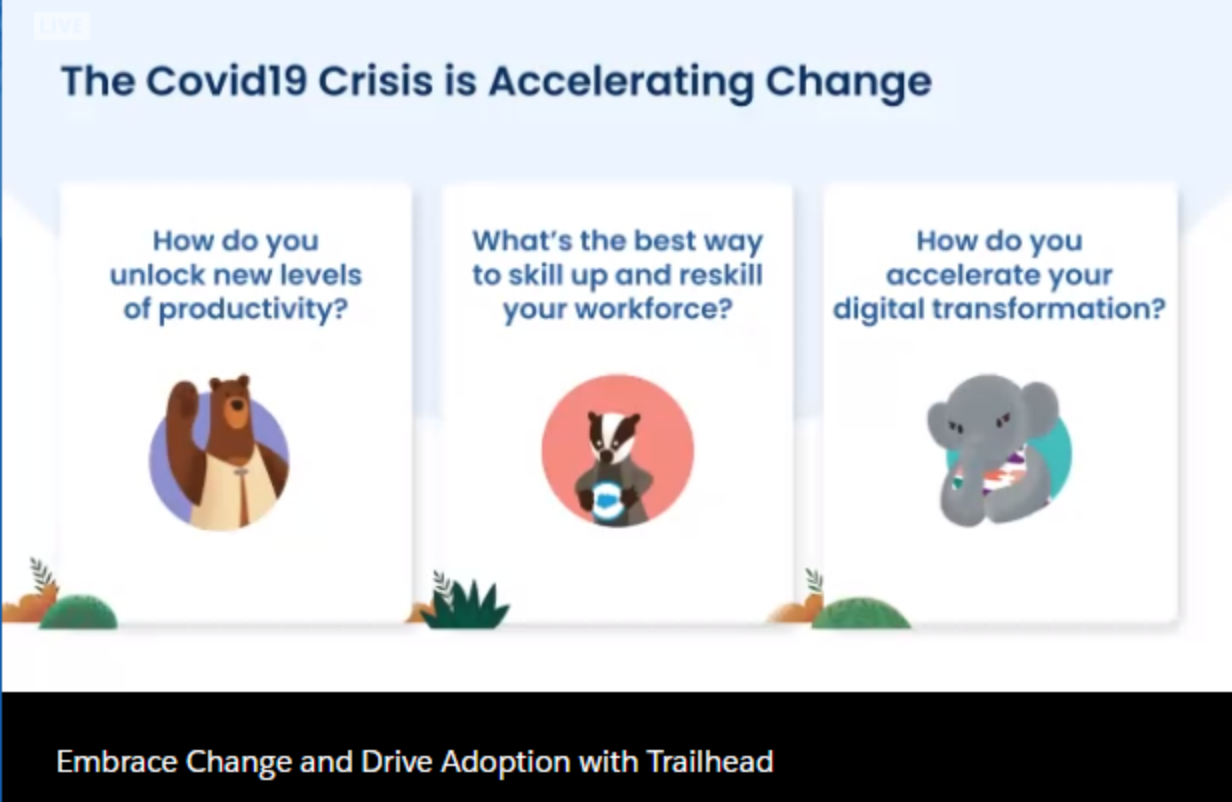 This last day of Dreamforce was structured to be more hands-on, with many sessions being short Circles of Success or demos that were role-focused, a divergence from the first three days of Dreamforce (but very similar to the typical on-ground Dreamforce experience!).  With the agenda calendar even more fractured, I was happy to rely on Shannon J. Gregg, President of Cloud Adoption Solutions, and our partner David Radin, CEO of Confirmed Instant Scheduler, to cover additional sessions for me.  Here are Shannon's session notes:
12:40PM Certification Prep Circles of Success  This small group, interactive Circles of Success session was focused on how to prepare for any certification.  Some of the tips shared by Randall King included qualitative tips like don't drink too much caffeine the day of your exam, and be sure to get enough sleep the night before.  He also offered information such as: On multi-select multiple choice questions, there is no partial credit.  Use Trailhead to help you prep for your exam.  Each individual exam has a different pass rate – consult the exam guide for specifics.

1:20 PM Einstein Next Best Action  In Einstein Next Best Action, or NBA, you can use branching logic, sort, predictive models, and let NBA do the work for you!  This demo showed you under the hood of NBA as well as what would be seen by your users.  Einstein Recommendation Builder adds AI capabilities to NBA, allowing Einstein to make choices and show relevant suggestions.  This demo really felt like the future – I'm going to mark this one to watch again!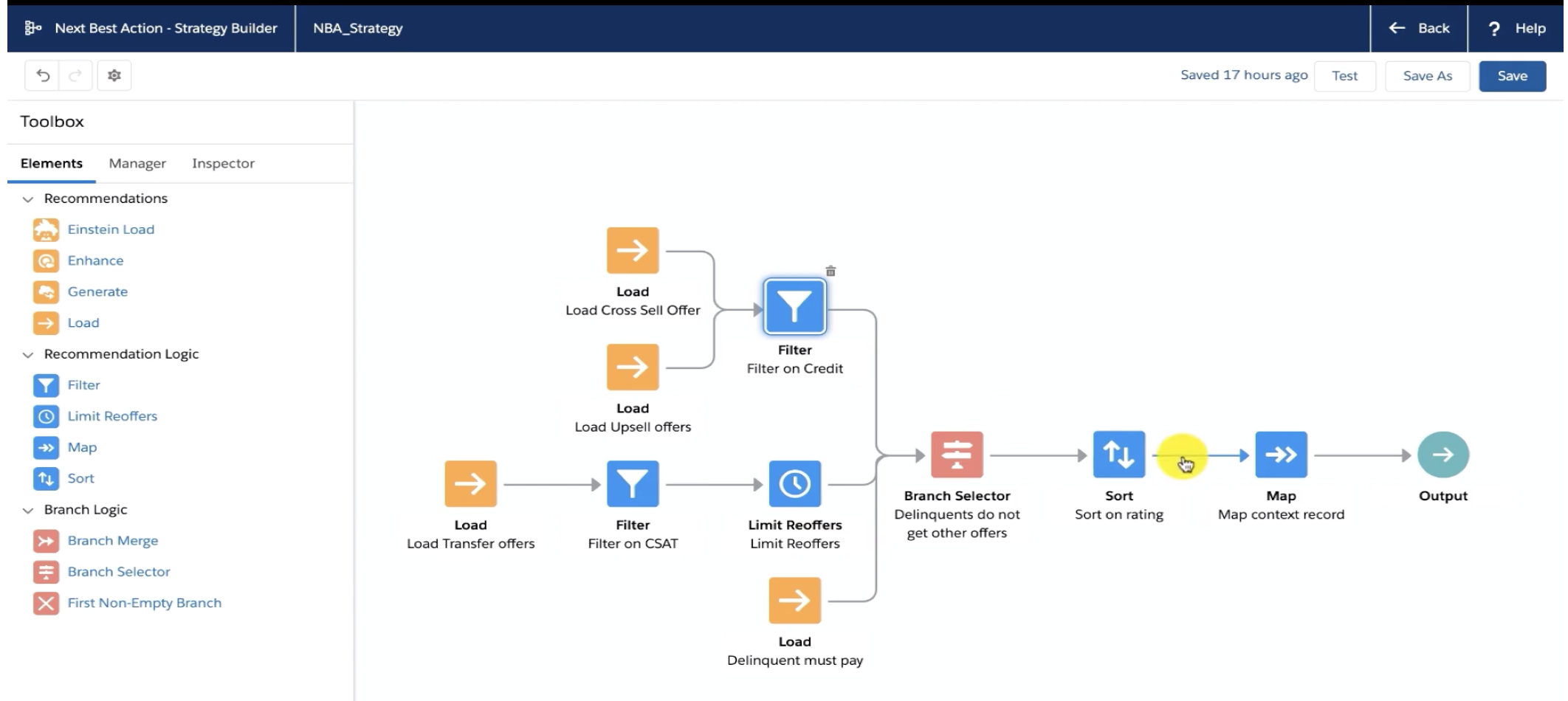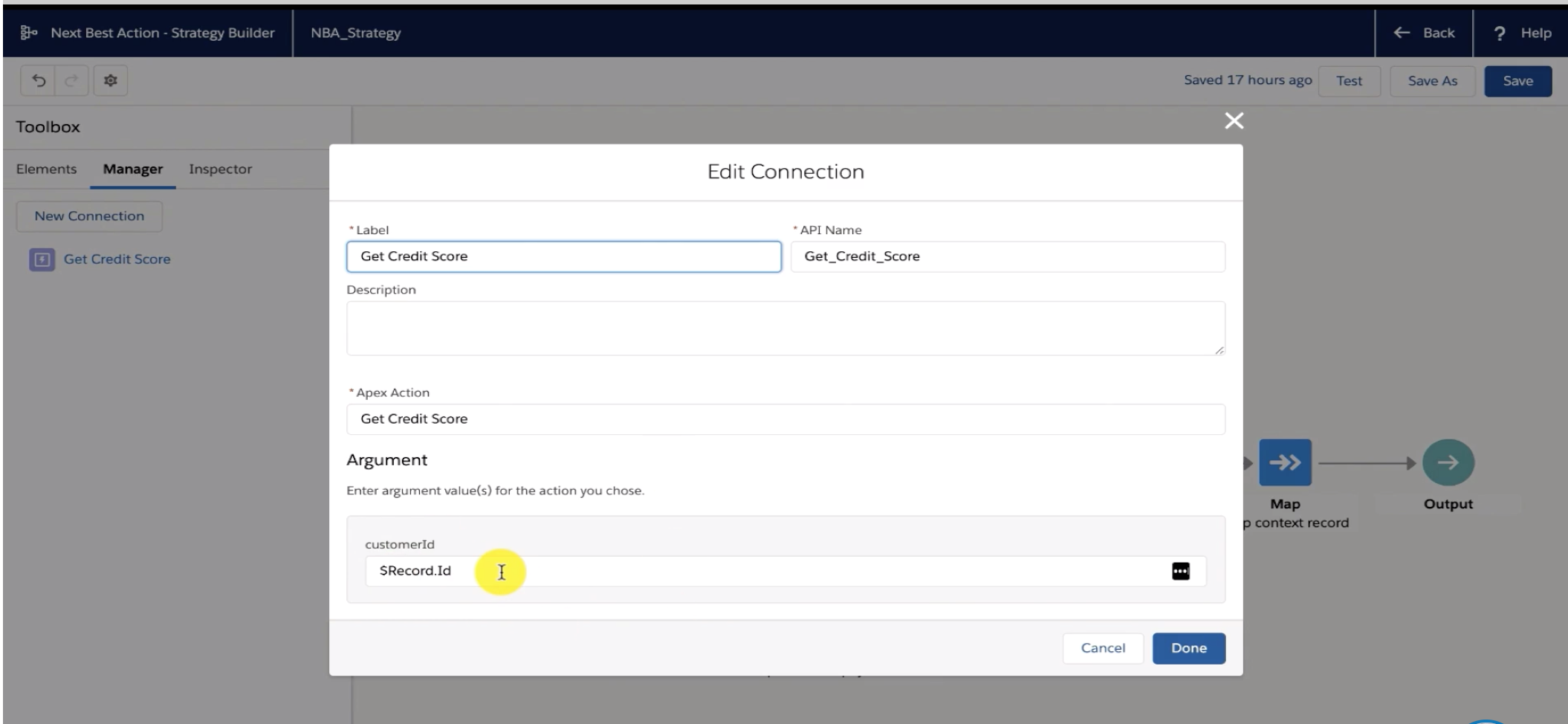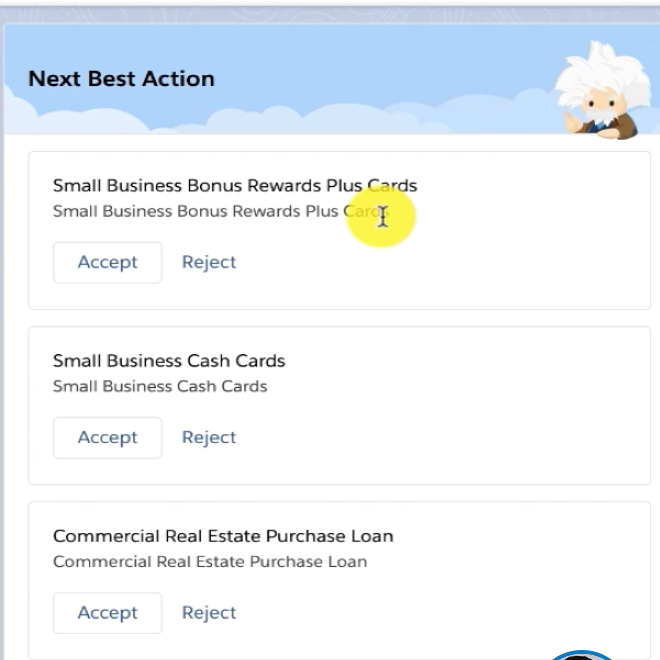 Up next, we have David's session reviews:
12:30PM Build Apps Using 2nd-Generation Managed Packages (2GP)  With 2GP, you can include multiple managed packages in the same namespace.
First link a namespace to your dev hub (easy to clone from GitHub — source driven package development)

Use the Force package create command to create the managed package

Create a second package in a similar way

Stage & commit the packages in Git
You eliminate surprises because everything is tracked by your version control system.  You can also see reports about the packages that you have created.  You'll then be able to get to your installed packages via Setup in SFDC.  This process allows you to work in parallel with others to ensure you don't break existing code when you create your updated packages.
1:00PM Drive Adoption of Your App With In-App Guidance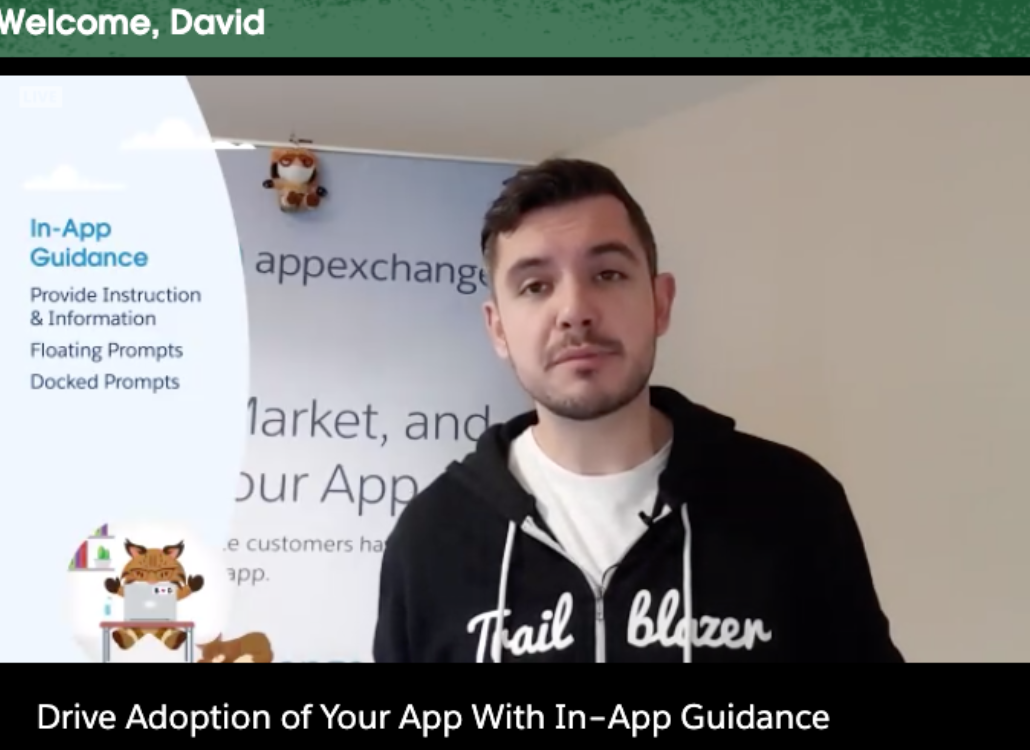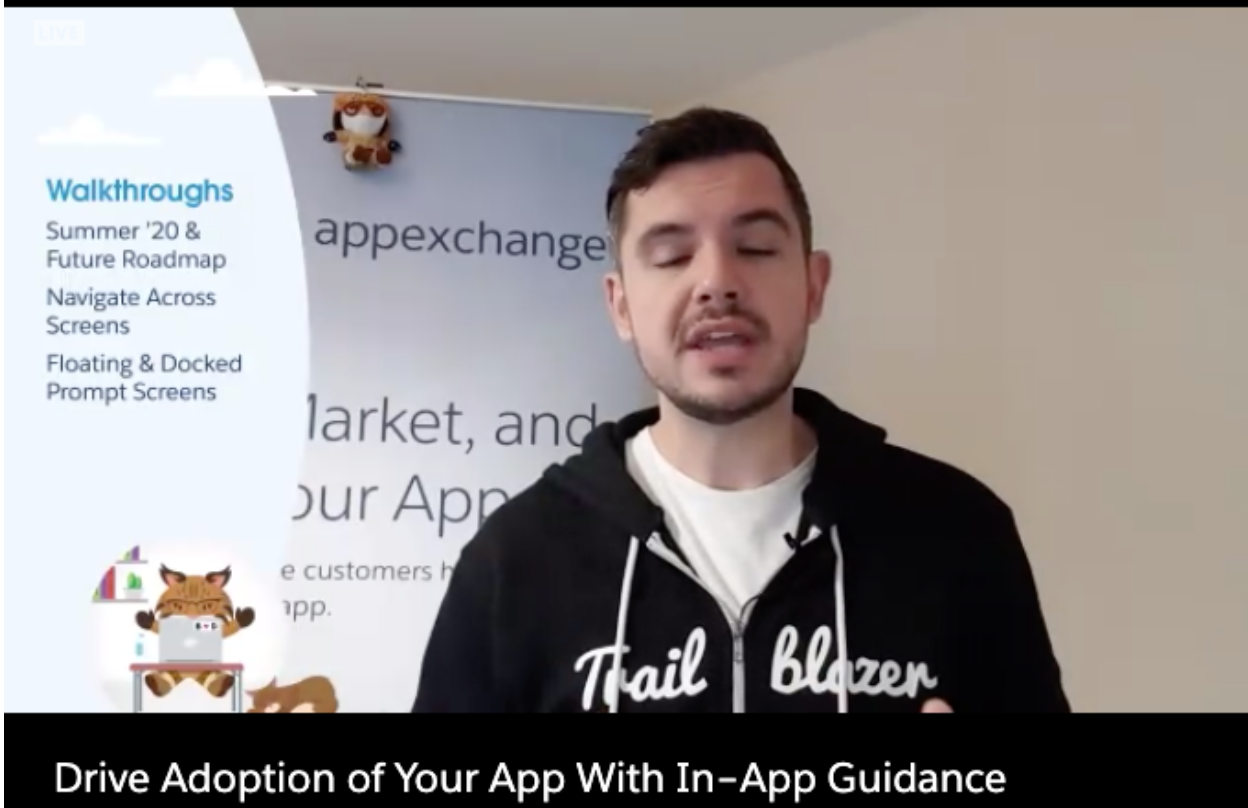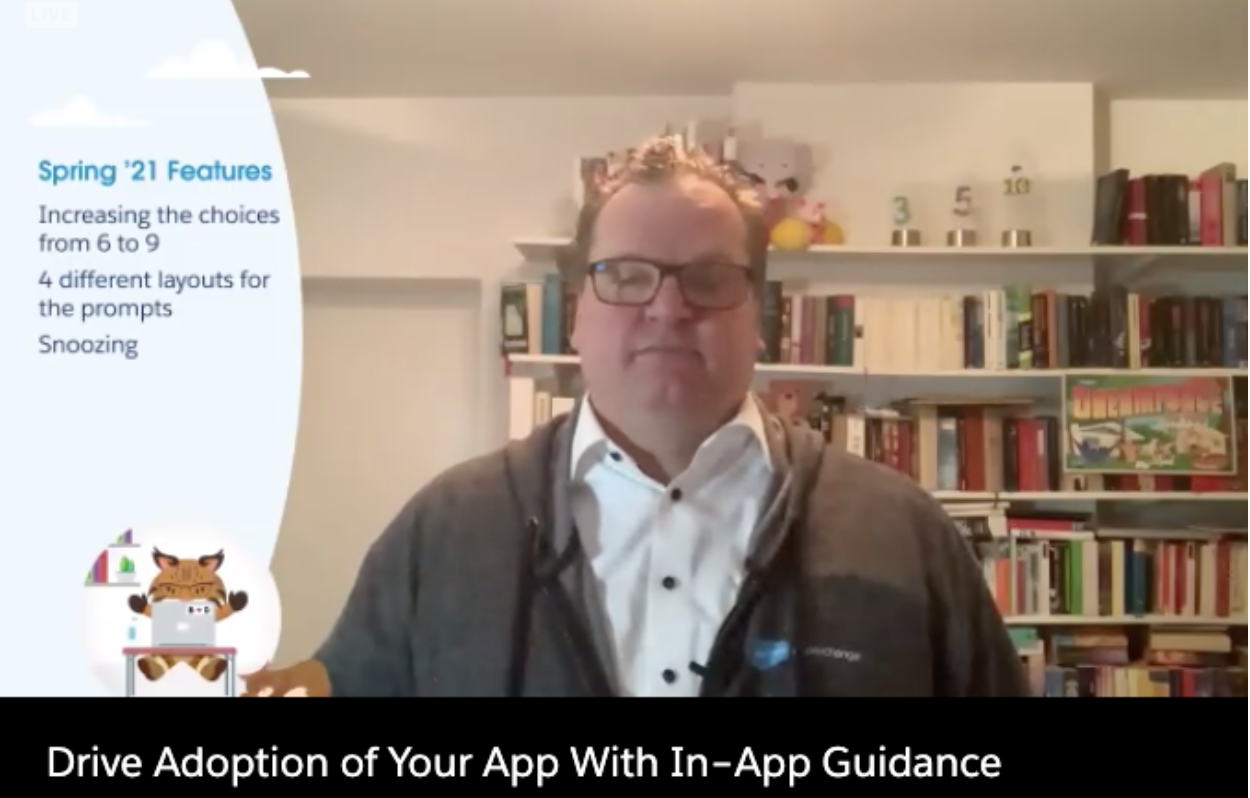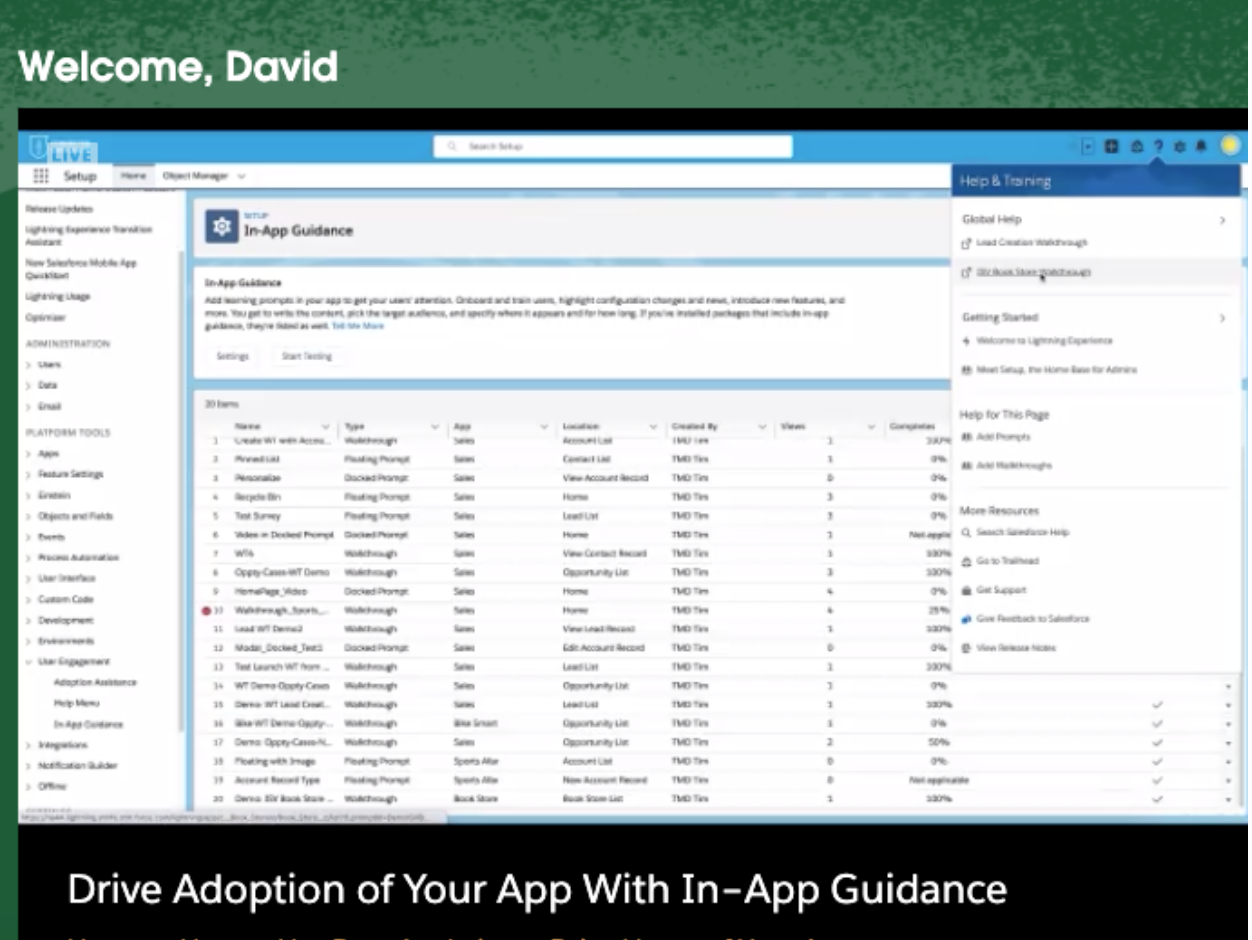 This 9-block layout lets you decide where to put your prompts…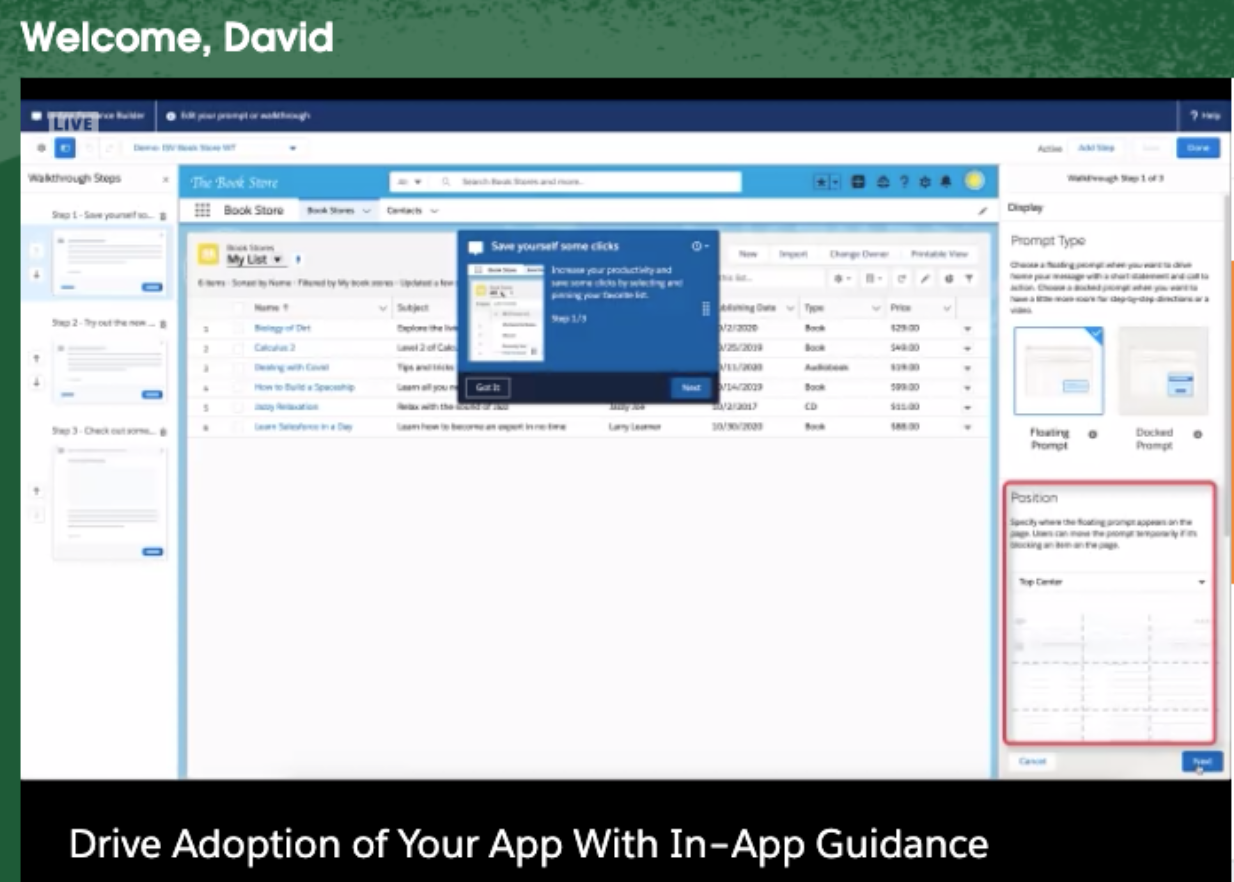 You decide the action and the date range for your prompt…
You can "show when the page loads" too and determine the profiles of the users who see the prompts.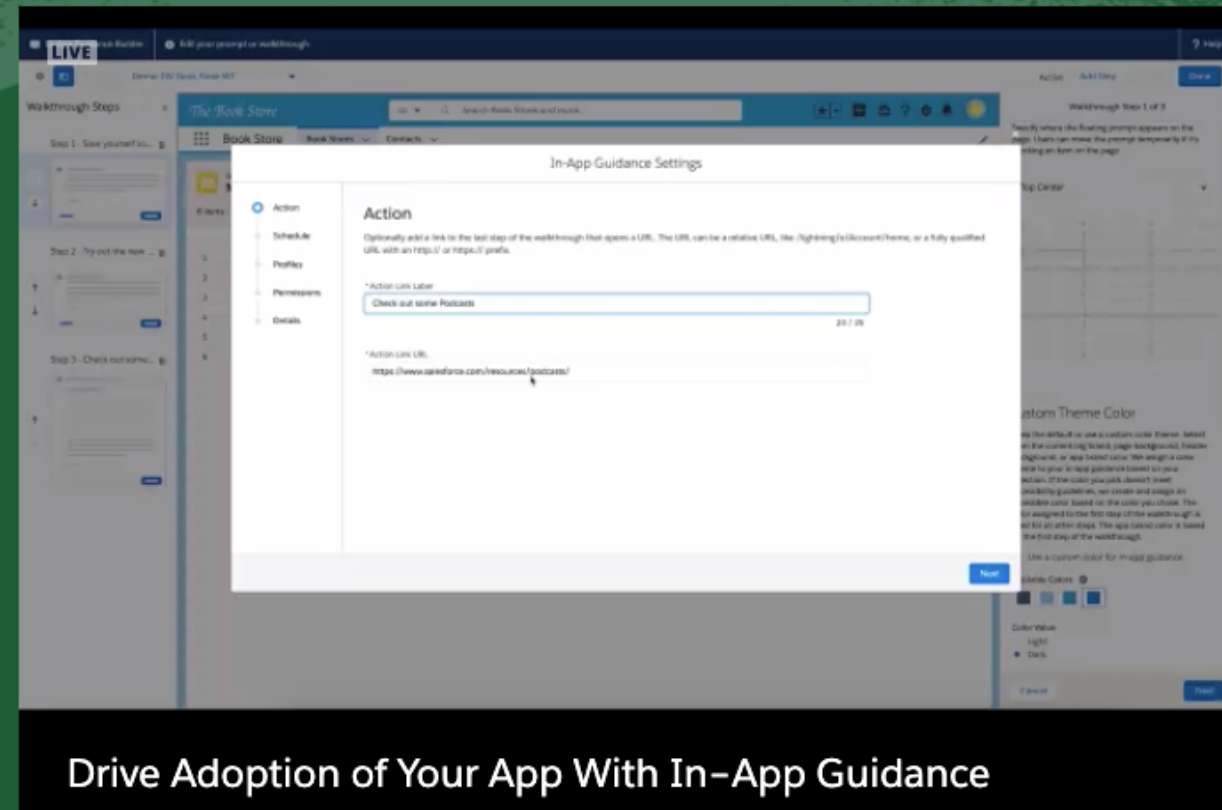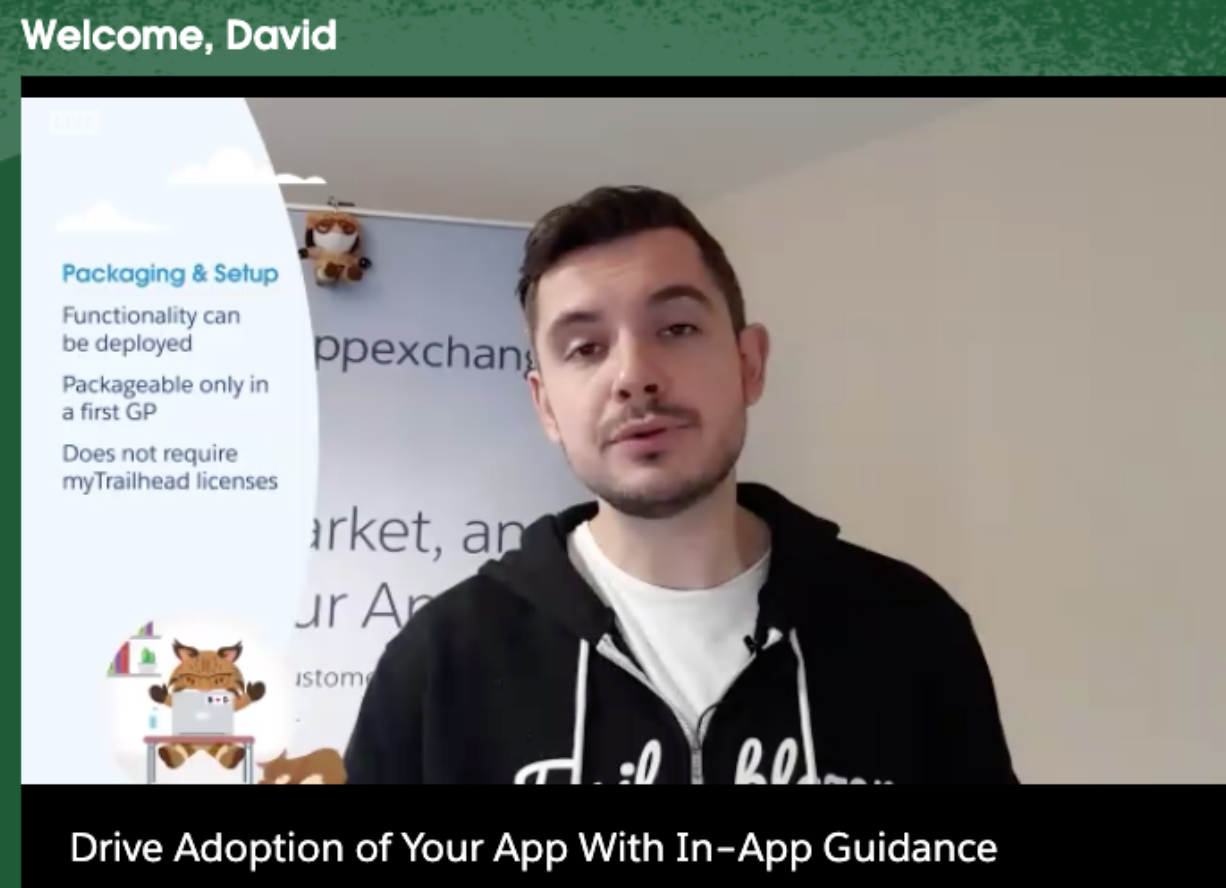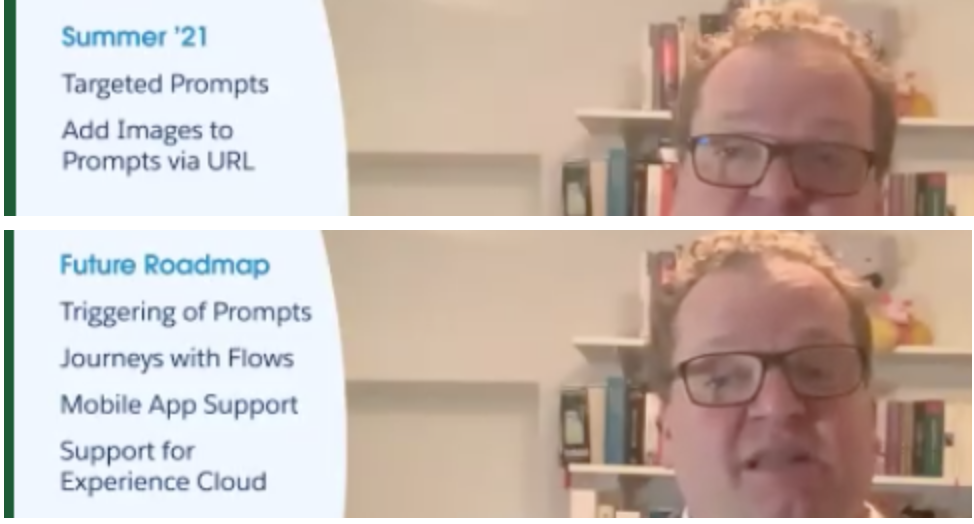 1:20 PM How to Use Data Analytics to Drive Usage of Your App
Combines "Marketplace Analytics" with "App Analytics"
1:40 PM An ISV Quickstart: Development With Industry Cloud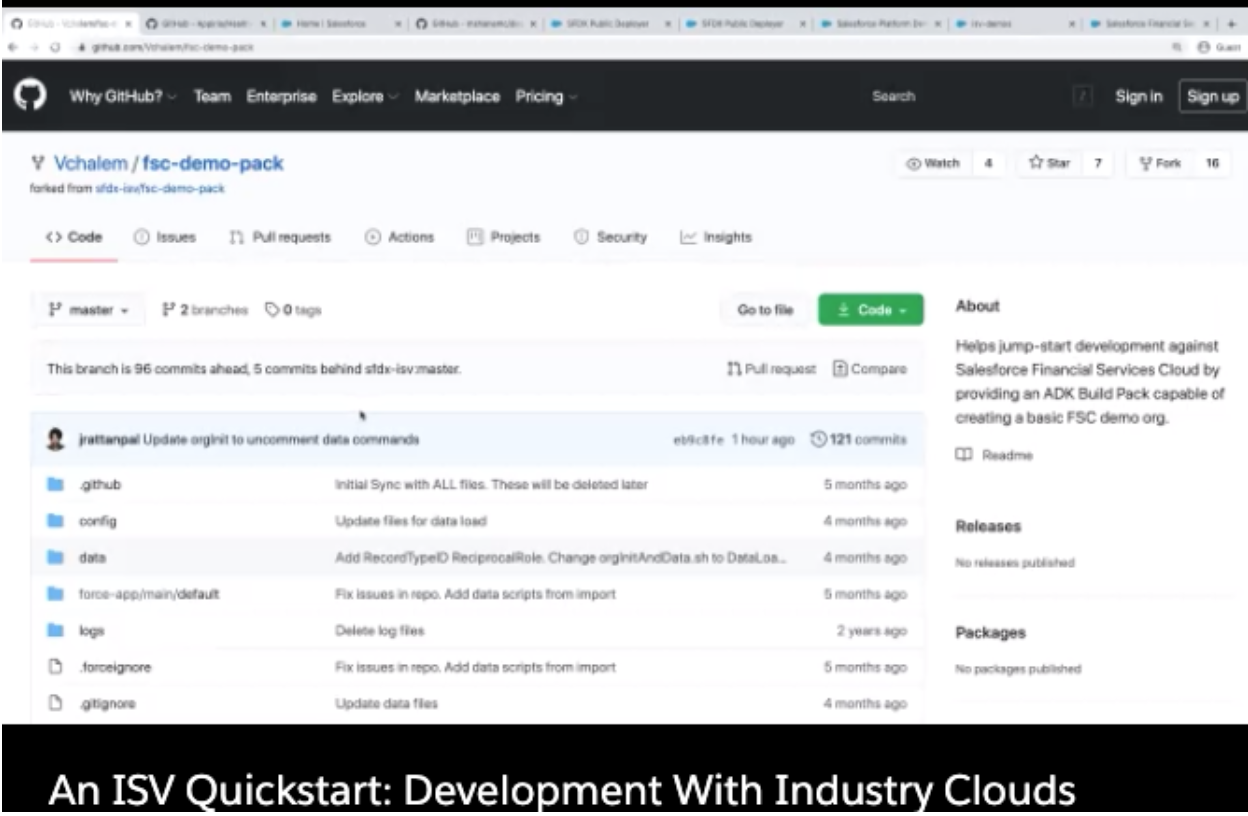 If you script your steps, you'll be able to streamline your tasks of working with the cloud — and it will run all of the commands  you need to complete the project.
Your developers can take your template and customize it for their own use.
What an easy way to simplify how you create an Org.


Wow, thanks, David – it looks like you had a great day of sessions!
I really cannot believe it…Dreamforce to You 2020 is over!  Those days went by so quickly, and I know as soon as the recordings come available on December 18, there are a lot that I can't wait to catch (or catch again)! If you missed it, check out the Day 1 recap, the Day 2 recap. and the Day 3 recap of many of the Dreamforce sessions.
Thanks for joining me all week as I brought you the best of Dreamforce. Next year, I hope to meet you IRL at an event – until then, sign up for our monthly curated "Best of Salesforce" news.   – Andrew Duncan, Sr. Partner Account Manager
What are your 2021 Salesforce challenges?  Our team of certified Salesforce experts is ready to meet with you to give you advice and guidance – sign up for a complimentary 30-minute Gap Analysis of your Salesforce instance using our scheduling link.
Also, check out the recording of our panel event last week, The Ghost of Dreamforce Past, where your faves and ours Eric Dreshfield, Miranda Ragland, Toni V. Martin, and Janet Elliott shared never-before-heard stories from behind-the-scenes at Dreamforce.  We laughed, we got goosebumps – you've got to hear this!
And while you're reminiscing, you can check out the talk that Mike Gerholdt and Shannon J. Gregg presented at Dreamforce 2019: Deliver Your Company's Vision with Salesforce.  Or, watch Shannon's 2015 Dreamforce session on Using Smart Apps on Salesforce to Power Business and Career Growth.
Confirmed is now a Salesforce ISV Partner, and is being finalized for the AppExchange.  If you want to get a head start on turning your scheduling from a burden into a strategic advantage across your entire team, contact David to become an early adopter of the Salesforce Edition.