While day one was incredible, filled with the themes of automation and integration, day two was just as focused! Kicking things off with some awesome visual art and exciting music, day two got off to a quick start.
"Working in the new normal" is a huge theme as the ability to adjust and continue to work with empathy and flexibility has been identified as a key strength for Salesforce users in 2020. In a second day where sessions can get to you after a long day of watching yesterday, Salesforce doubles down on what it does best: engaging its fans and users around the world, getting everyone hyped to learn for another day.
Day two was incredible and filled with knowledge, lessons, and familiar faces. Here's some of our favorite sessions and the key takeaways from each one!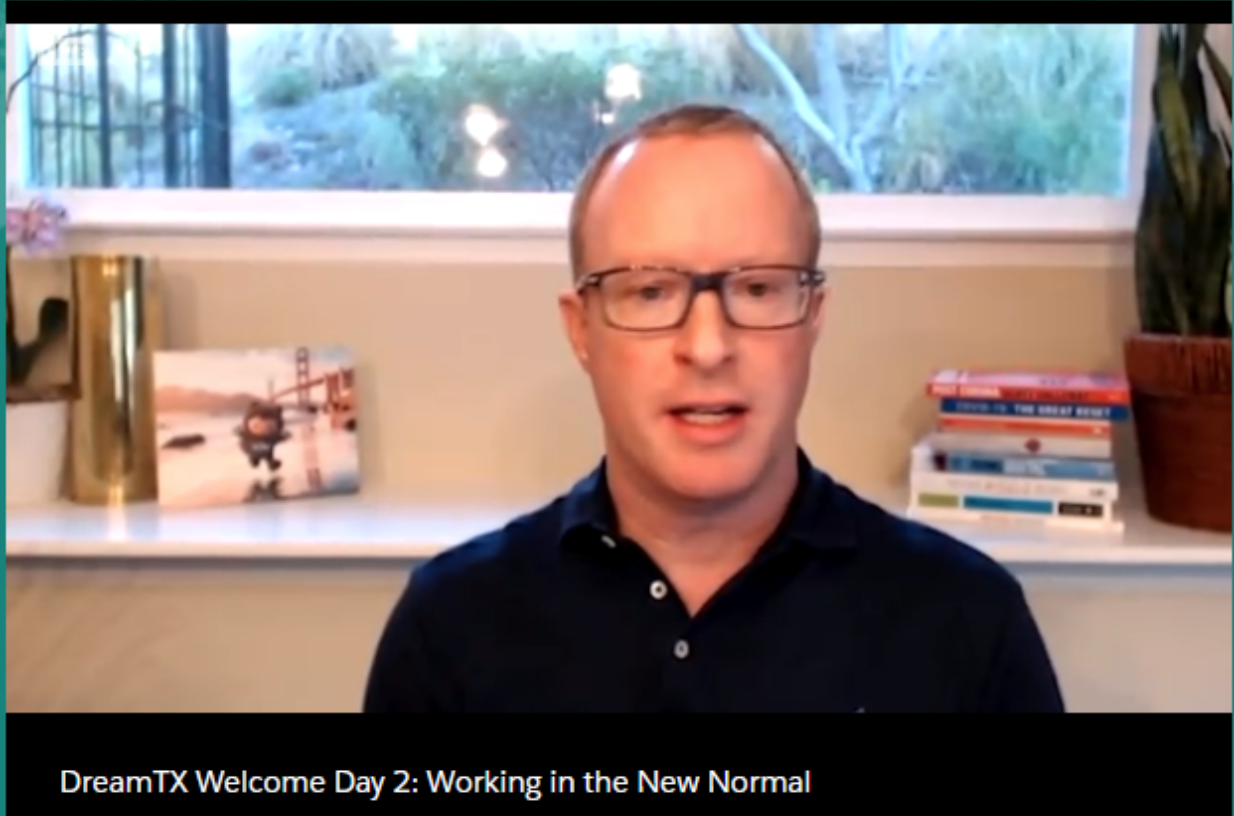 12:30PM How to Make Working from Home Work for You  We heard from Karen Mangia, who incredibly wrote two bestselling books during the pandemic. With a focus on working from home, Karen outlines the ways which we can creatively problem-solve.  The pursuit of goals are so relative to Dreamforce, as we reach for new places.  Of note, 72% of employees are experiencing burnout during the pandemic and Salesforce is the perfect way to combat this. By making Salesforce as efficient as possible for your employees, you can avoid that burnout and turnover!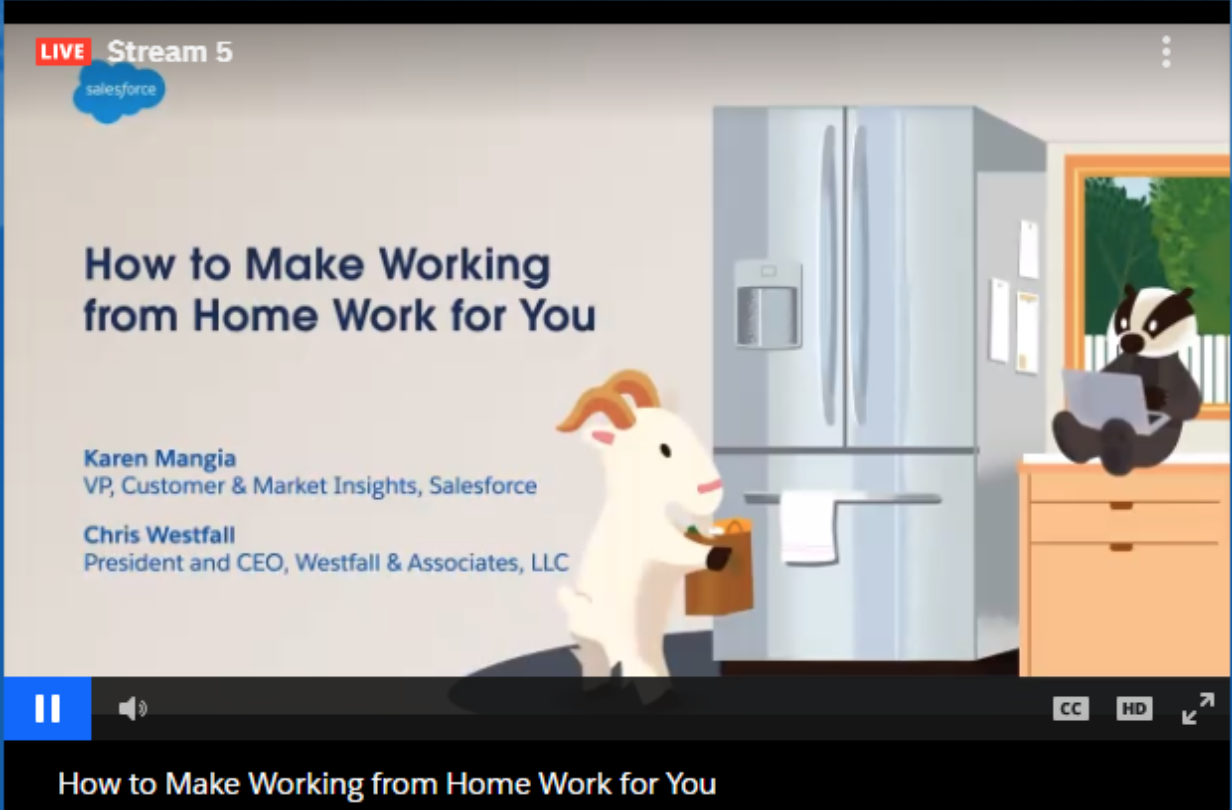 1:00PM 4 Key Trends: The State of Salesforce  The State of Salesforce is the only independent study Salesforce runs each year, and they've run it for the last nine years. Spanning over 15,000 data points, it shows the key changes and trends in Salesforce for the year of 2020, showing us signs of what is to come in 2021.
Adoption is once again the biggest issue for Salesforce users. Data collected by Salesforce suggests that Salesforce is getting more complex, with 68% of users say they need collaboration with IT to improve. This means that in an increasingly digital world, adoption to Salesforce and its integrations are going to be key for companies moving forward.
Salesrforce is once again doubling down with AI talk; data from this study suggests AI is the key to better trust and resilience for users. Integrations and cognitive enablement will allow users to rapidly problem-solve not only using Salesforce as a tool, but also the operations inside of it.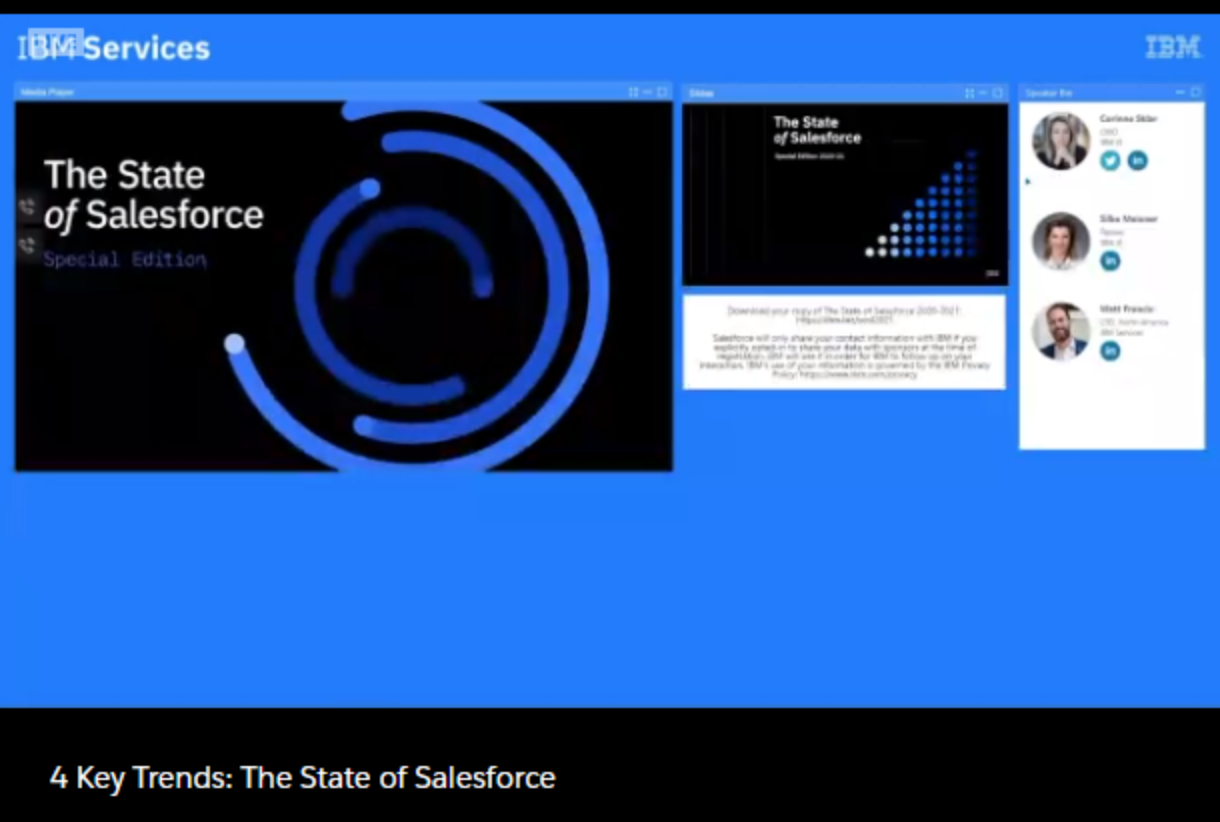 2:00PM Empowering Employees for the Future of Work  As the pandemic rolled in, Salesforce was prepared to continue to improve our world while immediately reimagining the way that Sales Cloud can be used in order to make employees feel supported and empowered.
Innovation and flexibility are going to be key in eliminating fatigue and the employee turnover that follows. By adopting and using empathy as a tool to improve leadership, employees will not only feel more supported but also will see improved results!
With large numbers of surveys showing that the average worker is concerned about their mental health, check in with your employees, be sure they feel empowered and happy, and use Salesforce's integrations and customization in order to make their life as easy as possible!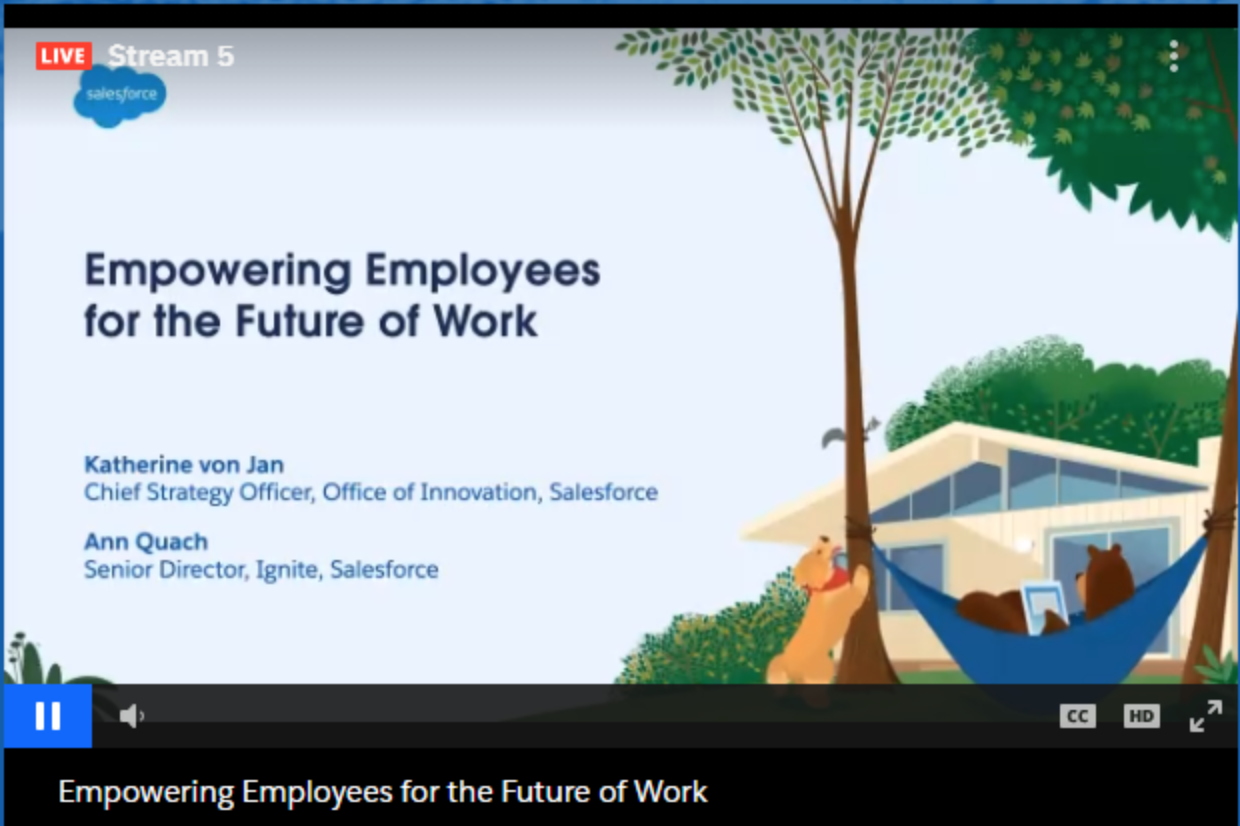 2:30PM The Future of Service  The pandemic has frustrated both companies and consumers alike. How do we use Salesforce and predictability to sift through data and make everyone happy? Using Salesforce and customizing the process in which service is carried out, our users can move faster than ever before.
Predictability and AI can also be enacted in order to become fast and solve customer issues. For users, solving their issues at lightning speed can make all the difference. While there are still questions on how AI should be applied to each company's process, Salesforce is certainly encouraging companies to give it a go and see what a difference it makes.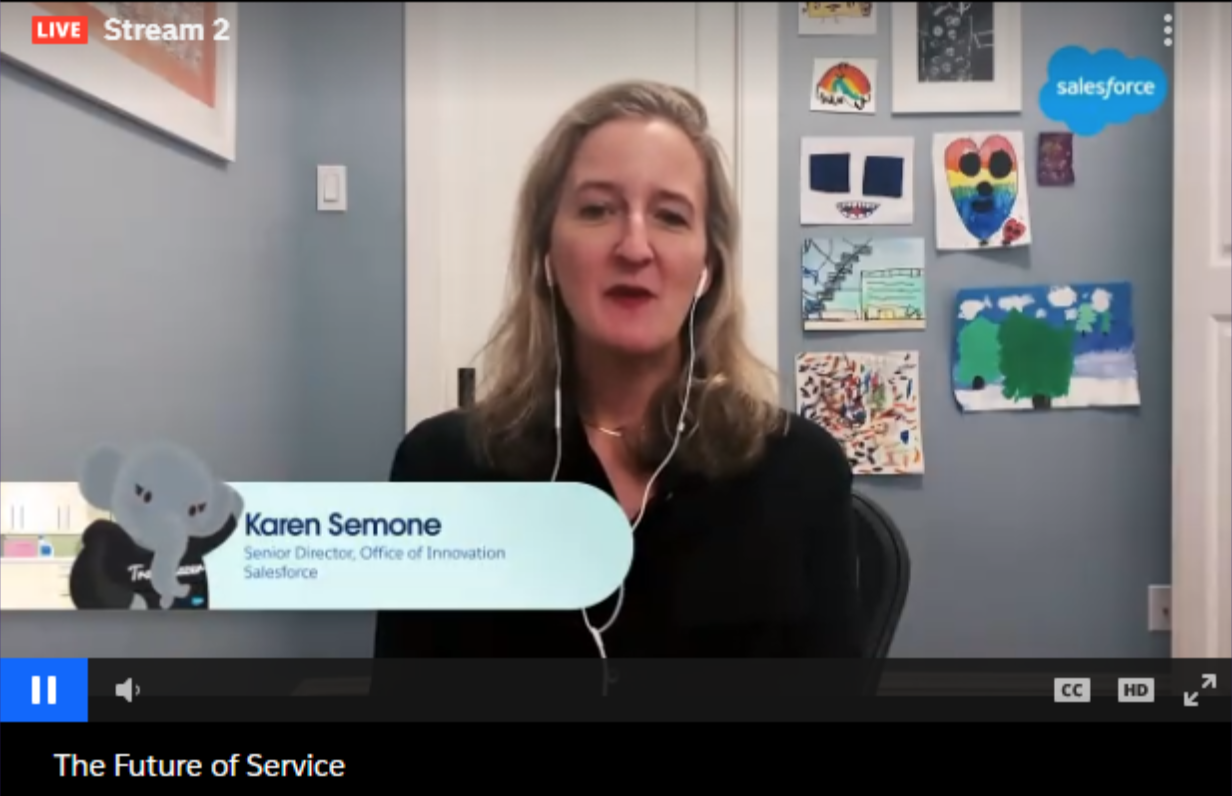 3:00PM Build your Sales Team for 2025  Selling is changing.  A period of dramatic and accelerating change means that the digital world is completely different. Old school ways of selling are dead, as new forms of technology and diversity are changing the landscape. This means more urgency is required and a buyer-centric and mindful approach is needed.
A look ahead to 2025 shows that the need for robust and invisible digital transformation is key as a workforce to handle this acceleration is needed. The 2025 sales team is grounded in speed and adaptability, while being given the space to work on decisions without rigid sales rules. This means flexibility, technology, and empathetic selling are key!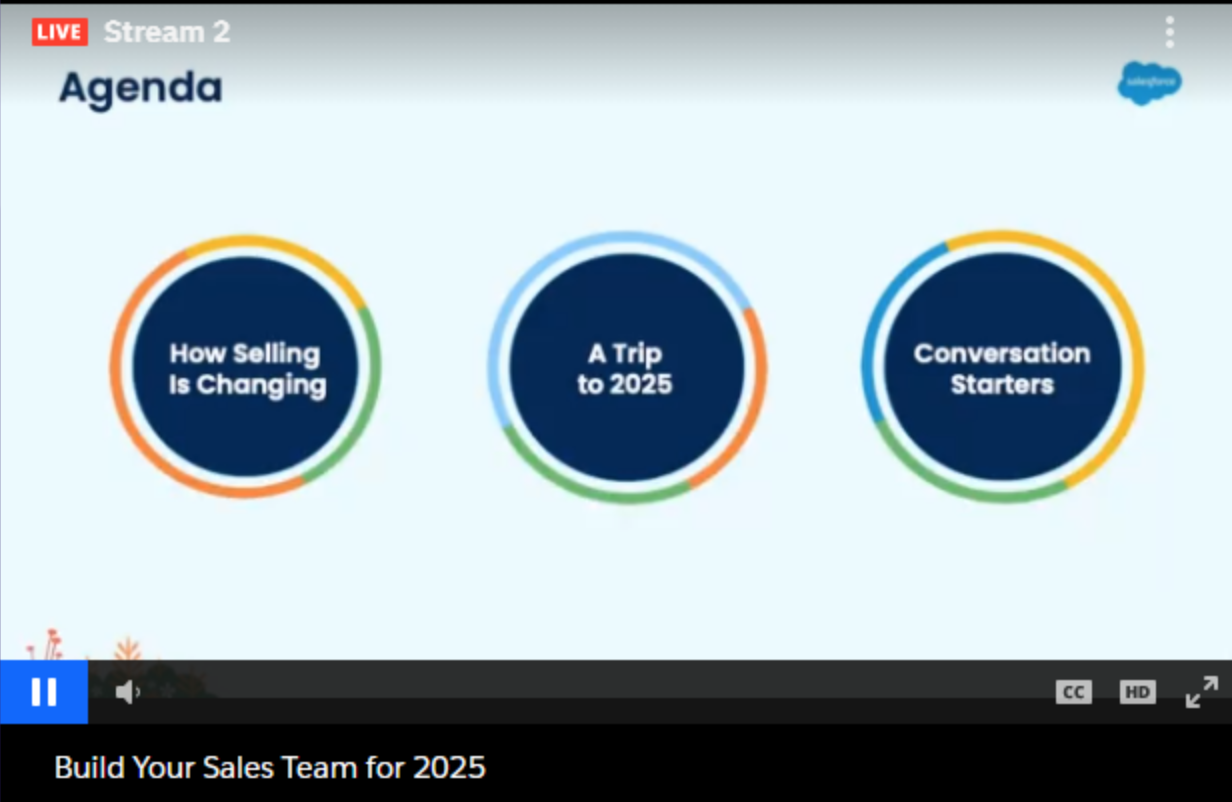 3:30PM The Practical Side of Sales Excellence   Sales excellence is such a broad term. All Salespeople hear it alot but Salesforce breaks down the ties between automation, evolving sales landscapes, and training needs for the Salesperson of the future.
Virtual selling isn't new, but because of the environment we live in today, companies need to understand ways they can enable trust and use data as a tool to continue to revolutionize selling and empower their teams!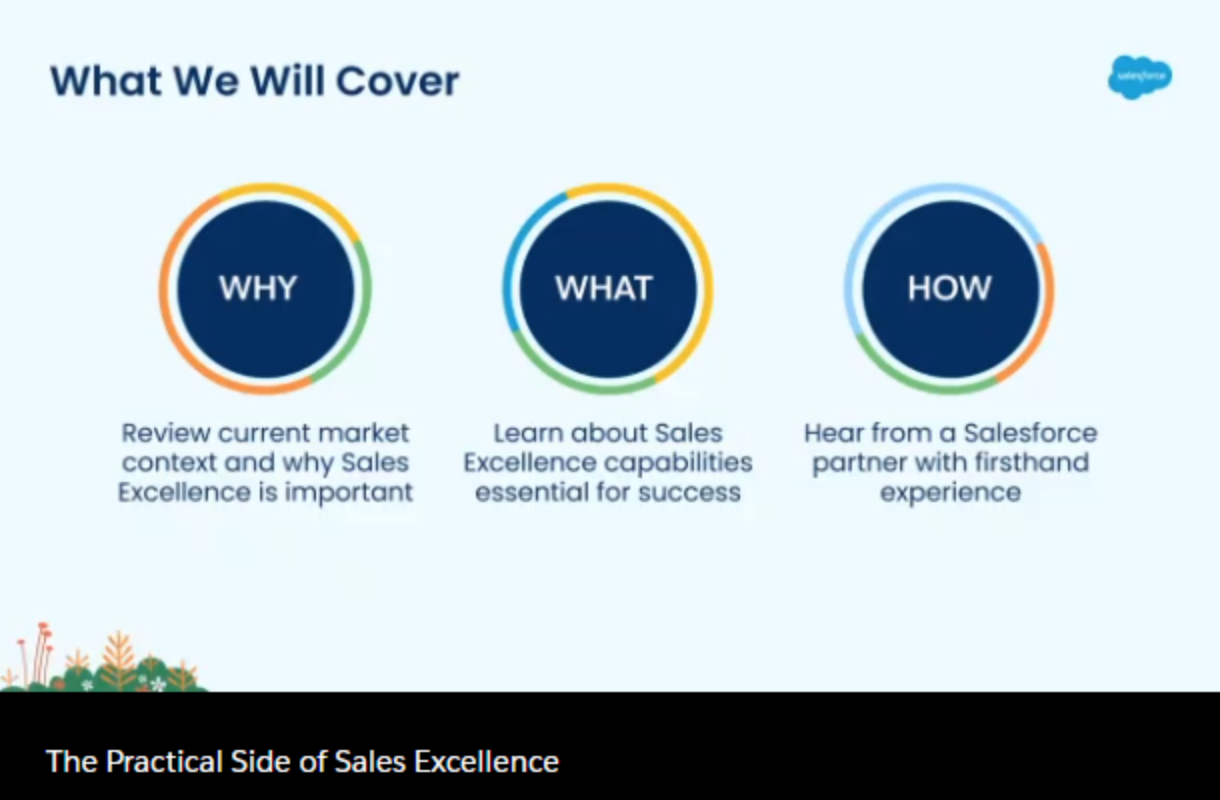 Once again, I enlisted Shannon J. Gregg, President of Cloud Adoption Solutions, and David Radin, CEO of Confirmed Instant Scheduler, to back me up and attend and script the sessions as I couldn't clone myself to be in multiple sessions at once!
Here are the session notes that Shannon is excited to share with you:
12:30PM The Pillars of Salesforce's Pandemic Operating Model  It's critical to enable your employees with running plays, allowing them to be agile.  The weekly All Hands on video conferencing allowed for a touchpoint that was relevant to all employees, and kept a consistent cadence of open communication.  The pandemic operating model is agile because it needs to evolve over time to allow for an agility to respond to any new unexpected business challenges that come in the future.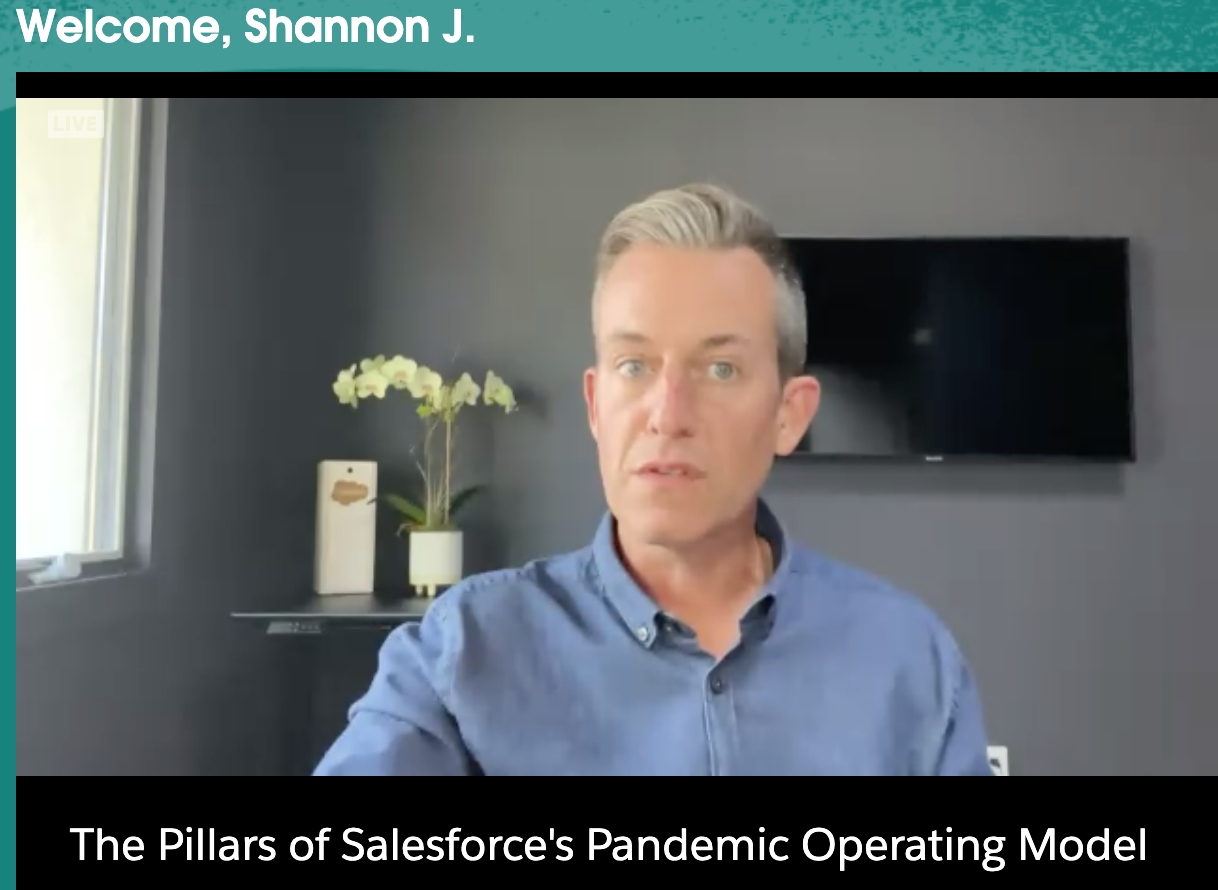 1:00 PM  How to Practice Inclusive Marketing and Be an Ally  Content creators have the power to change what's around us: we can change what beauty, CEO, change, love looks like as long as we are intentional about leading with inclusive marketing.  The primary principles are to start with tone, to make sure that the message you're trying to convey is handled appropriately, either lightly or respectfully.  The next is intentional language: understand the cultural context and the community who is consuming the content.  Ensuring representation means the representation must be authentic to the story you're trying to tell.  Consider the context: socially and culturally, to ensure that the trust continues to build in your customer community.  Next, order and hierarchy has implications for the message that is being sent, so be sure that you don't fall into tired tropes.  Appropriation is using aspects from a minority culture without honoring the meaning behind it.  Finally, counter-stereotyping turns traditional narratives on their heads.  There is a free Trailhead module at sfdc.co/inclusivemarketing if you'd like to learn more.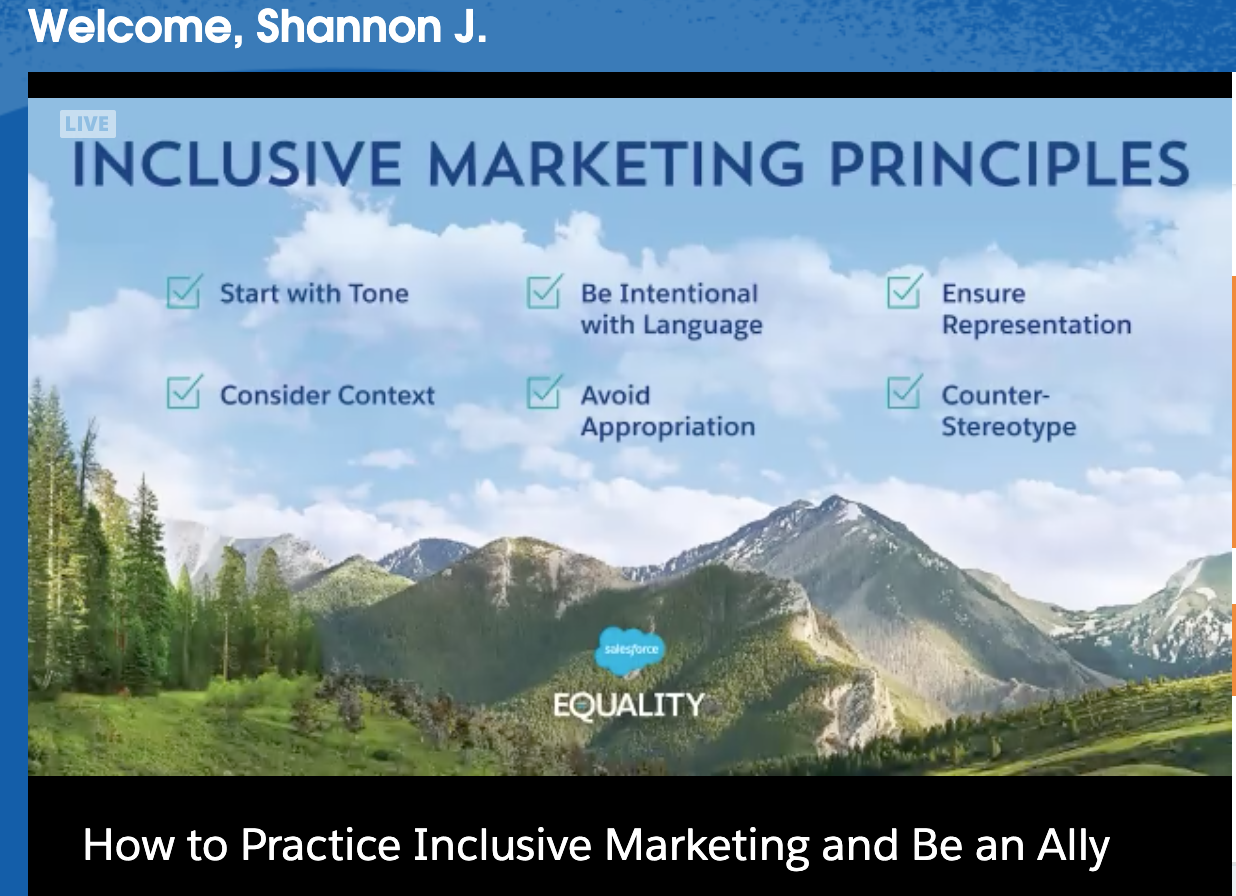 1:30 PM  Innovate Fast with AI in the Salesforce Platform  Einstein Opportunity or Account Insights will allow your sales team to have more time to work with your customers, prioritize valuable leads, and provide the most targeted information to their prospects and customers.  Customer expectations have shifted, and scaling and adapting quickly is imperative.  Insights can point to factors that will signify business outcomes.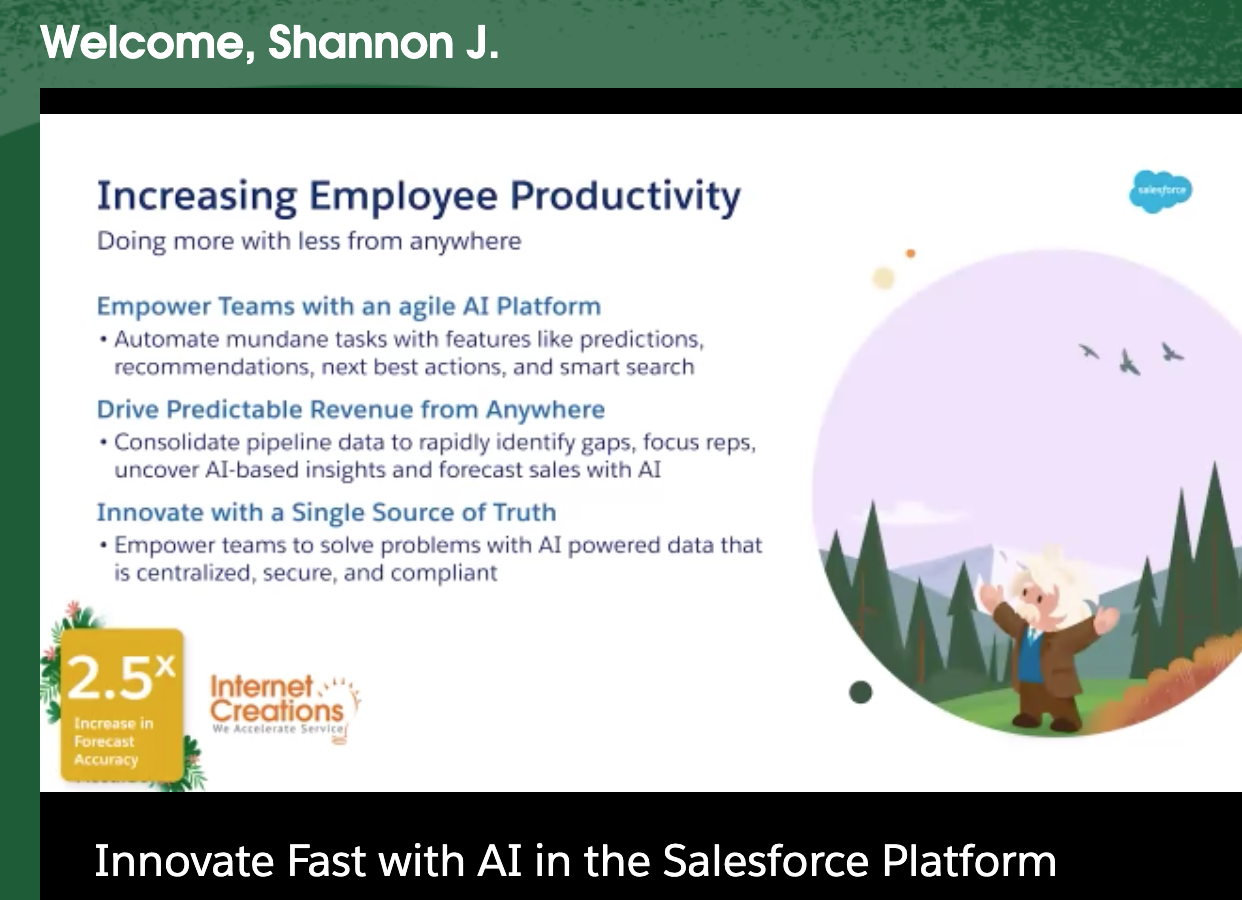 2:00 PM Managing Uncertainty with Scenarios It's most productive to think of how we manage uncertainty instead of focusing on the negative aspects of uncertainty. Uncertainty means you can't confidently make the decisions as you had – you now experience a level risk and other unknowns. New, critical decisions emerge. Finally, you anticipate that further new information will emerge that will introduce new decisions to be made. Typical responses to uncertainty are denial and paralysis, and our cognitive limits work against us. Scenario processes engage with and make sense of complexity by clustering patterns into a set of stories. Scenarios must be plausible, relevant, challenging, divergent, and balanced. The building blocks of scenarios are pre-determineds, critical uncertainties, and wildcards (like the pandemic). Make the scenarios relevant and build a framework to give people a logical structure.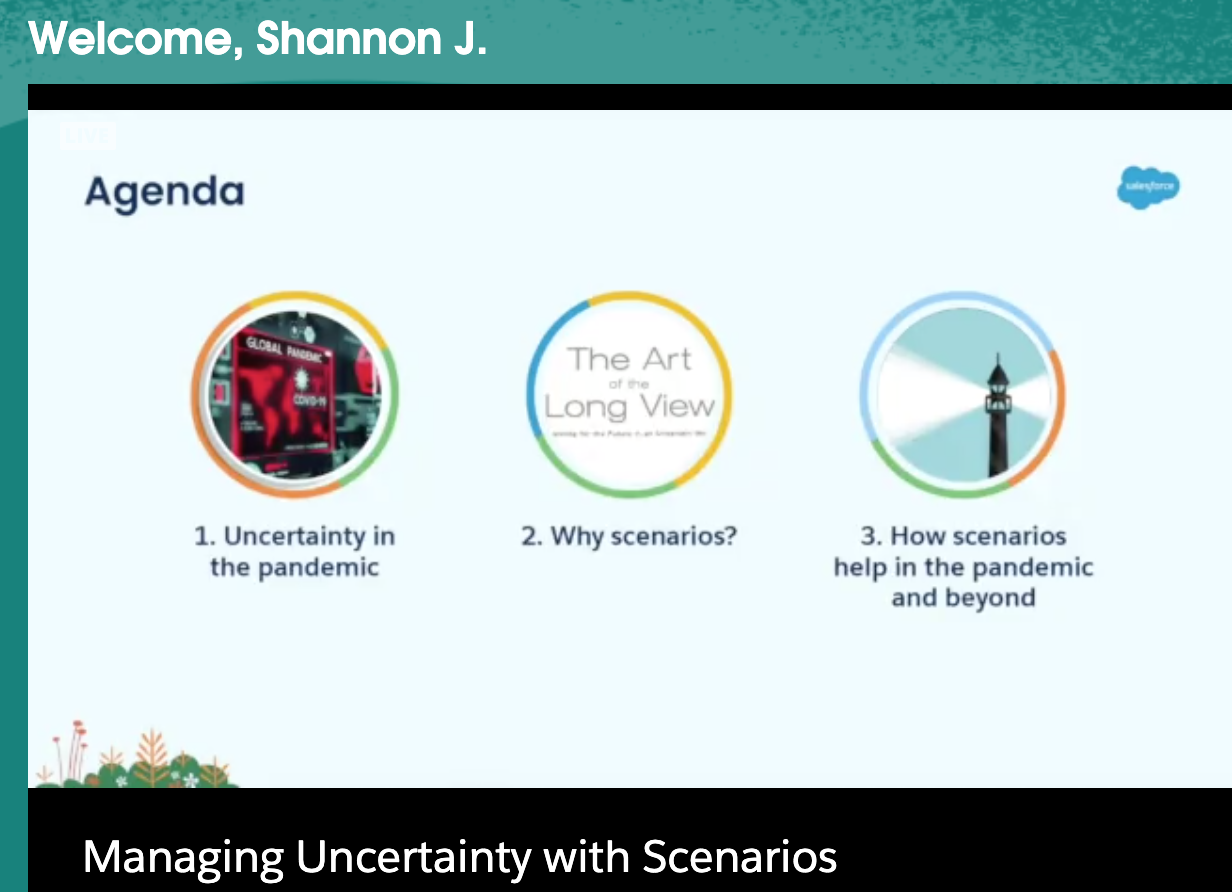 2:30 PM Trusted AI at Salesforce  AI shouldn't answer the question "Can we?" but instead should ask the question "Should we?" to make sure that AI is ethical and intentional.  Salesforce has five trusted AI principles:  responsible, accountable, transparent, empowering, and inclusive.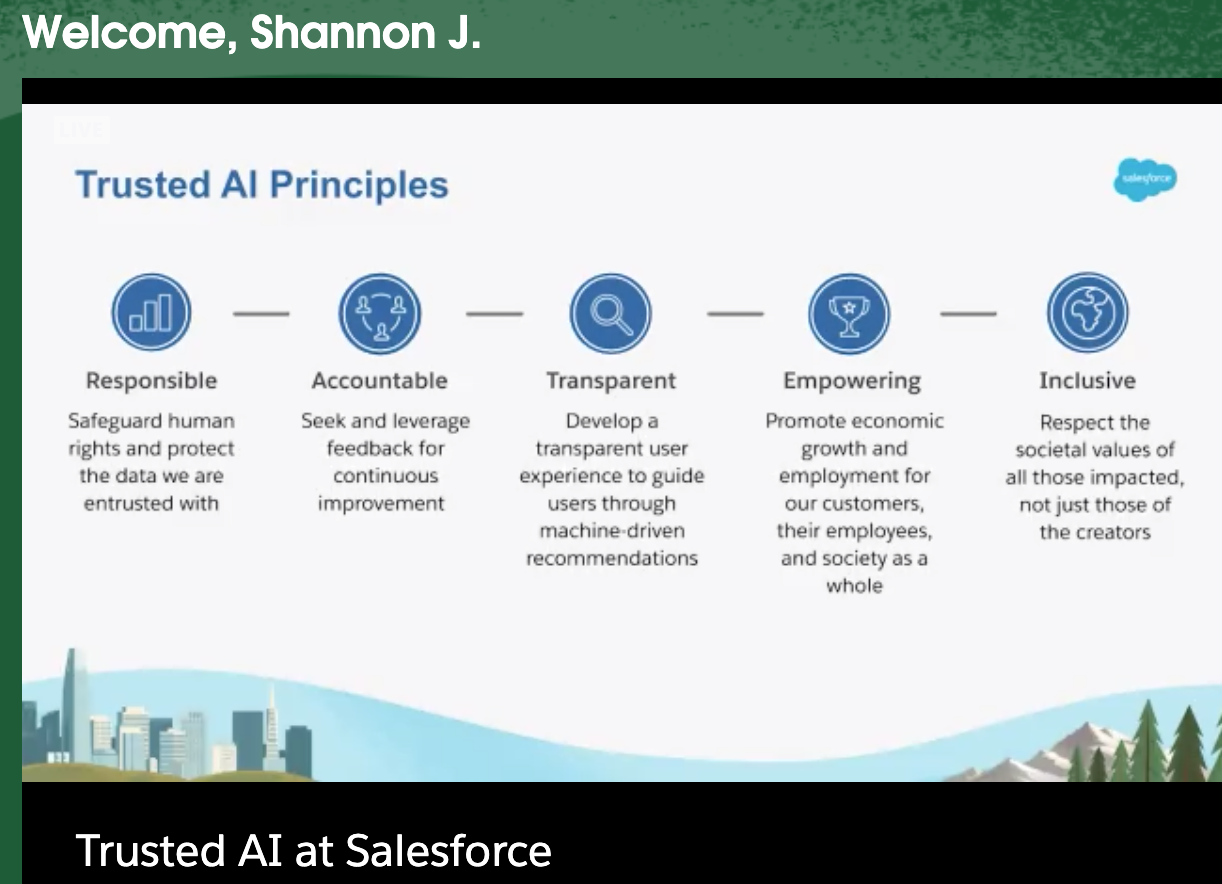 3:30 PM How to Move to a Subscription Business Model  First, make sure that your technology stack is ready to shift to this new growth profile, from CPQ, to billing, to your sales commission plan.  There are typically two entry points to subscription models: pure subscription, which is per seat, per org, with a set price and unlimited usage; pure usage, which is in arrears, meaning billing is based on consumption.  Start with your customer – what and how they want to buy.  Consider what happens when the customer ramps up their usage.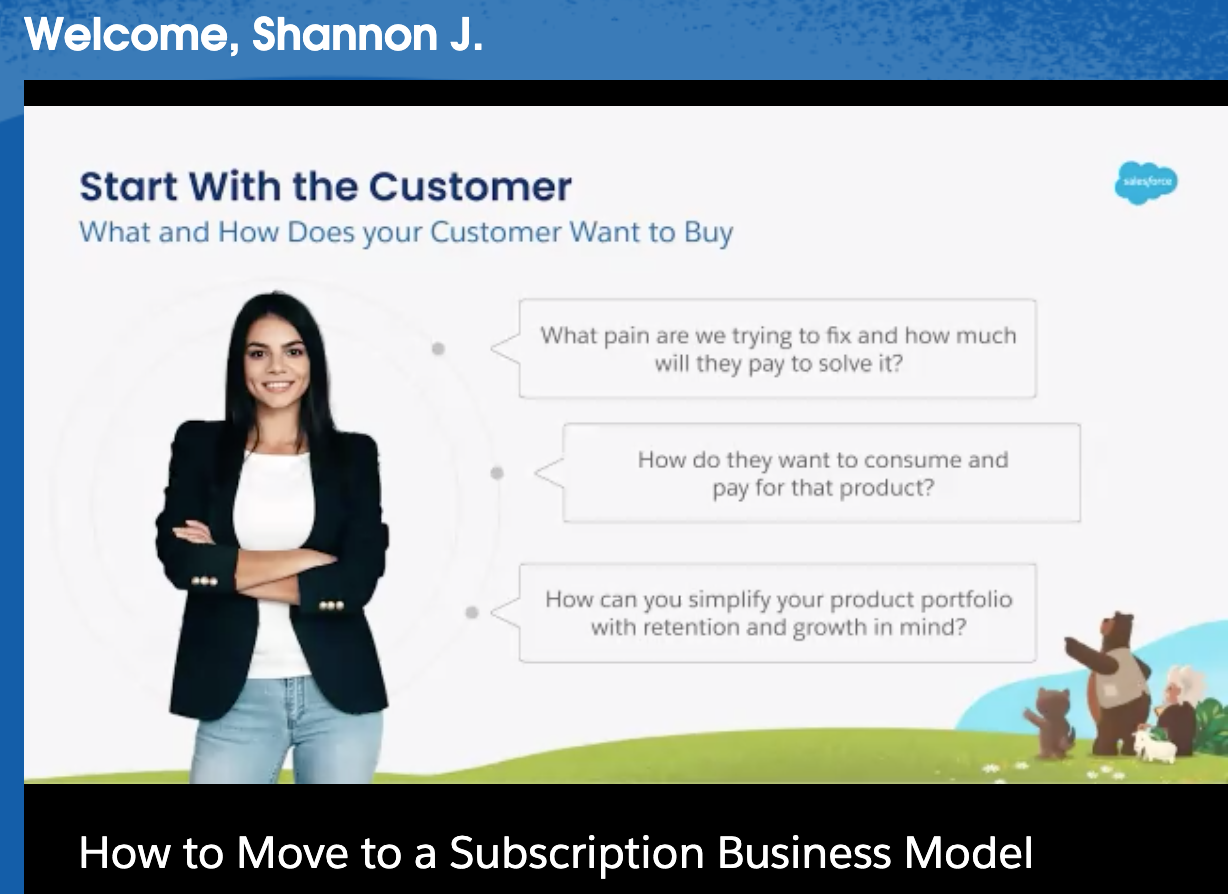 Thanks so much, Shannon!  Those sessions sound amazing!  David attended one session that he really enjoyed today – here's his take on that:
12:00PM  DreamTX Welcome Day 2: Working in the New Normal  Here are a few important, yet previously subtle takeaways from this session:
What makes companies great beyond the product — empathy and understanding that you need to treat customers well

On their own, dashboards are not the answer; they are the place data goes to die.

Make data easier for insights.
The FIVE MUSCLES — Digital Imperatives
Make decisions by leveraging data

Have customer-centric data processes

Stop thinking about how you SELL

Make a better BUYING process

How you engage your employees — they are the closest to your customer; so you should empower them with the FULL POWER OF YOUR ORGANIZATION

This includes psychological safety! (I have a great white paper about embracing changing as technology changes, including info on psychological safety.  Let me know if you want a copy.)

Leverage technology to supercharge that, while making the WHOLE organization digital (not just IT)

Serve SOCIETY — be a better contributor. (examples: sustainability, diversity)
If you missed it, check out the Day 1 recap.
See you back here tomorrow for the Day 3 recap!     – Andrew Duncan, Sr. Partner Account Manager
What are your 2021 Salesforce challenges?  Our team of certified Salesforce experts is ready to meet with you to give you advice and guidance – sign up for a complimentary 30-minute Gap Analysis of your Salesforce instance using our scheduling link.
Also, check out the recording of our panel event last week, The Ghost of Dreamforce Past, where your faves and ours Eric Dreshfield, Miranda Ragland, Toni V. Martin, and Janet Elliott shared never-before-heard stories from behind-the-scenes at Dreamforce.  We laughed, we got goosebumps – you've got to hear this!
And while you're reminiscing, you can check out the talk that Mike Gerholdt and Shannon J. Gregg presented at Dreamforce 2019: Deliver Your Company's Vision with Salesforce.  Or, watch Shannon's 2015 Dreamforce session on Using Smart Apps on Salesforce to Power Business and Career Growth.
Confirmed is now a Salesforce ISV Partner, and is being finalized for the AppExchange.  If you want to get a head start on turning your scheduling from a burden into a strategic advantage across your entire team, contact David to become an early adopter of the Salesforce Edition.