WELCOME TO DREAMFORCE '23: DAY 1
Cloud Adoption Solutions will be coming each and every day of Dreamforce 2023 with amazing blogs, live chats, and the latest on all things Salesforce. Don't forget to subscribe!
12:45pm, WELCOME TO DREAMFORCE
Overview by Andrew Duncan
Everyone is an Einstein!
"If you use Salesforce, native AI is going to allow you to have the tools you need to be an einstein!"
With this ringing in our ears we kick off what is sure to be a memorable Dreamforce experience. With a heavy focus on AI and customer success; this year's event is promising to be the most innovative yet. I get it; we say that every year! But is it possible that it's just the truth?
Every year Salesforce doubles down on its amazing ecosystem and community, giving us an extremely satisfying experience at Dreamforce, allowing us to truly immerse ourselves in the innovation and connection that is happening!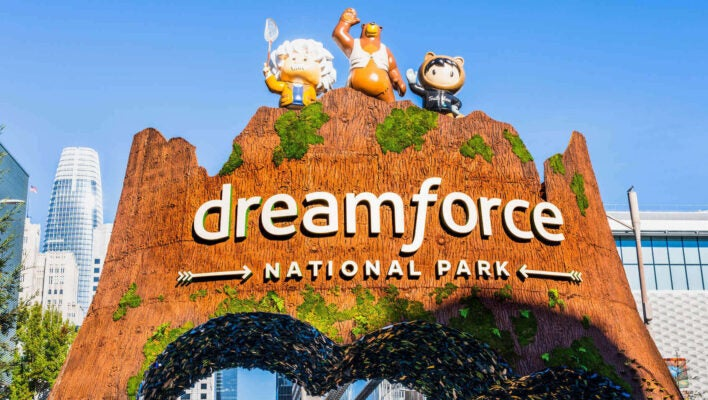 However, we do realize that for many Dreamforce is just that, a dream, a far off place it seems where many are gathering but many are also missing out. This is why we bring the Dreamforce live blog to YOU! So that every year it can feel like you are right there, in the middle of the action, present for the biggest names and the biggest storylines.
___________________________________
1:00pm, DREAMFORCE MAIN KEYNOTE
Overview by Andrew Duncan
Dream BIG!
Speakers:
MARC BENIOFF Chair, CEO & Co-Founder, Salesforce
PARKER HARRIS Co-Founder and CTO, Salesforce
LIDIANE JONES CEO, Slack, Salesforce
SANJNA PARULEKAR Senior Director, Product Marketing, Salesforce
PATRICK STOKES EVP, Product & Industries Marketing, Salesforce
Nothing kicks off Dreamforce quite like a keynote, and this year we hear from some incredible resources, and the literal founders of the product we all know and love.
First we are brought in with the initial findings of Salesforce's year:
Dreamforce is AI heavy and will be 3 days of data+AI+CRM = trust
While this equation is new to us, it solidifies the idea that AI, while a great tool, heavily relies on adoption and more importantly trust as its center. So the question is this: how do we trust something that we still are learning?
Well let's start with the numbers, today Salesforce announced that this year revenue has hit an unprecedented high of $34.8B making them the 3rd largest cloud company in the world! So with a company so large and so intent about building a trusted solution what are we going to see?
When it comes to the AI trust gap 52% of customers don't think it's safe. To us at Cloud Adoption Solutions, safety is always at the forefront of our concerns and we understand that notably our clients feel the same way.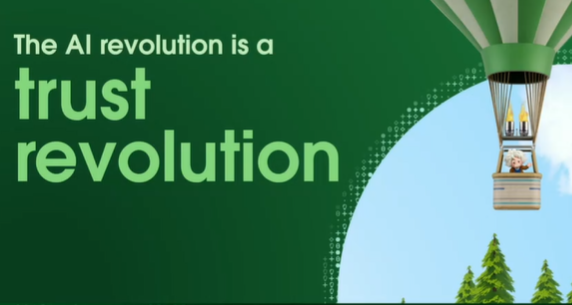 Additionally a new Salesforce study shows that AI is #1 top priority for CEOs heading into the next year and beyond. But the question still remains; how do we capture all of this in a safe and impactful way.
This is when Marc and his team came in strong with their best: Announcing Einstein Platform 1! A completely new Salesforce platform giving us the safety and ability to use AI to its fullest potential on a scale equal to the existing Salesforce platforms. For Salesforce and for Dreamforce '23, the AI revolution = data revolution! Data is at the forefront of the decisions being made and now with Einstein platform 1 it seems that we finally have a way to tap IP and use it for regenerative AI.

Dreamforce attendees were also treated to a demonstration of Einstein Platform 1. For those who missed, we highly recommend watching it in its entirety to get the full effect, the technology is nothing short of incredible and impactful.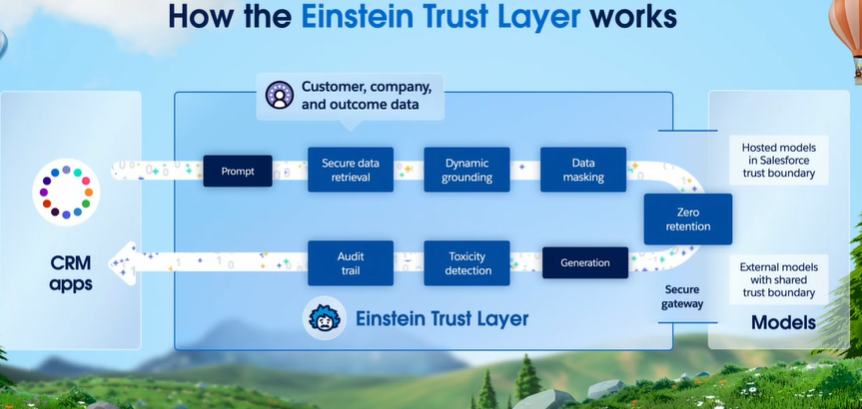 In the demo we saw Harmonized data, a way in which AI can be properly mapped out between tech stack and products, giving teams the ability to tap into that potential in terms never seen before!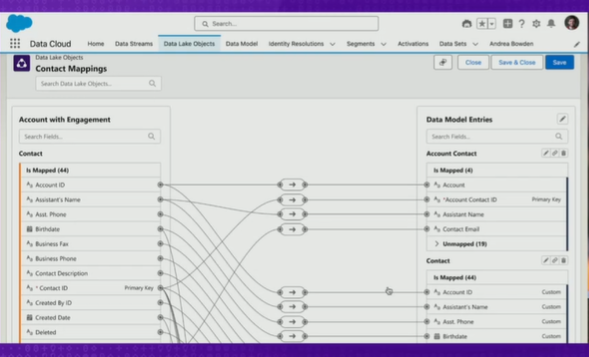 Also announced was free Data Cloud and Tableau, which is going to be a huge benefit to companies as they look to continue to expand on their customer understanding and to solidify their data.
This comes as a brilliant move as now with the help of Einstein Platform 1, companies can not only understand their data better, but also use it to drive life changing results.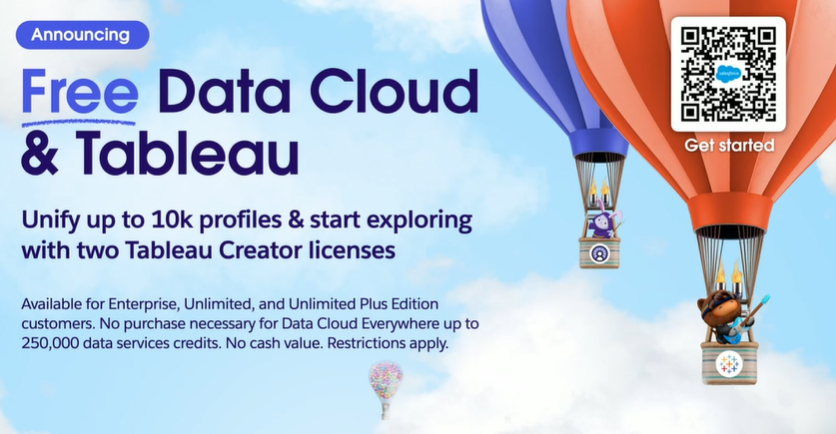 A massive second announcement was Einstein 1 Copilot!

A copilot for every cloud, listening and helping you with guidance and data for every customer experience! This is going to be the tool that sees every Salesforce user have their own assistant, which to many, has been one of the goals Salesforce has had with AI since the beginning!
All in all, this was an insane kick off. We had demos, we had product launches, but most importantly we continued to build upon the momentum of last year, enjoying the company of good friends, our amazing partners, and above all else; innovation!
___________________________________
3:00pm, DREAMFORCE TODAY: MAIN KEYNOTE HIGHLIGHTS
Overview by Sam Teele
Key Takeaways:
1. Making sure AI is inclusive and accurate.
Supporting great causes; ALS awareness, Blind Institute of Technology – Salesforce's commitment to accessibility. Using AI to help people who are visually impaired to have more fulfilling lives and careers. Founded by Mike Hess.
Salesforce has enabled BIT to scale; it's the only SaaS firm to have an office of accessibility. Making sure they get their voices heard by the most extensive system integrators in the world.
20% of people in the US have some form of disability; they are the most challenging population to serve in their use cases. Companies need to include them from the beginning of the development process.
2. Marc Benioff, Einstein 1 Platform: "We want to build an integrated and low code no code platform, make sure all of the platforms are working together"
3. Sameer Hasaan, SVP William Sonoma – Formula for personalizing customer experience. "Started with our founder and his shopkeep mentality, knowing your customer, are they having a party next week, do they have a baby on the way, knowing your customer and having the perfect card for them. We are bringing that to the digital age.
"Retail has been using AI for a long time, but mainly in the transactional side of things like fraud monitoring etc. Now AI can enable companies to ask their consumers questions in order to make better product recommendations.
Our core values are the same, but now we connect with our customers in so many new ways."
___________________________________
3:30pm, TABLEAU KEYNOTE: REIMAGINING ANALYTICS FOR THE AI ERA
Overview by David Smallhoover
Our core values are the same, but now we connect with our customers in so many new ways."
Cloud Adoption Solutions is thrilled to cover Tableau's keynote session, "Reimagining Analytics for the AI Era," which introduced groundbreaking products designed to transform the way we interact with data. As Ryan Aytay, CEO of Tableau, emphasized, the past 20 years were just the beginning of their journey. Now, the focus is on ensuring that data becomes accessible to everyone within an organization, a mission that aligns perfectly with Cloud Adoption Solutions' commitment to making data actionable for you.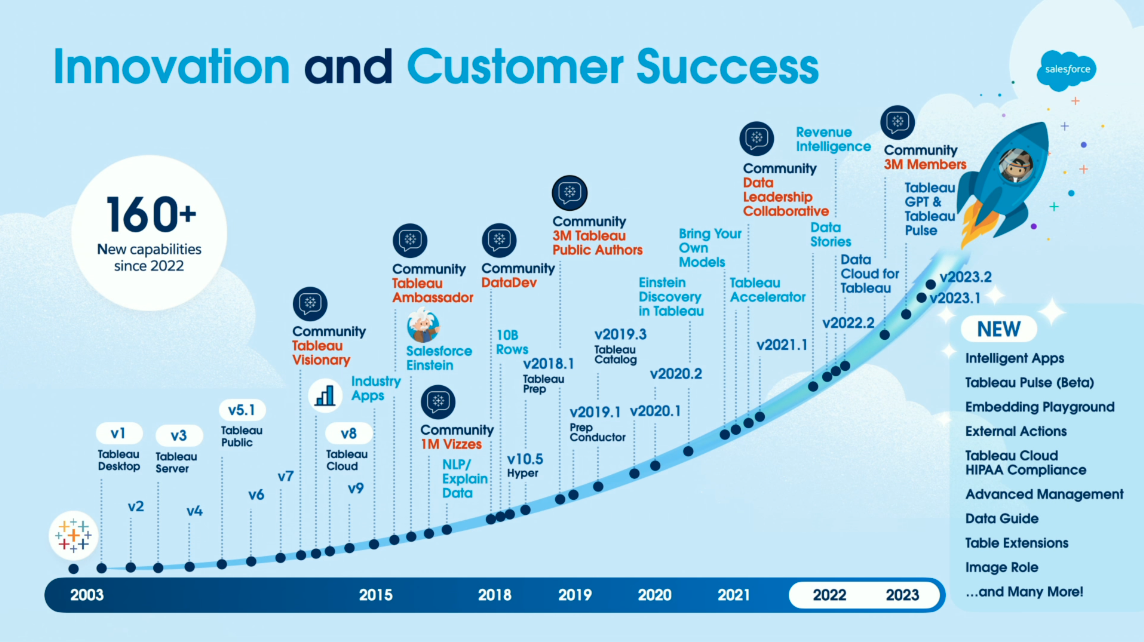 Tableau Pulse, a key highlight of the keynote, promises to be a game-changer. It leverages AI to provide users with natural language prompts as they explore data, making it easier than ever to uncover valuable insights. The ability to ask questions in plain language and receive immediate data visualizations empowers users to work more efficiently and effectively. This new approach ensures that data is not just seen but also understood, a core principle that we deeply value.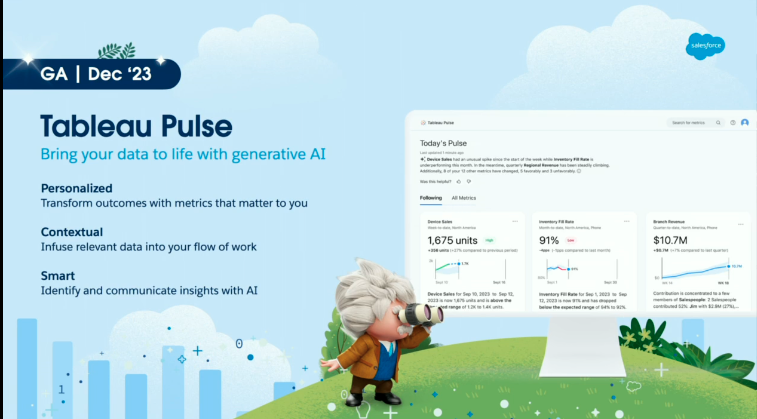 Another new product, Einstein CoPilot for Tableau, takes interactivity to a whole new level, offering assisted visualization and the ability to generate complex calculations effortlessly. With this tool, users can ask questions in natural language, and Einstein will create the necessary calculations or provide insightful visualizations. Finally, the introduction of Intelligent Apps, pre-built within Salesforce, is a testament to Tableau's commitment to making data-driven decisions easier and more accessible for Customer 360. Cloud Adoption Solutions is excited to see these initiatives come to life, and we share Tableau's passion for bringing data to every employee in a way that's digestible, actionable, and empowering.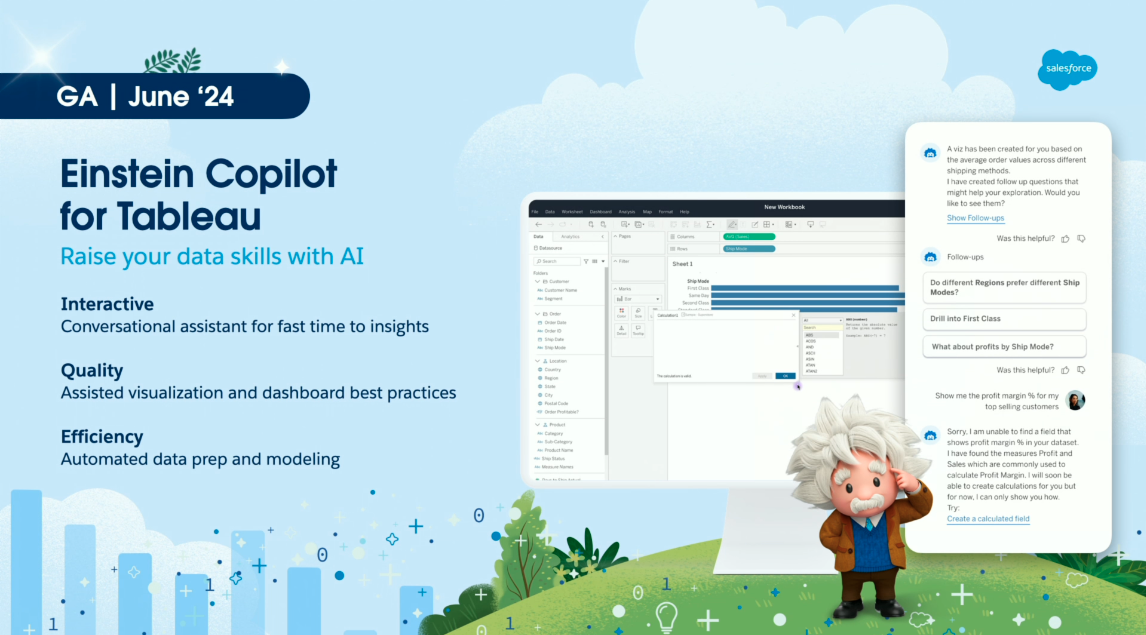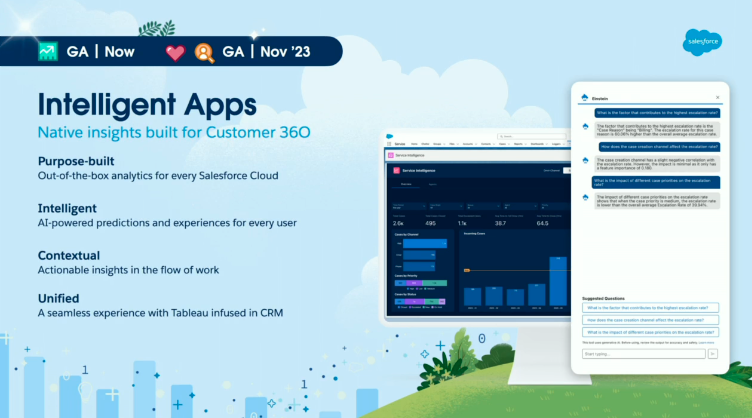 During the presentation, we were treated to an inspiring demonstration of how Customer 360 and Tableau are transforming the Texas Rangers into a true Customer Company. This shift allows the Rangers to intimately understand their fans' needs and desires, enabling them to enhance the overall fan experience.
A standout moment was the mention of selling $1 hot dogs. The dashboard displaying the number of hot dogs sold, showcased on the big screen at Globe Life Field, adds an interactive and engaging element to the game. It's remarkable to think that these innovations are driven by a team of just three individuals, highlighting the incredible power of data when wielded effectively. Cloud Adoption Solutions commends Tableau's efforts in facilitating these transformative experiences, and we're excited to witness the continued evolution of data-driven engagements.
___________________________________
4:30pm, BETTER TOGETHER: THE SALESFORCE UNIFIED ANALYTICS EXPERIENCE
Overview by Jarret Fawcett
Speakers: David Lou || Lizzy Perruzzi
Salesforce Unified Analytics Experience consists of the following aspects:
Reports & Dashboards
CRM Analytics
Tableau
The three ways to create an Analytics Experience:
Central Hub
Ease of implementation
Seamless transition from Salesforce to Tableau
Publish Tableau to Salesforce
Searchable Data
Native LWC for Tableau to integrate with CRM Analytics
CRM analytics, out of the box, unlocks the potential for actionable insights from your data.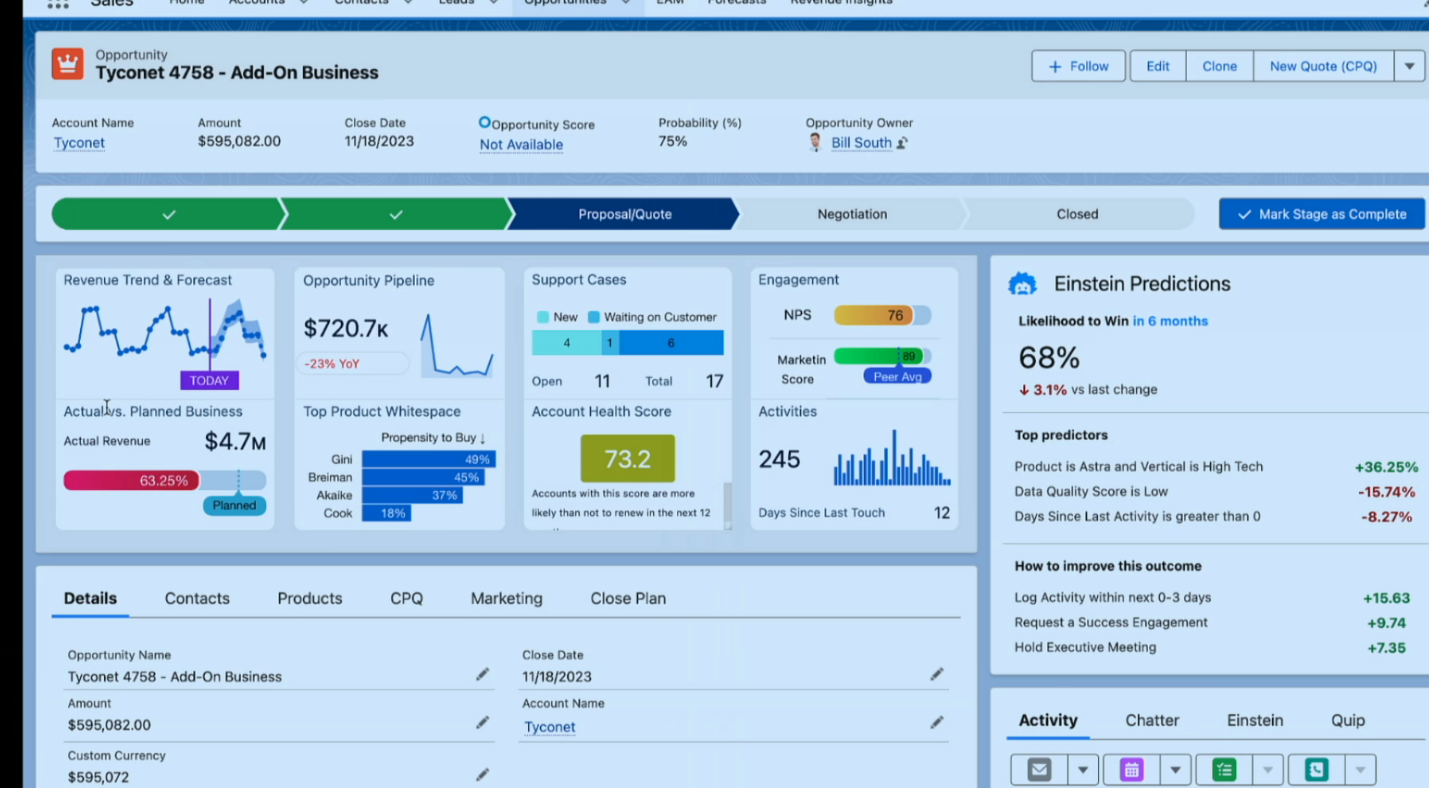 Data insights on a record page
Einstein Discovery offers insight on next steps from data visualization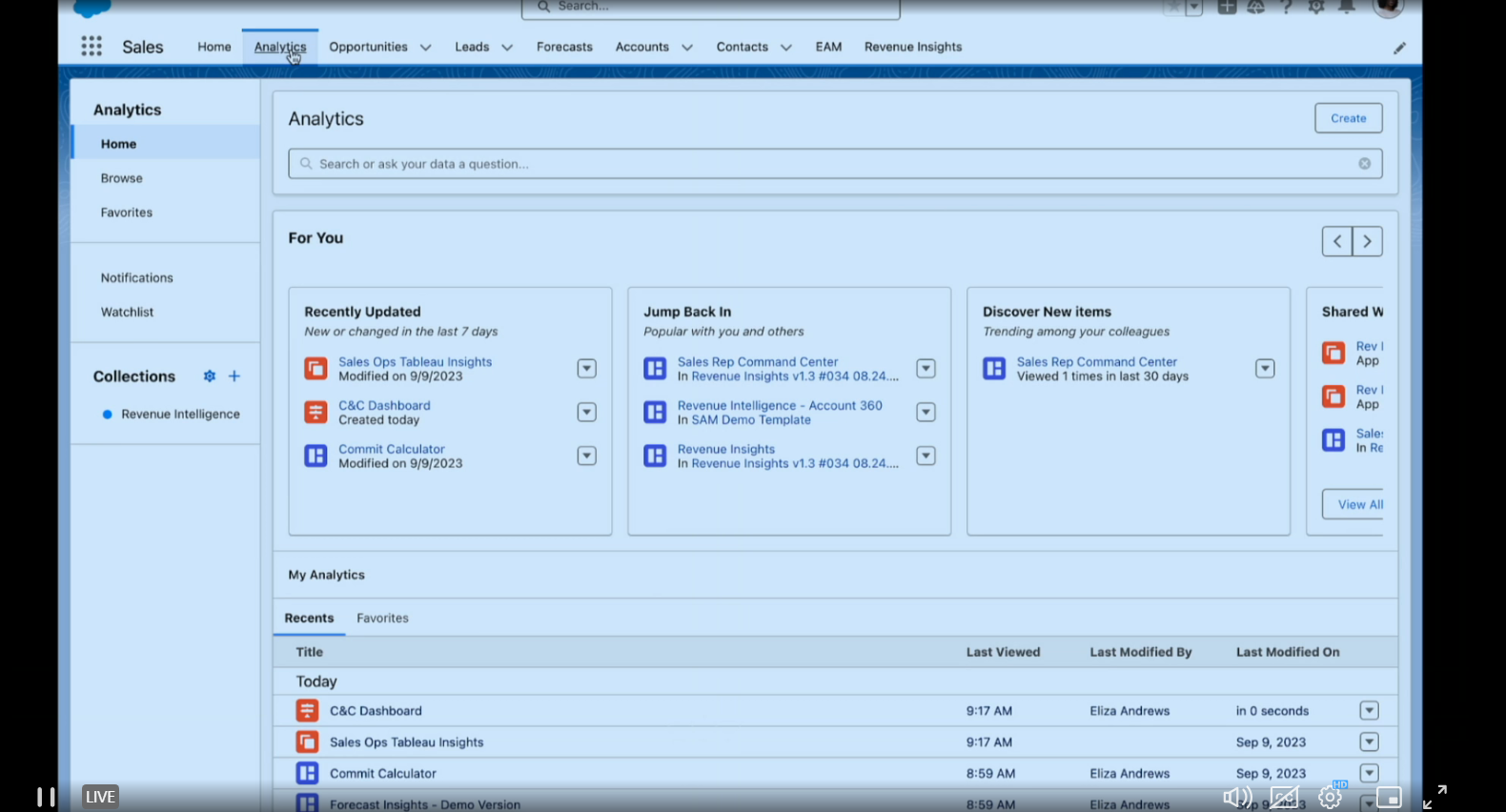 Analytics Studio home is a unified place to see all analytics!
Thank you for being part of Day 1 at Dreamforce. Stay tuned for our Day 2 recap tomorrow afternoon!