WELCOME TO DREAMFORCE '23: DAY 2
Cloud Adoption Solutions will be coming each and every day of Dreamforce 2023 with amazing blogs, live chats, and the latest on all things Salesforce. Don't forget to subscribe!
11:30am, WELCOME TO DAY TWO: DREAMFORCE TODAY
Overview by Andrew Duncan
Here we go!
Day one was absolutely incredible: Announcements galore, new teams, and heavy hitting speakers!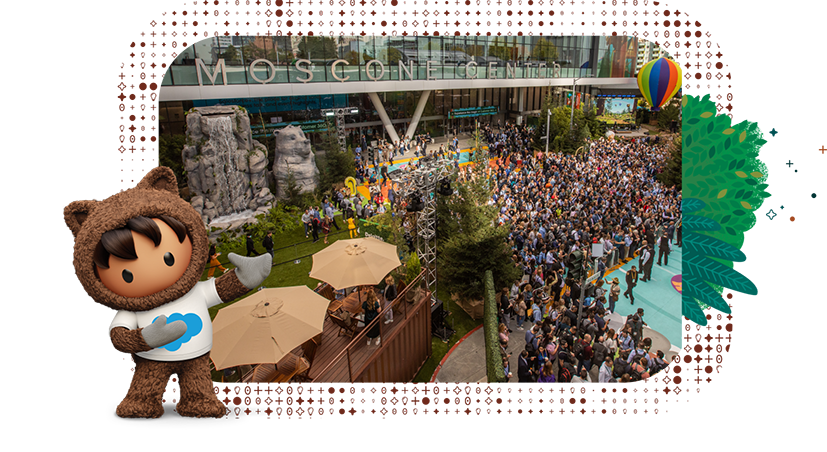 Now stick with us in Dreamforce day two where the magic continues with more innovations in AI, exciting demos, and big announcements.
We will cover many of the highlights and best sessions below so you don't have to miss a thing!
___________________________________
12:00pm, SALES KEYNOTE: ACCELERATE SALES WITH TRUSTED AI FOR EVERYONE
Overview by Sam Teele
Salesforce launched Einstein in 2016, and now they're revolutionizing it with Generative AI in Einstein 1. These tools can offer professionals assistance in taking notes during their meetings and provide them with systems of intelligence, better enabling cooperative selling and integrating that information into their CRM.
"With Einstein, you click less and close more."
The ability to utilize powerful analytics and be able to detect revenue leaks.
Salesforce made the decision to start with what matters the most first, data!
Better data, faster closes.
Internal data, leads, opportunities, closes
External data: Social Media, etc.
Salesforce launched the data platform, using the Data Platform and automatic activity capture with unified dashboards, gives users rich and detailed insights without the need for any manual entry. It gives complete visibility into forecasts and pipelines.
"Meet your newest team member Einstein; he's working for you 24/7, even on weekends". Helps businesses scale and accelerate their pipeline. Gives buyers all the information they need with the Buyer Assistant.
Einstein's prospecting center provides two essential categories, Customer Fit and Buying Interest, built on Data Cloud. This tool uses CRM and external information to rank prospects based on their quality to the seller. It also shows when the potential buyer came to your website. You can also group options by segments.
Einstein can qualify leads on your behalf to free up your time for other work. It can generate account summaries, which enable you and your team members to get up to speed quickly and easily.
If you're perusing LinkedIn and notice one of your customers got a promotion, you can ask Einstein to update their record, and it will do so without you needing to add any additional manual input. It enables users to edit across record types and updates back to CRM.
Einstein can produce call transcripts from previous meetings for users to review, but rather than having to read them line by line, you can ask Einstein to produce a summary for easy consumption.
New tools make it easier than ever for Sales Op and Sales Managers to make territory maps and also to set quotas, using AI-driven insights to build a strategic sales cycle. Dan Walsh on improving productivity: Make sure that Salesforce is their single source of truth; sales managers and sellers were doing reporting in different ways, in spreadsheets, etc. Now if it's not in Salesforce, it does not exist.
Three real examples of AI for Sales:
Automatically qualify and schedule leads
Speed up deals with Real-Time Insights
Automate-Generate Sales Email
How to speed up sales with AI.
Sales reps aren't really worried about data storage; they focus on connecting with their customers and prospects because that's what matters to them. Sales Cloud with AI makes it easier than ever to update data records and not waste a bunch of time on manual tasks.
___________________________________
12:00pm, CUSTOMER SUCCESS KEYNOTE: MAXIMIZE ROI WITH A PATH TO AI
Overview by Andrew Duncan
So if AI is now in every Sales team, Sales people need to get exactly what they need and when they need it. Salesforce is now working to boost productivity across a complete sales organization using the power of Salesforce CRM and Einstein Platform 1!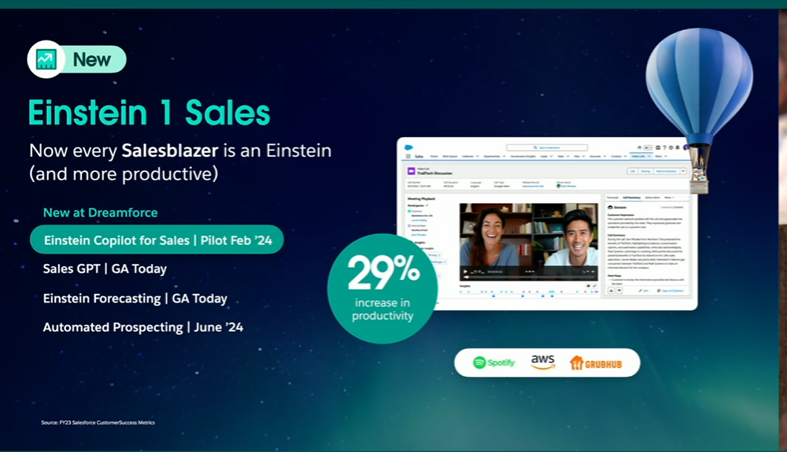 AI accelerated sales are the way of the future; but how do we properly harness this new power? And more importantly how do we make it impactful? It now seems that Salesforece has answered that question by announcing the product Einstein 1 Sales.
By merging AI and sales predictability, Salesforce is doubling down on the notion that when used correctly, AI can not only improve the daily life of a sales team but also bring them to new heights.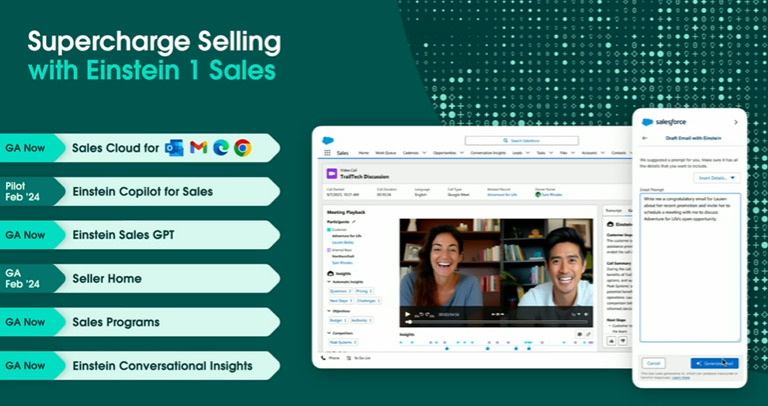 How can AI increase sales targets and growth? With predictability and real time forecasting based on data available. What once took days of work to use complex data and analytics to forecast now takes only a few clicks, and more importantly a few minutes.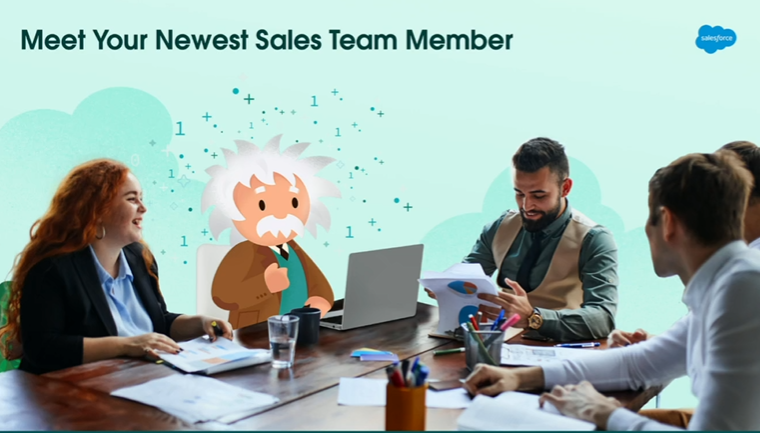 Also announced was Data Cloud x Einstein Platform 1. A full new sales operations tool that keeps operations at the forefront of visibility, allowing them to support and detect trends, changes, and client needs faster than ever!
___________________________________
1:00pm, AI SPOTLIGHT: DID YOU KNOW SALES CLOUD COULD DO THAT?
Overview by Olivia Porter
If you're a sales person today, you're probably used to your enablement or sales operations teams sharing a big new announcement about a piece of technology that's going to save you precious selling time.
Many sales orgs today have a tool for everything, from productivity, to pipeline generation, to forecasting. This leads to a complex web of logins, training, integrations, data flows, and, in some cases, security risks.
On the Dreamforce Stage, Katie Campbell and Rebecca Lee bring front and center a new reality: you can actually leverage all your selling needs native to Salesforce.
Assuming productivity, pipeline, and revenue are the key areas of supporting a sales team, they break down the following features, now available in Sales Cloud:
PRODUCTIVITY
Scheduling: getting time to meet with a client shouldn't be difficult – yet, somehow, it is. For many sellers, they use tools like Calendly or Salesloft. If this is the case, that's another tool to setup, authorize, and yet another extension to setup.
For others, it's a manual process, requiring multiple emails and leaving room for "human error," as one tediously reviews their calendar.
Enter: Salesforce Scheduler. With this feature, you're able to remove the manual element of searching for time, and the back and forth to get that time finalized. Instead, insert blocks of available time that your clients can book on their own, or share a link allowing them to view times you've made available. And it's one less tool and password to manage!
Updating data: I see you over there. Yeah, you. You saw that decision maker you've been working with was promoted from director to VP, and you even sent an email of congratulations. But, you never updated her contact information. I don't blame you, since sending her an email was way more important, and you're 10 clicks away from updating that in Salesforce. Why bother?
That's where Sales Cloud Everywhere comes in handy. When you see on the web that this prospect has changed roles, the Salesforce extension is only one click away from pulling up their contact record.
PIPELINE
Cadences: okay, this one is big. There are entire companies sales teams buy from that are focused on cadencing (or sequencing) prospects. Cadences allow you to automate your process, so you can stay on top of your communication. It is a series of touch-points to prospects that are scheduled as tasks for sales people, in order to establish a connection for selling.
Salesforce now makes this available within Sales Cloud!
Meetings: I don't have to say much more than the word "Meetings," and I can hear the collective groan rise up from sales people. There aren't enough minutes in a day to prep the way you'd like to prep. It's just the way it is.
That is why Meeting Digest was created. Here's what it does:
"If your company uses Einstein Activity Capture to sync events, the event organizer sees helpful notifications and recommended actions about synced events. For example, we remind you if attendees haven't responded, and provide recommended actions such as to follow up or reschedule the meeting. We also alert you about high priority cases and outstanding requests so you can address those issues during your meeting. Check here 48 hours before the start of the meeting for insights about the event. Follow-up actions are shown for 7 days after the event."
REVENUE
Forecasts: In my experience, the best salespeople are generally confident. They think everything could close. They're unrelenting hope creates a major problem for managers since, well – not everything is actually going to close.
Using AI-generating insights, Salesforce's Pipeline Inspection feature creates a dynamic view of forecasting so managers can be confident when they give their number up the chain of command.
"Get a consolidated pipeline view, with key metrics, opportunities, and weekly changes in close dates, amounts, stages, forecast categories. See when next steps aren't updated. Get close date predictions, deal insights, and activity details. Use these insights to help forecast revenue more accurately and focus on the most important opportunities."
___________________________________
1:30pm, DREAMFORCE LIVE
Overview by Shannon Gregg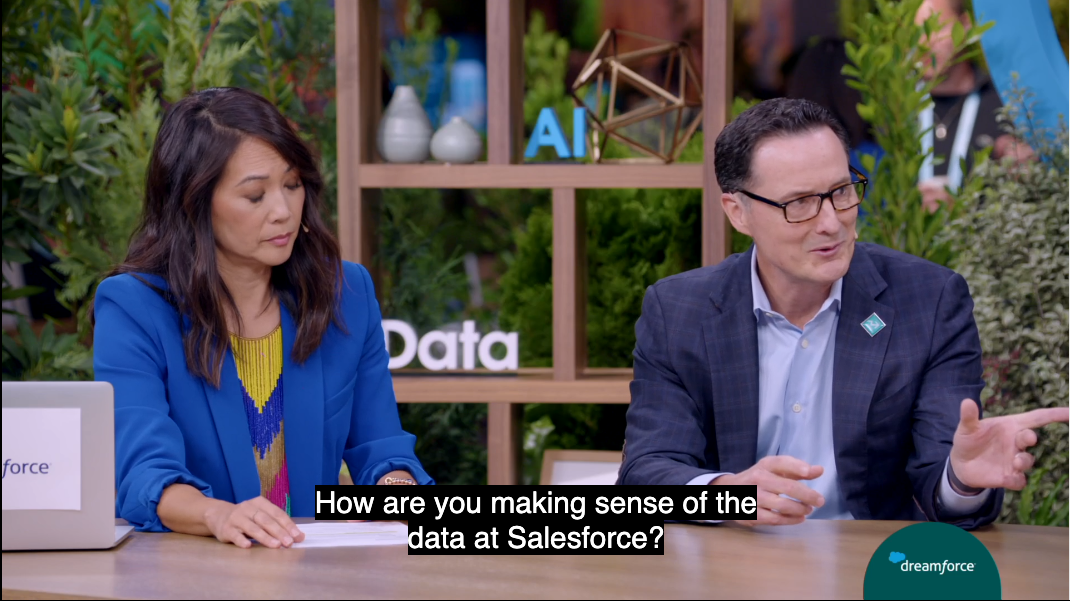 It's great to hear even amongst all of the new AI conversation the old mantra: "If it's not in Salesforce, it didn't happen." Using Salesforce, Einstein Activity Capture, and reporting will allow for better data-driven insights.
Experts predict that attendees, even those being polled in the live chat, are excited and hopeful, even fired up, about AI. Trust, data privacy, data security are things that people are concerned about, and Salesforce is very focused on showcasing the importance of trust.
Companies are incorporating AI into selling and operations now, and hearing other companies are doing it will help to inspire companies. One panelist, Adam Gilberd, EVP Consumer & Business Services and CRO Sales Cloud at Salesforce, stated that they found that amongst their 18,000 sellers, they are spending an average of 2.5 hours on email each day. Using generative AI for sales is helping sellers get time back in their day to do what they really shine at, which is spending time with their clients.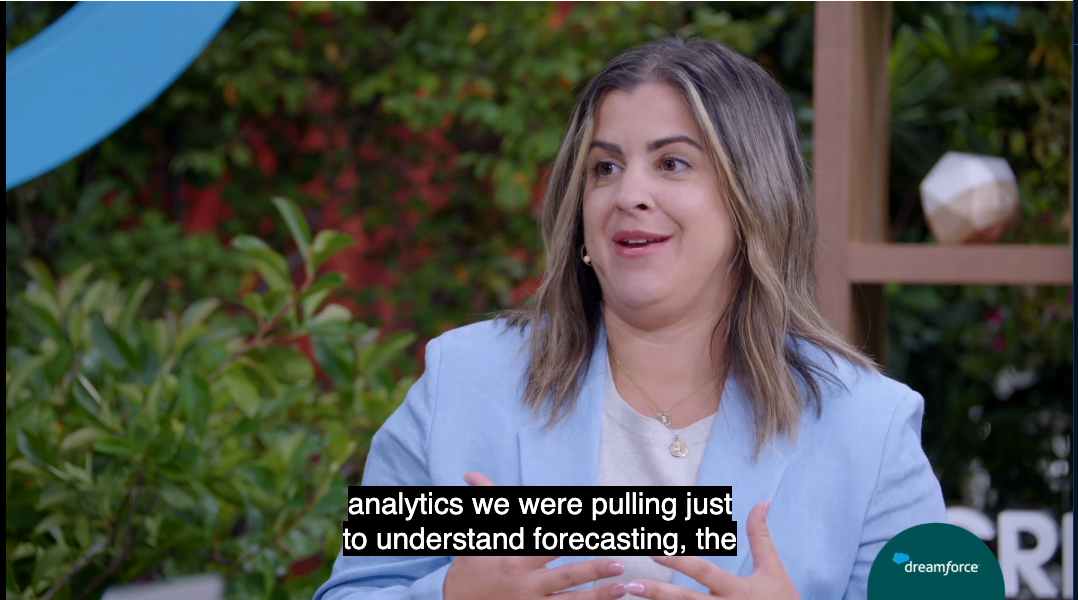 When asked if AI was the new Sales Ops, the response was that AI is helping to understand reports, dashboards, and forecasting, and Sales Ops will definitely benefit from the use of AI (but won't be changing their business cards anytime soon!).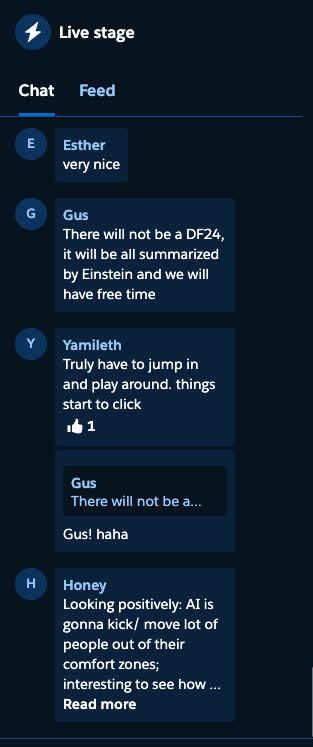 As always, since the Dreamforce 2020 of the Covid-era required a strong virtual Dreamforce presence, the chat on the livestream was full of inspiration, curiosity, and even some jokes!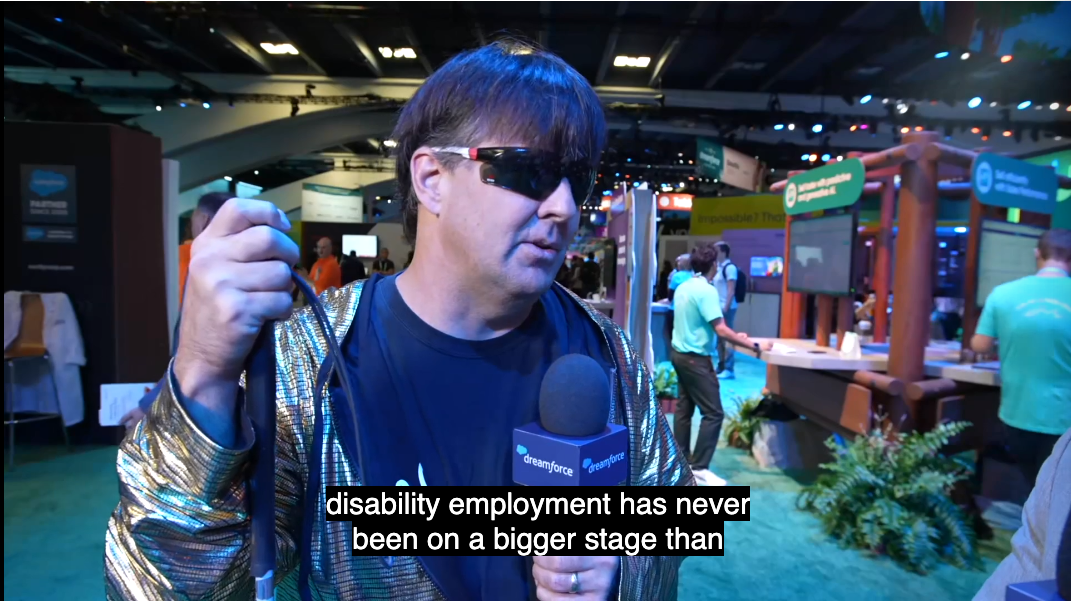 Mike Hess of the Blind Institute of Technology, Golden Hoodie recipient, shared how excited he was to see disability equity and inclusion on such a large stage. Only 344 companies in the Fortune 10,000 have hiring initiatives to include employees with disabilities, so Mike and the BIT work together to help to drive inclusive hiring and advocacy. Unemployment and underemployment in the blind and vision impaired community is staggering; the BIT helps to train and certify Salesforce experts and then help them to find jobs using their Salesforce skills.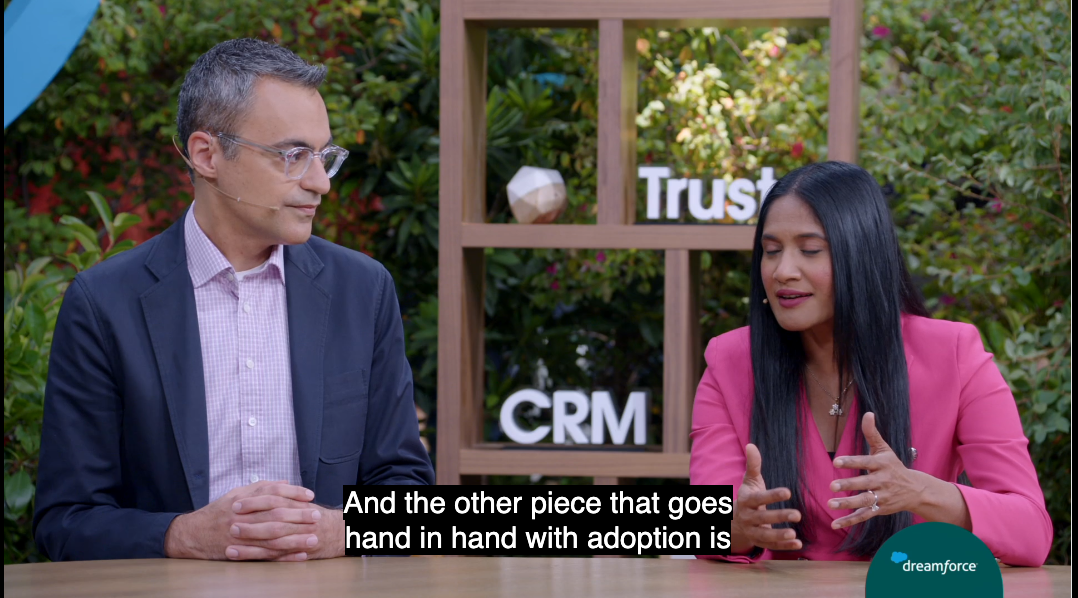 And…music to our little Cloud Adoption Solutions ears: enablement, training, change management are critical components that we cannot ignore in the time of AI. YES!
___________________________________
2:00pm, SERVICE KEYNOTE: REIMAGINE SERVICE FOR THE AI ERA
Overview by Shannon Gregg
Everyone wants to serve and delight their customers, solving their problems like never before, states Bill Patterson, EVP & GM, C360 Applications, Salesforce. However, volume is up, complexity is up, and costs are up…all while budgets are constrained. AI gives us the ability to generate new ways to service our customers like never before.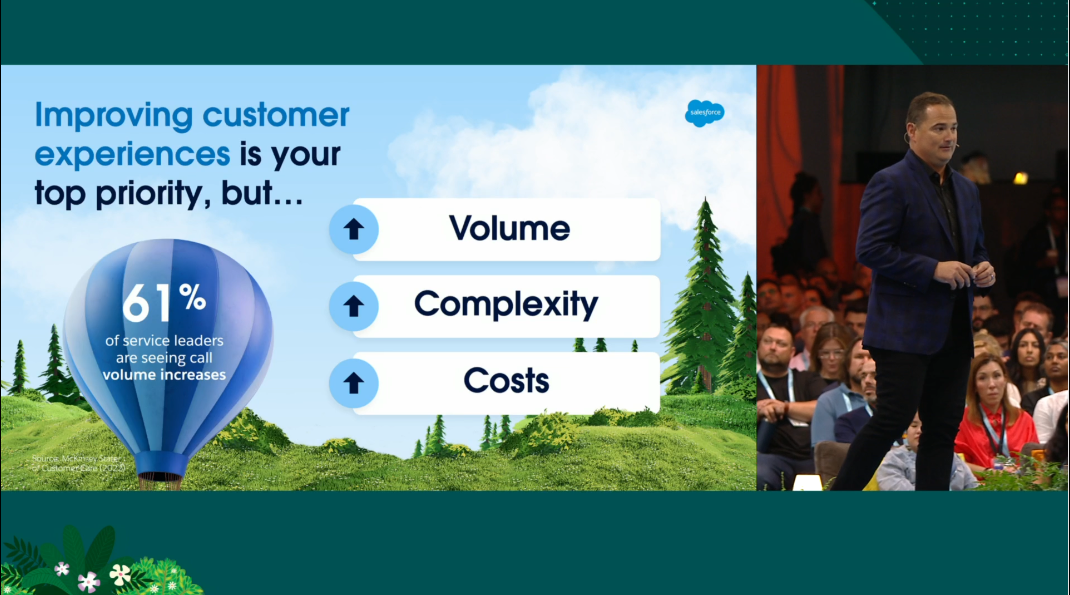 Customer service has become even more challenging, with trust in AI, a process and skills gap given the new technologies available, and disconnected systems – sometimes agents are using eight to nine disconnected systems per day.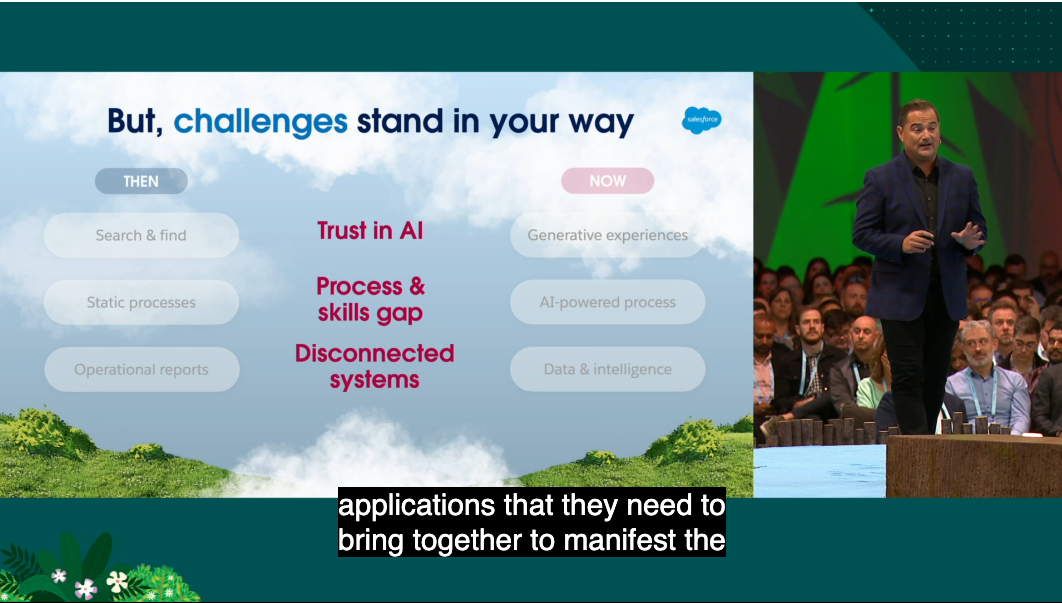 Brenda Bown, CMO, Service, Salesforce, reminded us all that Einstein was announced in 2016 (and we were there, and remember the adorable Einstein speakers in the demo!) – and it had amazing predictive abilities to help classify and route cases. In 2023, Einstein applied generative AI to push past just predictive capabilities. And coming in 2024, meet Einstein Copilot!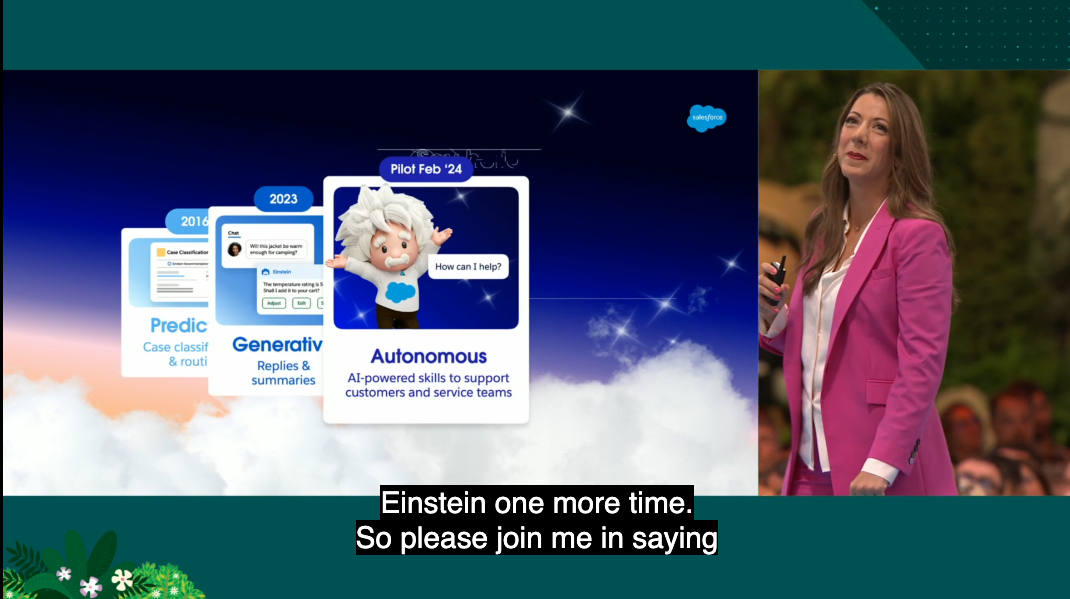 In the demo presented, Einstein Copilot will have skills – actions that will help to take case management into the hands of AI and Einstein. This isn't like a workflow, sequential if/then steps, but a way to identify what actions need to be taken and then to take them. Grab a knowledge base article, respond to the email, send the email.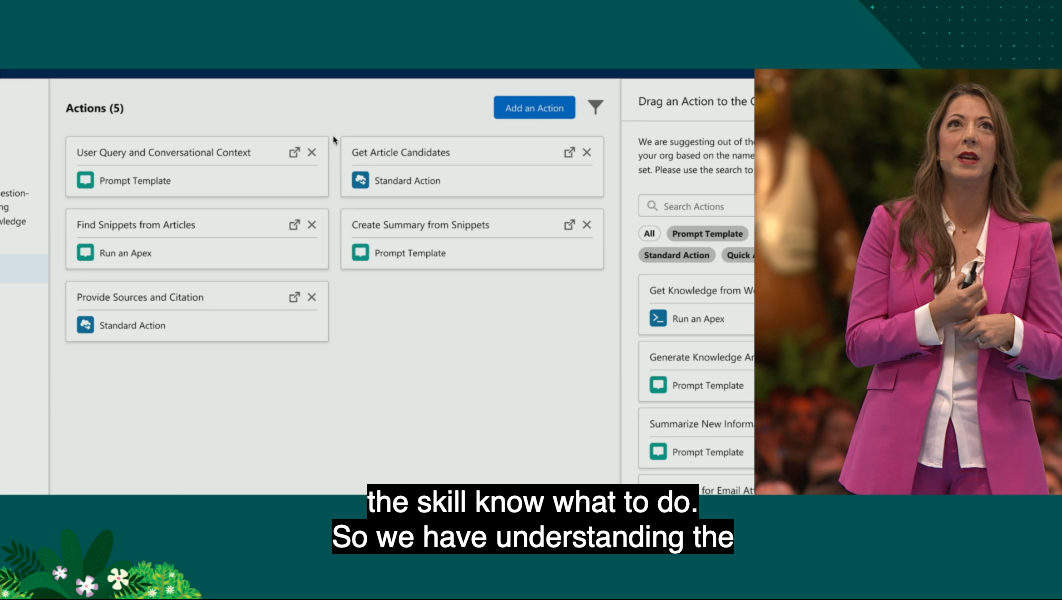 The Einstein Copilot has a list of cases that have been closed with happy customers behind them – personalized emails with expressed satisfaction – without any human intervention.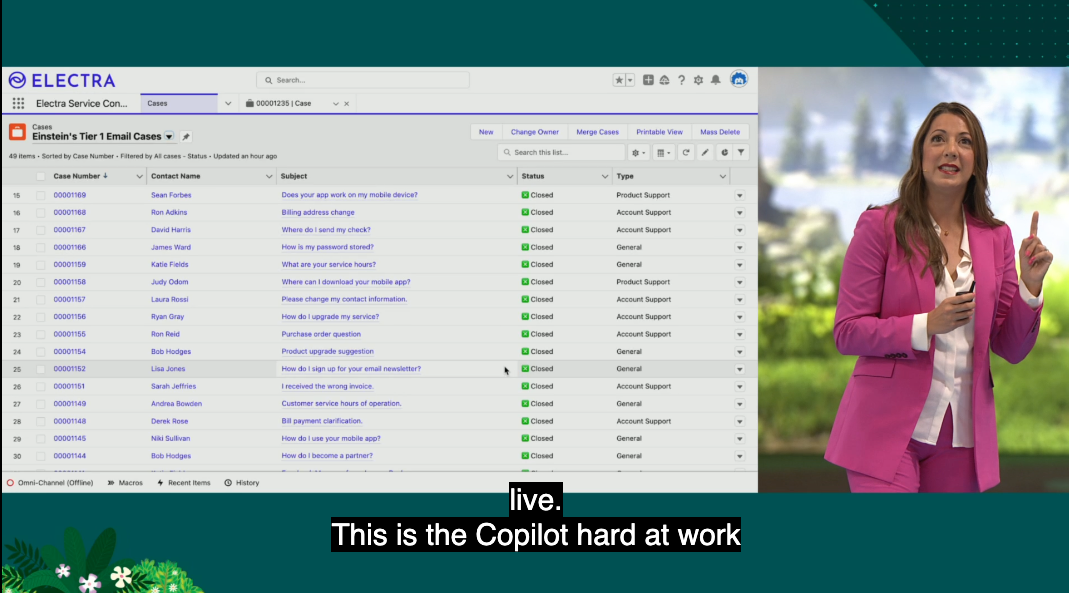 Service can now be reimagined across your entire Service journey – in an omni-channel approach.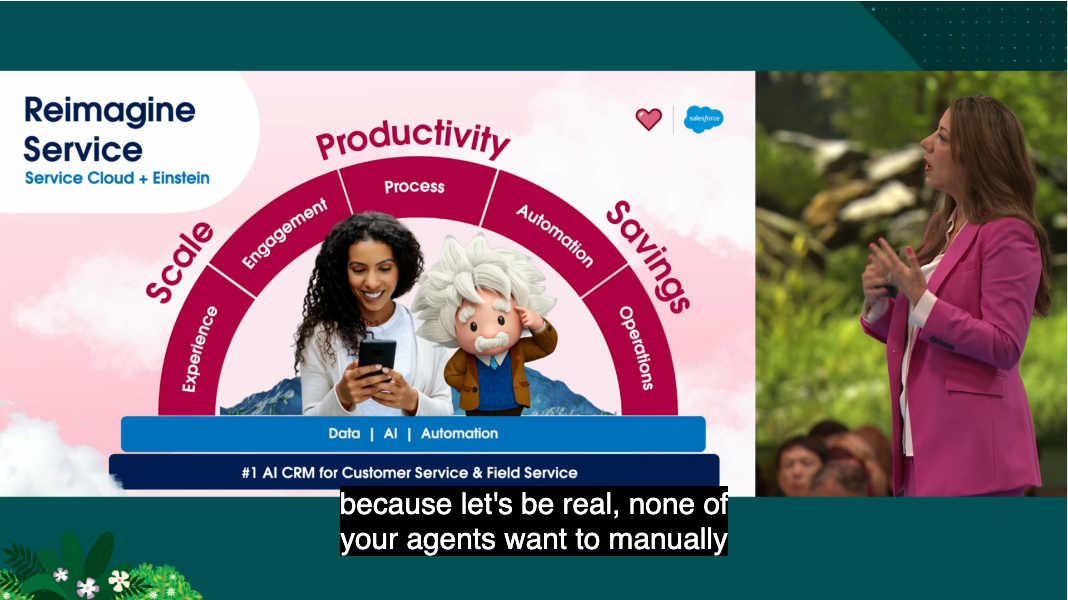 Current-day chatbots are responsive, but so many end in an interaction with a human. Noopur Bakshi, Senior Director, Product Management, Salesforce, explains how past interactions with bots provide results in a typical "search" fashion, without personalization.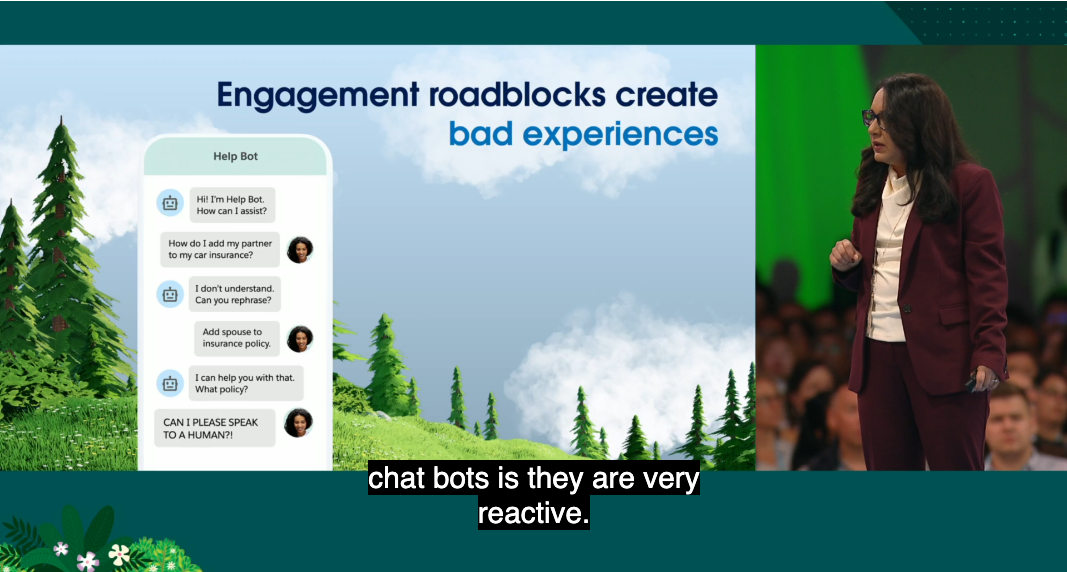 Past bots were rules-based. Present day bots are skills-based, so Einstein can respond in a clear, conversational way. Einstein is multi-model – using AR, Einstein can help a customer evaluate their own spaces, and suggest purchases.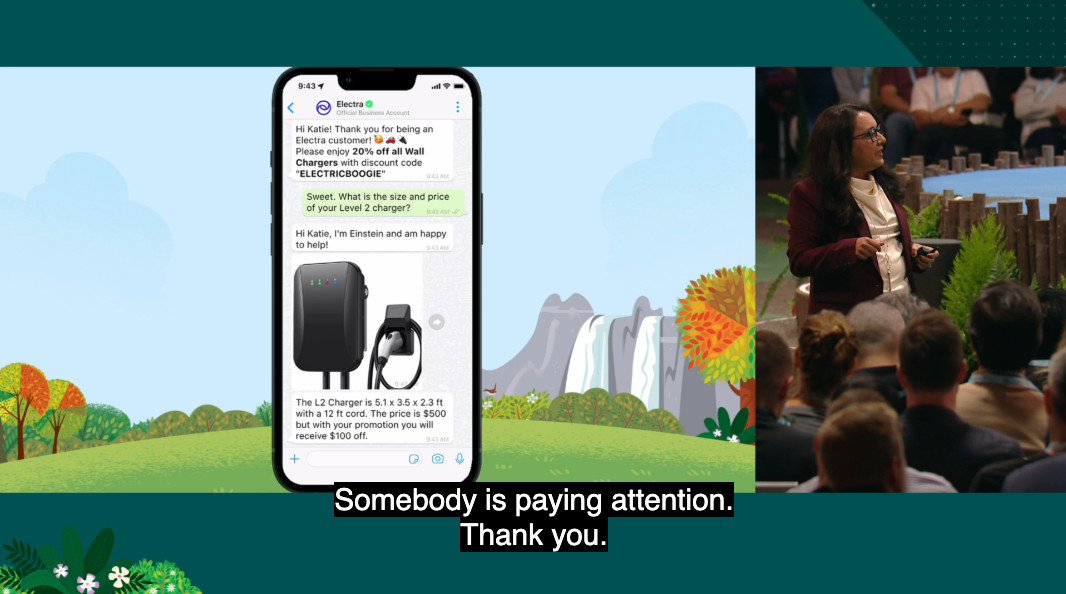 Using skills, Einstein can shift from support to marketing to revenue generation with no agents, no cases, no transfers: one seamless experience.
With Einstein focused on routine work, your agents can focus on more complex problems. Present day service automations cannot meet the complex demand. With Einstein, agents can spend less time focused on researching issues or transferring to the next tier of service or another department. Agents can ask Einstein if there were similar cases; Einstein can respond and verify recommendations.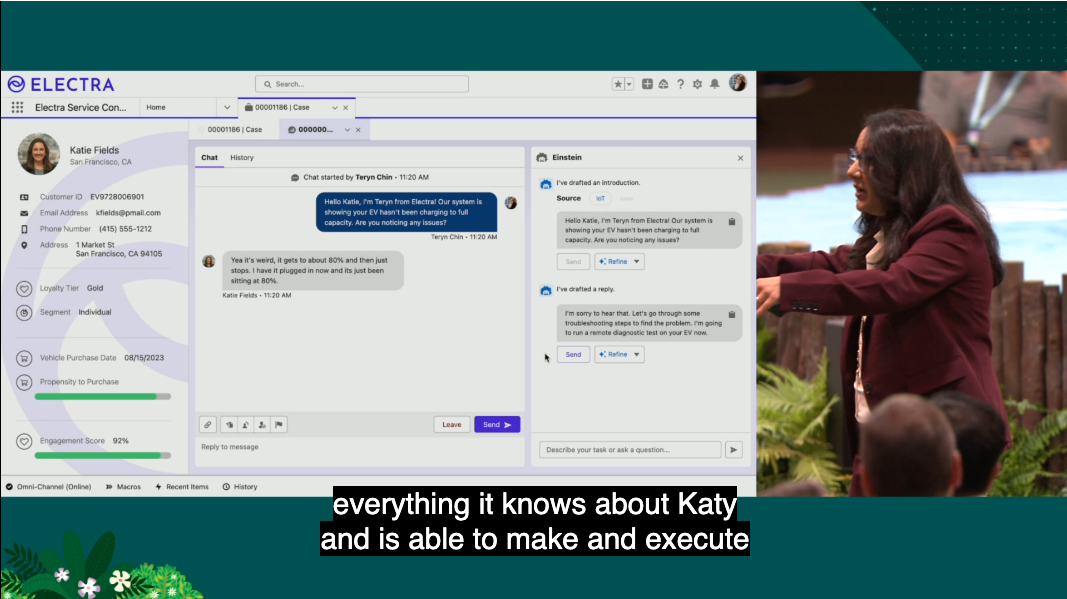 The field service mobile app also has a new apprentice – Einstein. (This is giving us memories of the year that the Dreamforce keynote demo had a really futuristic Google Glass integration in a healthcare setting, allowing a technician to receive real-time help…anyone else remember that from the Dreamforce history halls??)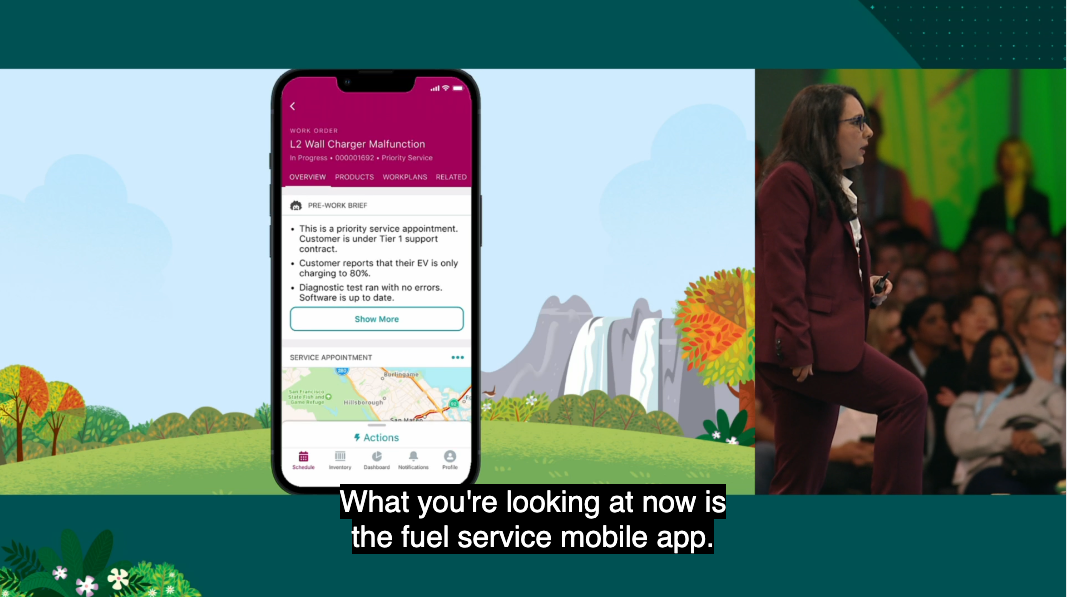 Productivity can be boosted from the contact center to the field.
___________________________________
3:00pm, DREAMFORCE LIVE
Overview by Jarret Fawcett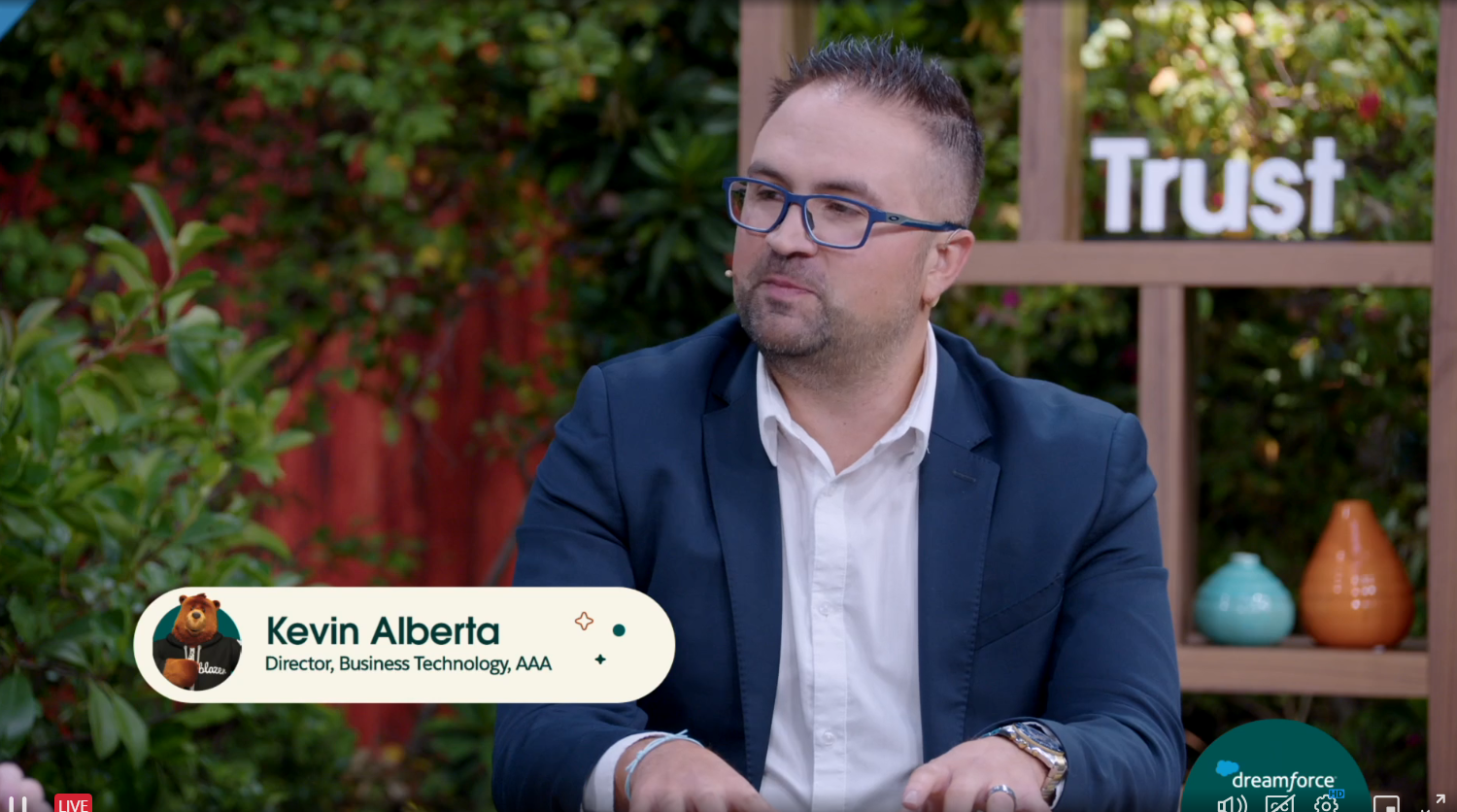 Kevin Alberta of AAA discusses the partnership between Salesforce and AAA. AAA benefits from Service Cloud and Advanced Analytics bolstered by AI. Resulting in the ease of use to deliver better service to customers with less physical interaction with the software.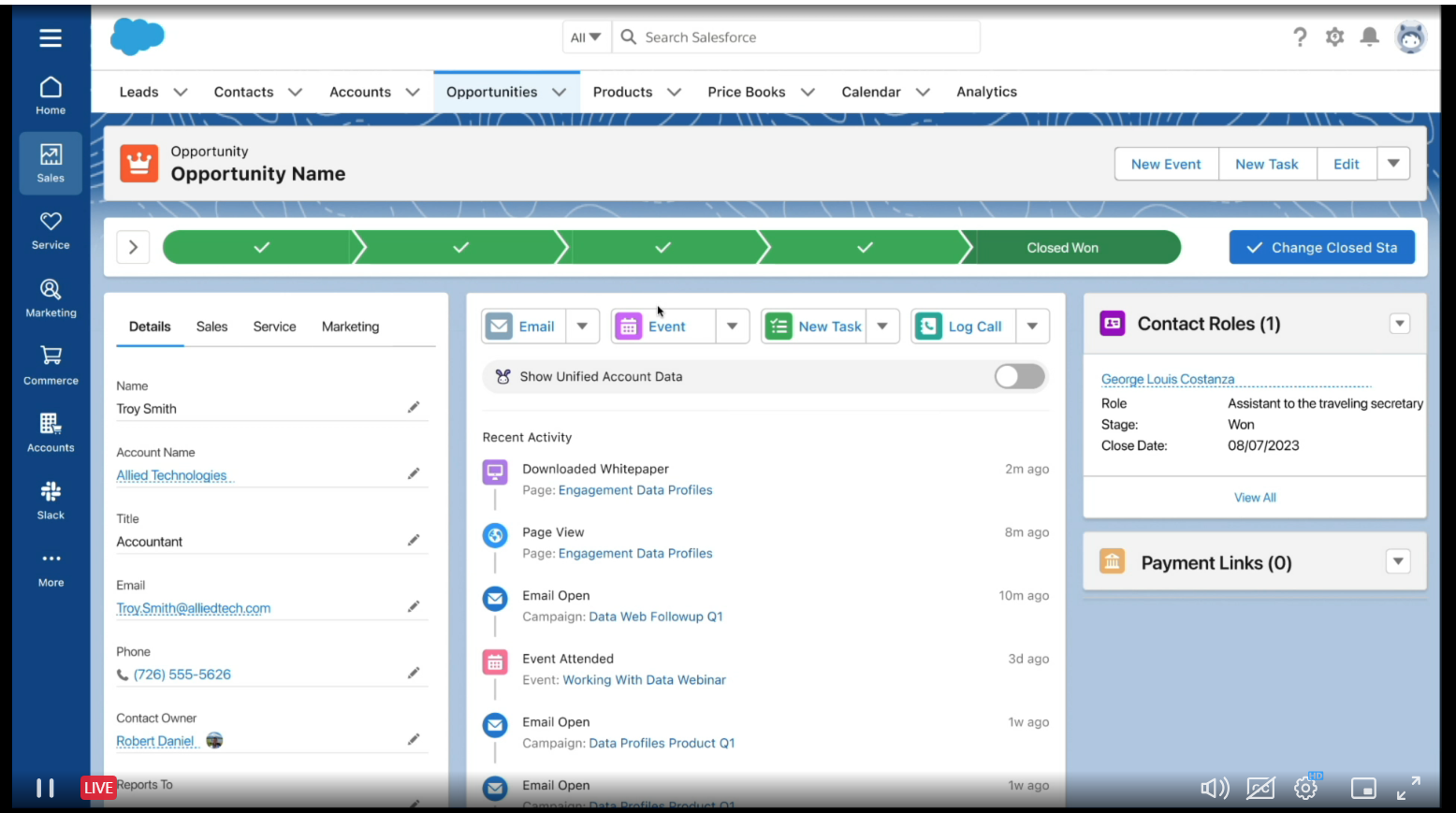 Salesforce Starter brings together the Customer 360 view and is easily implemented by importing your Slack profile and has no configuration required to get started. It also uses AI to suggest next steps for Sales, Service and Commerce.
___________________________________
3:30pm, ADMIN KEYNOTE
Overview by David Smallhoover
Admins can deliver the future of business!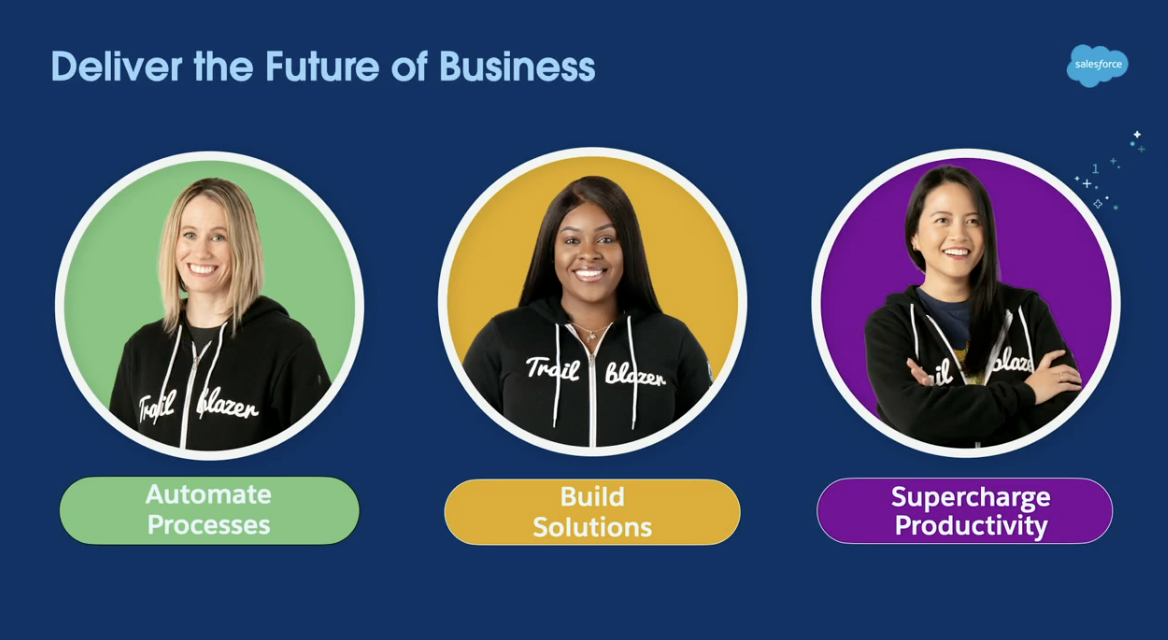 In the Admin Keynote, Salesforce unveiled a wave of innovation, placing Admins at the forefront of shaping the future of business. The message was clear: Admins can drive transformation by harnessing the power of data, AI, and CRM.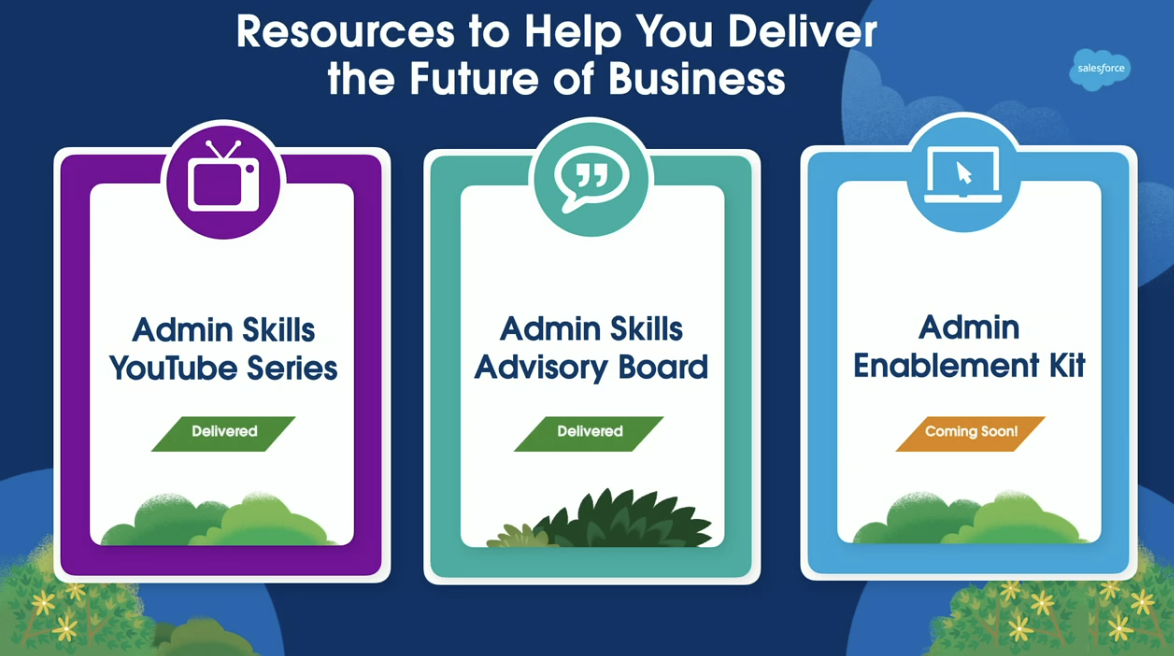 Salesforce introduced a suite of resources to empower Admins, including the Admin Skills Kit, Admin Enablement Kit, and the Admin Skills Advisory Board. These resources aim to equip Admins with the skills and knowledge needed to excel in their roles. Additionally, Salesforce launched the "Admin Skills" YouTube series, offering valuable insights for career growth.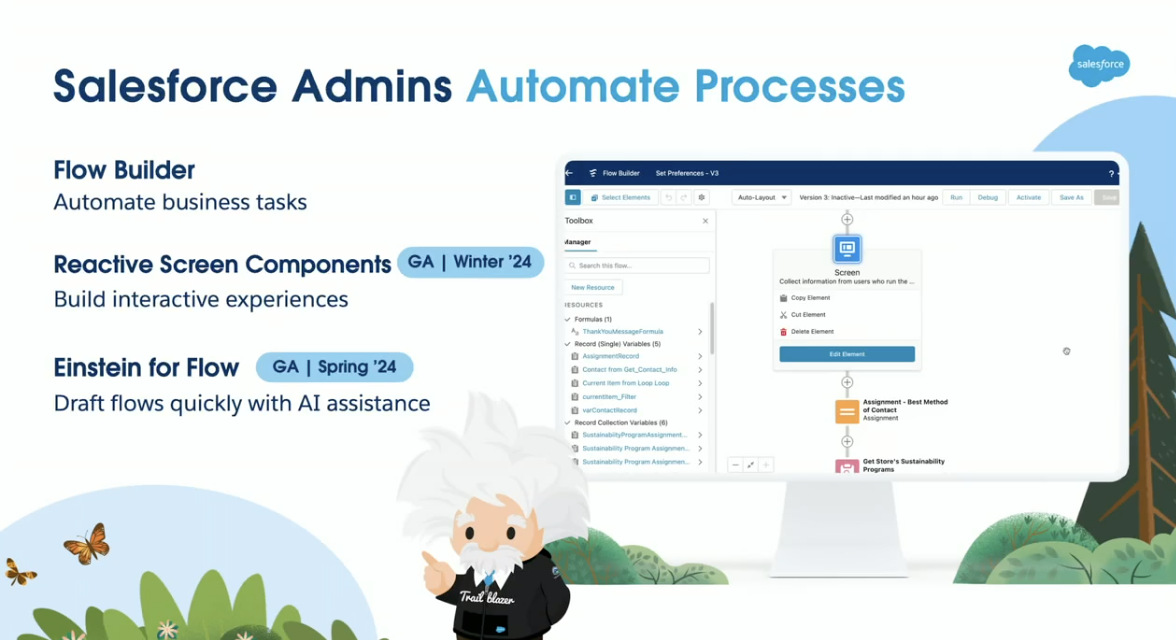 Automation took center stage, with Salesforce highlighting the capabilities of Flow Builder, Reactive Screen Components, and the upcoming Einstein for Flow, set to launch in Spring '24. The introduction of Reactive Screen Components enables dynamic and responsive app development, while the Transform element promises enhanced flow automation. Salesforce also teased Einstein for Flow, a game-changer that uses natural language input to generate flows rapidly. Admins can look forward to simplified and accelerated workflow creation, becoming "Flownatics" in the process.
The keynote emphasized the importance of building solutions effortlessly. Salesforce showcased the power of Mulesoft Composer Flow for seamless system integration, making complex processes easy with clicks, not code. Data Cloud Triggered Flows, scheduled for release next year, will bring all data sources together, allowing for unified contact records and sophisticated flow automation. Notably, Data Cloud Triggered Flows can log emails to the activity timeline, a significant enhancement for activity management. Admins were also introduced to the Custom Error element on Flow, a feature enhancing user experience by providing clear error explanations.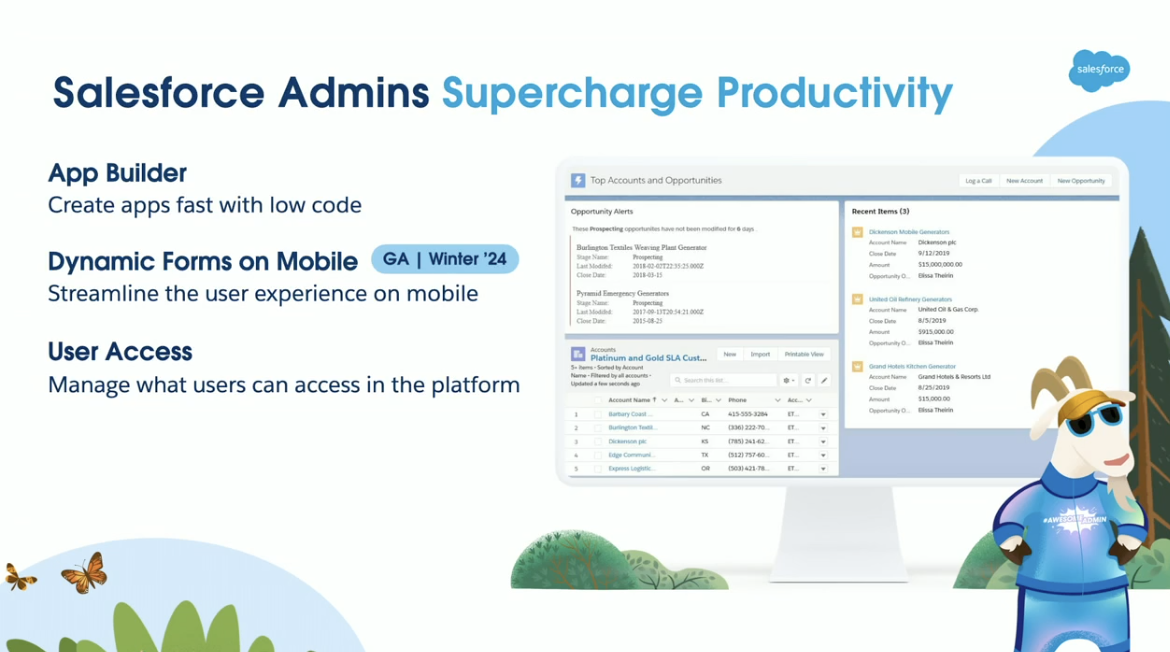 With these tools, Admins can supercharge productivity and shape the future of their organizations.
Thank you for being part of Day 2 at Dreamforce. Stay tuned for our Day 3 recap tomorrow afternoon!