WELCOME TO DREAMFORCE '23: DAY 3
Cloud Adoption Solutions will be coming each and every day of Dreamforce 2023 with amazing blogs, live chats, and the latest on all things Salesforce. Don't forget to subscribe!
9:00am, HEALTHCARE & LIFE SCIENCES KEYNOTE
Overview by Shannon Gregg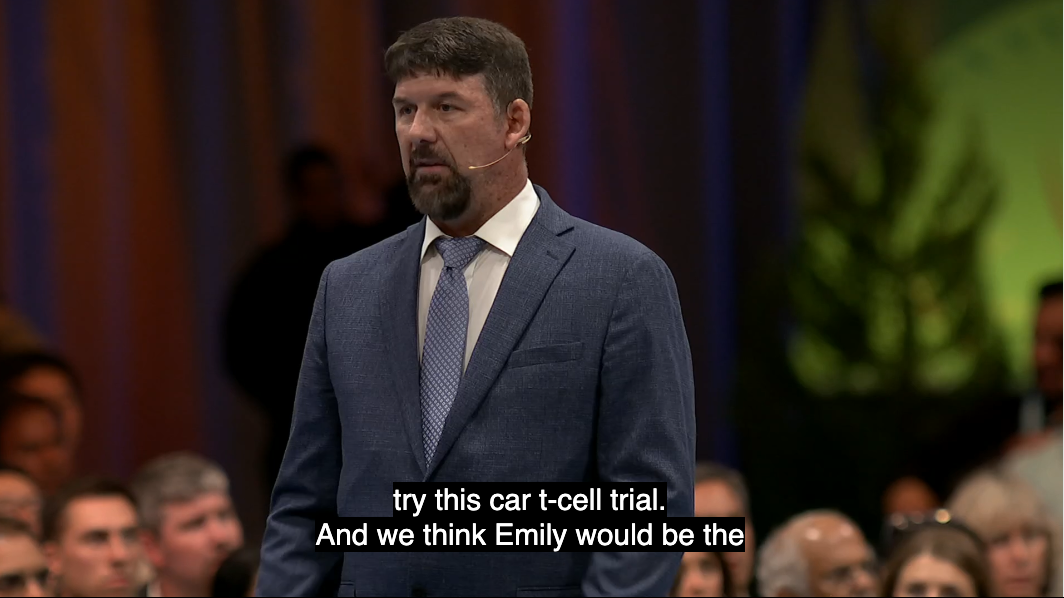 The Healthcare and Life Sciences keynote was kicked off with an emotional patient story from Tom Whitehead, President & Co-Founder, Emily Whitehead Foundation. Emily was diagnosed with cancer and was the first pediatric patient to be enrolled in a CarT cell trial with the Children's Hospital of Philadelphia. Her story is a successful one; she made it to the cover of magazines and was heavily covered by the media, and the Emily Whitehead Foundation was formed to help other patients and families in over 80 countries find hope in a trial when standard treatment doesn't work.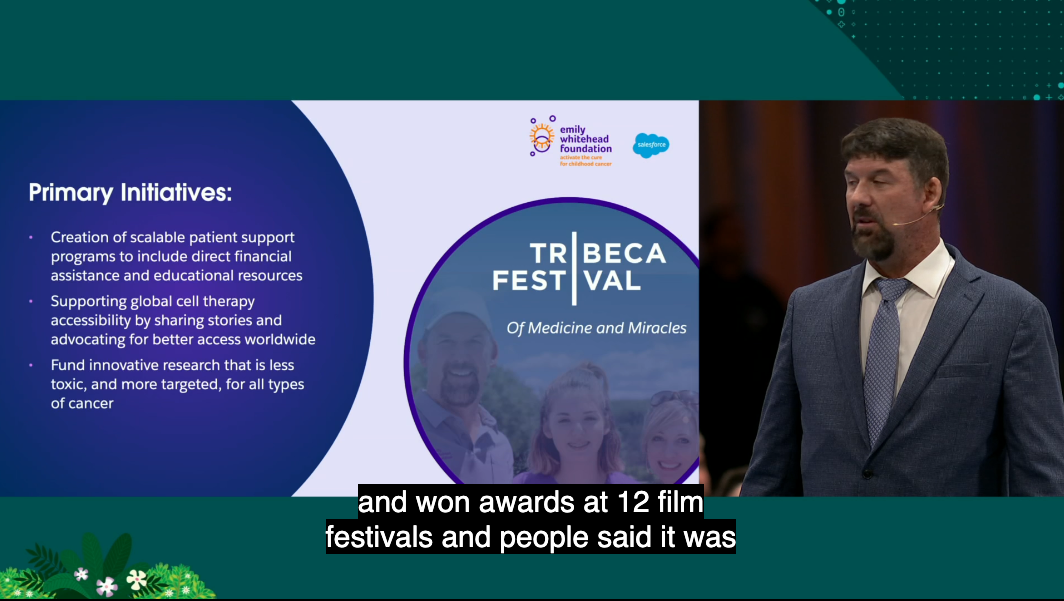 A movie based on Emily's story, "Of Medicine and Miracles," has won awards at 12 film festivals. Salesforce has partnered with the Emily Whitehead Foundation, and LaShonda Anderson-Williams, EVP & Chief Strategy Officer- Healthcare & LifeSciences, Salesforce, joined the stage to thank Tom and Emily for inspiring us all.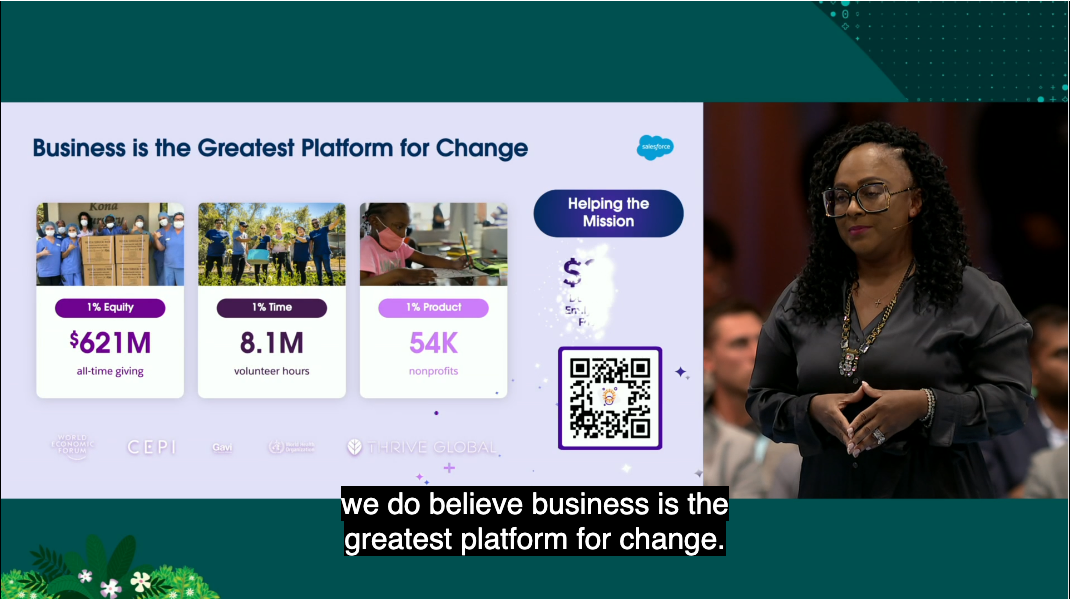 Salesforce, driven by Marc Benioff, believes that business is the greatest platform for change. The right relationships and partnerships will help to drive innovation and care for patients.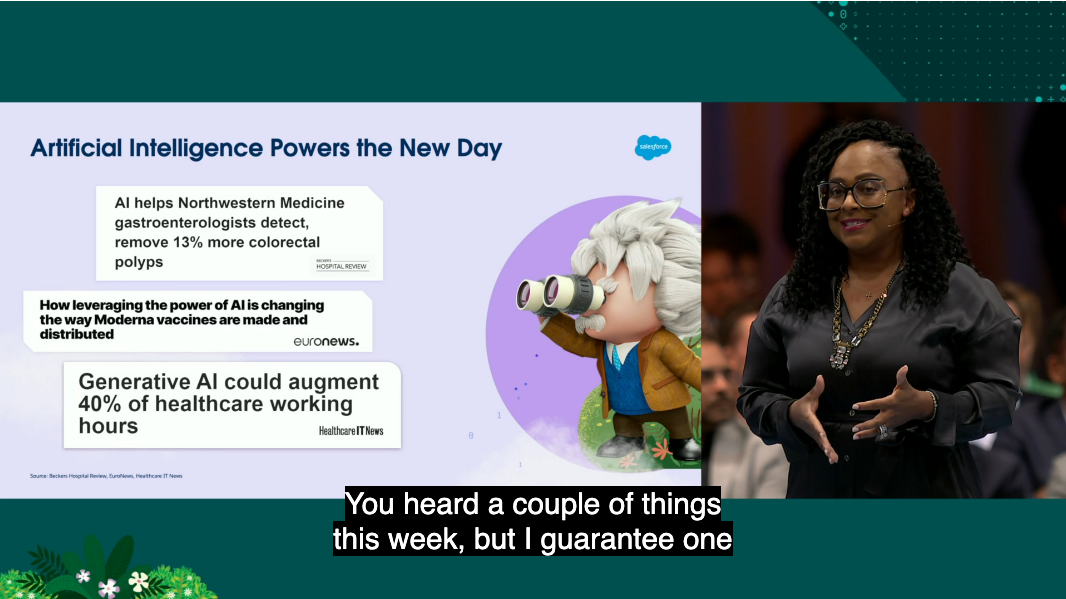 Artificial intelligence powers a new day in healthcare, therapies, and new drugs. Examples including Northwestern Medicine, Moderna, and others have been driven from predictive to generative, and the entire healthcare and life sciences industry will benefit from AI.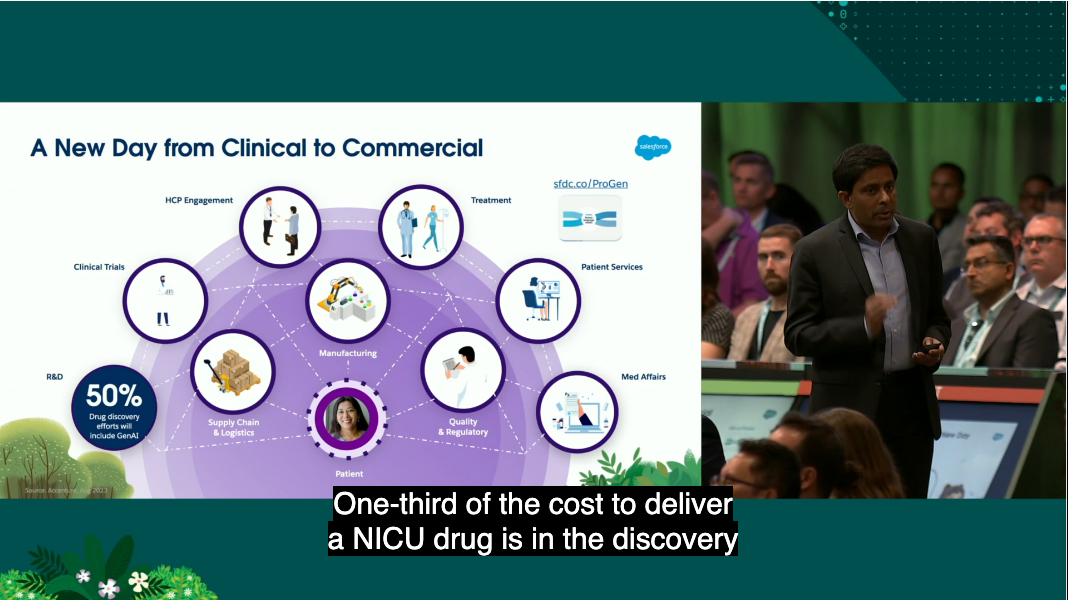 Salesforce is working from drug discovery to clinical practice, and is going deep into clinical safety and compliance with AI, to help orchestrate therapies faster.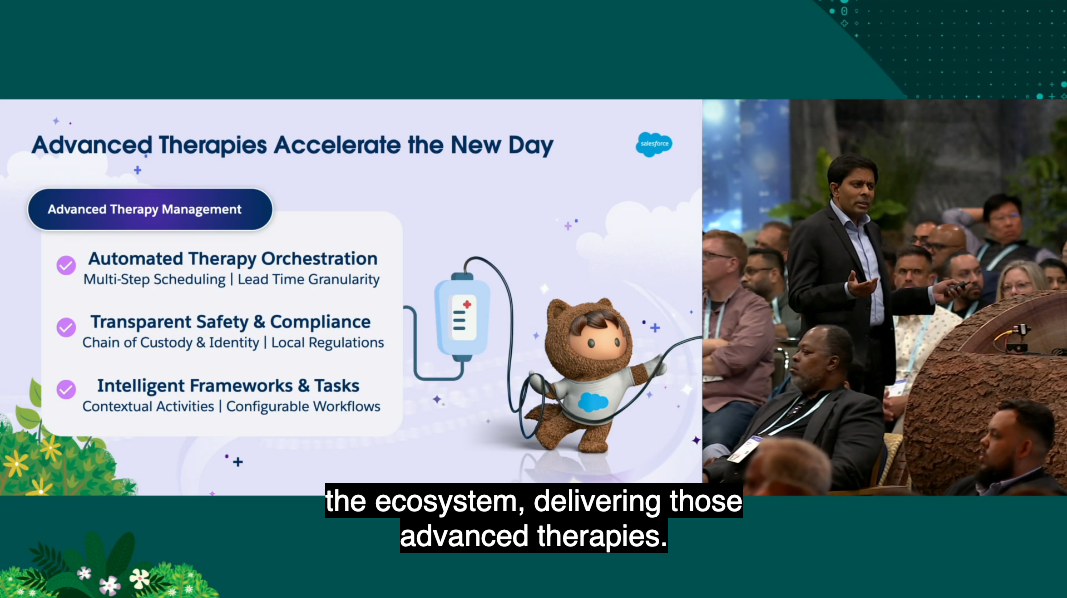 Salesforce is excited to launch a new cloud for biopharma and medtech companies: Life Sciences Cloud. Amit Khanna, SVP & GM, Health & Life Sciences, Salesforce, explains how the front office to therapy will be connected to help care delivery.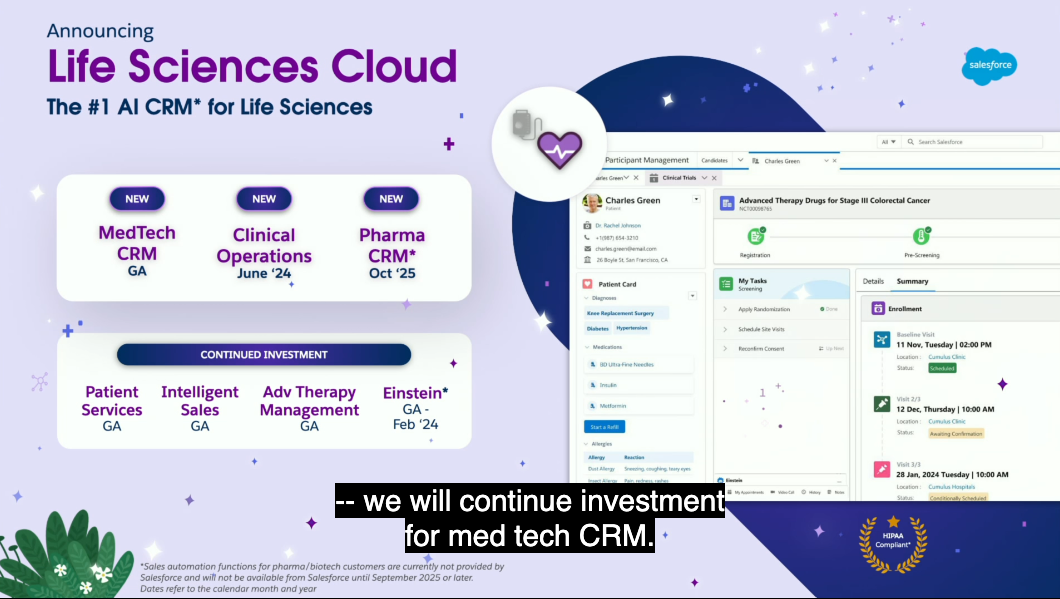 Therapies and clinical trials can be delivered efficiently and will be HIPAA-compliant with the new Salesforce Life Sciences Cloud. One single system for participants, sites, study and sponsors, across the complete lifecycle of the clinical trial, will be available.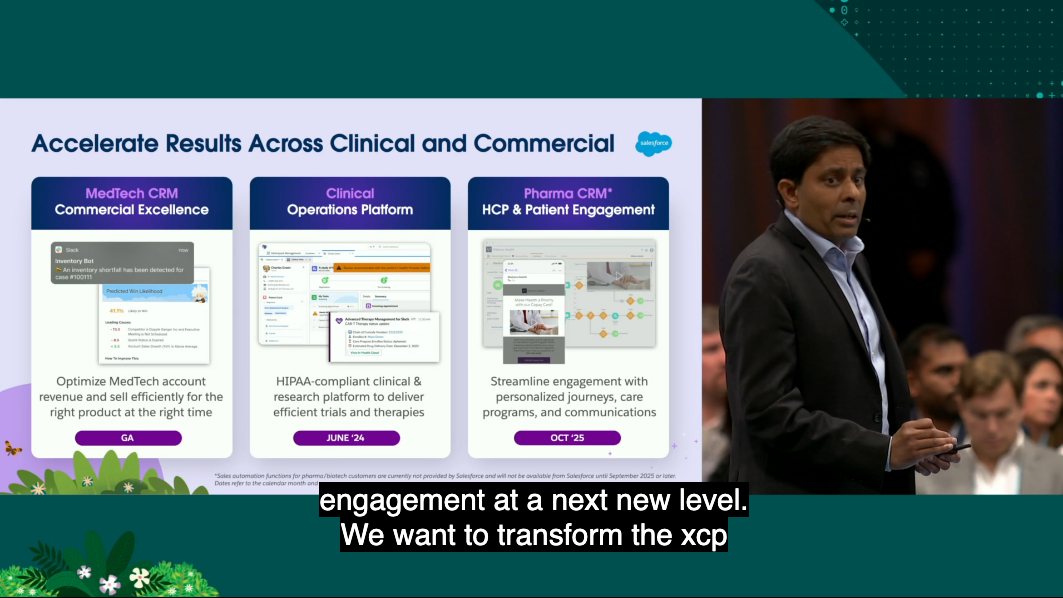 CRM for MedTech, Clinical, and Pharma – plus med info, sample management, content delivery, all powered by AI – are all coming to life by Salesforce.
Kevin Chien, GM, Life Sciences, Salesforce, introduced a demo with a statistic that 80% of all trials fail to enroll on time. Einstein can help to limit bias, and ensure diversity in clinical trial enrollment.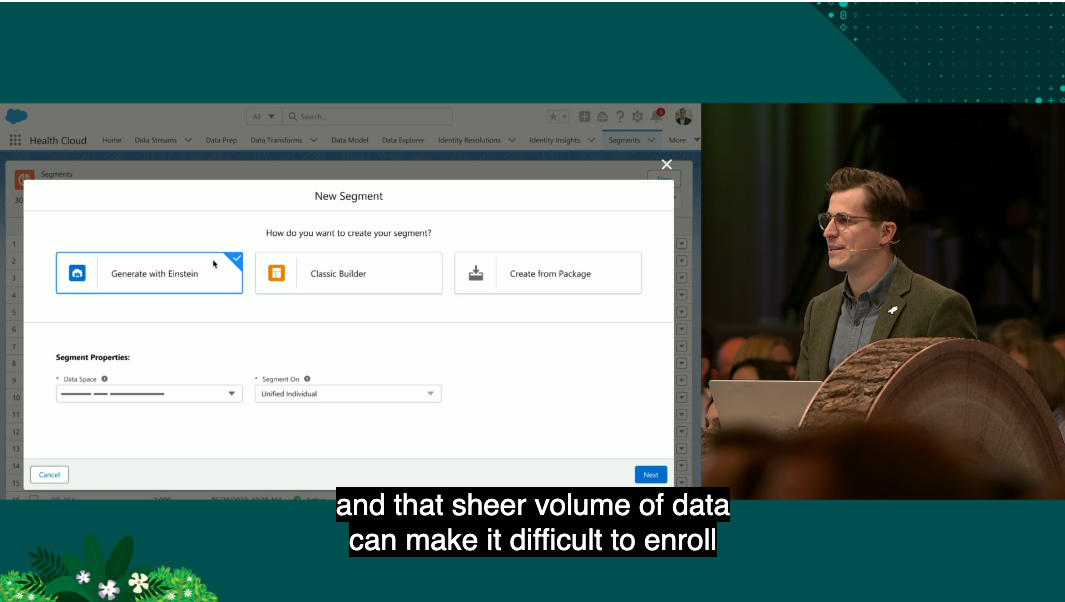 Salesforce has an intelligent clinical trial enrollment system with a recruitment process that can drive efficiency in recruiting and enrolling patients.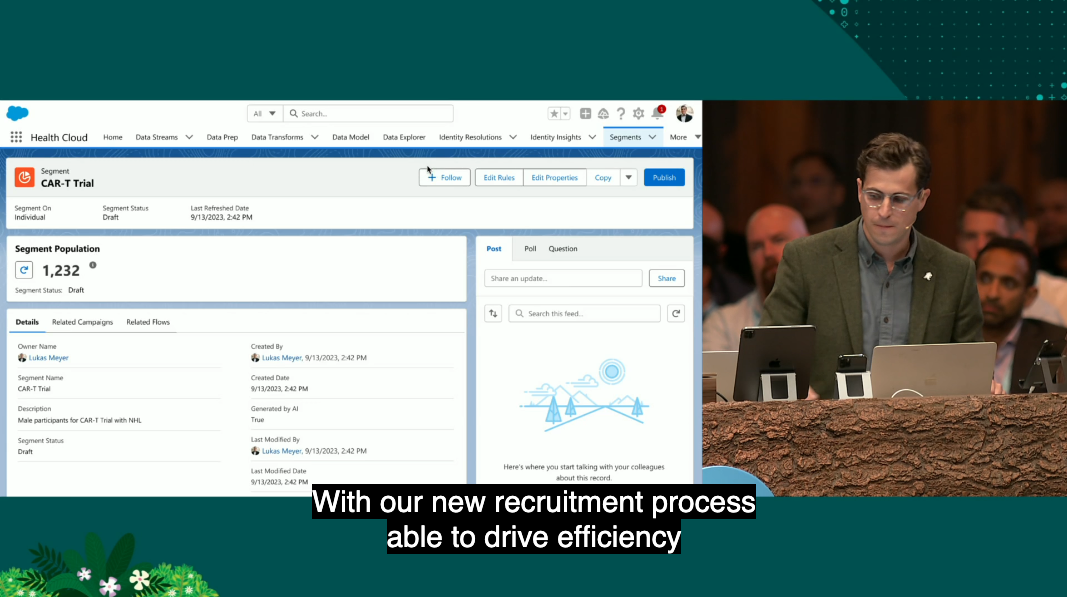 For MedTech companies, Salesforce is working to allow Einstein to help sales professionals prioritize their targeting.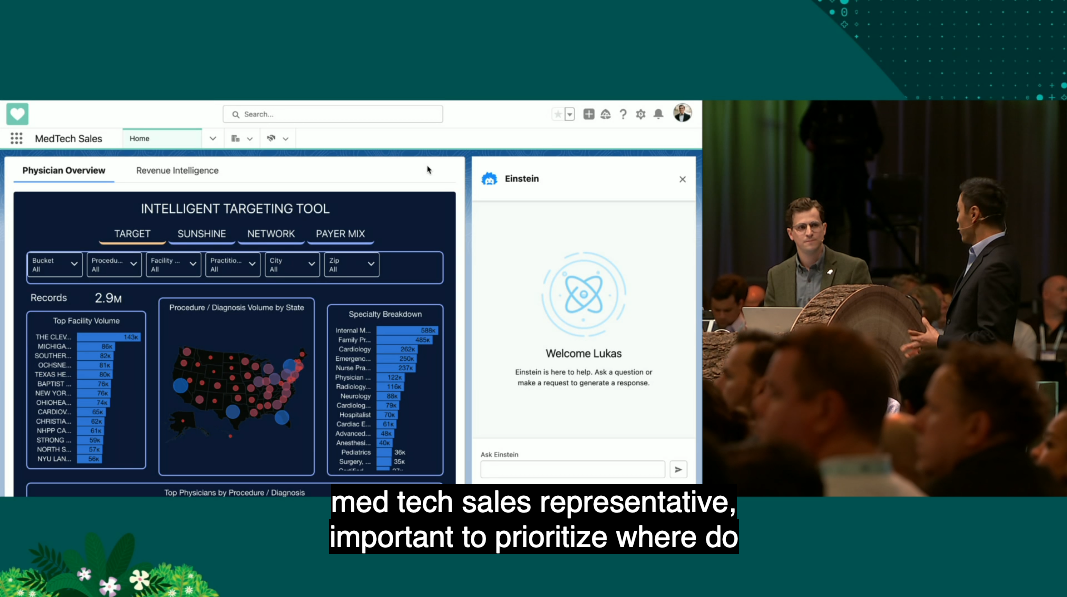 Kristi Lundgren, SVP Industry Marketing, Salesforce, identified that 30% of healthcare costs are due to manual administration, and was excited to announce even more AI innovation in healthcare.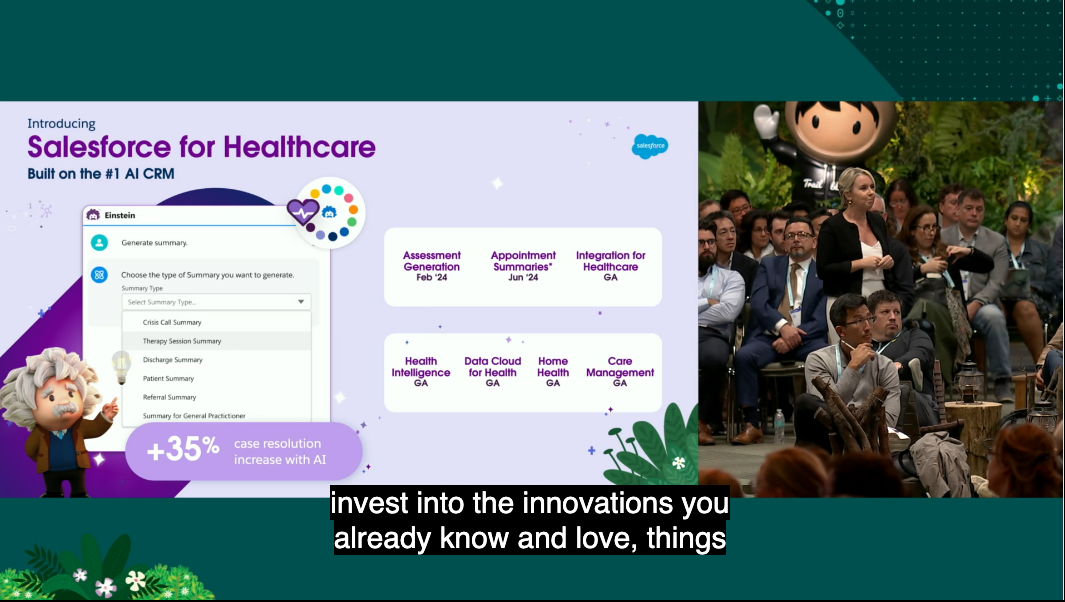 Kaitlyn Castaneira Gizzi, Senior Manager, Health Cloud PMM, Salesforce, showcased a demo that will help payers, patients, and providers. This example showed SLAs and how Einstein can help predict a clinical services pathway. With AI-powered insights, the back and forth between payers and providers can be cut down and care can more quickly be provided.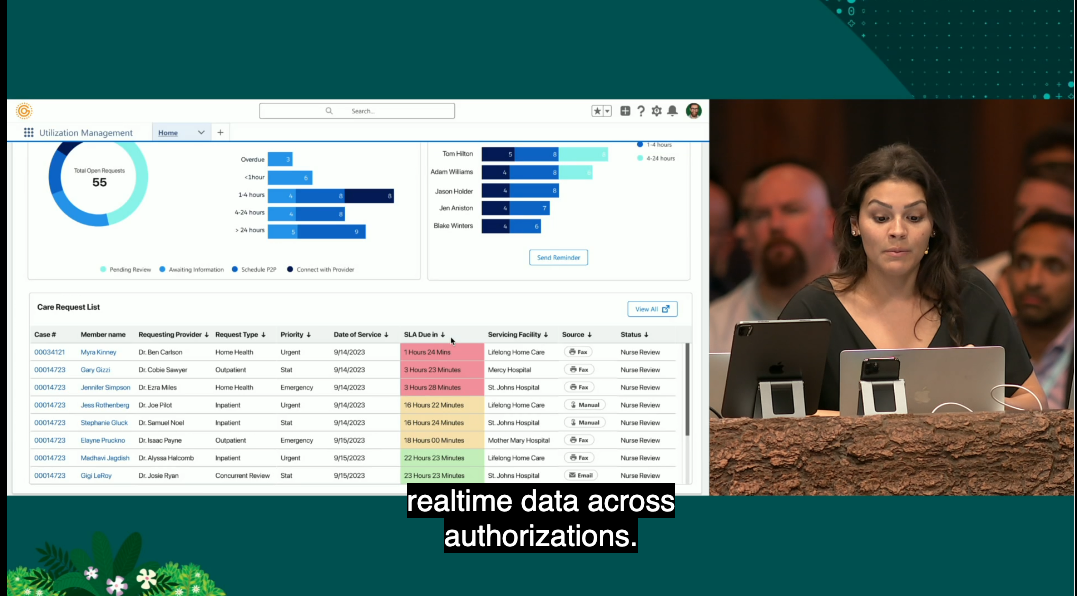 Salesforce is ready to take into account traffic, scheduling, and patient needs to help to generate things like recurring home health visits quickly.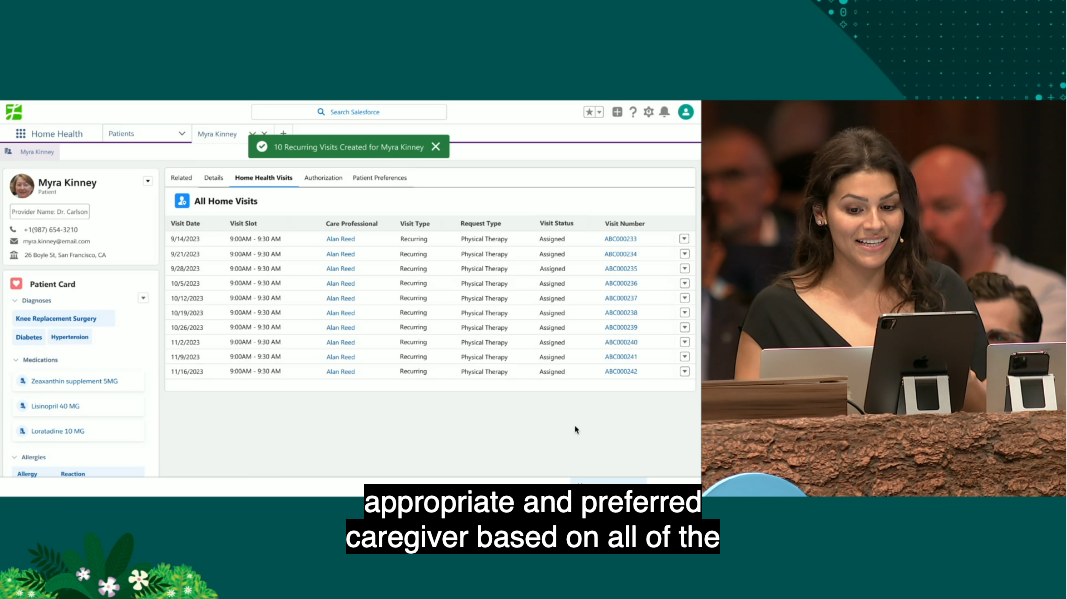 Assessments can also be captured, reviewed, and edited prior to publishing.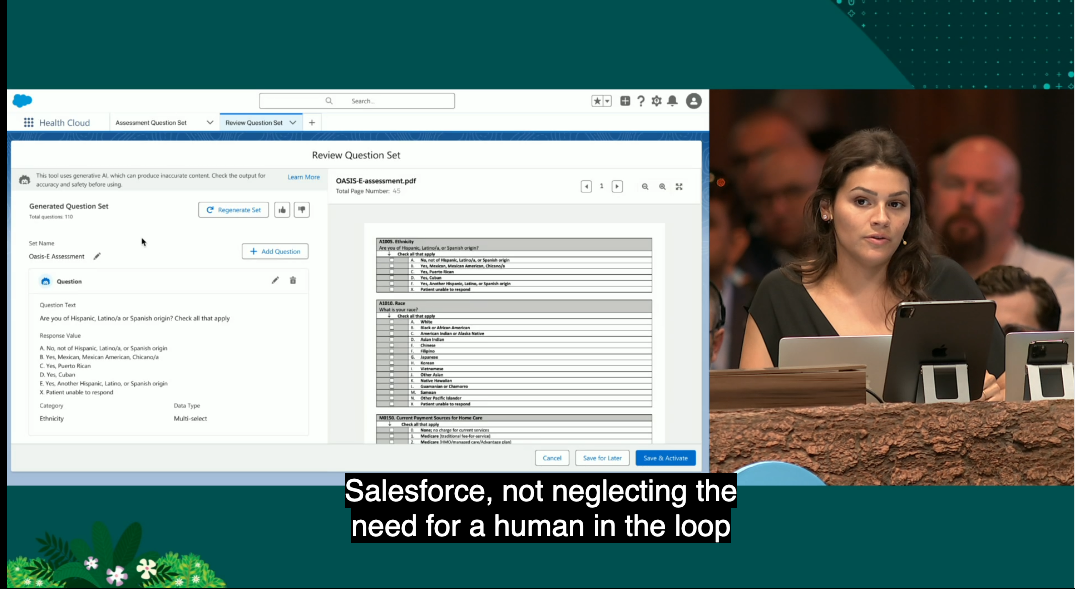 LaShonda closed by saying "Pharma 2.0: Salesforce is in the game; we're not walking away!" and "We can make healthcare better, one person at a time," and WOW! We felt that!
___________________________________
11:30am, WELCOME TO DAY 3: DREAMFORCE TODAY
Overview by David Smallhoover
Welcome to Day 3 of Dreamforce 2023! As we embark on the final day of this extraordinary event, we're thrilled to bring you even more innovation, moving stories, and inspiration.

Throughout the past days, we've explored groundbreaking technologies, heard from industry leaders, and connected with peers from around the world. Today, we continue this incredible journey, diving deeper into the future of business and discovering new ways to shape our success. Get ready for another day of insights and experiences that will leave you inspired and ready to transform your world.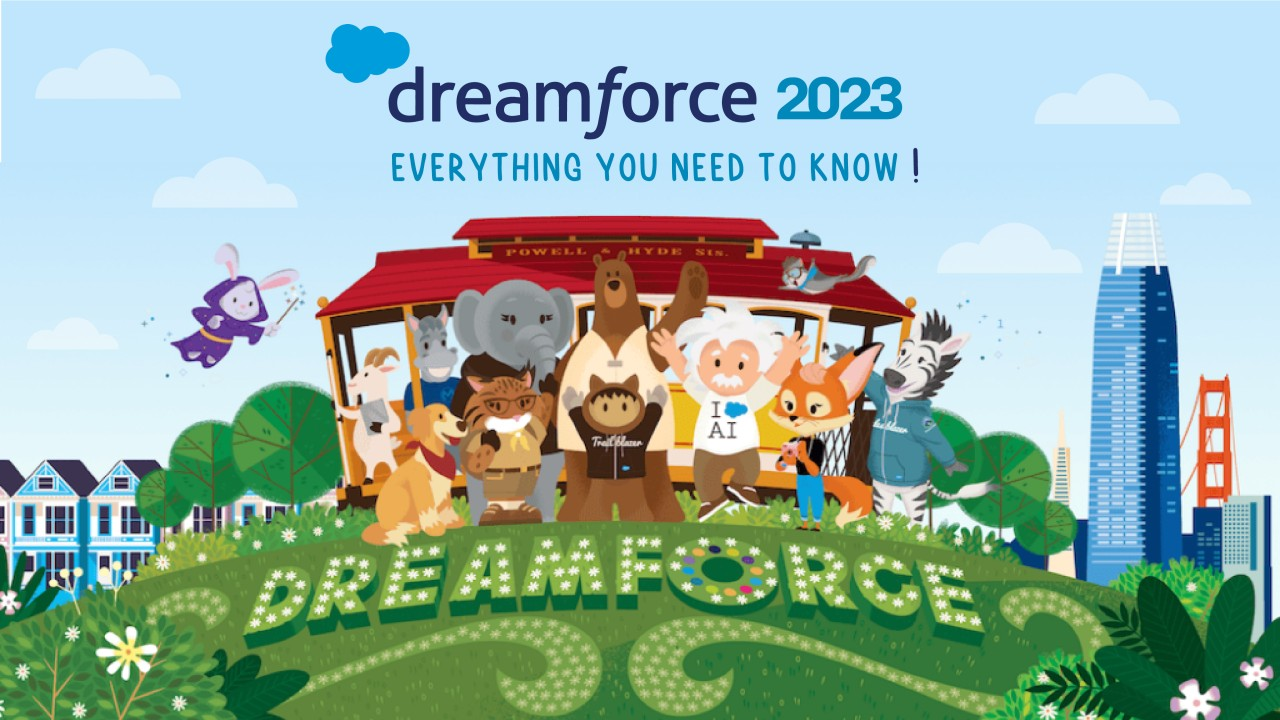 ___________________________________
12:00pm, AI AND DATA KEYNOTE: INVEST IN YOUR AI FUTURE
Overview by Cory Frey
In the heart of Dreamforce, the AI and Data Keynote illuminated the path toward an AI-driven future. The speakers underscored the paramount importance of trust in AI, comparing the AI revolution to the internet revolution. Salesforce's commitment to trust is epitomized by Einstein 1 Platform, which boasts the Data Cloud and Einstein Trust Layer. Data Cloud brings together a panoramic view of customer data from all Clouds and beyond, seamlessly integrating data from various enterprise sources. With Einstein Copilot, a conversational AI assistant becomes your ally in every app, easily tailored to your brand and business needs. The era of AI app development is democratized with no-code/low-code solutions, including the remarkable GEN AI that can draft emails at your command.
But that's not all. Salesforce offers a Free Data Cloud Starter Plan, deepening the integration of Data Cloud into Einstein 1 Platform. This integration unlocks powerful data enrichments, empowering you to craft insightful reports and dashboards. Data Cloud-triggered flows enable real-time data updates, ensuring you have the most current information at your fingertips. Moreover, all data points can be seamlessly integrated into Lightning pages, providing a comprehensive 360-degree view of your contacts.
Einstein 1 Copilot takes AI assistance to new heights, seamlessly embedding it across all your apps. Questions like "What was the last record I updated?" are effortlessly answered by Copilot, which can even summarize records, like cases, at your request. The ability to inquire about account details or customize Copilots via the Copilot Builder enhances your AI experience. Plus, activating Einstein GPT is now as simple as flipping a couple of toggles in the setup menu, unlocking an exciting world of AI-powered productivity. Dreamforce 2023 continues to redefine what's possible in the age of AI.
___________________________________
2:00pm, SLACK KEYNOTE: MEET THE FUTURE OF INTELLIGENT PRODUCTIVITY
Overview by Cory Frey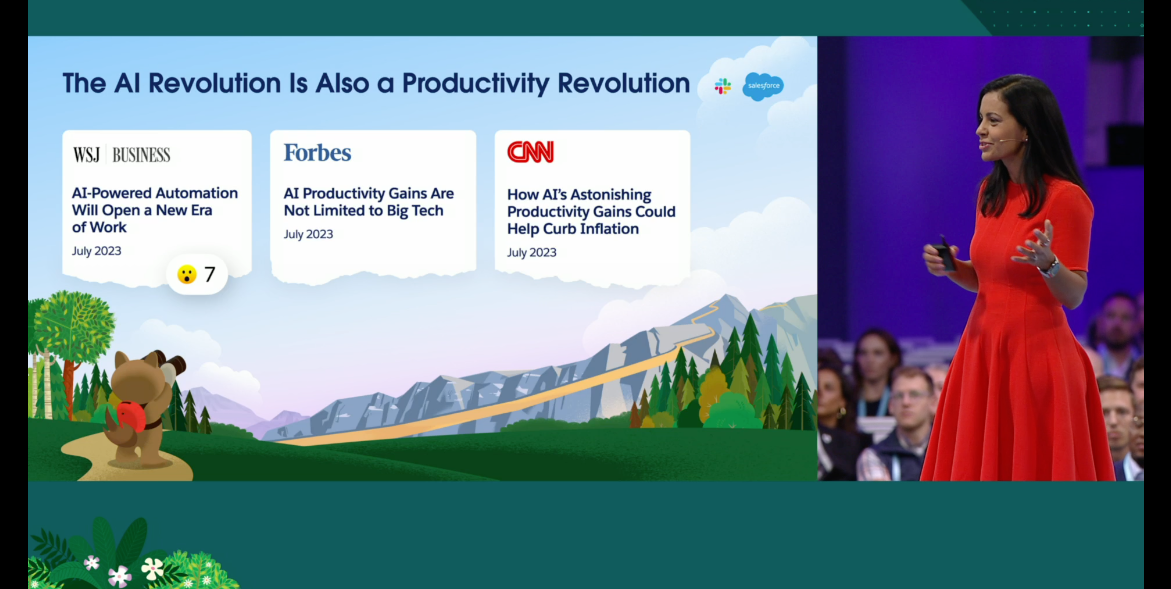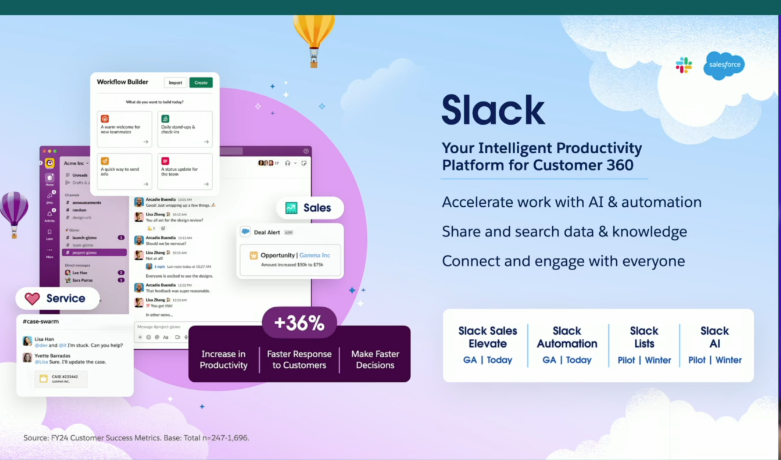 New User experience for Slack focused on helping you stay focused on scale. Accessibility is the forefront of this release.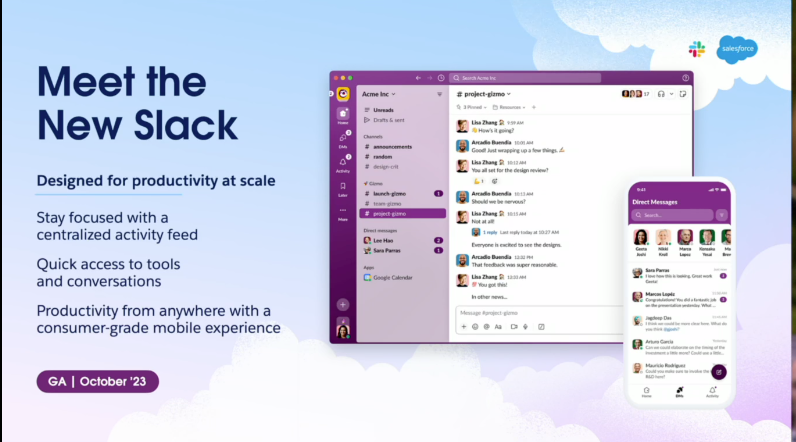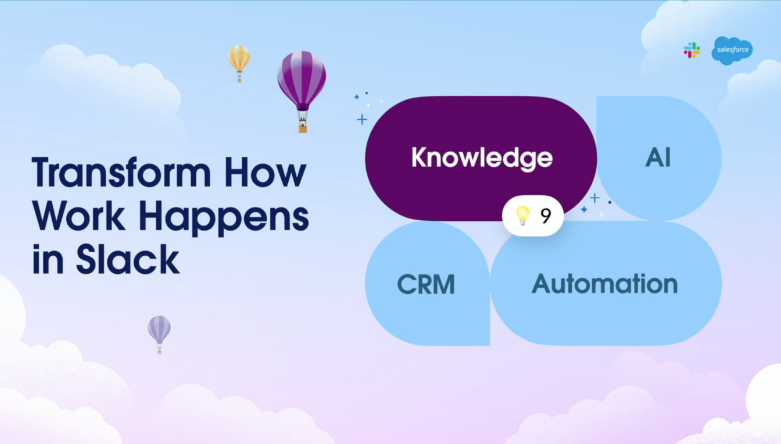 AI in Slack and Salesforce: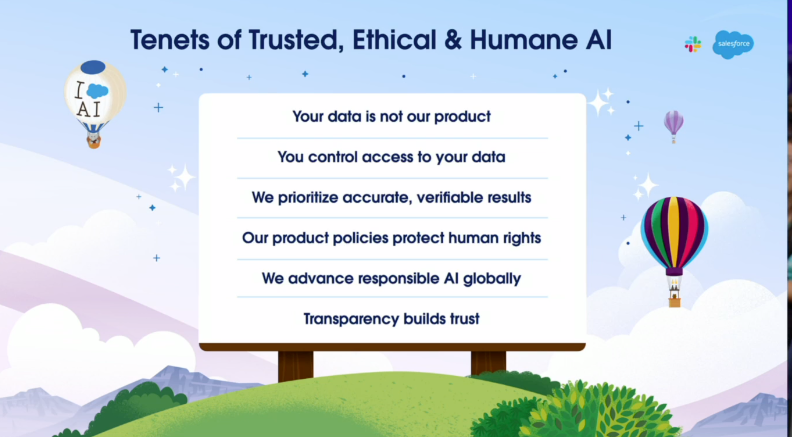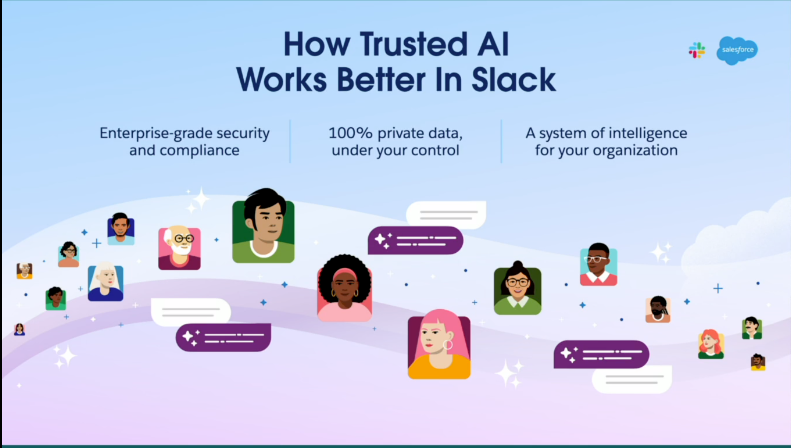 All models are run in Slack's own private data center.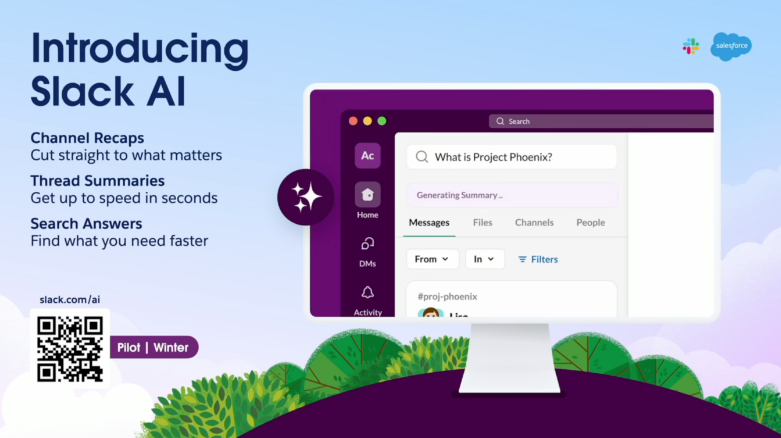 Channel Recaps – AI reads through all the info in the channel then it generates a summary with context links back to the conversation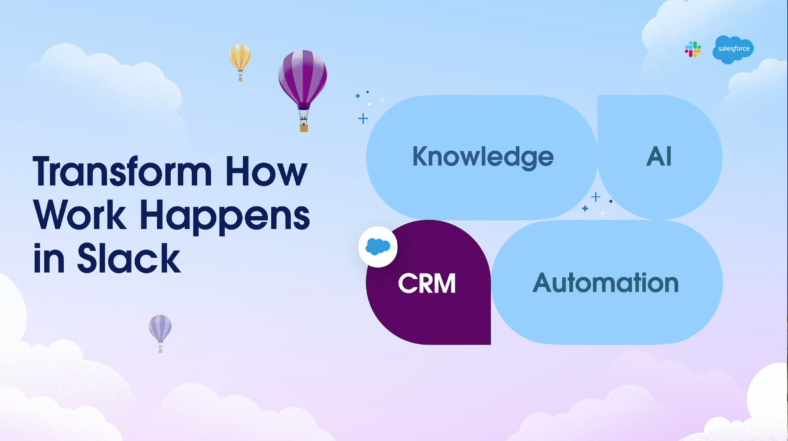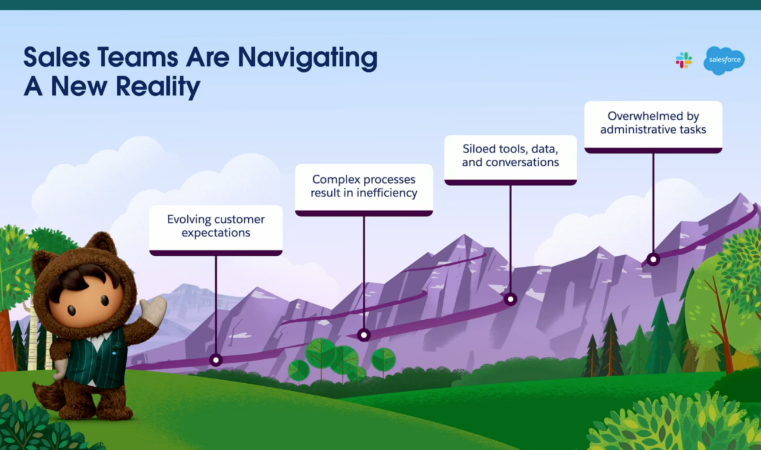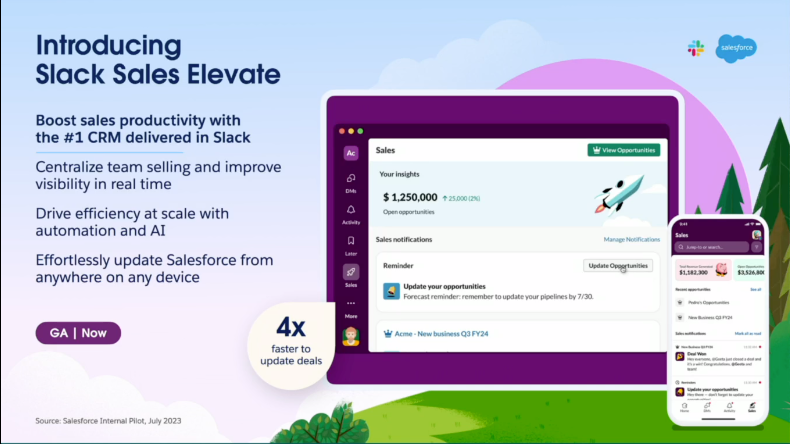 All KPIs and Metrics are displayed at the top.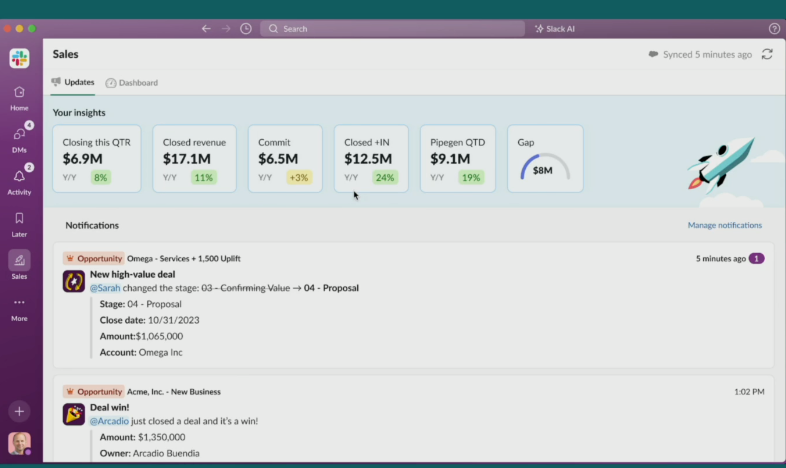 Premade templates pull information from SF and Slack to create a summary document: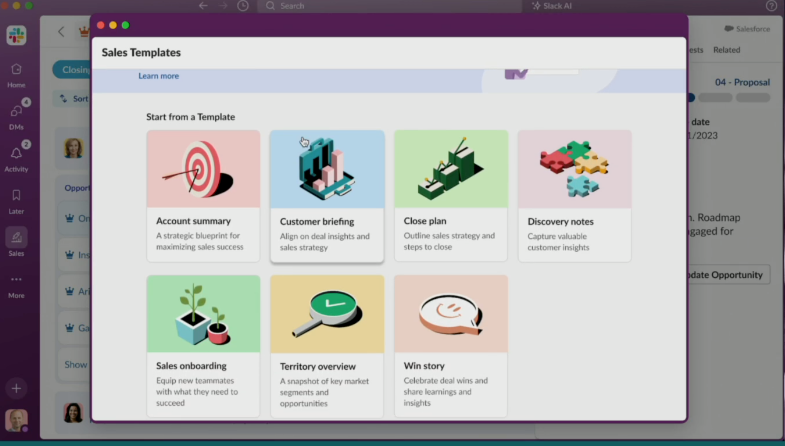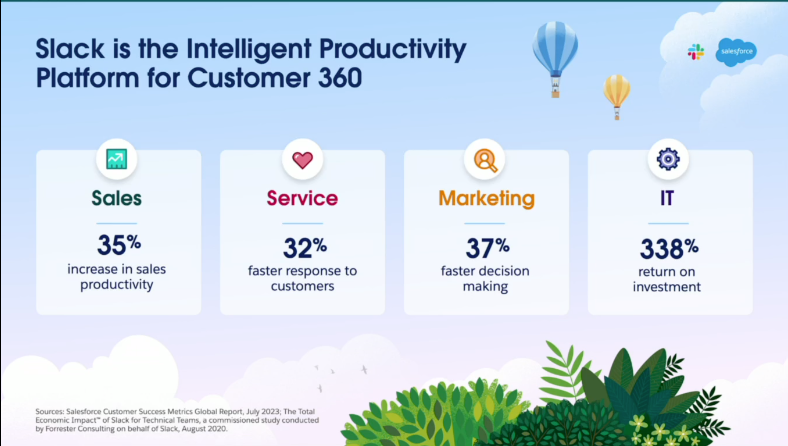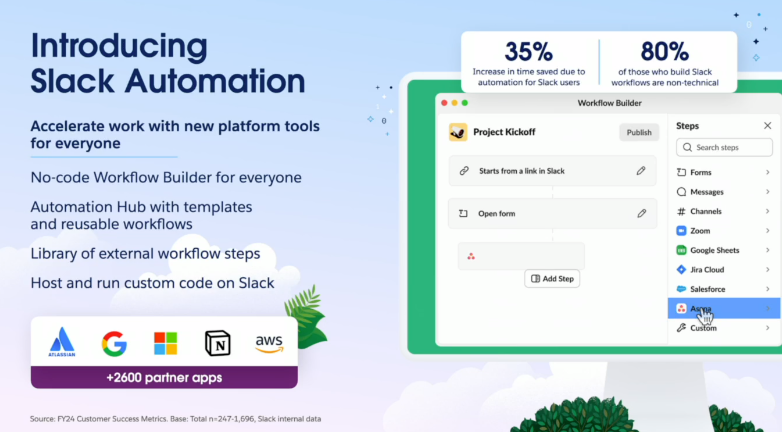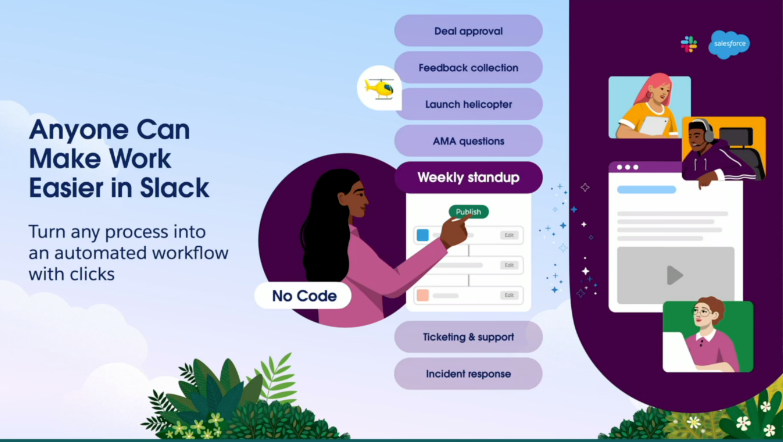 ___________________________________
2:30pm, TRUE TO THE CORE CUSTOMER FORUM
Overview by Sam Teele
David Schmaier – Head of Product
"I have been building software for three decades; the best product people are always the best listeners. We want to thank our Trailblazers and MVPS, we've listed to them to make changes to improve our product."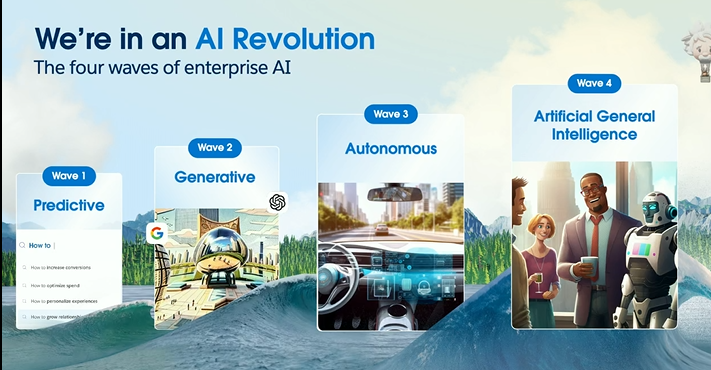 What are we going to do in AI + Data to change our CRM portfolio?
We've been improving everything from objects to list controls to permissions.
Salesforce is working to change the way they engage with their community.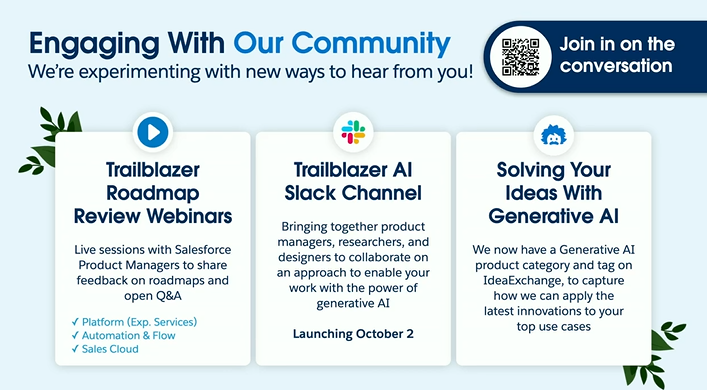 "What gets measured gets done."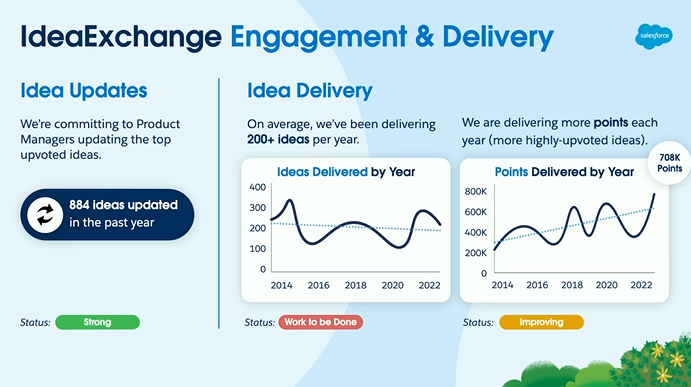 "I would give us a passing mark on our idea delivery; we've invested so many resources into the generative AI pivot but still have managed to deliver on a lot of new ideas as well."
Opening up the Q&A
Q: Thanks for your commitment to the nonprofit community, but can we get some love for dashboards? The new nonprofit cloud is cool, but the prices have gone up 65%; please save us admin clicks. It's about design and UX set. In Lightning, you can't reuse filters, and you have to start from scratch.
A: We are going to look at all of that thanks.
Q: My question is about experience cloud; we've been told there's no more work being done on Aura Lightning. What can you do to make experience cloud go better from sandbox to production?
A: We have a large group of customers on Aura; how do we get them to LWC? We are working on using gen AI with Einstein 1 in order to help users change their assets from Aura to LWR; candidly, most of the new features are going into LWR.
Q: When are you going to enhance list views?
A: We are going through a migration; we are working to migrate from Aura to LWC so we can add enhancements on top of that.
Q: Previously, Patrick said that the setup does not have a roadmap; the setup looks like 25 separate teams designed it. Salesforce is really investing in AI and new products, but at the heart of every Salesforce product are admins and devs investing hundreds of hours of their time. Will Salesforce commit to improving Salesforce by this time next year?
A: Yes, we are working very hard and investing a lot of resources into improving setup drastically.
Q: We have a lot of certificates in the key store; our customers ask why they need to have an admin who needs to manually manage the certificates rather than doing it through an API.
A: Yes, we have the ability to use the certificates for certain sites through the API, but we appreciate the feedback that we need to more deeply look at that for other use cases.
Q: With the 24' report run page, while you're waiting (and waiting), the dancing blue dots are replaced by a dancing astro. Instead of eye candy, there's a widget that shows an analysis of why that page or report is performing very well or how optimized it is. That would be a better thing to show while reports are loading than a dancing astro.
A: One of our people took a lot of time and used data and machine learning to do a lot of queries and report performance. Those features should be coming. To be clear, the dancing character has not added to performance degradation. Performance has been a challenge as org sizes keep growing. We are looking to add an optimizer tool.
Q: Can we please get trailhead content updated more quickly? It's great content but seems to lag behind the newest features.
A: Yes, its very important to get trailhead updated more quickly. You can look forward to seeing lower latency in the future.
Q: Are you doing anything to make addresses simpler
A: Addresses are something that seems simple, but every time we try to address we see that it's difficult due to different uses in different countries and languages. We want to improve it, but its not something we would approach trivially.
Q: The campaigns object in Marketing Cloud has only had 1 or 2 updates since Salesforce rolled out 20 years ago, will there be any new enhancements in performance in UX?
A: Yes, you're correct we are investing heavily in this; there are a lot of changes coming to campaigns. It's going to be more scalable, do more than it does today, and connect with more other Salesforce platforms.
Q: When I'm in Lightning page optimizer is really helpful but it's always stealing my cursor. Could we just run that as needed ?
A: The unfortunate work around is to turn it off, but we are working to make it better and only as needed.
___________________________________
3:30pm, ADMIN PREVIEW: WINTER '24 RELEASE READINESS LIVE
Overview by Malik Satia
Changes to Flow
Transform

– Map source data to target data with this element. For example, source data is lead and target data is contact. Once the fields are mapped, the output from this would be a record variable that can be use to create a contact record.

Custom Error Messages

– Build complex validation rules and error messages for fault paths with this new element.
When using Screen flows prior entered values are remembered
Permissions
See how many permission set groups a permission is added to
With the new custom report type, you can create reports on permissions sets and permission set group assignments that are assign to users
Also, another new report type gives Admins the ability to report on public groups that user are apart of
Create quick actions on related lists.
Dynamic forms are available for Mobile and Most standard Objects (Not available for Tasks, campaigns, and products)
Prompt Builder
Build AI Prompts in Salesforce – can be used for Sales email generation –
Generate emails with AI based on data from your org. Helps users to send emails from salesforce faster but still allows your user to add their own personalized spin to it before sending.
Field generation – Generate the value of a field using generative AI.
Changes made to Improve to Lightning Experience Performance
Increase Concurrency
Get less code faster
We appreciate you following along with our three-part blog series dedicated to Dreamforce 2023! The event has been packed with valuable insights and information, and we invite you to connect with us to delve even deeper into these discussions. We look forward to continuing the conversation. Feel free to reach out anytime!