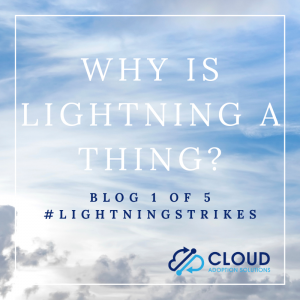 Lightning: one of nature's most powerful forces. It is both fast and bright, and is the perfect symbol for Salesforce's reimagined platform. As a company that prides itself on the ability to adapt to the changes in the technology world, Salesforce.com has once again created an amazing way for its users to bring their business into the new age of CRM.
But is all of this buzz for Lightning worth it? In all ways, yes. Salesforce has pooled their vast knowledge and user experiences to build a platform that truly fits the needs of a business operating in 2019 and beyond.
The first step Salesforce took was to fix a huge problem plaguing businesses of all sizes: productivity. By remodeling the platform and giving the user new ways to organize and customize their business, Salesforce creates a seamless platform that can help an organization be as productive as possible.
Another key feature in Lightning is the optimization of operations for users. By creating new analytics tools and insights, organizations are able to gain more data and accurate information about their productivity and business. By taking full advantage of this tool, a user can increase their performance and use predictability to outline future plans to really drive scalability.
Artificial Intelligence will also play a huge part of the rollout of Lightning. Salesforce has doubled down on the use of AI in the workplace, and by creating tools such as Einstein Analytics, it gives users of any size organization the option to enhance their development with the use of these features. AI is going to be an important part of every business within the next 10 years; Salesforce is offering the ability for companies to remain ahead of competitors, and also ahead of the technology curve with the use of Lightning.
Similar to lightning in real life, this new platform Salesforce that has created is bold.  And, Lightning is here to stay. With its updated tracking and use of AI, Lightning optimizes all that Salesforce holds true: the ability to give their users a tool that will further their business. The buzz is real, the hype is real, and the results that organizations will see as a result are real as well!
All Salesforce users will be automatically migrated to Lightning by October 2019.  This is the first in a five-part series to help your organization prepare for Lightning.  Over this series, we'll share how to get your readiness report, how to roll out and optimize Lightning, and more tips…so watch this space!