CenCal Dreamin' 2021
A Salesforce Community Event
The second annual installment of CenCal Dreamin' was a virtual event held on June 22, 2021 – and wow, were we blown away by this incredible event!  The event organizer and primary sponsor, Bitwise Industries, really took the concept of a virtual event to an entirely new level.  The vibe was hype, with Fresno's coolest DJ Bambi keeping it moving in between sessions.  And the sessions were INCREDIBLE – the topics were focused along three tracks: Executive/Manager, Admin/Developer, and Specialty.  We split up the topics amongst our team, and agreed at the end of the day it was an incredible learning event for all of us!  Here are our team notes on some of our favorite sessions.
12:30, JON CLINE   "I HEART MY CRM: DESIGNING PAGES, FORMS, AND INTERACTIONS FOR THE WAY PEOPLE REALLY WORK"
User experience isn't just the user interface:
How do we serve up two scoops of delight? Embrace the challenge. Reorient how you think about CRM so users can get what they really want and be enabled. The user should be the driver rather than the technology being the driver.
What happens if we don't listen to our users?
How do we get this done?  Clarify what they see. Nobody wants to play 52-card pickup on their records.
Help improve how they see it – look for ways to be relevant to their persona or job function.
Clarify why and when they want to see it.  If a user is not a sales user, think past the defaults so that they land in the spot that makes the most sense for them when they open Salesforce.  Don't make them take extra clicks – take the small amount of time to customize it for them with relevant actions. Maximize Real Estate with the Utility Bar!
Jon's session really got the crowd excited – questions were flowing in about how to really help your users LOVE their CRM system by thinking about human-centered design.  Amazing content, Jon!
12:30, HOUSSAM SAOUDY  "IF YOU CAN CREATE REPORTS, YOU CAN WRITE SOQL QUERIES"
In this session, the very talented and experienced Houssam Saoudy starts things off with both technical information and inspiration.
Sometimes it is easy to forget how truly large the global reach of technology and specifically Salesforce is. As one of the big names in Salesforce and especially in the North African region, Houssam reminds us that talent is worldwide, and that on every corner of the globe, Trailblazers are using their expertise to make Salesforce better each and every day!
Houssam's message was simple: if you can create reports in Salesforce, you can also write SOQL queries, which can be much more intimidating for the average Salesforce user and admin.  This is something that many would normally find very overwhelming to do, but Houssam's calm approachability allowed the attendees to learn through example and exercise!
1:15, STEPHAN CHANDLER-GARCIA "THE FUTURE OF SALESFORCE DEVELOPMENT"
A breakdown of the new features that are out there that can make your life easier as a Salesforce practitioner, and help you to navigate your way through the Salesforce developer world.
Salesforce Development is always changing and mowing. In the previous year developers across the globe saw changes that were designed to make their daily lives easier. In this session Stephan gives us a clear look at some of the new features, and innovations that will continue to improve the ability, wellbeing, and skill of developers!
Taking the position of building a connected and seamless experience for users, Stephan delivers a clear and thoughtful approach to innovation and automation for developers.
1:15, BEN LAMOTHE   PARDOT FOR SALESFORCE ADMINS 
Connected Campaigns
When a campaign is created in Salesforce, it is automatically created in Pardot. The campaign in Pardot becomes Read Only. This feature needs to be enabled.
View campaign level data (opens and clicks) from Pardot inside of a Salesforce Campaign by using Connected Campaigns:
Visualize engagement at the Lead level, and also view engagement history (license driven):
More assets are available from Pardot to Salesforce such as landing pages, links and forms:
To use the Pardot Lightning App, users need a Salesforce license; the Lightning app is different from the original Classic version in that it is only accessible in Lightning. Support for legacy classic Pardot will eventually sunset.
Tabs can be customized; Users will need a Sales/Service/CRM user permission set to access this app.
Pardot email builder is new, documentation is available, and the building functionality is accessible via a tab in Salesforce:
Users can have separate business units all while maintaining a single license with Pardot Business Units; this allows for data sharing and/or segmentation between different divisions.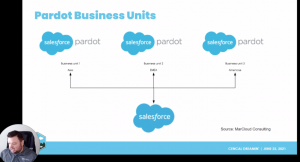 2:00, JANET ELLIOT "ZERO TO PD1: MINDSET, MOTIVATION, MASTERY, and MENTOR"
Janet Elliot is one of the best and brightest motivators in the Salesforce community today. In this session, she gives aspiring Salesforce developers and people of all levels the model that can get you from zero experience all the way to the next level of certifications.
Janet uses personal experience, empathy, and a carefully constructed plan to show that Salesforce development isn't just about skill, but also about the motivation that a person has to accomplish their goal! 
Any person from any background can become a Salesforce certified export, it just takes the right steps. Janet breaks down the exact path that could be taken and the pitfalls to avoid along the way.
Tips of note: Joining coding groups, trailhead use, and focus and understanding your own motivation are key to success!
KEYNOTE, 3:00, DR. SHANNON J. GREGG "INNOVATION INFLUENCE: BLAZE YOUR TRAIL"
In this session, Shannon Gregg presented new research and methods to tie the Diffusion of Innovations theory – how, why, and what rate new ideas or technologies spread – to Influence: The Psychology of Persuasion.  Shannon indicated that this is the Achilles' heel of many Salesforce experts, as they don't directly manage or have influence over their users.
Salesforce pros should focus on the time element and its' primary points: Rate of Adoption and Innovation-Decision Process.  The Innovation-Decision Process has five primary elements: knowledge, persuasion, decision, implementation, and confirmation.
Tying this to the 2021 edition of "Influence: The Psychology of Persuasion" by Robert B. Cialdini, Ph.D. and the seven pillars of influence will allow the Salesforce professional to really drive users to adopt and optimize their Salesforce instance.  Dr. Gregg explained the academic theory behind each pillar, and gave actionable tips to put each theory into practice as a Salesforce pro.  The pillars include reciprocation, liking, social proof, authority, scarcity, commitment and consistency, and unity.
4:20 JAKE AGUILAR "REFACTORING FLOWS"
In our team's favorite session of the day, Salesforce mega-genius Jake Aguilar showed us in a live demo how he made mistakes in some of his earliest flow builds.  He explained why his initial methods created loops and challenges and showed how he would fix them today, knowing way more than he did when they were first built.  It was a fun and lively session and we love learning from Jake!
If you missed this year's CenCal Dreamin', set yourself an alert to make sure you catch next year's third annual event.  It's a can't-miss addition to the Salesforce ecosystem!
Contact us with your Salesforce challenges at info@cloudadoption.solutions – we love to help!
Salesforce.com is constantly changing and there is so much news – how can you keep up with it all?  Well, the third Tuesday of each month, Cloud Adoption Solutions brings you Salesforce Scoop, info from Salesforce user adoption research, how-to videos on YouTube, and more!  Sign up for your free subscription here.
Cloud Adoption Solutions is a 100% woman-owned registered Salesforce partner, specializing in implementation, integration, and optimization for Technology, Healthcare/ Life Sciences, and Financial Services/ Professional Services organizations in the small and mid-commercial sectors.