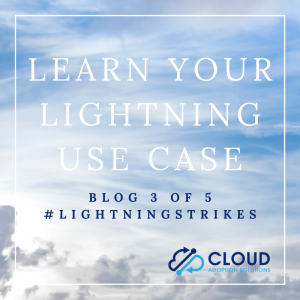 So far in this series we have covered an array of topics, from what is Salesforce Lightning to why you should even care about Lightning. This post will cover one of the most important aspects of any new system, a Discovery and Evaluation of its benefits. Think in terms of real world aspects and applications for your company; how would you navigate this new product and make sure it really works for you?
If you're still on Classic and not yet fully transitioned to Lightning, Salesforce has a killer resource ready for you – https://lightningtransitionlearningmap.com/.
First, you will see the Journey to Lightning map.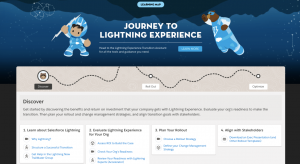 Here you can see a broad overview of the journey of learning through alignment. This is a very helpful starting place, and everyone will find it easy to navigate.
Under "Learn about Salesforce Lightning," you will see tabs and video links for a demo and explanation on the Lightning platform. A good starting point, this will lay the basis of the new journey for your company.
Next, "Evaluate the Lightning Experience for Your Org."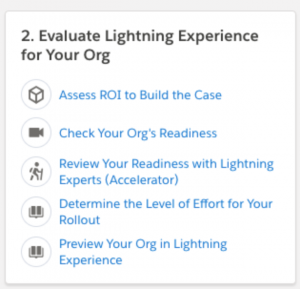 Here, the case is made for your Salesforce org. You can see the scalability of this product along with the full discovery on the effects it will have on all levels of operations for your company. By determining the level of effort, an organization can also be prepared fully for the best rollout of Lightning.
Next is the stage of the journey where you would plan the rollout of Salesforce Lightning and all of the features included in it.

Here you see the steps and process necessary for an organization to acclimate and properly use Lightning. This is an incredibly important step in the journey, as it will determine the adoption of the process across the organization!
The last step is an executive presentation that is designed for stakeholder alignment, including templates. This ensures that any department or employee making a case for the rollout of Lighting is well prepared and has the most up to date official information from Salesforce.
There is an old saying which says that the journey is just as important as the destination. This is incredibly true with the application and rollout of a new service such as Salesforce Lightning for an organization. The way this journey is set up makes it easy to follow and understand even for the part-time Salesforce admin. Take time to do the discovery, as it will save your organization both time and money while making sure the platform is being adopted fully.
All Salesforce users will be automatically migrated to Lightning by October 2019. This is the third in a five-part series to help your organization prepare for Lightning. Over this series, we'll share what Salesforce Lightning is and why you should care, the instructions on how to get your readiness report, how to roll out and optimize Lightning, and more tips…so watch this space! 
Cloud Adoption Solutions knows that your company is using Salesforce.com because it can be customized to exactly what your business needs to drive client success. Your Salesforce consulting needs are also custom, and Cloud Adoption Solutions, an official Salesforce partner, will provide you with world-class service and communication to make sure that your CRM goals – especially time-sensitive Lightning migration – fit perfectly with your bottom-line goals. Check out our new Mini Consult package to help you get unstuck!