What a year it has been so far: 2020 began with a level of intensity that has been unmatched in recent years. While full of roadblocks and hard turns, Salesforce seems to have decided to double down on user accessibility with their newest announcements.
In a press release just put out a few weeks ago, Salesforce detailed some of the much awaited Winter '21 release notes. This included some huge news about list emails. In a year full of uncertainty and constant issues, Salesforce seems more committed than ever to make reaching your prospects and customers as easy as possible. With the new Lightning email templates, sending out list emails has never been easier – or more elegant.  Check out this photo and see if you feel as excited as we all did when we saw it; it caused some audible gasps amongst our team!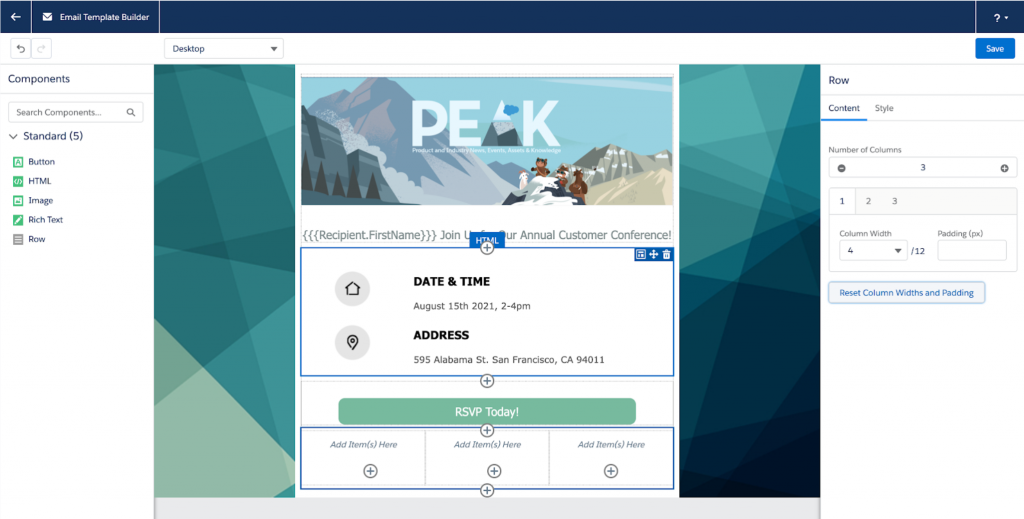 No more custom coding or HTML! Simply drag and drop in order to put together the perfect template. So easy, even the newest employee with zero Salesforce experience can now create beautiful custom templates on their own.
Check out my video where I share the exciting email news:
The world of Salesforce is ever changing and while these first release notes are exciting for 2021, we all know there is much more on the horizon. Follow us online and subscribe to our YouTube channel to stay up to date with the newest and latest from all things Salesforce!
For additional information on how to send list view emails, check out this video.
Need help with Salesforce user adoption, customization, or optimization?  We're here to help – check out how.
TRANSCRIPT:
Hello, everybody, it's Andrew Duncan with Cloud Adoption Solutions coming at you with another Cloud Adoption Solutions Chat. So today we're going to be covering some of the topics that are coming out from Salesforce this past month, initially, and most importantly, the Winter 2021 key features releases. So they're starting to talk about some of the new features that are going to be rolling in. And one of them is very important: it's changes to List View email.
So in the past List View emails have been awesome; they've been super helpful. I know – I use them every day. Sales teams are normally using them to send out large quantities of leads information on what they're doing. Initially, you had to make sure that they was within the right HTML format. And I wouldn't say they were ever difficult to use, but someone who has a bit more Salesforce knowledge has an easier time customizing those templates themselves. Now, Salesforce, as with everything, is trying to look for ways to continue to streamline and make things accessible for their users.
So what they're doing is they're throwing out the old way of doing List View email templates, and instead opting for much easier drag and drop. You can really count on Salesforce to continue to make things easier for their users, which is great. So we're really excited to see some of these key features; we want to be able to insert pictures, insert coding without having to really worry about – it's just drag and drop, so it's going to be even easier than ever. What this means is teams with people who are less experienced in Salesforce won't need to spend so much time creating these templates. And instead, they can focus on just getting them together and getting them out. And people can have the freedom to create things differently and maybe be a bit more creative about their approach when it comes to lead. So we're really excited.
This is a great first look at some of the features in 2021. So we will continue to keep you updated. Additionally, Salesforce has announced that Dreamforce will be happening in November, so continue to check in on our channel as we will be dissecting things, because there is so much information released at Dreamforce every single year. It's impossible for one person to be at every single event. So we will have multiple people online watching all the events. We will take diligent notes and be presenting that information in a way that everyone can understand and read. So keep an eye on our videos. Keep an eye on our channel, and subscribe so you can get those updates.