One thing that's true with sales and marketing technology training: once is never enough.
Often, our approach to training for our field resources is to bring them in for a few very intense weeks of training, on products, policies and procedures, human resources requirements, and process and methodology.  As leaders, we then tick the box on training, and deliver components of additional training whenever we have new product or technology rollouts, either in large group meetings or during our weekly pipeline calls.
That's just not working.
Let's consider the third step in our proprietary ADOPT system for user acceptance of technology:  ORIENT.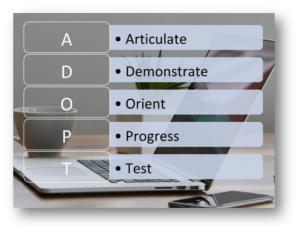 Consider how – as a leader or an admin – you can introduce and orient your users to your system in pieces.  Training a team all at once on every available feature, on all of the bells and whistles, reduces their ability to retain and actually put to use the things that they learn and are ready and excited to use.  So, how else can you train your users to truly get them to use your sales and marketing technology?  Here are ways to orient them to the system:
On-demand training: set office hours where a user knows that they can call/skype/IM/email you and you will answer even the questions that may seem small or silly.  Set this expectation and do not let anything else take precedent.  Let your team know in a fun way: "Hey guys! I know that Salesforce can be confusing, and trust me, there are no silly questions!  Every Friday from 10-11am EST, I will have open office hours where you can reach me and #AMA – and I promise to never giggle, even if you forget your username.  See you then!"
Formal training: if you're the org admin, request a specific slot of time during team meetings, pipeline calls, and sales kickoff meetings.  Take a small amount of time – less than 7 minutes – to provide a snackable demo of something that is interesting and helpful for users: how to log a call, why the new Lightning sales path is awesome, how to add new accounts or contacts from your email plugin, when to start a new Chatter group.  If you're a sales leader or company executive, reach out to your admin and offer them this time.  They're sure to have productivity ideas to help ramp revenue via automation!  (If you don't have an admin, call me.)
1:1 interactions: it's so easy to screenshare.  If you're coaching a field user on a new prospect or opportunity, ask them to make the changes in Salesforce right when you're discussing it.  Orienting them during your time together and training them on just-in-time updates is a great way to ensure your forecast is always on point.
Regardless of the approach – and you should constantly be mixing it up – be sure to show the features and your usage expectation multiple times in multiple ways.  No one has ever learned to play piano overnight, and your new sales or marketing technology is no different.  Teach, train, retrain, and revisit, over and over.  Also – remember to integrate new software releases into your current processes!
Keep up the great work on user adoption of your technology – remember, the more they use it, the better they'll get, and the more time they'll have to generate revenue!
P.S.  TL/DR for all of the auditory learners: Here's a webinar from Salesforce and Shannon.  Also, don't miss Shannon's session on Executive Adoption at the Salesforce NYC World Tour on 12/13/18.