While the ADOPT model gives you a system to approach user acceptance and adoption, remember that even grownups like to enjoy their work!  So, how can you make your Salesforce launch (whether it's a new implementation or a new product) or relaunch (when you're ready to nudge the team to use Salesforce better, now) one that is exciting and fun, even if you're on a budget?
Here are a few ideas to help to get your organization interested and invested in your adoption event:
Make candy bags to leave on desks if you're having a launch or relaunch event, with a hashtag that is custom to your company, to help drive Chatter usage! I personally love #WorkingOutLoud, but you could use #SFDCisForMe or #CompanyNameRocksSFDC or something else that meets your company's culture to really amp up the interest.  Check the dollar store for cello bags and Salesforcestore.com for cloud decal stickers.  Here is an image file you can print out to attach to the candy bags or tape to other snacks (chip bags, larger candy bars) to leave on people's desks or mail to their homes as a postcard.  You can even print them four on a page on cardstock if you want to mail them directly to remote teammates!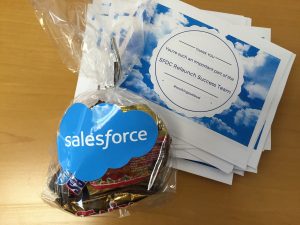 Accessories in a recognizable shade of cloud blue really help to make a statement. Put these fun items in break rooms and common areas in the office during your event, whether it's a new implementation or a focus time to reset adoption.  Here's a large bowl from the dollar store, with cloud blue cups for grab-and-go office snacking.  The flag is simply made from dollar store straws and the postcard file!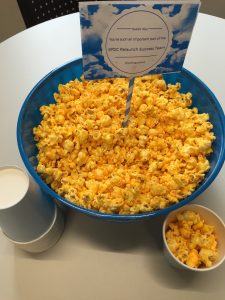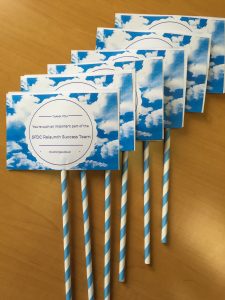 Work in a cube farm or have boring name plates?  Use a merge to create 8×11 name placards that you hang on each person's workspace – this has a psychological effect.  Once they see their own name in the "clouds," they start to envision working in the cloud.  I enjoy the element of surprise, and like to do this after everyone's gone for the evening or early in the morning so that there's a collective "oooh!" when people come in for the day.  Here's the file that I like to use.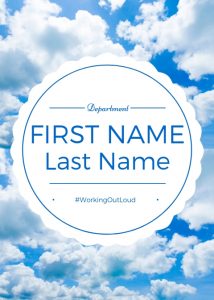 Have any users who refuse to upload their photos to their Salesforce profiles?  Admins have the rights to upload photos for them!  I love to put up ones with clouds and something fun about their position, like this: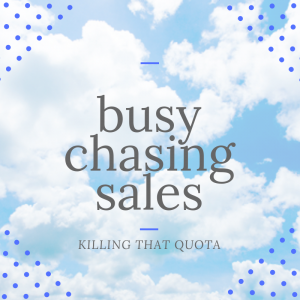 Hope you enjoy these tips, and feel free to swipe and use all of these files inside of your org!
By the way, if you don't already have our free eBook on sales tech user adoption, click here to get step-by-step instructions for our proprietary ADOPT method to launch or relaunch your tech for success!
Downloads not working?  Contact Shannon for the source files.