After you've worked through the first four stages of the ADOPT system and put them into place, it's time to focus on whether your users have the knowledge and muscle memory they need to push their own innate adoption of your sales technology.  (Do keep in mind that adoption is not linear, so this system doesn't follow the infomercial adage of "set it and forget it." This is a constant feedback loop that you'll continue to promote throughout the lifetime of your systems.)
Let's consider the final step in our proprietary ADOPT system for user acceptance of technology:  TEST.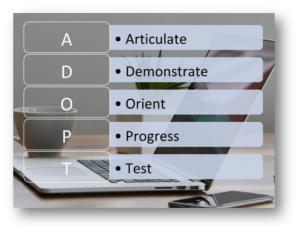 Continue to test your team's use of the system, and reset where necessary. Do not forget to continually check on their progress and knowledge of your new technology, so that anything that was delivered in initial or ongoing training is redelivered just-in-time.  Your tests can be informal ("Are you confident in how to add products to an opportunity?" or "Did you know that you can clone an object?") or they can be formal ("In today's team meeting, we're going to have a race to see who can create a Test Account with these attributes with the highest accuracy and speed").
You don't have to do this all on your own, by the way. One of the best practices is to establish a governance committee, who focuses on ensuring your users are getting what they need out of the system. Governance might include the person who bought the technology system, the senior or executive management invested in the use of the application, users who like and don't like the system, and intersecting recipients of the output of your system (an ERP user who receives information from your CRM, for example). Keep notes and ask for improvements and suggestions – and act on them.  If you don't, be sure to explain the why to your user in order to maintain their trust in acting on their suggestions.
Continued testing of how your users interact with the system will let you know when one team member doesn't remember how to use something but may be embarrassed to ask about, or when there is a trend amongst members who may need a retraining as a group.  Keeping your finger on the pulse of the team's knowledge of the system will allow you to be the best evangelist you can – filling in gaps, promoting benefits, and ensuring your users love the system as much as you do!
Looking for a quick overview of our proprietary ADOPT system to sales tech user acceptance?  Here you go!  Looking for a more detailed overview of how to implement the ADOPT system in your company?  Check this out.
Keep up the awesome focus on tech adoption and innovation!