Salesforce Scoop
What's New with Salesforce?  
Two big events: Dreamforce and Life Sciences Dreamin': we caught the highlights just for you
The annual Salesforce extravaganza, Dreamforce, was held last week both on-ground in San Francisco and live online, and it did NOT disappoint! Click on each day to read our overview blog.
Day 1 of Dreamforce brought signals that the conference would be very AI-heavy, and it definitely was. Free Data Cloud and Tableau for all Salesforce customers was announced, as was Einstein 1 Copilot, and a new Life Sciences Cloud.
Day 2 brought a whirlwind of innovation and insights! 
 Our blog delved into accelerating sales with the magic of trusted AI, unlocking customer success strategies to maximize ROI, reimagining service in the era of AI, and the jaw-dropping Admin keynote. Also, Einstein for Flow and Data Cloud Triggered Flows – the game-changers introduced today – are going to be incredible!
Day 3 allowed us to really take in the HLS keynote, the AI and Data keynote, the Slack keynote, and the Winter '24 release highlights.
If our highlights have you inspired and you want more, ask us! Or, sessions are live and ready to watch on Salesforce+.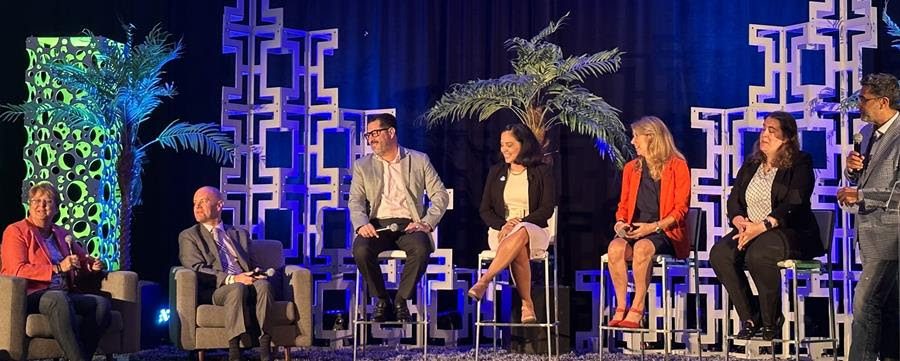 Life Sciences Dreamin' was an inaugural event that brought together experts and community at the intersection of Life Sciences and Salesforce. The agenda was jam-packed with incredible sessions and we're already thinking of how to make 2024 even more powerful, especially with the announcement of the new Life Sciences Cloud. Thanks to all of our sponsors, we're continuing to deliver great content until next year's conference. Check out the highlight video here.
There's a lot of Salesforce news, and it's hard to keep up!  As always, Cloud Adoption Solutions aims to bring the best and most important Salesforce news to you so you don't have to do all of the work. Keep following along with us and make sure to subscribe to our blog posts for more!  – Shannon
User Adoption Research: Details from my PhD Research
 Studying Salesforce Academically – and then Putting it into Practice
CRM Implementation – and Integrations
"…organizations which undergo CRM implementation may be pulling data from hand-written documents, Excel spreadsheets, other separate or non-integrated systems, or on on-premise computers or servers (Huang, 2018, pp. 35-39).  A key component of the CRM implementation is managing the shift from these data sources to the CRM system.  The implementation should be tied to the "outcomes that are important to the organization's long-term survival and growth" (Hayes, 2018, p. 434).  The organization, which is made up of individuals focused on common outcomes and goals, will develop perceptions of the CRM implementation, and these perceptions will shape acceptance of the implementation (Rogers, 2003, pp. 423-433)."
So what does this mean for your company? When you're adjusting your Salesforce approach, think carefully about the WIIFM for your users; tie the new integration, implementation, or process approach to their individual goals and the goals of your overall company.
If you want even more info on this critical CRM user adoption research, I have a journey built that you can follow if you click here. Or, shoot me a message to have us help you develop your adoption strategy.  – Shannon 
Tips on YouTube
Salesforce: CAS Come and See Videos
Adding Images in Salesforce Email Signatures: CAS Come and See Video
Did you know that each time you send an email from within Salesforce, you can do so with your email signature with an image in it? Join David as he shows you how to set it up!
Interested in seeing more? Cloud Adoption Solutions has committed to launching videos on Youtube at a much higher rate this year, so subscribe to our channel to stay in the know! Watch as the team shows new trends, shows instructional videos, and keeps you up to date on all things Salesforce.  Subscribe to never miss a thing: we show you something new every week. – Andrew
Advice from an Expert
Send your Qs to info@cloudadoption.solutions
Q:  I'm seeing so much about AI; how do I even begin to approach leveraging it?
A: So to be honest, AI seems to still be really hard to use in the right way. There is a huge debate brewing over what help it provides, the ethical situation of its use, and if it is truly ready for rollout for the modern office and sales process.
In a way we have been using AI for years now, with Einstein predictability with Salesforce; however, it has recently progressed to a new level. If anyone says they are leveraging it perfectly, that's just not true. As with any new technology, there is a huge learning and adoption curve. However, to us, it seems that every company should be at least having conversations about AI; just like anything else, if you are waiting to see what happens, you will be late to the game!
Our advice = give some AI a try and see how it improves your daily life and processes! Even in small personal ways (the Snapchat AI, or take ChatGPT for a spin), see if you can find any use for it. With more powerful AI tools within Salesforce or Sales predictability applications, the price tag increases, but so does the helpfulness!
AI is certainly not going anywhere, so getting ahead and starting the conversation around it now can only be beneficial! (And if you'll be at Life Sciences Dreamin', the opening session will be an incredible one on AI by Ian Gotts!)
If you have specific questions about Salesforce, let us know – we're happy to lend a hand.  Hit "reply" to this email and we'll jump on a Zoom! – Andrew
Happy Tuesday!  And, hey, if you enjoyed this newsletter, please do forward it to a friend, or share it on Twitter or LinkedIn.  We appreciate your support!
"Happily we bask in this warm September sun, which illuminates all creatures." —  Henry David Thoreau
Check out previous issues for more curated Salesforce scoop – let us do the work for you!
August, July, June, May, February, January, December, November, October, September, August, June, 
Contact us with your Salesforce challenges at info@cloudadoption.solutions – we love to help! Cloud Adoption Solutions is a 100% woman-owned registered Salesforce partner, specializing in implementation, integration, and optimization for Technology, Healthcare/ Life Sciences, and Financial Services/ Professional Services organizations in the small and mid-commercial sectors.